Hum-Cancelling P90
Are you still searching for that noiseless P90 tone that sounds like a real P90? Your search has ended: introducing the Fralin Hum Cancelling P90. With a unique coil design and magnet structure, the Fralin Hum Cancelling P90 provides a versatile, hum-free tone that cleans up and gets dirty, with plenty of articulation and clarity. Read more to find your guitar's real voice:
Quick Links
Jump to Sound Clips and more Info:
---
All P90, No Hum.
Want to learn more about our Hum-Cancelling P90? Here's all the information you'll need:
Hum-Cancelling P90 FEATURES:
The Fralin Hum Cancelling P90 is one of the best-selling models we make, and it's easy to see why. Genuine P90 tone and dead-quiet performance? What's not to love?
Whether you play Rock, Jazz, Country, R&B, or Funk, you will undoubtedly stand out in the mix with the pronounced pick attack, crystal-clear lows, and round highs. And the best part? Zero hum. Available in a Soapbar, Dogear, and Humbucker, you can rest assured knowing you can get the Fralin P90 tone in any guitar you have.
Features:
Lindy Fralin Original Design: True P90 Tone, No Hum
Multiple Outputs available for fine-tuning your Pickup's voice
Strong and bold – lots of midrange and snarl
USA-made Neodymium Magnets for aggressive tone and output
Compensated Bridge for even volume across all pickups
Adjustable USA-Made Steel Pole pieces for fine-tuning string balance
Hand-wound with our "Sectioning" technique for unique, dynamic tone
Hand-built for unrivaled quality control
Backed by our 10-Year Warranty on manufacturing defects
Risk-Free 30-day exchange policy
Sound
Tonal Graph for Hum-Cancelling P90:
The tone graph below for our Hum-Cancelling P90 features Lows, Midrange, Highs, and general Output.
---
Sound Clips for Hum-Cancelling P90:
About this Sound Clip:
All sound samples are played from Neck Position First and Bridge Position Last.
There are a few ways to cancel out the hum in a pickup. Some manufacturers feature a "stacked" coil design, which we believe leads to a lifeless and dull tone that lacks character. Lindy's Hum Cancelling P90 features a Side-by-side coil design that is not stacked and attains a more accurate P90 tone that actually sounds like a P90.
Expect a vintage-voiced P90 tone, with a slightly thicker midrange and rounder highs. This pickup will undoubtedly push your amp hard and provide that snarly midrange and top-end "bark" we have come to expect from a P90. Suitable for many music styles, this pickup can scream and clean up nicely for jazz or blues.
Going even further, you can customize your tone by selecting Overwound and Underwound options. By overwinding a pickup, the tone gets thicker, darker, and dirtier. By underwinding a pickup, the pickup gets clearer and more articulate.
Speaking of versatility, are you looking for a jazzier tone? We can use Alnico 6 Magnets to taper the highs even more and offer you a softer sound. Are you searching for a cleaner and more Fender sparkle? Check out our Alnico Rod Version that features Alnico Rods for a Fender-type sparkle.
Our manufacturing process allows us to achieve unparalleled quality control.
Listen to our friend Mike Hermans play our Hum Cancelling P90, only in a soapbar format.
Hum-Cancelling P90s consists of 100% USA-Made parts, including a precision injection mold, USA-Made Steel Screws, and Neodymium magnets. We use aggressive USA-Made Neodymium magnets to make this model scream. Each bobbin is carefully inspected and cleaned before winding.
We wind each pickup by hand, one at a time, using our proprietary "Sectioning" technique, which gives the pickup a sweet, clear tone. Finally, we wax-pot the pickup to prevent microphonics and preserve the pickup for years to come.
Sizing
Lead Color Codes
See below for our Lead color codes. For help with matching to other manufacturers, check out this resource here.
Gibson Braided Lead:

2-Conductor Lead:

Tech Specs
See below for the estimated DCR and Polarity Information for our Hum-Cancelling P90.
The phase of this pickup is reversible with 2-Conductor With Shield lead.
| SPECIFICATION | VALUE |
| --- | --- |
| Neck Ohm Reading (Stock): | 15.5K* 1 |
| Bridge Ohm Reading (Stock): | 16.8K* 1 |
| Neck Polarity: | Reversible with 2-Conductor Lead |
| Bridge Polarity: | Reversible with 2-Conductor Lead |
| Magnet: | USA-Made Bonded Neodymium |
| Wire: | USA-Made 43 Gauge Single Poly Nylon |
| Bobbin Material: | USA-Made Nylon Injection Mold |
| Recommended Pot Value: | 500K |
| String Spacing: | 50mm |
| Recommended Cap Value: | 0.02mfd 2 |
---
More Information:
1 Ohm Readings can vary due to a multitude of factors, including ambient temperature, multimeter calibration, different wire batches, and other factors. Due to this, ohm readings are approximate. Learn more about Ohm Readings here.
---
2 We recommend a 0.02mfd Cap Value on most guitar and bass pickups. The exception is a Magic Cap, which Lindy prefers on the Bridge Pickup of Fender® guitars only. Learn More about Caps Here.
---
* Due to the unique design of this pickup, ohm readings aren't very helpful. Our Stock Set is close to the Vintage P90 output.
Hum-Cancelling P90 FAQ's
General FAQs
Here are quick answers to common questions we get:
What Ohm Readings does your Hum-Cancelling P90 have?

Navigate to our Tech Specs tab for complete Ohm Readings and more useful information.

Will this pickup fit my instrument?

Check our "Sizing" tab for the size of the pickup. No Sizing tab? Check under the product image gallery for dimensions.

Is your Lead Time of 3-4 Weeks accurate?

It really depends on the shop capacity at the moment, and the size of your order. Feel free to give us a call for an accurate lead time. We always try to underpromise and overdeliver.

What pickup height do you recommend setting your Hum-Cancelling P90s to?

Our recommended Pickup Height is 1/8" (3.175mm) on the Bass Side and 1/16"( 1.5875mm) on the Treble Side. Measure by holding the corresponding side down at its highest fret and measure from the bottom of the string to the top of the pole piece.
---
Pairing
Our Hum-Cancelling P90 pairs well with the following models: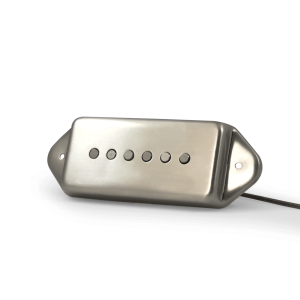 Hum-Cancelling P90 With Alnico Rods - Neck
Starting At: $159
Pair a Stock output Hum-Cancelling P90 Bridge with a Noiseless Alnico P90 Neck, and we'll make sure they sound great together
View Product
---
Featured Reviews
Reviews we worked hard for, and are proud of
"Many moons ago , I had a 1969 SG with P-90's and loved the sound of that guitar . Unfortunately, I didn't love the HUM that came along with them, and sold it . I've been chasing that sound ever since. ( I have a large stable of guitars ) I just recently decided to give the Fralin Noiseless P-90's a try and installed them in a custom S-style guitar I built ! To say I was immediately blown away by how phenomenal they sound would be a huge understatement ! And not a whisper of hum at all ! These are amazing pickups and dealing with Lindy and the folks at Fralin was a total pleasure !"
"I absolutely LOVE my no hum P90's!! I ordered a full set with the neck being a standard wind and the bridge with the +5% wind. I put them in my 57 custom shop reissue and they are absolutely perfect!! The extra grind on the +5 is exactly what I wanted, without it being overbearing. Tone for days and the whole point being NO HUM. Completely quiet! There are so many tones in these pickups just by riding your volume control, as well as the out of phase tones in the middle position. It's a joy to keep finding useable and truly fantastic tones with each move of the volume dial!!! I cannot recommend these enough as they have become my absolute go to P90 pickup!!"
"When I ordered my 5% overwound P90s, I knew they would be great. However when I received them, installed them in my TMG Scarlett Nigel Hendroff Signature, plugged it in, and hit the first chord, the only word that describes the level of Greatness is Magic. Pure Magic. Completely changed the tone pallet of the guitar, and instantly improved it all around. These aren't the only Fralin pickups I have, and they certainly won't be the last. Thanks so much."
"Love my new Hum Canceling P90's I've always loved the sound of P90 pickups. I've never liked the noise that you have to put up with. These are game changers for me. The neck pickup has that buttery warmth that I love. The bridge pickup has that nasty bite with the clarity for leads that I adore. All of this, without the noisy distraction, means I couldn't be happier!"
"P90's you need to get Mr. Fralin was kind enough to make time for me. We spoke of the guitar type and wiring. After discussing the request. We came to an agreement on the overall construction. Hard to put into several sentences how dynamic and tonal flexible these P90's are. I've owned many types of pickups. Noiseless, Vintage, Singles, Hums, Active... I have to say these are a whole other monster...and I mean a tone Monster. You can get almost any tone you are looking for out of a P90 type pickup when you learn to adjust the height and poll pieces for your guitar. Just amazing. Thank you Mr. Fralin"
"Mind Blown! Awesome Pickup for my 2019 LP Junior! I previously had it stock, then with a humbucker, and now this Fralin Hum-Cancelling P90 [I did the +5% version]. This one really goes when you turn it up, esp with an overdrive. Even better with a MK II tonebender Fuzz! But it still cleans up nicely when you roll off the volume--makes for a smooth, sweet, and creamy "Blue Sky" by ABB. It is the Classic P90 sound but uplifted. Indeed the 60-cycle hum is eliminated!! I will admit that I was a bit skeptical, but definitely the best thing I could do for my Junior. Worth every penny. Thank you Fralin Team! 6 stars!"
"My Ideal P90's Let me first say that Lindy, you are a true genius! I got a PRS Korina McCarty Soapbar several years ago, love the guitar (it weighs 6.2 pounds) and it feels so comfortable to play. But, I felt the stock P90's just didn't suit my taste. After a lot of research, I decided to give Lindy Fralin Pickups a call and actually got Lindy on the phone. After telling Lindy what I was looking for, he suggested the Hum-Cancelling P90 set. I ordered them and installed them in the McCarty. WOW, it's like I have a new guitar! The sound is exactly what I was looking for, clear, articulate, crisp. Playing the Hum-Canceling P90 equipped McCarty through my Princeton Reverb is very rewarding with the tone I never thought possible! Thanks, Lindy!!"
"Amazing as usual! Perfect blend of humbucker and single coil tones without the hum! I love these pickups. Very articulate and clear but also nasty at the same time. Beautiful clean tones and classic overdriven tones! I'm a Fralin pickups addict. I am blessed to have 4 great guitars and having Fralins in each of them make them 4 Absolutely Awesome guitars! Thanks to Lindy and the Whole team. Each person is so important and they are all what makes this such a great company!!"
STAY IN TOUCH
Subscribe To Our Newsletter