P90 Tone. Now Humbucker Sized.
We all love the sound of a screaming P-90 Guitar Pickup. It's been used on countless records and countless guitarists rely on it to give them that aggressive tone they're after. It's Rock & Roll, Jazz, R&B, Funk, Blues, and Country all rolled into one. At Fralin Pickups, our Hum-Cancelling P-90 guitar pickups are given a healthy dose of USA-Made Parts and wound by hand, and given a second coil to deliver the tone you love, with no hum. Our stock set has a Stock Bridge and a -10% Neck. This calibrates the set to have the same output. If you would like to customize this option, please see below for a more detailed description.
---
FEATURES:
Adjustable Pole Pieces for Fine-Tuning Single String Balance
Neodymium Bar Magnets for a Smooth Tone
Lindy Fralin 2-Coil Design For Noiseless Performance
Wound with 43-Gauge Wire to specification
USA-Made Magnets and Wire.
---
SOUND:
Fralin Hum-Cancelling P-90 Replacements are like our regular Fralin P-90's, only thicker, darker, and with no hum.  You can expect a thick, darker, round bottom-end, and a rounder, less aggressive top-end, with a clear, fat midrange in-between. Our Hum-Cancelling P-90's still have that undeniable thick Single-Coil tone that you love, only with no hum at all. Single notes have a punchy, thick sonic footprint and have great sustain. Chords break up nicely with a slight compression and great note separation. These guitar pickups offer undeniable clarity and definition while remaining strong, fat, thick, and punchy. We can also make this pickup in a AlNiCo rod version for a brighter, more Fender-type tone.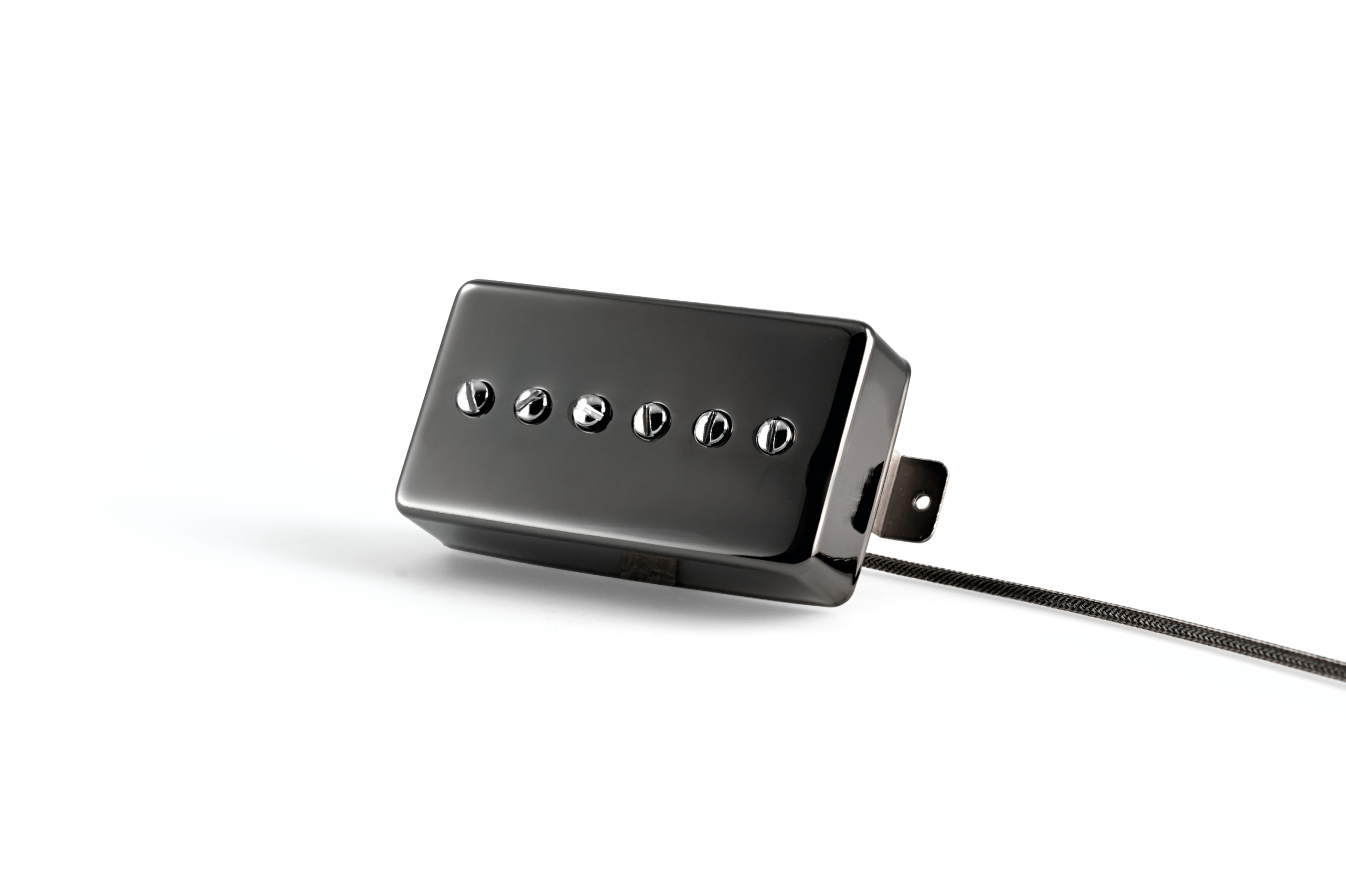 ---
FAQ's:
What's the tonal difference between this and your Stock P90? The Hum-Cancelling P90 is slightly louder, darker, and thicker. It's quicker to break up, and has no hum!
What output do I choose? Our most popular set is the Stock Neck & Bridge. Going with a +5% output from Stock will thicken and darken the tone. Going with a -5% will clean up and reduce the midrange, making it sound more articulate and clear.
What lead do I choose? This depends on your guitar and a few other things. Gibson Lead: Go with this if installing a set into a Gibson-style instrument, where each pickup has it's respective volume pot. 2-Conductor: Go with this lead if buying a Single, or installing into a Fender-Style instrument.
Will this fit in a Humbucker Position? Yes. It's Gibson humbucker sized.
What's the String Spacing? 49.5mm.
How far away from the strings does the pickup need to be? Push your Low E String down at the highest fret. Measure from the top of the pole piece to the bottom of the string. Ideal starting location should be 1/8″ on the bass string, and 1/16″ on the treble string, when the High E string is pushed down at highest fret.
Wiring Diagrams? Here!
---
TECHNICAL INFO: