THE FRALIN HUM-CANCELLING P-90®. NOISELESS, FEARLESS.
We all love the sound of a screaming P-90 Guitar Pickup. It's been used on countless records and countless guitarists rely on it to give them that aggressive tone they're after. It's Rock & Roll, Jazz, R&B, Funk, Blues, and Country all rolled into one. At Fralin Pickups, our Hum-Cancelling P-90 guitar pickups are given a healthy dose of USA-Made Parts and wound by hand, and given a second coil to deliver the tone you love, with no hum. Our stock set has a Stock Bridge and a -10% Neck. This calibrates the set to have the same output. If you would like to customize this option, please see below for a more detailed description.
FEATURES:
Adjustable Pole Pieces for Fine-Tuning Single String Balance
Neodymium Bar Magnets for a Smooth Tone
Lindy Fralin 2-Coil Design For Noiseless Performance
Wound with 43-Gauge Wire to specification
USA-Made Magnets and Wire.
SOUND:
Fralin Hum-Cancelling P-90 Replacements are like our regular Fralin P-90's, only thicker, darker, and with no hum.  You can expect a thick, darker, round bottom-end, and a rounder, less aggressive top-end, with a clear, fat midrange in-between. Our Hum-Cancelling P-90's still have that undeniable thick Single-Coil tone that you love, only with no hum at all. Single notes have a punchy, thick sonic footprint and have great sustain. Chords break up nicely with a slight compression and great note separation. These guitar pickups offer undeniable clarity and definition while remaining strong, fat, thick, and punchy. We can also make this pickup in a AlNiCo rod version for a brighter, more Fender-type tone. Contact us for details.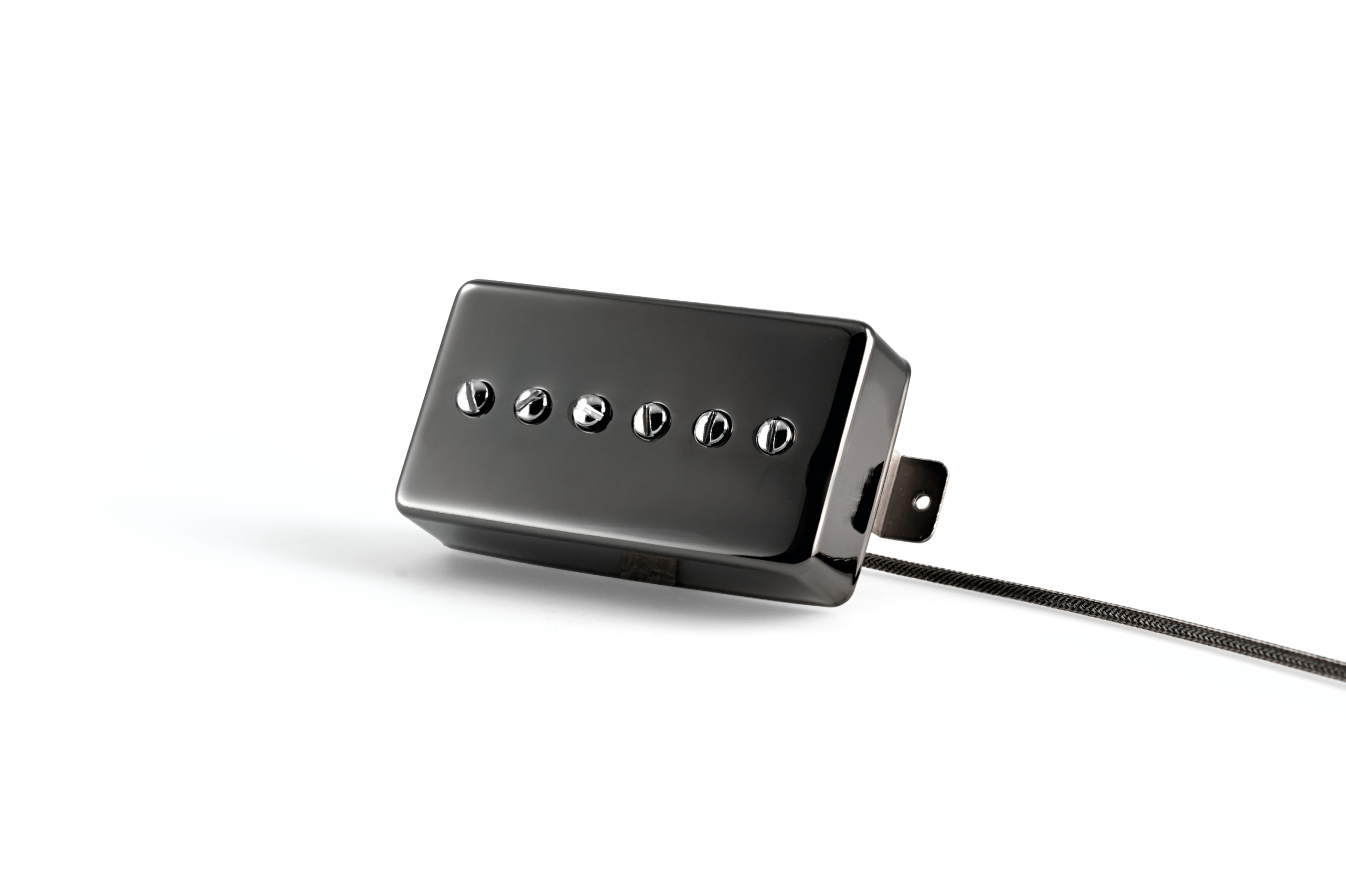 ---
Choosing the Pickup:
Our Stock Set is a Stock bridge and -10% Neck.

Each additional 5% added (+5%) will give you 5% more mids, and 5% less highs. It's thicker, with more output. Higher output pickups have more compression and are beefier sounding
Each 5% subtracted (-5%) will clean up the pickup nicely, giving it a clearer, more open sound. This will add 5% more highs and take away some midrange for a nice "scooped" sound. Lower output pickups have more articulation and are generally more dynamic than higher output pickups.
We customize our pickups from our Stock Set. If you choose (-5%) on the NECK position, you will be getting a -15% Neck.=
CHOOSING THE LEAD:
Gibson® Braided Shielded: Most popular. Use this if you have no special requirements (Coil tapping, Phase Reverse or Series / Parallel). Do not use this lead with Fender-Style guitars.
2-Conductor With Shield: Use this if you have Phase Reverse needs. Use this lead for Fender-Style guitars.
Choosing the Cover Options:
We have Polished Nickel, Raw Nickel, Jet Black Nickel, and Gold Covers available.
TECHNICAL INFORMATION:
Our Hum-Cancelling P-90's are wound with 43-Gauge Single Poly Nylon wire and are a purely continuous coil on our Stock Spacing Set. Uses Bonded Neodymium magnets. These guitar pickups sound best with 500K pots installed.
Approximate Ohm readings:
-5% Neck: 15K
Stock Neck: 15.5K
+5% Neck / -5% Bridge: 15.9K
Stock Bridge: 16.7K
+5% Bridge: 17.7K