DynaSonic
At last, it's here! The Brand-New Lindy Fralin DynaSonic replacement has finally arrived. We took our award-winning Hum-Cancelling P90 and our new Alnico Rod P90 and gave them sexy DynaSonic looks.
---
Quick Links:
Jump to Sound Clips and Product Info:
---
DynaSonic INFO:
Want to learn more about our DynaSonic? Here's all the information you'll need:
DynaSonic FEATURES:
At last, it's here! The Brand-New Lindy Fralin DynaSonic replacement has finally arrived. This pickup features many output options, with a bunch of great looks – and no hum! We offer this pickup in an Alnico Rod version and a P90 version. Our DynaSonic replacements feature a thick midrange with top-end clarity and articulation.
We decided to make these pickups hum-free by creating them all hum-canceling. We took our award-winning Hum-Cancelling P90 and our new Alnico Rod P90 and gave them sexy DynaSonic looks.
Two-coil design for hum-free performance
Alnico rods feature a Fender-type sparkle and clarity
Hum-Cancelling P90 design for thick, bold, and snarly midrange
Polished Nickel or Gold surround rings for a customized look
Your choice of White and Black Pickup Covers
USA-Made Alnico 5 and Neodymium Magnets, depending on the style
Hand-wound coils with either 42-Gauge or 43 Gauge wire, depending on the style
Multiple lead options for easy installation
10-Year Warranty against manufacturing defects
Sound
Alnico Rod Style:
The Alnico Rod style features a broad and thick-sounding midrange, with a top-end sparkle. This model is our Hum Cancelling P90 with Alnico Rods, in a DynaSonic housing. The USA-Made Alnico 5 Magnets give this pickup a dynamic, breathable top-end clarity not found in screw pole pieces.
Clean and articulate when playing without distortion. You'll find that the nuances of your playing will come out as this pickup "breathes" more than it's compressed P90 counterpart. With distortion, you'll find a smooth, late breakup with a familiar Fender Strat-type tone. You'll notice the pronounced Midrange of this pickup as well. You'll find that the Alnico Rod version will still sound fat and beefy!
---
P90 Style:
Expect a thick, darker, round bottom-end, and a rounder, less aggressive top-end, with a clear, fat midrange in-between. The Hum-Cancelling P-90 style still has that undeniable thick Single-Coil tone that you love, only with no hum at all. Single notes have a punchy, solid sonic footprint and have great sustain. Chords break up nicely with slight compression and excellent note separation. The Output is almost identical to our Stock P-90's, and they sound incredibly similar – just a little thicker in the midrange. Expect a denser and stiffer treble, not like the Alnico Rod Version which allows you to have more dynamics in your treble.
---
FAQs
What's the tonal difference between the P90 version and the Alnico Rod version? The Hum-Cancelling P90 is slightly louder, darker, and thicker. It's quicker to break up. The Alnico Rod version is more "Strat-like" and clearer.
What output do I choose? That depends on you. Do you want a P90 sound? Or, do you want a Fender sound? That should help you decide.
What lead do I choose? It all depends on your guitar and a few other things. Gibson Lead: Go with this if installing a set into a Gibson-style instrument, where each pickup has its separate volume pot. 2-Conductor: Go with this lead if buying a Single, or installing into a Fender-style Guitar.
What's the String Spacing? 49.5mm.
How do I measure Shim Height? Check out our article on Dogear Shim Spacing here. It will help you figure it out.
How far away from the strings does the pickup need to be? Push your Low E String down at the highest fret. Measure from the top of the pole piece to the bottom of the string. The ideal starting location should be 1/8″ on the bass side, and 1/16″ on the treble side when the High E string is pushed down at the highest fret.
Wiring Diagrams? Here!
Tech Specs
Wound with 43 Gauge Single Poly Nylon and uses Bonded Neodymium Magnets on the P90 Version.
Wound with 42 Gauge Single Poly Nylon and uses Alnico 5 Magnets on Alnico Rod Version.
500K Pots are recommended for both models.
Ohm Readings:
P90 Neck: 15.5K.
P90 Bridge: 16.7K.
Alnico Rod Neck: 8.5K.
Alnico Rod Bridge: 10K.
Sizing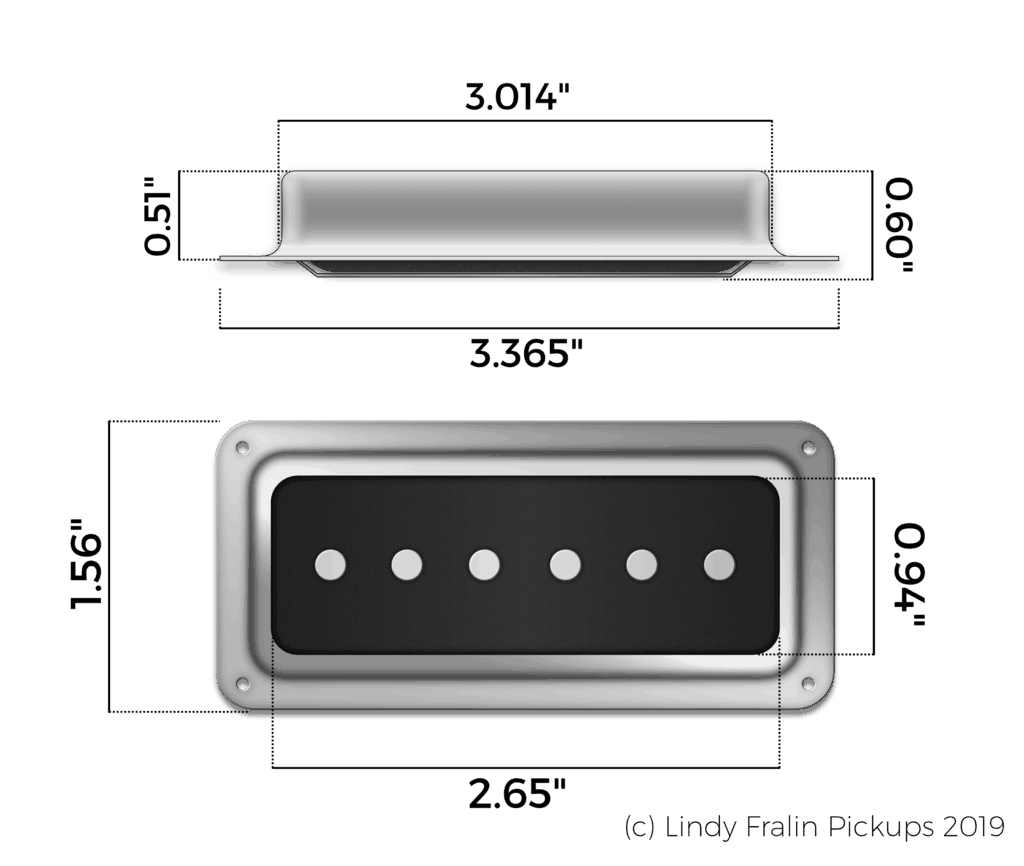 Lead Color Codes
See below for our Lead color codes. For help with matching to other manufacturers, check out this resource here.
Gibson Braided Lead:

2-Conductor Lead:

DynaSonic Questions And Answers:
Have a question about our DynaSonic? Ask it here. Your Question will be publically visible.
If you want to ask a Private Question, please contact us through our Contact Us Form.
If you have multiple questions, please call us at (804) 358-2699.
Hello, I have a Gretsch electromatic jet with Dynas and I want a sound that goes from bluesy rock to some more jazzy sounds. Has it sense to put a bridge overwound and a neck underwound? or would you prefer standard p90's? Is it true that ordering from Europe I will get a tax of 33% on it?

Hi there I have a Gretsch duo jet G5330, and I'm looking to change the pickups. Can you maybe advise me would the P9 Dynosonic pickups be a good fit for this guitar. Thanks for your help in advance. Kim

Which P-90 would be the closest to Elliot Guitars Tonemaster? And would it be possible to make them like dynasonic pickup?

Do you, or would you consider, selling a set of just the nickel covers for the dynasonics? thanks,
Heads Up! Asking a question here will be public to all users of this site.
Hey! Did you already ask a question on our Contact Us Form? Don't ask it again here. Please be patient while we get back to you.
---