Split Steel Poled Tele
Noiseless P90 Tone in a Tele Bridge Position? Yep – we got that! Enter the Fralin Split Steel Pole Tele Bridge: a Noiseless P90 for Telecaster. This pickup features a fat, thick midrange and aggressive highs. It's a perfect drop-in replacement for any Fender Telecaster Bridge pickup and for those looking for that versatile, unique P90 tone for their Tele. Get inspired and discover what you've been missing.
---
Quick Links:
Jump to Sound Clips and Product Info:
---
P90 Tone, Zero Hum.
Want to learn more about our Split Steel Poled Tele? Here's all the information you'll need:
Split Steel Poled Tele FEATURES:
The Split Steel Pole Tele Bridge provides an authentic P90 tone without the noise. If you're not happy with your bright, noisy bridge pickup, we invite you to check this pickup out. Featuring adjustable USA-Made Pole pieces and a thick, dynamic midrange, you will be amazed at the clarity, versatility, and articulation coming from your Tele's bridge position.
Based on his Split Blade design, Lindy created this pickup to get more aggression out of the bridge position while still canceling out hum. Installation is a breeze, as this pickup will drop right into your Telecaster with no modifications necessary
Features:
Noiseless, Fat And Full Tele Bridge Tone
Huge P-90 Midrange and Thickness
Direct Replacement For Tele Bridge
Two outputs for fine-tuning your unique tone
Unique left-right coil design for 100% noiseless operation
Adjustable Steel Pole Pieces for fine-tuning string balance
USA-Made Precision Injection Mold, and USA-Made Ceramic Magnets and Wire
Backed by our 10-Year Warranty on manufacturing defects
Risk-free 30-day exchange policy
Sound
Are you seeking something unique for your Tele's Bridge position? Are you looking for a "secret weapon" in your guitar's arsenal? Look no further than our Split Steel Pole Bridge. With a unique design comes a familiar (yet unique) tone. This pickup features a thick, bold midrange, a percussive treble, and a familiar P90 growl.
Wound strings are crystal-clear yet loud, and Treble strings have the Tele Twang, but with a rounder quality. With an accentuated midrange and warmer highs, this Bridge pickup is perfect for those trying to tame a twangy Tele bridge.
Whether you play with distortion or not, you'll undoubtedly cut through in the mix with our Split Steel Pole Tele Bridge.
OPTIONS:
Choose Stock Output: If you want the thickest, beefiest tone. The midrange will be loud and full. Highs will be slightly darker.
Choose -5% Output: If you want a little clearer tone and more articulation. Highs will be more present, mids slightly scooped.
Take a listen to our friend Mike Hermans use our Split Steel Pole Tele in the Bridge position of his Tele:
---
Tonal Graph for Split Steel Poled Tele:
The tone graph below for our Split Steel Poled Tele features Lows, Midrange, Highs, and general Output.
Attack: Stiff & Percussive
Tech Specs
See below for the estimated DCR and Polarity Information for our Split Steel Poled Tele.
| SPECIFICATION | VALUE |
| --- | --- |
| Ohm Reading: | 9.8K (Stock) |
| Polarity: | This pickup's polarity is reversible with 3-Wire configuration |
| Magnets: | USA-Made Ceramic |
| Wire: | USA-Made 43-Gauge Single Poly Nylon |
| Bobbins: | USA-Made Precision Injection Mold |
| Baseplate: | USA-Made Nickel Silver |
| Recommended Pot Value: | 250K* |
| Recommended Cap Value**: | 0.02mfd |
---
**We recommend a 0.02mfd Cap Value on most guitar and bass pickups. The exception is a Magic Cap, which Lindy prefers on the Bridge Pickup of Fender® guitars only. Learn More about Caps Here.
* 500K Pots will provide a clearer, brighter tone
Sizing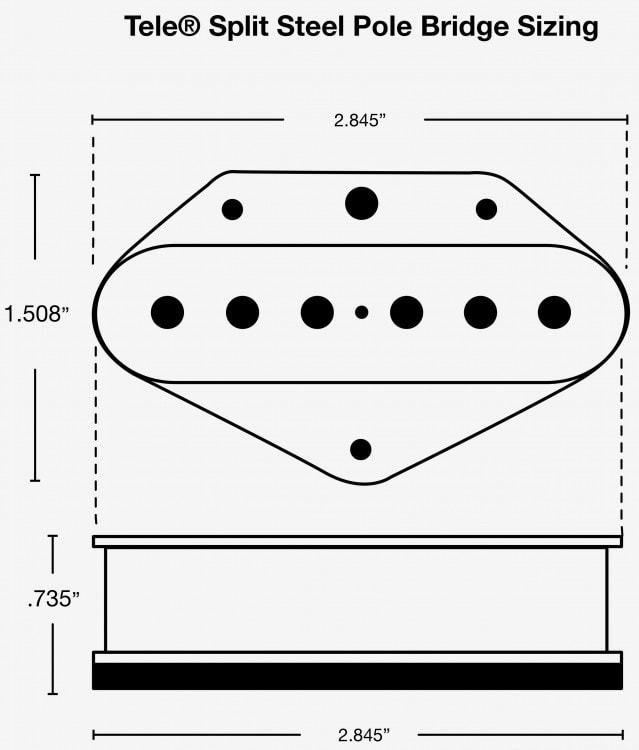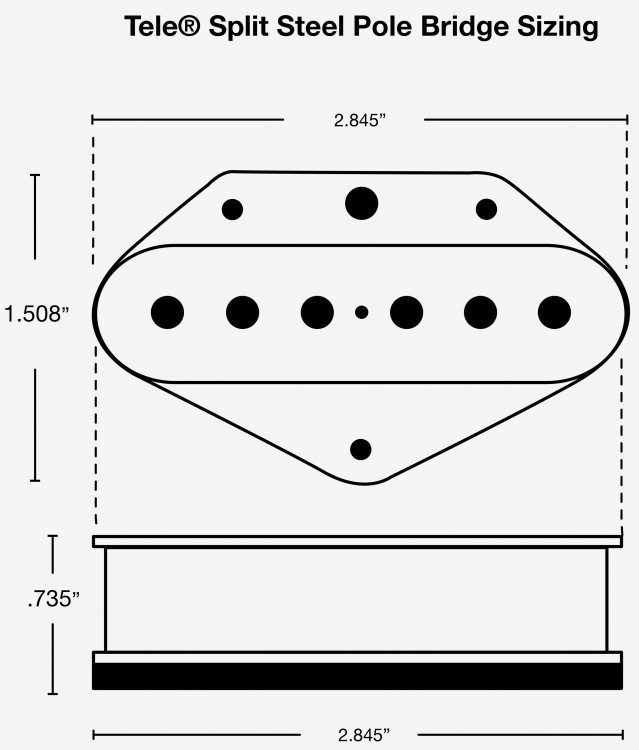 Split Steel Poled Tele Questions And Answers:
Notice:
Have a question about our Split Steel Poled Tele? Ask it here. Your Question will be publically visible. If you want to ask a Private Question, please contact us through our Contact Us Form.
If you have multiple questions, please call us at (804) 358-2699.
Hi Lindy, I'm putting a Tele together using a P-92 in the neck position. Thinking about your using your Split Steel Pole 43 at the bridge spot. What value tone pot should I go with for optimum tonal balance...250k or 500k or possibly a TBX? I've TBX's used in Strats when outfitted with Humbkrs w/ good results, even though most players don't favor them. And, is shielding necessary?

Hi, I have a Tele with Fender Ultra Vintage Noiseless pickups, I read the Split Steel Poled could be a good match to a noiseless Vintage Output, does the Fender UVN neck pickups could be a good match for the Split Steel Poled? or do you recommend other neck pickup (split blade, p90 noiseless, mini HB, HB or single HB) I would like versatility from little breakup tones to distortion and lead tones, thanks.

I have a 2022 American Fender Tele Pro II, I like the way it sounds. I just purchased a road worn made in Mexico Brad Paisley silver sparkle Tele. Bridge pickup is just so so, but when you switch to neck pickup, it's not great at all. What should I be replacing it with? A couple of guys I see In Nashville have your blues pickups. I don't want to get a buzz from bar neon lights. Thanks!

I'm interested in putting the Split Steel Pole in my tele (bridge pos). What hum cancelling neck pick up would you recommend to pair with it?

Hi, I would like to pair this Split steel pole with a noiseless p90 with alnico rod (in the neck position). I see your previous answer says these two pick ups are good match. I play a lot of clean rhythm in the middle position. Given this, would you recommend the 5% underwind output option? And with that 5% underwind output, would the match would still be good with the neck noiseless p90 alnico rod? Last question, can I still call on a bit of sna...

Read more
GET IT PREWIRED
Go the extra mile and combine our Split Steel Poled Tele with a Telecaster Control Plate!:

---
STAY IN TOUCH
Subscribe To Our Newsletter