Vintage Hot Tele
Experience the ultimate in clarity and articulation with our era-authentic Fralin Vintage Hot Tele set. Warm, clear lows paired with brilliant highs, our Vintage Hot Tele set will inspire you with all the twang you desire. Built with all USA-Made parts, you can take pride in knowing we made every aspect of your pickups with the highest-quality materials possible.
---
Quick Links:
Jump to Sound Clips and Product Info:
---
The Ultimate in Tele Twang
Want to learn more about our Vintage Hot Tele? Here's all the information you'll need:
Vintage Hot Tele FEATURES:
Are you looking for the cleanest and most transparent tone out of your Tele? We got you! Vintage Hot Tele Pickups: our second best-selling Tele set. This set features a bright, pure sound that allows you to cut through the mix and hear every nuance in your playing. Wound by hand to '50s specs, you can feel great knowing your pickups were wound by our expert craftsmen, specifically for you.
Features:
Original Fender specifications, with modern output
Clean and clear, lots of Fender sparkle and twang
USA-made Alnico 5 Magnets for optimal tonal balance and output
Compensated Bridge for even volume across all pickups
Two magnet staggers available for different fingerboard radiuses
Hand-wound with our "Sectioning" technique for unique, dynamic tone
Hand-built fiberboard Bobbins for unrivaled quality control
Backed by our 10-Year Warranty on manufacturing defects
6.6K Bridge, 7.4K Neck
Sound
This pickup set is perfect for those looking for the most traditional Tele twang out of their Telecaster. Vintage Hot Tele Pickups excel at cleaner styles of music. Expect a robust and open midrange, clear bass strings, and bright and sharp-sounding plain strings. The break-up is smooth and late, ideal for cleaner players or a softer playing style.
Vintage Hot Tele Pickups are for those who need the most traditional Vintage Telecaster tone. If you're playing style involves more distortion, or, if you prefer smoother, darker-sounding pickups, you might like our Blues Specials a bit more. However, If your current pickups are too dark, or if you're looking for some added definition and clarity, you will love these. You'll wonder why you didn't make the switch earlier.
Are you looking for a Hum Cancelling Tele pickup that actually sounds like a Tele? Check out the Vintage Output of our Split Blade Tele Pickups
Our manufacturing process allows us to achieve unparalleled quality control. These Telecaster pickups consist of local fiberboard and USA-Made Alnico 5 Magnets. We wind each pickup by hand, one at a time. Each pickup is wound using our proprietary "Sectioning" technique. This gives the pickup a sweet, clear tone. Finally, we wax-pot the pickup to preserve the pickup and prevent microphonics. Rest assured: when you receive this pickup, you'll know it's painstakingly made with love.
---
Tech Specs
See below for the estimated DCR and Polarity Information for our Vintage Hot Tele.
| SPECIFICATION | VALUE |
| --- | --- |
| Neck Ohm Reading: | 7.6K* |
| Bridge Ohm Reading: | 6.8K |
| Neck Polarity: | Counter Clockwise Coil Direction, North To Strings |
| Bridge Polarity: | Clockwise Coil Direction, South To Strings |
| Magnet: | USA-Made Alnico 5 |
| Wire: | USA-Made 42 / 43 Plain Enamel* |
| Recommended Pot Value: | 250K |
| Recommended Cap Value**: | 0.02mfd |
---
**We recommend a 0.02mfd Cap Value on most guitar and bass pickups. The exception is a Magic Cap, which Lindy prefers on the Bridge Pickup of Fender® guitars only. Learn More about Caps Here.
*The Neck reads higher due to the use of 43 Gauge Wire, outputs are compensated
Sizing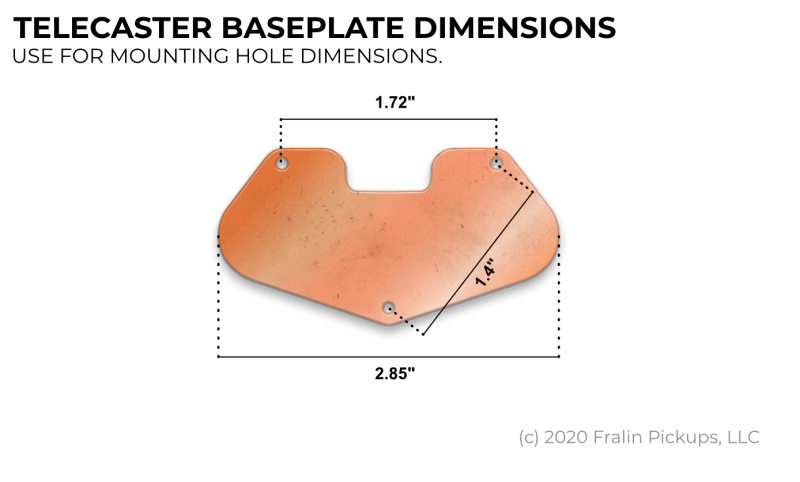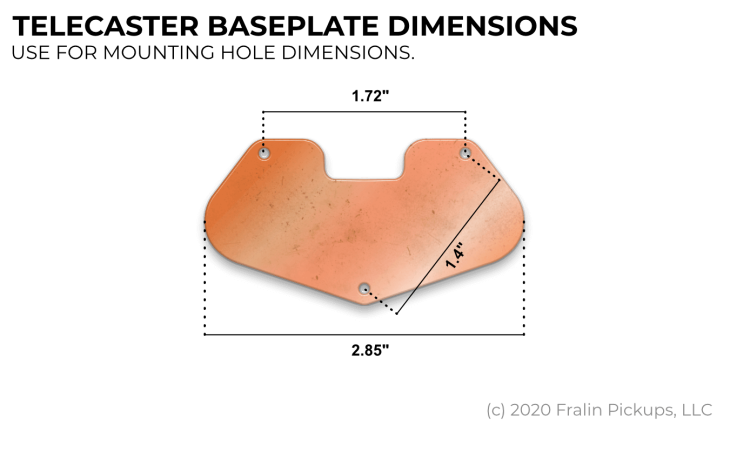 Vintage Hot Tele Questions And Answers:
Notice:
Have a question about our Vintage Hot Tele? Ask it here. Your Question will be publically visible. If you want to ask a Private Question, please contact us through our Contact Us Form.
If you have multiple questions, please call us at (804) 358-2699.
I'm looking for something between the vintage hot Tele and blues special. The cleanliness and articulation of the vintage hot and the midrange bark of the blues special What do you recommend? I was thinking overwound vintage hot? Thanks for your help

Q

I'm looking for something between the vintage hot Tele and blues special. The cleanliness and art......

Read more

A

Hey Angelo, go with the Stock Tele +2% for the perfect balance of the two models.

Hi I have a new Fender JV 50's modified tele. I do like it. I do like the feel of the guitar, but still looking for a certain "Tele" sound. Ive modded and built guitars in the past, so not afraid to experiment. I want a warm jazz sound out of the neck pickup, and a real chicken pickin sound out of the bridge pup. Im a pro bass player, but play guitar in bands as well. I play with fingers and a pick.

Q

Hi I have a new Fender JV 50's modified tele. I do like it. I do like the feel of the guitar, but......

Read more

A

Hey John, the Vintage Hot Tele Bridge will give you the "chicken pickin'" tone you're searching for. You can go with the Stock neck, but I'd recommend going with something a bit overwound in the neck pickup if you're looking for a warmer jazz tone. Possibly select a Blues Special Neck with a cover. Keep in mind that your pickups will be slightly out of balance tonally.

Hey guys, I have a tele that has a Twangmaster in the neck and a split rail in the bridge. I'd love something more traditional in the bridge. I do more Brent Mason style stuff. Would this one pair well with the twangmaster or should i just bite the bullet and do a whole set of single coils?

Q

Hey guys, I have a tele that has a Twangmaster in the neck and a split rail in the bridge. I'd lo......

Read more

A

Hey Fred, I'd personally go with the Blues Special Tele, as it would pair a bit better with the Twangmaster Neck. That said, if you're looking for the brightest tone possible, the Vintage Hot Tele is what you want.

Are both the vintage hot and blues specials available without a cover on the neck pickup? If so does one just select n/a where it asks for cover? What effect does removing the cover have on the tone?

Q

Are both the vintage hot and blues specials available without a cover on the neck pickup? If so d......

Read more

A

Hey John, the Blues Special comes standard without a cover. If you want the Vintage Hot without a cover, you can request it in the "notes" field. You can expect a bit more presence in the top-end when you remove the cover.

How far apart are the mounting holes on the Vintage Hot Tele neck pick up, for a pick up ring?

Q

How far apart are the mounting holes on the Vintage Hot Tele neck pick up, for a pick up ring?

A

Hey Greg, I'm measuring 2-13/16" from hole to hole.
GET IT PREWIRED
Go the extra mile and combine our Vintage Hot Tele with a Telecaster Control Plate!:

---
Featured Reviews
Reviews we worked hard for, and are proud of.
"I upgraded a Squier Classic Vibe 50s Telecaster with set of Vintage Hot pups, stock neck and 2% overwound bridge. Also installed the Fralin pre-wired control plate. I also changed the bridge and saddles (brass, but aluminum E-A saddle) with ones made by a chap in Germany brand name T-Tune. The installation went well and it was the first time I'd ever done a setup on any guitar. I could not be more pleased with the result. To my ears, the guitar now sounds like an early 50s Telecaster. I rate these Fralin pups at 5 stars +."
"Just installed a set of standard Tele pickups with 2% overwind on both pickups in a new Fender American Ultra which is incredible but just didn't have the Tele sound. All I can say is wow. Blows away the Fender noiseless pickups. Very clear and open sound and they can also rock too. No problem getting dirty. Only had a chance to play them fir a few minutes late last night but I don't hear any noise from them. Can't wait to out them through their paces. I don't know why anyone would want to keep the stock Fenders. Also, I got the pre-wired control plate with the 4th position option (pull/push treble knob). Awesome full sound when combining both pickups. I love that option as the Tele looks stock. If you have a Tele and want a Tele sound you have to get these. Uninstalled the whole set with ease. A few solder joints and you're done."
"Exceeded My Expectations I've had a couple of weeks to live with the new Fralin tele pickup, and my initial enthusiasm hasn't waned. I've used another boutique bridge PU (rhymes with dollar) for many years in this guitar, and I've always been pretty pleased with it, but it didn't give me exactly what I heard in my head. The Fralin stock tele with 2% overwind turned my head the first time I played it. It has a harmonic richness I felt was missing before, a very classic early 60's tele sound, but with great bass response, ample output and sparkle with no harshness. I'm rethinking this guitar now, and I feel it's more versatile and rewarding to play. It covers a broad stylistic territory and has great touch sensitivity. I could say more, but just thinking about this pickup makes me want to stop and play that guitar again. Let's just say it exceeded my expectations. The pandemic is beginning to ease, and I'm looking forward to getting back to regular gigging with this guitar and running the Fralin through its paces. I see more of Lindy's PUs in my future."
"I just put my new Fralin "Stock Tele" pickups in my part-o-caster last night. Wow! What a revelation. The contrast between the Fralins and the stock Fender pickups was quite remarkable. I felt inspired to play guitar - which is really what it's all about, right? One of the unexpected changes was that I found myself using the volume and tone controls much more. Previously, I'd typically just kept them wide open all the time. But with the Fralin pickups I found that there were pleasant, different sounds available throughout the range of the controls. Even if I rolled the tone all the way down it didn't sound like mud. Thanks, Mr. Fralin!"
"What a Tele Sounds like in my head. I've come to believe Fralin is what a Tele sounds like— I've used other "vintage style" pups and they always left me wanting. Little output, overly dark or overly light…. I like the slightly extra output a Fralin gives, but a nice balanced pickup. This is my 3rd set and it took a fantastic boutique guitar OVER THE TOP! The Standard Tele with a 2% overwind is my favorite, with my second favorite being the Jim Weider wind. Get them!"
STAY IN TOUCH