Vintage Hot Tele
The Vintage Hot Tele® was formally known as the "Stock Tele".
Experience the ultimate in clarity and articulation with our era-authentic Fralin Vintage Hot Tele set. Warm, clear lows paired with brilliant highs, our Vintage Hot Tele set will inspire you with all the twang you desire. Built with all USA-Made parts, you can take pride in knowing we made every aspect of your pickups with the highest-quality materials possible.
---
Quick Links:
Jump to Sound Clips and Product Info:
---
The Ultimate in Tele Twang
Want to learn more about our Vintage Hot Tele? Here's all the information you'll need:
Vintage Hot Tele FEATURES:
Original Fender specifications, with modern output
Clean and clear, lots of Fender sparkle and twang
USA-made Alnico 5 Magnets for optimal tonal balance and output
Compensated Bridge for even volume across all pickups
Two magnet staggers available for different fingerboard radiuses
Hand-wound with our "Sectioning" technique for unique, dynamic tone
Hand-built fiberboard Bobbins for unrivaled quality control
Backed by our 10-Year Warranty on manufacturing defects
6.6K Bridge, 7.4K Neck
Overview
Are you looking for the cleanest and most transparent tone out of your Tele? We got you! Vintage Hot Tele Pickups: our second best-selling Tele set. This set features a bright, pure sound that allows you to cut through the mix and hear every nuance in your playing. Wound by hand to '50s specs, you can feel great knowing your pickups were wound by our expert craftsmen, specifically for you.
Sound
This pickup set is perfect for those looking for the most traditional Tele twang out of their Telecaster. Vintage Hot Tele Pickups excel at cleaner styles of music. Expect a robust and open midrange, clear bass strings, and bright and sharp-sounding plain strings. The break-up is smooth and late, ideal for cleaner players or a softer playing style.
Vintage Hot Tele Pickups are for those who need the most traditional Vintage Telecaster tone. If you're playing style involves more distortion, or, if you prefer smoother, darker-sounding pickups, you might like our Blues Specials a bit more. However, If your current pickups are too dark, or if you're looking for some added definition and clarity, you will love these. You'll wonder why you didn't make the switch earlier.
Are you looking for a Hum Cancelling Tele pickup that actually sounds like a Tele? Check out the Vintage Output of our Split Blade Tele Pickups
Our manufacturing process allows us to achieve unparalleled quality control. These Telecaster pickups consist of local fiberboard and USA-Made Alnico 5 Magnets. We wind each pickup by hand, one at a time. Each pickup is wound using our proprietary "Sectioning" technique. This gives the pickup a sweet, clear tone. Finally, we wax-pot the pickup to preserve the pickup and prevent microphonics. Rest assured: when you receive this pickup, you'll know it's painstakingly made with love.
---
Tech Specs
See below for the estimated DCR and Polarity Information for our Vintage Hot Tele.
| SPECIFICATION | VALUE |
| --- | --- |
| Neck Ohm Reading: | 7.6K* |
| Bridge Ohm Reading: | 6.8K |
| Neck Polarity: | Counter Clockwise Coil Direction, North To Strings |
| Bridge Polarity: | Clockwise Coil Direction, South To Strings |
| Magnet: | USA-Made Alnico 5 |
| Wire: | USA-Made 42 / 43 Plain Enamel* |
| Recommended Pot Value: | 250K |
*The Neck reads higher due to the use of 43 Gauge Wire, outputs are compensated
FAQs
What's the difference between the Vintage Hot Tele and the Blues Special Tele? The Vintage Hot Tele is more true to Vintage Specs and thus will sound brighter, clearer, and more open. The Blues Special Tele will sound thicker, darker, and more powerful. Stock Tele is for those who want the most twang out of their guitar.
What Stagger do I choose? Choose Stock Bridge Stagger if you have a guitar with a round to medium fingerboard radius: 7.25″ – 10″. Choose Hybrid if you have a flatter or compound radius (11+").
How far away from the strings does the pickup need to be? Push your Low E String down at the highest fret. Measure from the top of the pole piece to the bottom of the string. The ideal starting location should be 1/8? on the bass string, and 1/16? on the treble string, when the High E string is pushed down at highest fret.
Wiring Diagrams? Here!
Sizing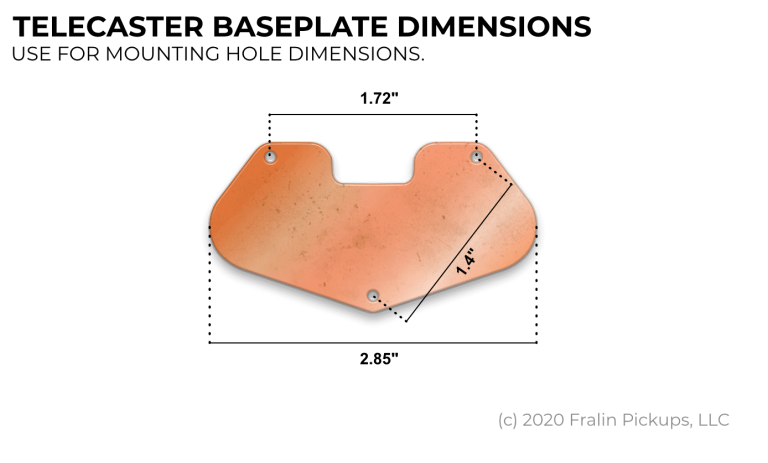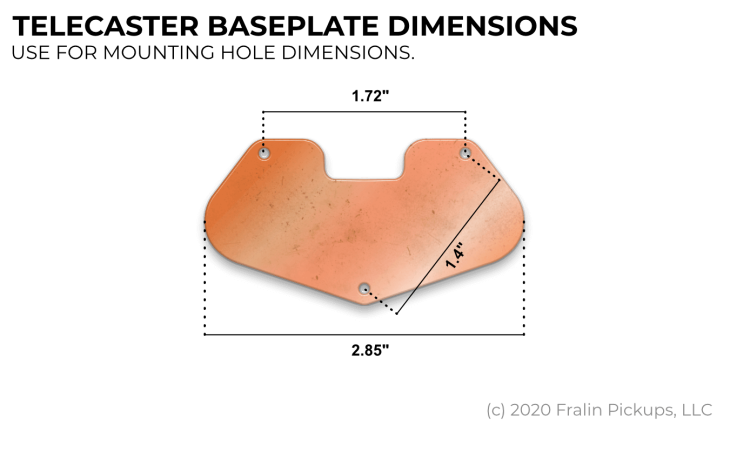 Vintage Hot Tele Questions And Answers:
Have a question about our Vintage Hot Tele? Leave it here! We will answer your question within 24 hours.
GET IT PREWIRED:
Go the extra mile and combine our Vintage Hot Tele with a Telecaster Control Plate!:

---