INNOVATION MEETS SERIOUS TONE.
Split Blade Telecaster Pickups: The revolutionary design in single-coil sound, without the hum. This pickup is built with a 2-coil design using steel blades for the pole piece. Unlike most humbucking pickups, Split Blades are designed with a left and right coil design, offering a truer and more balanced single-coil tone. These pickups will drop right in to your Telecaster, with no modifications necessary. You'll get all the single-coil traditional tone, with no hum at all.
SOUND:
Lindy Fralin Split Blade Pickups are unique: they offer a single-coil sound, with no hum, whatsoever. You can expect fantastic a warm, full-bodied tone with incredible string articulation and enhanced detail. Low strings sound clear and articulate, while the plain strings sound thicker than a single coil, but still sparkle. Furthermore, adjusting the pickup on the Bass and Treble ends really allows the player to fine-tune the pickup to his or her needs. Split Blade Pickups will not pull the strings out of tune – even if they get close to the strings. When playing with distortion, Split Blade Pickups sound thick and dynamically rich. Chords have a nice compression on them while single note lines have a much larger sonic footprint.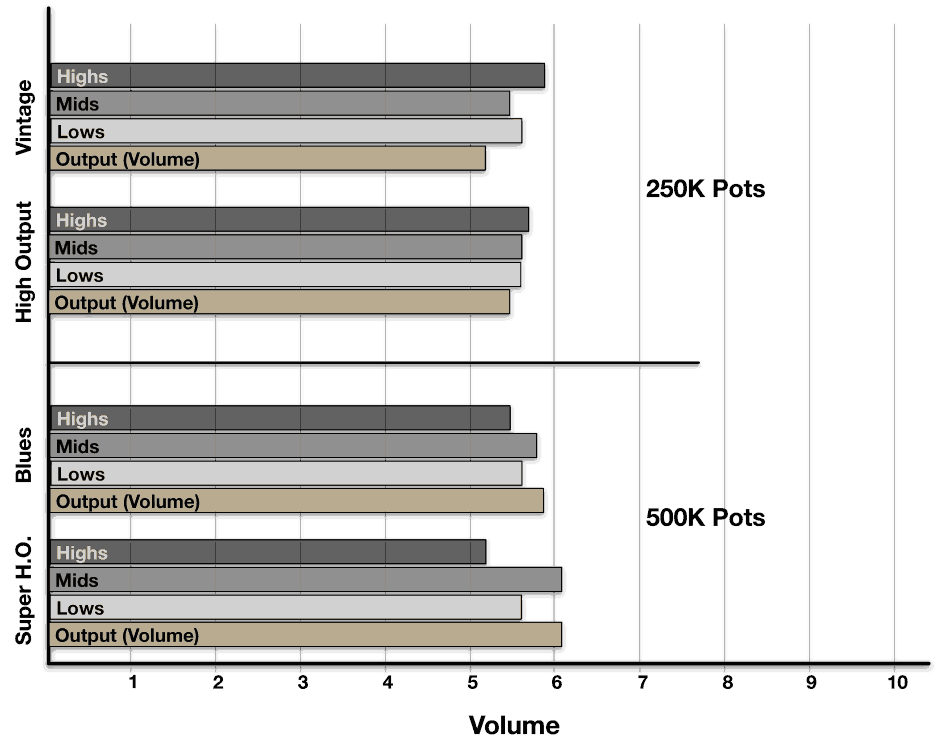 ---
Choosing the Output:
Vintage Output offers a thicker, darker sound than our Stock Tele pickups, while still offering bright wound strings. The Vintage Output works well with 250K pots. This is Lindy's favorite version of Split Blades. The Vintage Output gives you the closest tone to true Vintage guitars.
The Blues Output is 5% stronger than the Vintage output, and offers 5% more bass and mids, and 5% less treble. The Blues Output works well with 500K pots. The Blues Output, when combined with 500K Pots, will give you a beefier Telecaster tone.
The High Output is 5% Stronger than the Blues Output. We use a stronger magnet in this pickup which makes it brighter. the High Output model sounds great with 250K pots. A popular combination is using the High Output in the bridge, and a Vintage Output in the neck.
Super High Output is 10% stronger than the Blues Output. The Super High Output Split Blades work well with 500K pots. These models work best with regular Humbuckers, in a HSS or HSH configuration. The Super High Output Split Blade is the highest output we offer – you'll get the earliest breakup, and the darkest and beefiest tone.
Choosing The Radius:
These pickups are designed to work with the curvature (radius) of your neck. Be sure to have your radius measurement ready before ordering. Most vintage-style guitars are using the Round radius. Modern guitars are using the Medium radius. Guitars with a very flat fingerboard are using the Flat radius.
Round Radius (7.25″ – 9″)
Medium Radius (9.5″ – 11″)
Flat Radius (12″+ or Compound Radius Necks)
 Technical Information:
[/su_accordion