Split Blade Tele
A Lindy Fralin original design! Split Blade Tele pickups are noiseless pickups for your Telecaster. They feature a noiseless operation, with all the clarity you expect from a single-coil pickup. Split Blades are available in 4 outputs to help you fine-tune your tone and find your sound.
---
Quick Links:
Jump to Sound Clips and Product Info:
---
All Tele, No Hum.
Want to learn more about our Split Blade Tele? Here's all the information you'll need:
Split Blade Tele FEATURES:
Lindy Fralin Original Design
Unique 4-Split Blade design for Humbucker and SSS tones
An interesting and unique look
Clean and clear, lots of Fender sparkle and twang
USA-made Magnets for optimal tonal balance and output
Compensated Bridge for even volume across all pickups
Three Blade heights available for different fingerboard radiuses
Hand-wound with our "Sectioning" technique for unique, dynamic tone
Hand-built for unrivaled quality control
10-Year Warranty on manufacturing defects
Overview
Split Blade Tele Pickups: revolutionary design, pure Telecaster tone, no hum. Unlike most pickups, we designed our Split Blades with a left-right coil design, giving you a truer and more balanced single-coil tone. These pickups will drop right into your Telecaster, with no modifications necessary. You'll get all the single-coil traditional tone, with no hum at all.
Our manufacturing process allows us to achieve unparalleled quality control. Split Blades consist of a precision injection mold and USA-Made Steel Blades. We use aggressive USA-Made magnets to make this model scream. Each bobbin is carefully inspected and cleaned before winding. We wind each pickup by hand, one at a time. Each pickup is wound using our proprietary "Sectioning" technique. This gives the pickup a sweet, clear tone. Finally, we wax-pot the pickup to preserve the pickup and prevent microphonics.
Sound
SPLIT BLADE TELE SOUND:
Unhappy with Hum-Cancelling Fender Pickups, Lindy designed the Split Blade. It's a hum-canceling pickup with traditional Fender-type sparkle. They're unique: they offer a single-coil sound, no hum, and dashingly good looks. Expect fantastic a warm, full-bodied tone with incredible string articulation and enhanced detail. Wound strings sound clear and articulate due to a narrow magnetic field. Plain strings sound thicker than a single-coil with more of a sonic footprint. Chords will sound smooth and buttery, and single notes will sound large and full. Split Blades will not pull the strings out of tune – even if they get close to the strings. Also, adjusting the pickup's height allows you to fine-tune your tone to your needs. Expect thick, warm, and dynamic tone with distortion.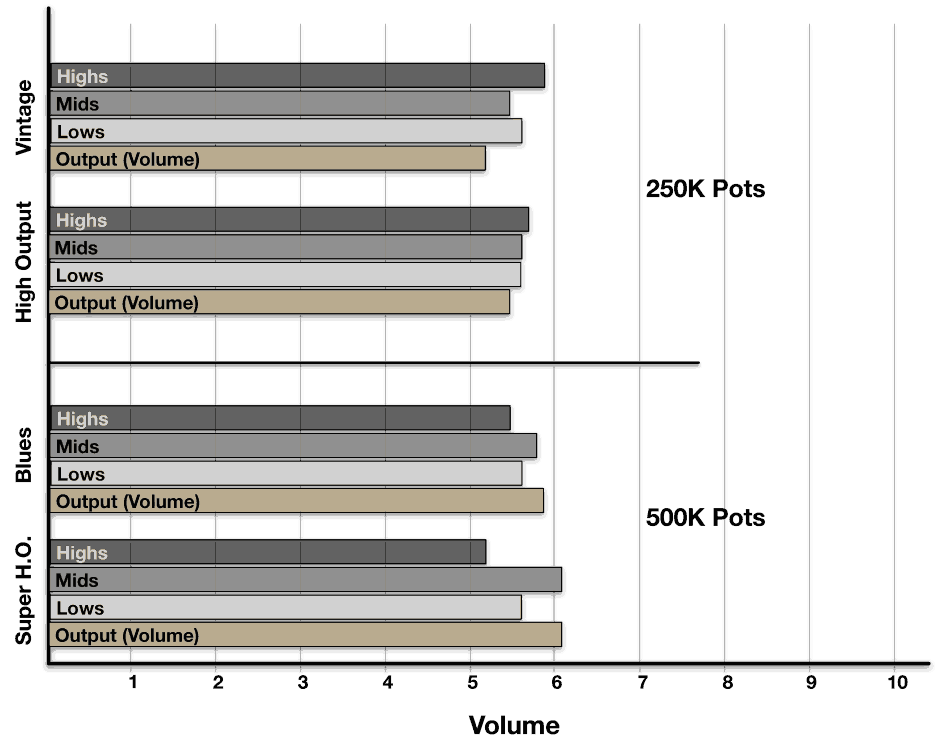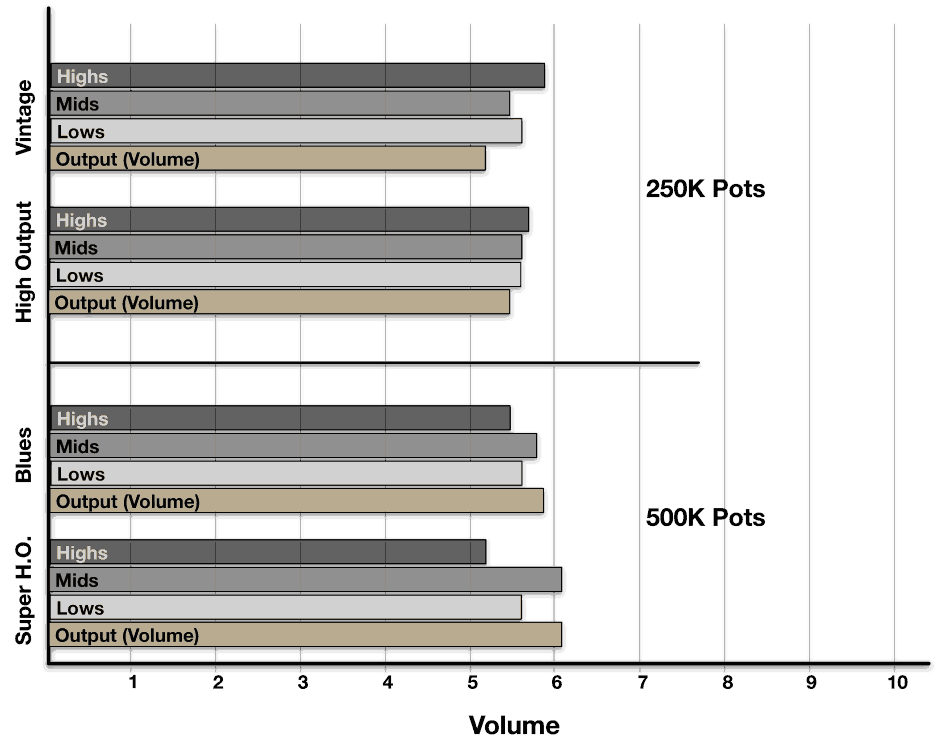 Options
CHOOSING THE OUTPUT:
Vintage Output offers a thicker, darker sound than our Stock Tele pickups, while still offering bright wound strings. Vintage Outputs work well with 250K pots. This is Lindy's favorite version of Split Blades. The Vintage Output gives you the closest tone to true Vintage guitars.
The Blues Output is 5% stronger than the Vintage output and offers 5% more bass and mids, and 5% less treble. Blues Outputs work well with 500K pots. The Blues Output, when combined with 500K Pots, will give you a beefier Telecaster tone.
The High Output is 5% Stronger than the Blues Output. We use a stronger magnet in this pickup which makes it brighter. the High Output model sounds great with 250K pots. A popular combination is using the High Output in the bridge, and a Vintage Output in the neck.
Super High Output is 10% stronger than the Blues Output. The Super High Output Split Blades work well with 500K pots. These models work best with regular Humbuckers, in an HSS or HSH configuration. The Super High Output Split Blade is the highest output we offer – you'll get the earliest breakup and the darkest and beefiest tone.
Choosing The Radius:
These pickups are designed to work with the curvature (radius) of your neck. Be sure to have your radius measurement ready before ordering. Most vintage-style guitars are using the Round radius. Modern guitars are using the Medium radius. Guitars with a very flat fingerboard are using the Flat radius.
Round Radius (7.25″ – 9″)
Medium Radius (9.5″ – 11″)
Flat Radius (12″+ or Compound Radius Necks)
FAQs
FAQ'S:
What Output do I choose? Good question. Vintage and High Output models sound best with 250K pots. Blues and Super High Output models sound best with 500K pots. If you have the right pot installed, Vintage and Blues outputs will sound the clearest and most "Fender-y". Their higher-output counterparts will sound thicker and break up quicker.
What Radius do I need?

Round Radius: (7.25?-9?)
Medium Radius: (9.5?-11?)
Flat Radius: (12+" or Compound Radius)

How will this pickup differ from a standard Tele pickup? The tone is very similar! Whenever you have two coils in series like a Split Blade, you're going to lose a bit of that Fender "sparkle". However, we believe these are the closest you can get to the real thing.
How far away from the strings does the pickup need to be? Split Blades like to be closer to the strings than a normal Tele Pickup. Check out this video here.
Wiring Diagrams? Here!
Tech Specs
See below for the estimated DCR and Polarity Information for our Split Blade Tele.
Since we have a few different outputs for Split Blade, we've grouped them by their recommended Pot Value:
| SPECIFICATION | VALUE |
| --- | --- |
| Vintage Output Ohm Readings: | 4.7K Neck / 4.7K Middle / 5K Bridge* |
| Vintage Output Recommended Pot Value: | 250K or 300K |
| High Output Ohm Readings: | 5.3K Neck / 5.3K Middle / 6.7K Bridge* |
| High Output Recommended Pot Value: | 250K or 300K |
| Blues Output Ohm Readings: | 5K Neck / 5K Middle / 5.8K Bridge* |
| Blues Output Recommended Pot Value: | 500K |
| Super High Output Ohm Readings: | 7.2 Neck / 7.2K Middle / 9.5K Bridge* |
| Super High Output Recommended Pot Value: | 500K |
| Wire: | USA-Made 42 / 43 Gauge Single Poly Nylon, Depending On Model |
| Magnet: | Ceramic |
| Polarity: | Hum Cancelling, Request 3 Wire If Buying Single |
| Pole Piece Material: | Steel |
* Due to the unique design of this pickup, ohm readings aren't very helpful. Our Vintage Output is close to the a Vintage Strat Pickup output.
Sizing
Split Blade Tele Questions And Answers:
Have a question about our Split Blade Tele? Leave it here! We will answer your question within 24 hours.
GET IT PREWIRED:
Go the extra mile and combine our Split Blade Tele with a Telecaster Control Plate!:

---