Fralin'Tron
It's finally here – our brand-new 2022 Fralin'Tron! Experience exceptional clarity and articulation in a Filter'Tron format with Lindy's unique Fralin'Tron design. Featuring a focused single-coil vibe with a rich, warm midrange and crisp attack, you'll wonder where this pickup has been all your life.
---
Quick Links:
Jump to Sound Clips and Product Info:
---
Filter'Tron Looks, Real Fralin Tone
Want to learn more about our Fralin'Tron? Here's all the information you'll need:
Fralin'Tron FEATURES:
Lindy's Fralin'Tron improves on models like our Sunbucker Blues, which features more of a "single-coil" clarity while keeping it 100% hum canceling. As a result, this model provides a tone with a focused wound string and a rounder treble string suitable for all music styles. In addition, our Fralin'Tron features a medium output – not too clean, not too hot, versatile, and will inspire you for decades to come.
Fralin'Tron Features:
Lindy Fralin Unique Design, with medium output and a clearer tone.
Compensated Bridge for even volume across all pickups
Hum Cancelling in both positions for dead-quiet performance
USA-made Alnico 5 Magnets and wire for optimal tonal balance and output
Hand-wound with our "Sectioning" technique for unique, dynamic tone
Backed by our 10-Year Warranty on manufacturing defects
Risk-free 30-day exchange policy
Sound
When Lindy started designing the Fralin'Tron, he did so with a particular goal: to get as much clarity and articulation as possible out of this design.
We're thrilled with the result! Our Fralin'Tron features a scooped midrange and defined bass and highs. In addition, you can expect more nuance out of the wound strings, unlike the original design. Furthermore, the treble strings have a round, warm quality, making our Fralin'Tron perfect for all styles of music – from clean to dirty. Lastly, this pickup features a dynamic and punchy attack that gives you back what you put into it.
Give it a listen here:
Our manufacturing process allows us to achieve unparalleled quality control. Fralin'Trons consist of USA-Made bobbins, baseplates, magnets, and wire. We wind each pickup by hand, one at a time. Each pickup is wound using our proprietary "Sectioning" technique, which gives the pickup a sweet, clear tone.
Lastly, we assemble each pickup one at a time by hand, giving us unbeatable attention to detail. After assembly, we wax-pot the pickup to preserve the pickup and prevent microphonics.
---
Tech Specs
See below for the estimated DCR and Polarity Information for our Fralin'Tron.
| SPECIFICATION | VALUE |
| --- | --- |
| Neck Ohm Reading: | 7.2K |
| Bridge Ohm Reading: | 10.6K |
| Magnet Wire Material: | USA-Made 43-Gauge Single Poly Nylon |
| Magnet Material: | USA-Made Alnico 5 |
| Cover & Basplate Material: | USA Made Nickel Silver |
| Polarity: | Reversible with included 2-Conductor Lead |
| Recommended Pot Value: | 500K |
Sizing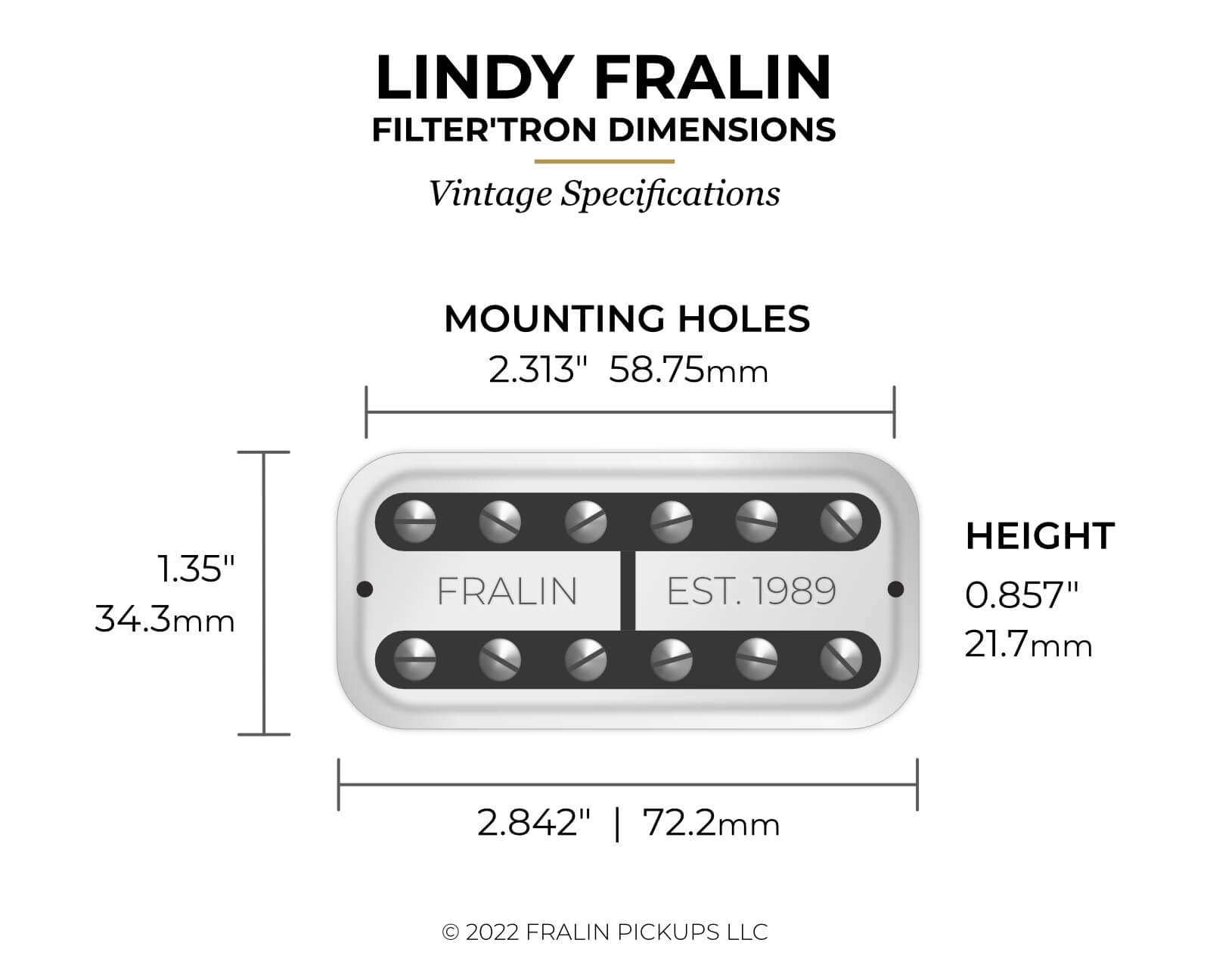 Mounting
There are two primary ways to mount our Fralin'Tron pickups: Vintage and Import. Vintage Mounting uses wood screws and screws the pickup directly into your guitar's body. You might have to use protective foam underneath the pickup to isolate the pickup chassis from the body wood (not included). See below for an example of Vintage Mounting: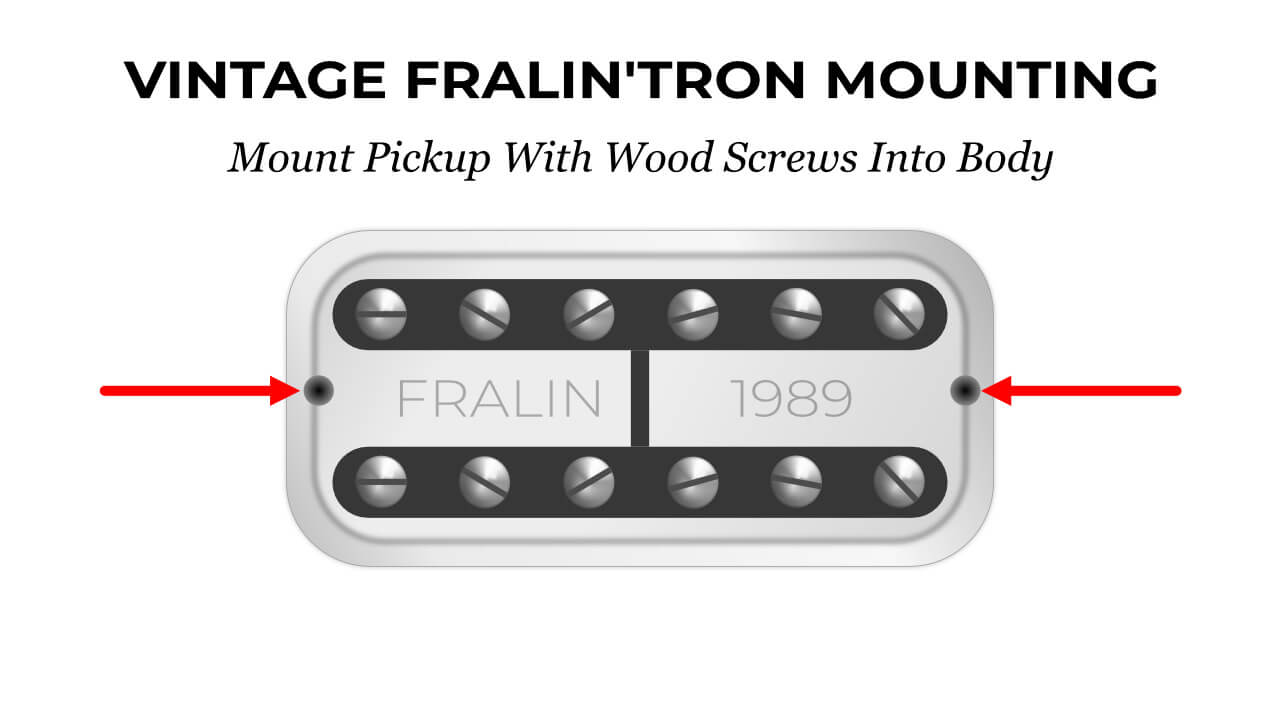 Import Mounting is a bit more involved, but is still simple to achieve. If your guitar's pickups are mounted to a mounting plate, you will have to re-use your existing mounting screws, springs, and mounting plate. Start by mounting the pickup to the plate first, then, mount the plate to the pickup bezel or mounting ring.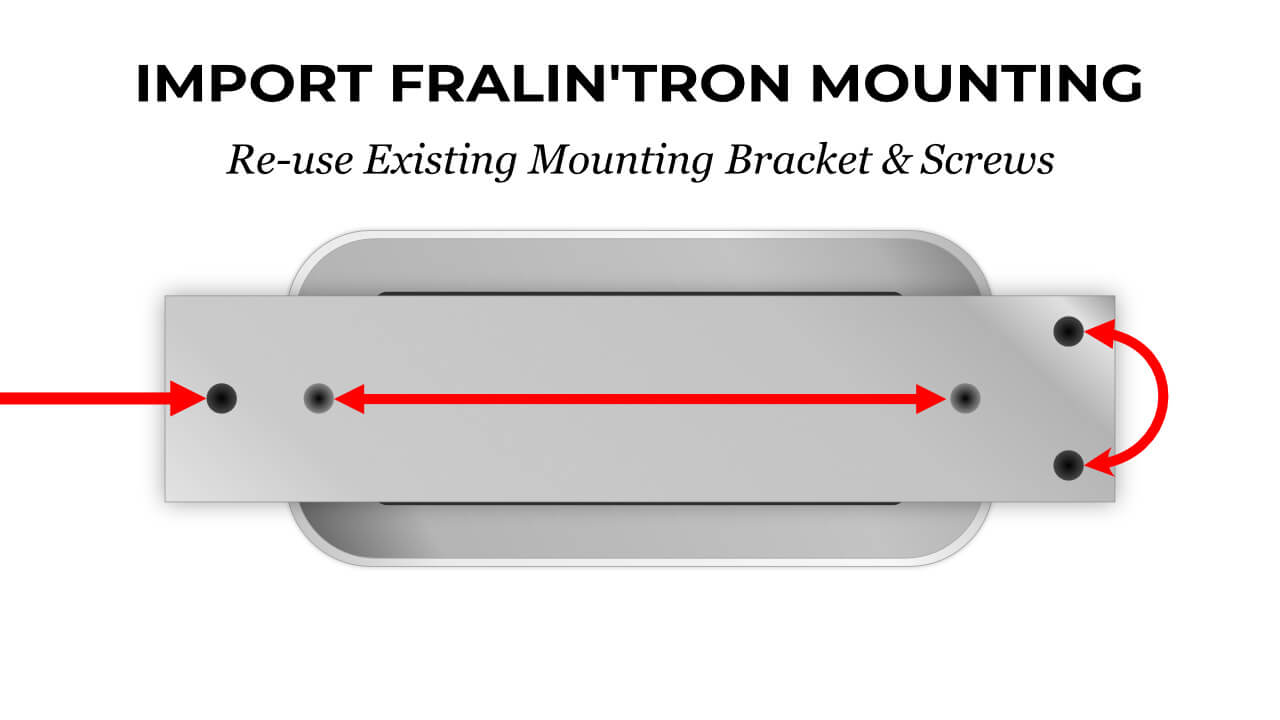 Fralin'Tron Questions And Answers:
Have a question about our Fralin'Tron? Ask it here. Your Question will be publically visible.
If you want to ask a Private Question, please contact us through our Contact Us Form.
If you have multiple questions, please call us at (804) 358-2699.
Are these pickups drop in replacements for humbuckers style routs?

Q

Are these pickups drop in replacements for humbuckers style routs?

A

Hey Sam, we are working on the humbucker-style mount. We have mounting brackets that will provide mounting for a single height adjustment screw on either side of the pickup. Please note we don't have Humbucker mounting rings for this pickup yet. Hopefully, we should have everything needed by the end of the month. - Tyler
Heads Up! Asking a question here will be public to all users of this site.
Hey! Did you already ask a question on our Contact Us Form? Don't ask it again here. Please be patient while we get back to you.
STAY IN TOUCH WITH US