Fralin'Tron
It's finally here – our brand-new Fralin'Tron! Experience exceptional clarity and articulation in a Filter'Tron format with Lindy's unique Fralin'Tron design. Featuring a focused single-coil vibe with a rich, warm midrange and crisp attack, you'll wonder where this pickup has been all your life.
---
Quick Links:
Jump to Sound Clips and Product Info:
---
Filter'Tron Looks, Real Fralin Tone
Want to learn more about our Fralin'Tron? Here's all the information you'll need:
Fralin'Tron FEATURES:
Lindy's Fralin'Tron improves on models like our Sunbucker Blues, which features more of a "single-coil" clarity while keeping it 100% hum canceling. As a result, this model provides a tone with a focused wound string and a rounder treble string suitable for all music styles. In addition, our Fralin'Tron features a medium output – not too clean, not too hot, versatile, and will inspire you for decades to come.
Fralin'Tron Features:
Lindy Fralin Unique Design, with medium output and a clearer tone.
Compensated Bridge for even volume across all pickups
Hum Cancelling in both positions for dead-quiet performance
USA-made Alnico 5 Magnets and wire for optimal tonal balance and output
Hand-wound with our "Sectioning" technique for unique, dynamic tone
Backed by our 10-Year Warranty on manufacturing defects
Risk-free 30-day exchange policy
Sound
Tonal Graph for Fralin'Tron:
The tone graph below for our Fralin'Tron features Lows, Midrange, Highs, and general Output.
---
When Lindy started designing the Fralin'Tron, he did so with a particular goal: to get as much clarity and articulation as possible out of this design.
We're thrilled with the result! Our Fralin'Tron features a scooped midrange and defined bass and highs. In addition, you can expect more nuance out of the wound strings, unlike the original design. Furthermore, the treble strings have a round, warm quality, making our Fralin'Tron perfect for all styles of music – from clean to dirty. Lastly, this pickup features a dynamic and punchy attack that gives you back what you put into it.
Give it a listen here:
Our manufacturing process allows us to achieve unparalleled quality control. Fralin'Trons consist of USA-Made bobbins, baseplates, magnets, and wire. We wind each pickup by hand, one at a time. Each pickup is wound using our proprietary "Sectioning" technique, which gives the pickup a sweet, clear tone.
Lastly, we assemble each pickup one at a time by hand, giving us unbeatable attention to detail. After assembly, we wax-pot the pickup to preserve the pickup and prevent microphonics.
Sizing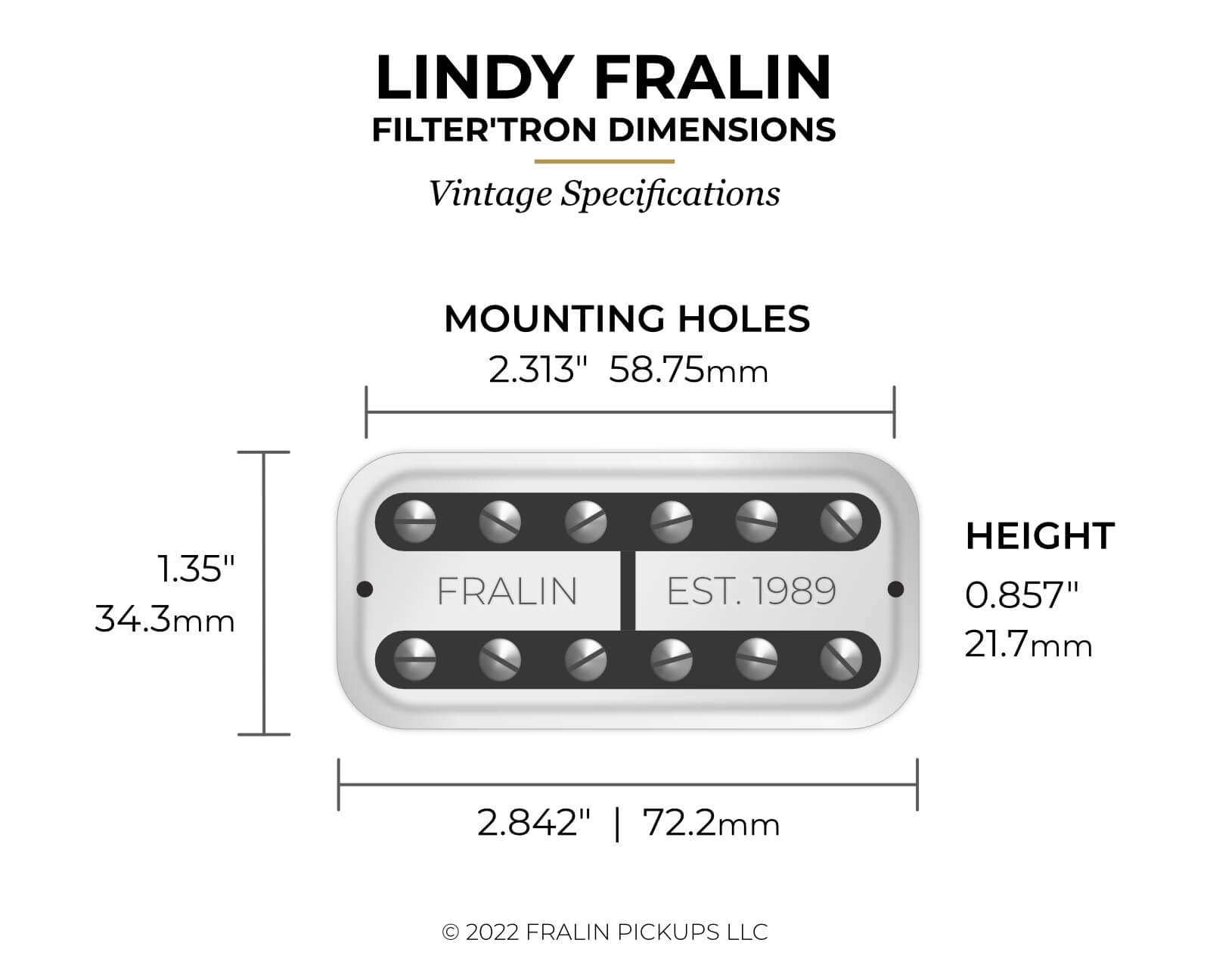 Mounting
Important:
It is important to check your pickup's cavity before ordering a replacement pickup. Doing so will help you understand what mounting option works best for you.
---
Mounting Options:
We have three mounting options to install your new Fralin'Tron:
Standard Mounting
Standard Mounting involves screwing your Fralin'Tron directly to the guitar's body using wood screws. These wood screws and springs are how the pickup both mounts and height adjusts.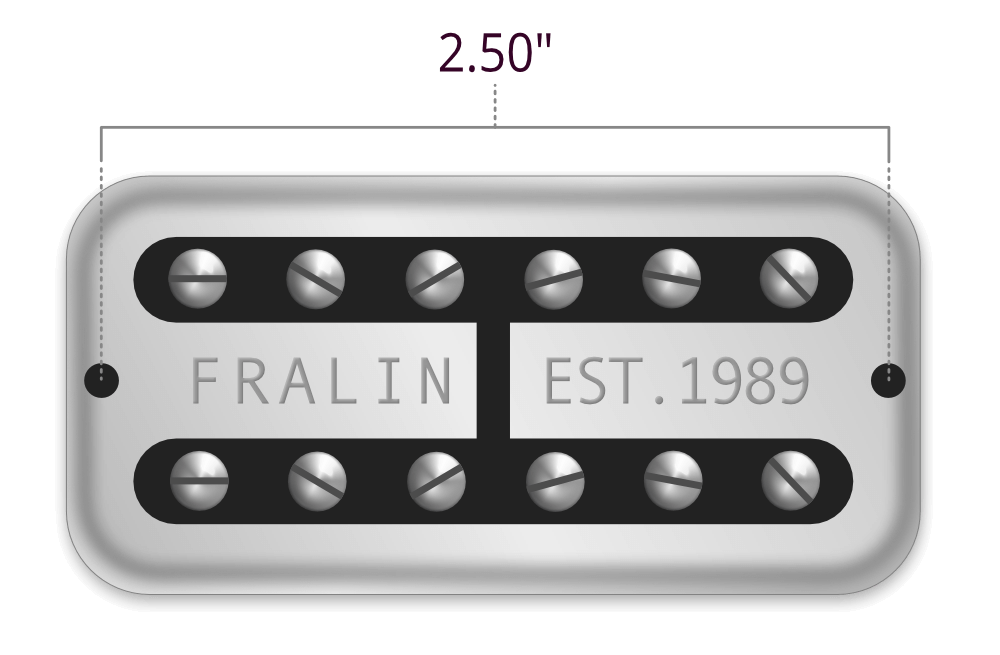 Humbucker Mounting
Humbucker Mounting mounts the Fralin'Tron to a mounting ring using the installed mounting plate. Note: 1″ of clearance is needed under the pickup as the plate mounting screws extend about 1/2″ under the pickup.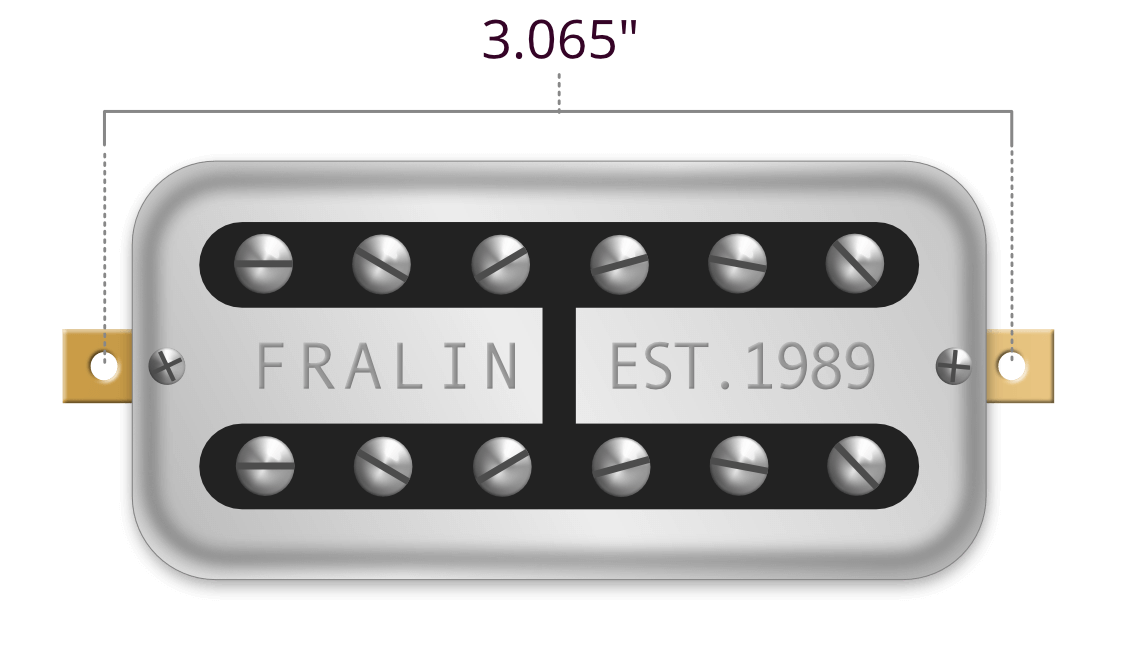 Gretsch® Mounting
Gretsch® Mounting mounts the Fralin'Tron to a mounting ring with two height adjustment screws on the bass side and one height adjustment screw on the treble side. Note: 1″ of clearance is needed under the pickup as the plate mounting screws extend about 1/2″ under the pickup.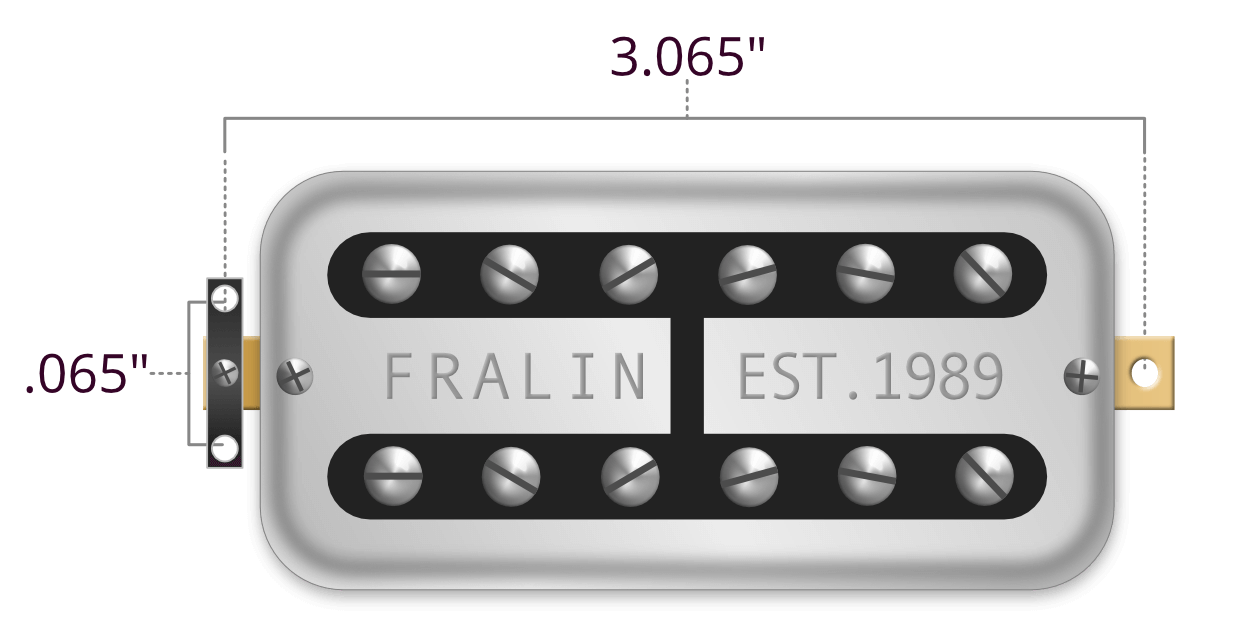 ---
One More Mounting Type:
There is one more mounting option that can be a bit confusing. Some import guitars now feature a mounting bracket underneath the pickup. The pickup mounts to this plate. Then, the plate & pickup get installed into a mounting ring for height adjustment.
This mounting method is a bit more involved but is still simple to achieve. If you have this mounting plate underneath your pickup, re-use your existing mounting screws, springs, and mounting plate. Start by mounting the pickup to the plate first, then mount the plate to the pickup bezel or mounting ring.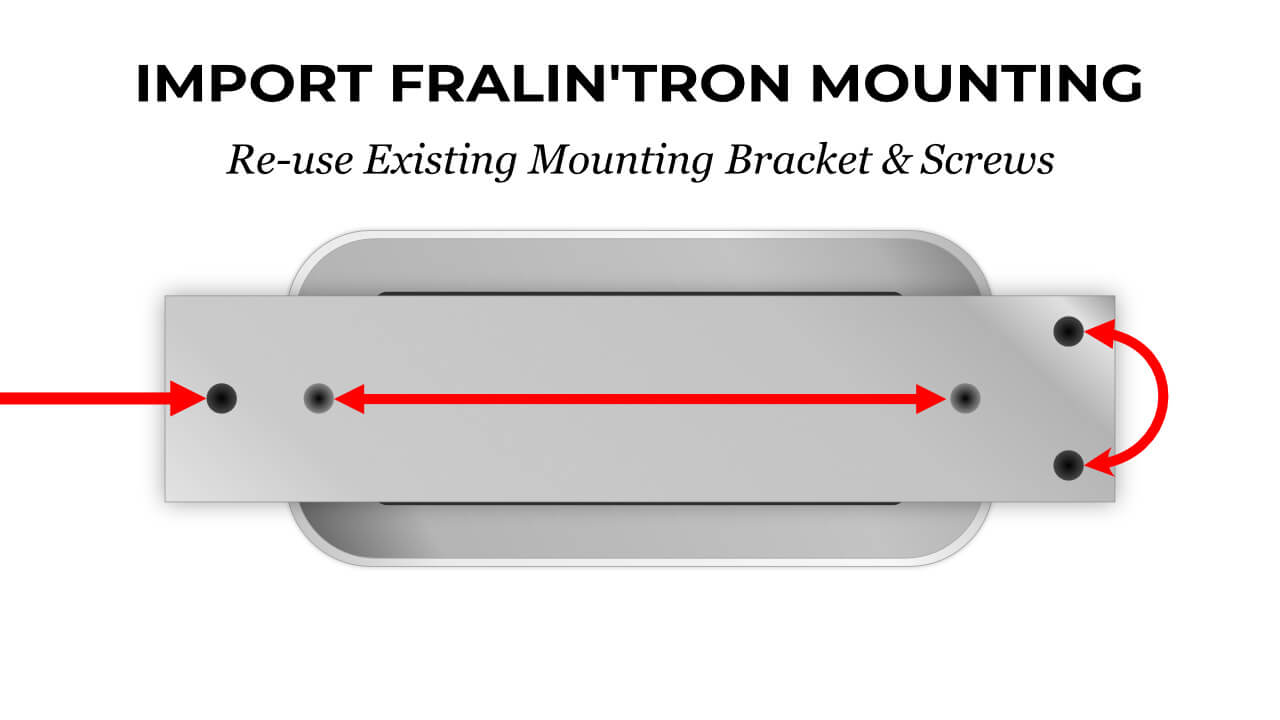 Tech Specs
See below for the estimated DCR and Polarity Information for our Fralin'Tron.
| SPECIFICATION | VALUE |
| --- | --- |
| Neck Ohm Reading: | 9.7K 1 |
| Bridge Ohm Reading: | 10.6K 1 |
| Magnet Wire Material: | USA-Made 43-Gauge Single Poly Nylon |
| Magnet Material: | USA-Made Alnico 5 |
| Cover & Basplate Material: | USA Made Nickel Silver |
| Polarity: | Reversible with included 2-Conductor Lead |
| Recommended Pot Value: | 500K |
| Recommended Cap Value: | 0.02mfd 2 |
---
More Information:
1 Ohm Readings can vary due to a multitude of factors, including ambient temperature, multimeter calibration, different wire batches, and other factors. Due to this, ohm readings are approximate. Learn more about Ohm Readings here.
---
2 We recommend a 0.02mfd Cap Value on most guitar and bass pickups. The exception is a Magic Cap, which Lindy prefers on the Bridge Pickup of Fender® guitars only. Learn More about Caps Here.
---
Fralin'Tron FAQ's
General FAQs
Here are quick answers to common questions we get:
What Ohm Readings does your Fralin'Tron have?

Navigate to our Tech Specs tab for complete Ohm Readings and more useful information.

Will this pickup fit my instrument?

Check our "Sizing" tab for the size of the pickup. No Sizing tab? Check under the product image gallery for dimensions.

Is your Lead Time of accurate?

It really depends on the shop capacity at the moment, and the size of your order. Feel free to give us a call for an accurate lead time. We always try to underpromise and overdeliver.

What pickup height do you recommend setting your Fralin'Trons to?

Our recommended Pickup Height is 1/8" (3.175mm) on the Bass Side and 1/16"( 1.5875mm) on the Treble Side. Measure by holding the corresponding side down at its highest fret and measure from the bottom of the string to the top of the pole piece.
---
---
Featured Reviews
Reviews we worked hard for, and are proud of
"The Fralin'Tron pickups make a huge difference in my Gretsch double jet! I've owned several double jets over the years and always sold them because the sound was weak. When I saw the Fralin'Tron ad, I bought another double jet and installed the pickups. The sound is amazing! The pickups have their own voice - not a repeat - and really stand out. Crisp, clean, and yet punchy depending upon how you dig in to the strings, make this a definite gig worthy guitar now! I have Fralins in a Tele and a Nashville Tele. Lindy called me to dial in the right pickups for the Nashville! Great customer service!"
"Man Lindy and his team have really outdone themselves this time. The Fralintron is better than I expected and I had pretty high expectations. The pickup has great definition, presence and has just the right amount of low end. The fralintron would seriously be the perfect pickup for a one pickup guitar. I have this pickup in the bridge of a 1966 Fender Coronado (hollow body) and it is special. I have the Fralin noiseless alnico p90 in the neck and they are a great pair. Fralin's customer service is second to none."