Meet the Fralin Pickups Staff.
At Fralin Pickups, we're a tight-knit, friendly team of dedicated musicians and music enthusiasts who are driven to making the highest-quality, best-sounding guitar and bass pickups on the market. We believe that good tone makes people smile, and re-ignites their love and passion for playing music. We know the amazing feeling of playing that special instrument that brings us happiness. We strive to pass that to you, day after day.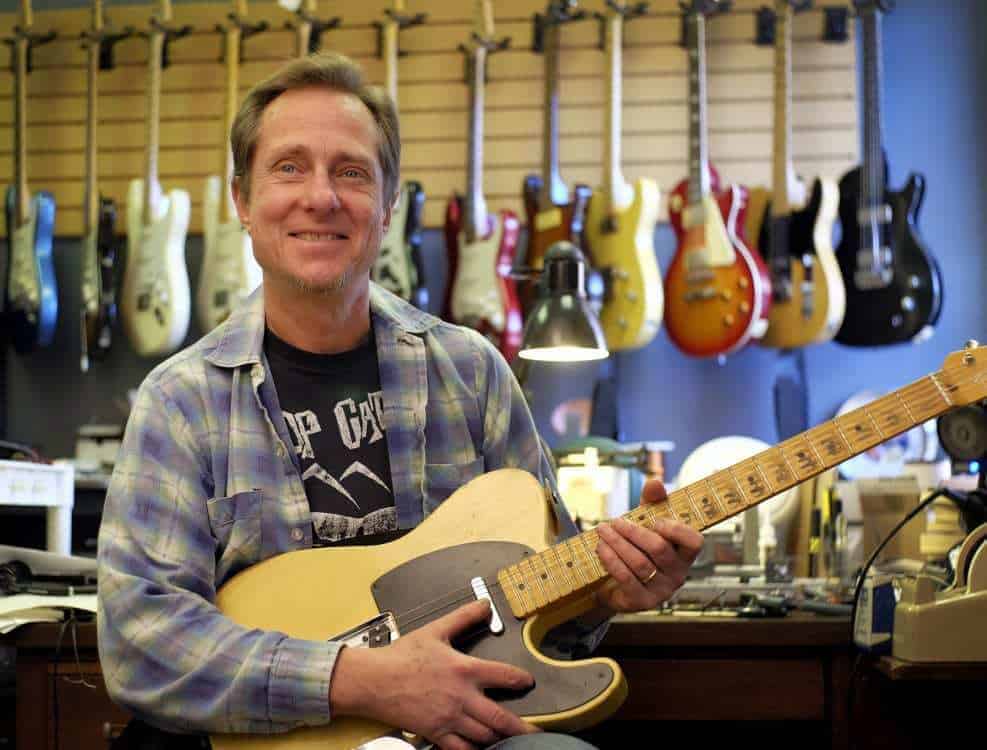 Meet Lindy Fralin: This man needs no introduction! Lindy started Fralin Pickups in the late 1980's when his desire to achieve a specific tone led to his curiosity to develop his own pickups. With the help of a few local friends, Lindy built his own winder and started rewinding dead pickups from local guitar shops. Slowly, Lindy built Fralin Pickups to what it is today - a world renowned brand and benchmark of serious tone. Outside of  the shop, Lindy enjoys playing in his band, the Bopcats, and spending time with his family. 
Lindy's Quote: "Enjoy music, and play more!"
Meet Paul Hammond: Paul started in April of 2002, and started assembling pickups and building bobbins. He eventually moved to winding pickups, and today, Paul winds everything except for humbuckers, and mainly spends his time winding Telecaster and Bass Pickups. Outside of work, Paul has been a professional drummer since he was 18 years old, and has been playing drums in the BopCats with Lindy for 15 years. Paul lives in Richmond with his wife and two sons. 
Paul's Quote: "I'm still paid by the hour, and getting older by the minute"
Meet Bill Fugate: Bill started working at Fralin Pickups in June of 1999. Bill is a true veteran - Bill started with building Bobbins and shipping, and eventually moved to assembling and putting leads on pickups. Today Bill winds and assembles every Humbucker model we offer, one at a time, by hand. Outside of work, Bill spends most of his time spending time with his wife, daughter, and feisty cat (who does not appreciate what Bill does for her).
Bill's Quote: "I see that I've never told you how I listen to music - I gently rest my hand on the record player and my hand vibrates, sending waves through my whole body: and so I listen to the electricity of the vibrations, the last substratum of reality's realm, and the world trembles inside my hands." - Clarice Lispector
Meet Zach Hudgins: Zach has been with Fralin Pickups for over 10 years. Zach started in Quality Control and Shipping, but now works building Split Blades and assembling pickups. If you've bought a Split Blade, Zach has made it! Outside of work, Zach stays very busy playing bass in successful local bands Jackass Flats and Red Light Rodeo. Zach was the former bassist of the successful local band The Southern Belles as well. 
Zach's Quote: "You can't pay me what I'm worth, I don't work that cheap" - Bill Kirchen
Meet Tyler Delsack: Tyler started working at Fralin Pickups in 2014, and after leaving briefly to join another company, returned back to work in August of 2016. Today, Tyler is the Manager of the shop and spends his time building pickups, maintaining the website, and marketing the company. Outside of work, Tyler is an avid guitar player for over 20 years. Tyler loves biking, hiking, good food and beer, and loves to eat an embarrassing amount of Vietnamese food.
Tyler's Quote: "Each day is a blessing. Don't waste it. Live it on your own terms."
Meet Victor Soult: Vic started working at Fralin Pickups January of 2015, and started by building bobbins and assembling pickups. Today, Vic spends most of his time shipping and expediting our pickups all around the world. Outside of work, Vic is an avid jazz guitar player and has played in many local groups for over 30 years. Vic spends his time outside of work playing guitar and spending time with his girlfriend.
Vic's Quote: "Life is a total reflection of yourself. Too bad some people cannot understand their own reflection"
Meet Luke Cretzmeyer: Luke started working in December of 2016. Luke spends his time answering the phone while winding Strat, Tele, and Bass pickups. Outside of work, Luke enjoys time with his dog, Mathers, and enjoys watching the Arsenal FC soccer team.
Luke's Quote: "Many's the long night I've dreamed of cheese.  Toasted mostly."
Meet Jon Brown: Jon is our newest employee and started working September of 2018. Jon is our customer service, quality control, and Leads & Wax maestro. He spends his time answering emails and assembling pickups. Outside of work, Jon likes to spend time with his Wife, Daughter and Son, and plays guitar in the band Horsehead.
Meet Tom Young:  Tom started working at Fralin Pickups in October of 2015, and spends his time building bobbins. Tom is an avid guitar player and collector, and spends most of his time outside of work reading, hiking, and photography. Tom has a large family with 6 grandchildren.
Tom's Quote: "Quitting smoking is easy - I've done it hundreds of times" - Mark Twain
Meet Nat Quick:  Nat is our newest employee at Fralin Pickups. Nat spends their time working on Bobbins, and working on Leads and Wax. Nat also lived in Indonesia for a while and studied Gamelan.
Meet Our Shop Dogs: Our beloved shop dogs keep the shop smiling, and happy, and prevent employee weight gain by begging for food all day long and being too adorable to deny. This, in turn, creates lower insurance rates and higher profitability for the company. We pass those savings along to you, dear customer!
Mather's Quote: "Please feed me biscuit."
Pierre's Quote: "Ditto."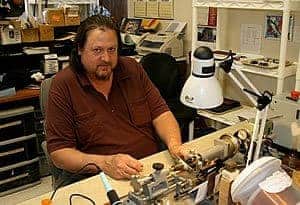 William Roberts (Dan): (August 5th, 1956-September 29th, 2016) Dan started working with Lindy back when the shop first began, back in the late 1980's. Lindy started the shop with Dan out of a spare bedroom apartment in the Fan district of Richmond, VA. Dan was also the sound engineer of the Bopcats, Lindy's band. Over the years, Dan was a permanent and prominent (Dan was over 6' tall) figure at the shop as it grew bigger. Dan wound all the Stratocaster and Mustang pickups over the last 20 years, and if you have purchased some Strat pickups during this time, you have a little piece of Dan in your guitar. We miss Dan greatly, but his presence and humor is still around the shop as we will all try to string together a slew of curse words in his honor. Dan was a mean cook, an incredible harmonica player, and had a heart of gold. He was a loyal friend and employee, smart as a whip, and funny as shit.
Dan's Quote: "GRONK"