Prewired HSS Strat Split Blade Pickguard
Transform your HSS Stratocaster into the powerhouse of your dreams with our HSS Prewired Split Blade Strat Pickguard. Instantly achieve world-class Fralin tone and discover what you've been missing. Expertly crafted using the highest-quality materials possible, we guarantee that our HSS Prewired Strat Pickguard will inspire you for years to come.
Quick Links
Jump to Sound Clips and more Info:
What's Included?
Fully prewired and assembled and includes a set of Knobs, a Matching Switch Tip, and Mounting Hardware.
---
Prewired HSS Strat Split Blade Pickguard INFO:
Want to learn more about our Prewired HSS Strat Split Blade Pickguard? Here's all the information you'll need:
Prewired HSS Strat Split Blade Pickguard FEATURES:
What's the difference between this pickguard and our Prewired HSS Strat Pickguard? Split Blades! Experience the ultimate in 100% noise-free operation with our Prewired HSS Split Blade Strat Pickguard. At Fralin Pickups, we're always trying to make you sound your best. With our Prewired HSS Split Blade Pickguard, you can rest assured that you will have the best-sounding pickups available, with the highest-quality parts on the market. And the best part? You get to design it. We guarantee that the unique tone and look will continue to empower you to sound your best.
Designed by you, expertly crafted by us: the ultimate "Build Your Own" Stratocaster Pickguard
USA-Made pickups & electronics for superior quality and tone
Incredibly easy to install – only 3 wires to connect
Hand-wired with USA-Made vintage cloth lead for a traditional look
Fully customize your appearance, tone, and wiring for a truly personalized HSS Strat Pickguard
Hand-assembled signed and dated by our pickguard craftsman
Backed by our 10-year warranty on materials and craftsmanship
Sound & Look
With our pickguards, you can choose different combinations to personalize your tone. From traditional to unique, we have many options available. HSS Strat Pickguards can sound a bit daunting, as getting Single Coils and Humbuckers to play nicely can be tricky. Rest assured, our Split Blades solve that problem! We have four Split Blades outputs, and each output sounds great on either 250K, 300K, or 500K pots.
Vintage and High Output Split Blades sound great on 300K pots. They are a great match with a Sunbucker, Big Single 42, a or Sunbucker Blues in the Bridge.
Blues Split Blades sound clean and clear on 500K pots, making them ideal for pairing with Humbuckers. For instance, choosing a Blues output Neck and Middle will be a great pairing with a Pure PAF or Modern PAF Bridge.
Super High Output Split Blades are the fattest, loudest Split Blade model. These will sound great with a Modern PAF or the High Output Humbucker.
---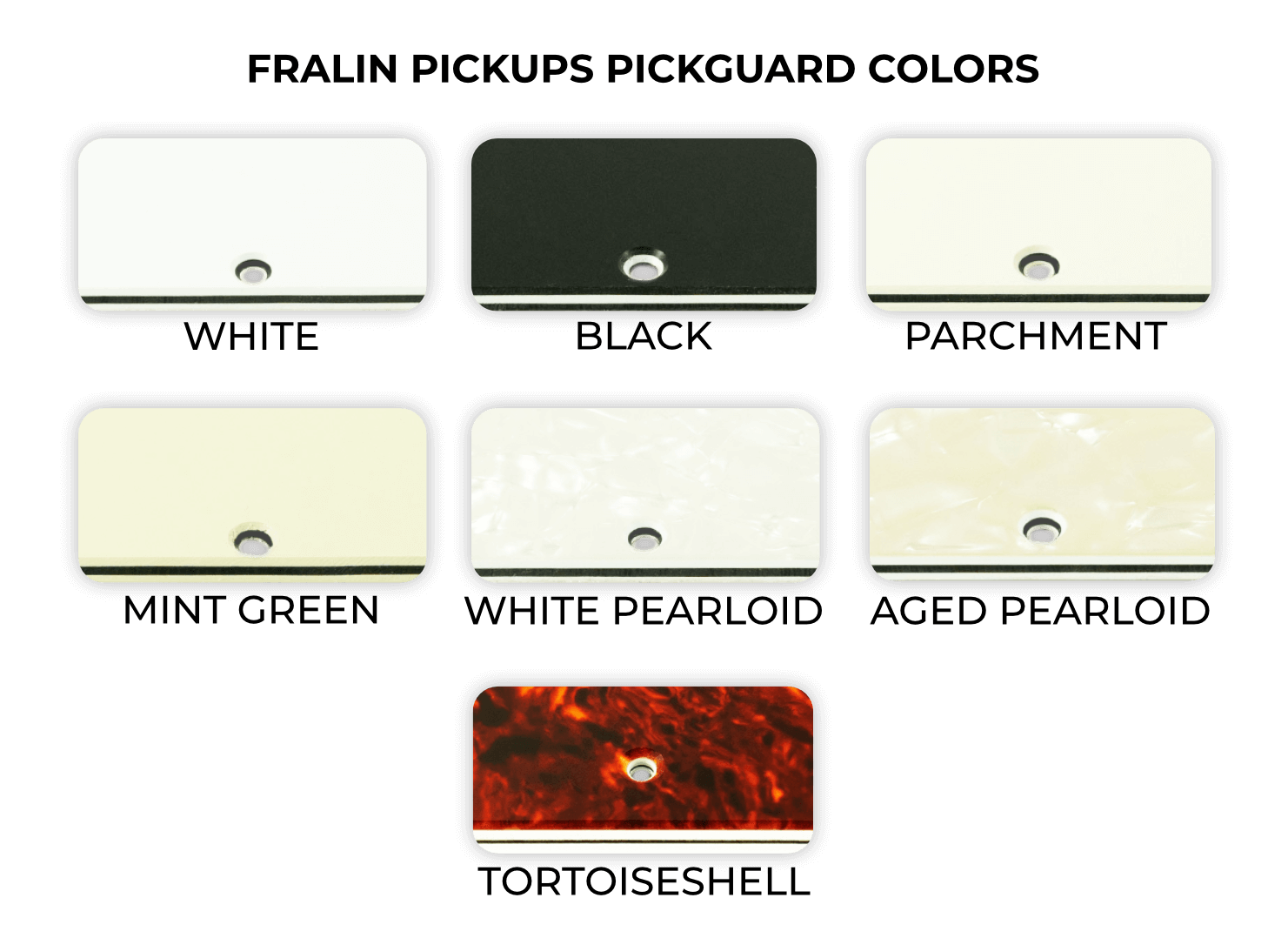 Wiring
Customize your pickguard's wiring by selecting between two powerful wiring options. Select between Fralin Pickups Wiring and Standard Stratocaster® Wiring.
Fralin Pickups Wiring features an intuitive layout: a Master Volume, Master Tone, and a Blender Pot. The Blender Pot delivers incredible versatility by allowing you to combine the Neck and Bridge, for Telecaster-type tones, and more. Fralin Pickups wiring is Lindy's favorite way to wire a Stratocaster.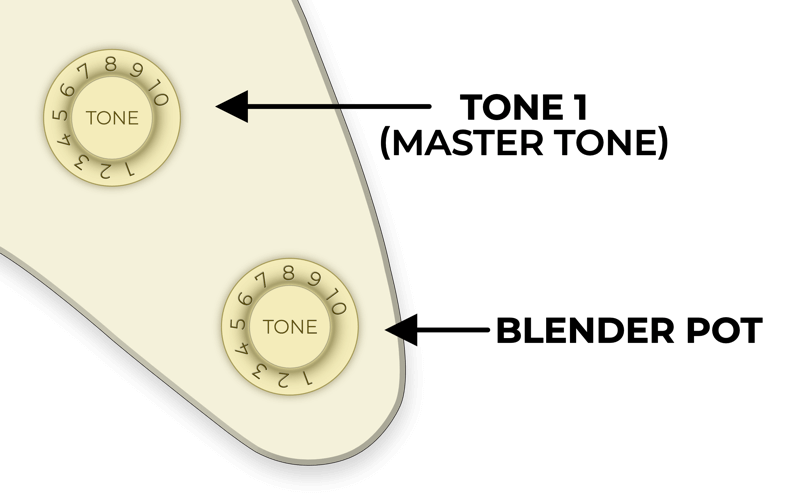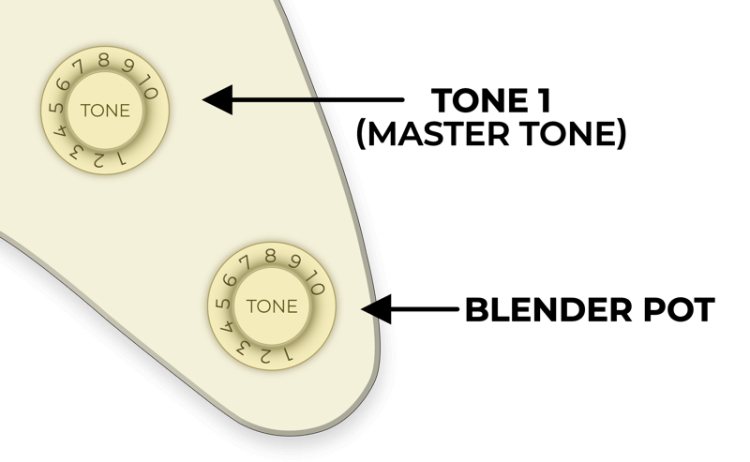 Standard Stratocaster Wiring delivers a classic take on the Strat – a Master Volume, Neck & Middle Tone, and a separate Bridge Tone. This wiring allows you to select multiple cap values for a bit more tone versatility.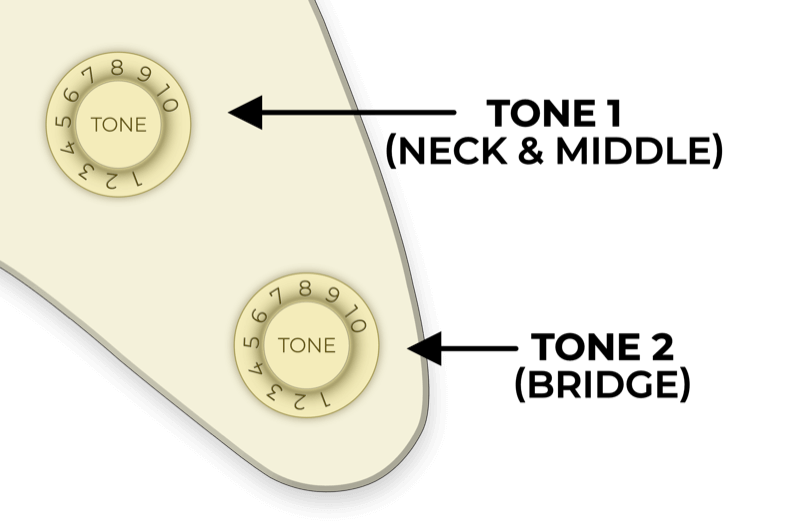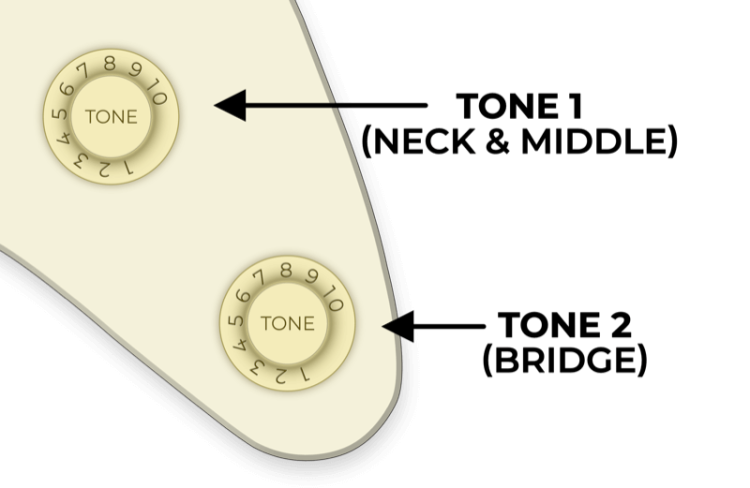 Custom Requests can be made using the "notes" field.
Add Ons
We have a ton of add-ons available for your pickguard. Want to coil-split your bridge pickup? How about our Volume Kit? Need new pickguard screws? Just let us know!
MATCHING BACKPLATES:
Complete your look with a matching backplate for your Strat. We have matching backplates for all of our pickguard colors.

Installation
Check out our installation guide below to put your new pickguard in! With 20 minutes a few easy steps, you can get your pickguard in your guitar and start rocking out with some of the best sounding pickups in the world!
FAQs
How long will my Pickguard take? Since we're building it from scratch, give us about 7-10 days to put it together. We will always try to get it out beforehand.
Can you wire it up without the Pickguard? As it turns out, No. Purchase a pickguard, and pull out all the wiring once you receive it to put it in your own pickguard. It's too time consuming and unsafe to ship without a solid pickguard.
Can I return my Pickguard? No. Since these are so custom and made to order, all pickguard sales are final, and not available for exchange or return.
What output should I choose? For simplicity, we recommend the Stock Output. However, you can always request something different. Let us know in the notes field.
What Pots should I use? Unless choosing a Sunbucker as a Bridge Pickup, go with 500K pots. For your Split Blades, try to choose between the Blues and Super High Output Split Blades.
What if I don't see exactly what I want? Use the "Notes" field on the checkout screen to type in any special requests.
What does a Magic Cap do? Our Magic Cap is a very low capacitance tone cap. It might not be noticeable with Humbuckers.
What does a Blender Pot do? Our Blender Pot takes the place of Tone #2, and it allows you to blend between the Neck and Bridge. You can get all 3 pickups on with a Blender Pot.
Why don't I see Ground Jumper wires between all my parts? Our pickguards have metal shielding that connects the metal parts together. That way, we don't need to use jumper wires.
Tech Specs
Coming Soon
We don't have Tech Specs at the moment, but we will have them up soon!
Prewired HSS Strat Split Blade Pickguard FAQ's
General FAQs
Here are quick answers to common questions we get:
---
---
NOTES ON COLOR:
Please note that while we strive to provide the most accurate color representation possible, different computer monitors, manufacturer dye lots, and other circumstances may prevent the color from matching perfectly.
Since we cannot guarantee color matching, we cannot provide a return to you if you are unhappy with the color matching of our Prewired HSS Strat Split Blade Pickguard.
HARNESSES:
Our parts and wire lengths are designed to work seamlessly with our Prewired HSS Strat Split Blade Pickguard. Due to various guitar and instrument designs, we cannot guarantee that our parts will fit properly, and due to this, we do not offer Wiring Harnesses.
STAY IN TOUCH
Subscribe To Our Newsletter