Prewired HSS Strat Pickguard
Transform your HSS Stratocaster into the powerhouse of your dreams with our HSS Prewired Strat Pickguard. Instantly achieve world-class Fralin tone and discover what you've been missing. Expertly crafted using the highest-quality materials possible, we guarantee that our HSS Prewired Strat Pickguard will inspire you for years to come.
Quick Links
Jump to Sound Clips and more Info:
What's Included?
Fully prewired and assembled and includes a set of Knobs, a Matching Switch Tip, and Mounting Hardware.
---
Prewired HSS Strat Pickguard INFO:
Want to learn more about our Prewired HSS Strat Pickguard? Here's all the information you'll need:
Prewired HSS Strat Pickguard FEATURES:
At Fralin Pickups, we're always trying to make you sound your best. With our Prewired HSS Pickguard, you can rest assured that you will have the best-sounding pickups available, with the highest-quality parts on the market. And the best part? You get to design it. We guarantee that the unique tone and look will continue to empower you to sound your best.
Designed by you, expertly crafted by us: the ultimate "Build Your Own" Stratocaster Pickguard
USA-Made pickups & electronics for superior quality and tone
Hand-wired with USA-Made vintage cloth lead for a traditional look
Fully customize your appearance, tone, and wiring for a truly personalized HSS Strat Pickguard
Hand-assembled signed and dated by our pickguard craftsman
Backed by our 10-year warranty on materials and craftsmanship
Sound & Look
You get to design your Prewired HSS Pickguard to your liking, from the ground up. Choose your desired pickups, pickguard look, and wiring. Are you confused about any of the options? Contact Us, and we'll walk you through it. To help you get started, here are some popular combinations that are guaranteed to sound amazing:
Blues Special Neck & Middle, Pure PAF Bridge
Vintage Hot Neck & Middle, Pure PAF Bridge
Vintage Hot Neck & Middle, Big Single 42 Bridge
Steel Pole 42 Neck & Middle, Pure PAF Bridge
Steel Pole 43 Neck & Middle, Modern PAF Bridge
HSS Strat Pickguards can sound a bit daunting, as getting Single Coils and Humbuckers to play nicely can be tricky. Rest assured, we'll help you craft your dream pickguard and work some magic behind the scenes to ensure all positions are inspiring.
CHOOSE YOUR PICKGUARD:
Our USA-Made Pickguards are some of the best in the industry and will fit most Strats*. These are USA-Made standard 11-hole Stratocaster pickguards. We have them available in the following styles and colors for HSS: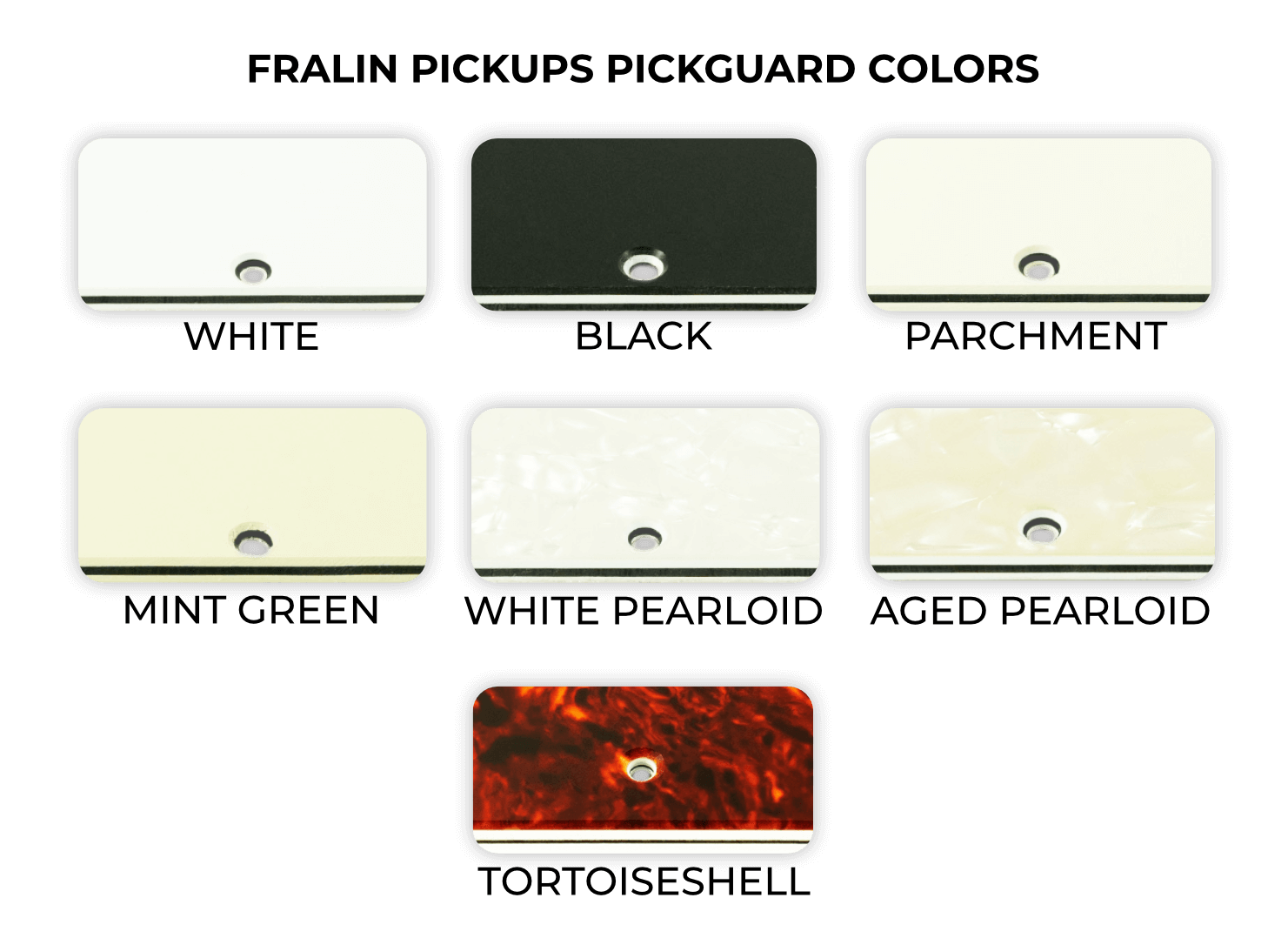 *Be sure to check your Stratocaster to make sure how many mounting holes you have
---
CHOOSE YOUR KNOB AND COVER COLOR:
We have White, Parchment, Mint Green, Yellow, and Black covers and Knobs available. Note: we only have plastic knobs available.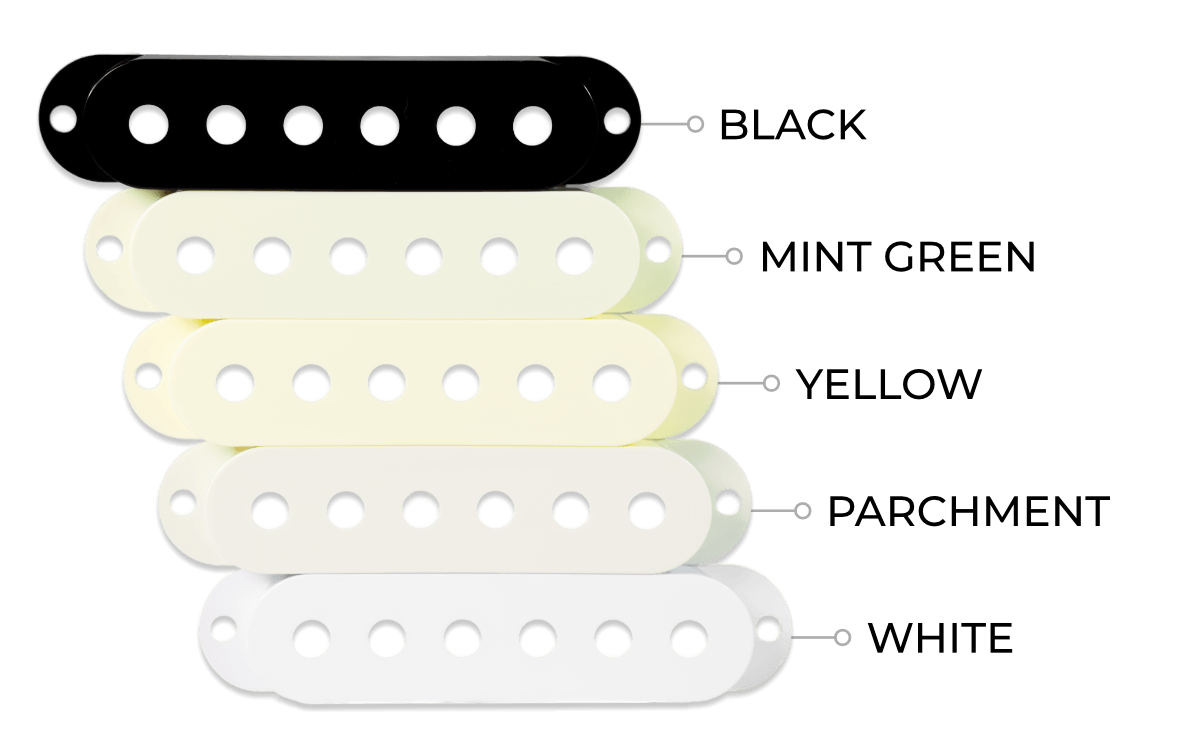 Add Ons
We have a ton of add-ons available for your pickguard. Want to coil-split your bridge pickup? How about our Volume Kit? Need new pickguard screws? Just let us know!
MATCHING BACKPLATES:
Complete your look with a matching backplate for your Strat. We have matching backplates for all of our pickguard colors.

Wiring
Customize your pickguard's wiring by selecting between two powerful wiring options. Select between Fralin Pickups Wiring and Standard Stratocaster® Wiring.
Fralin Pickups Wiring features an intuitive layout: a Master Volume, Master Tone, and a Blender Pot. The Blender Pot delivers incredible versatility by allowing you to combine the Neck and Bridge, for Telecaster-type tones, and more. Fralin Pickups wiring is Lindy's favorite way to wire a Stratocaster.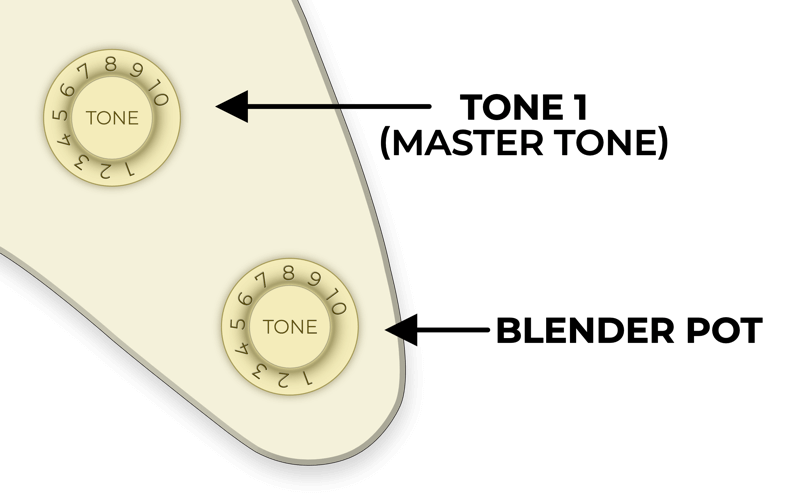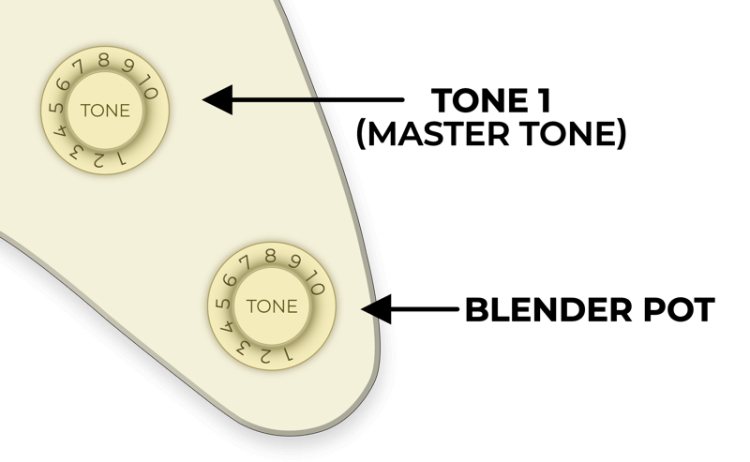 Standard Stratocaster Wiring delivers a classic take on the Strat – a Master Volume, Neck & Middle Tone, and a separate Bridge Tone. This wiring allows you to select multiple cap values for a bit more tone versatility.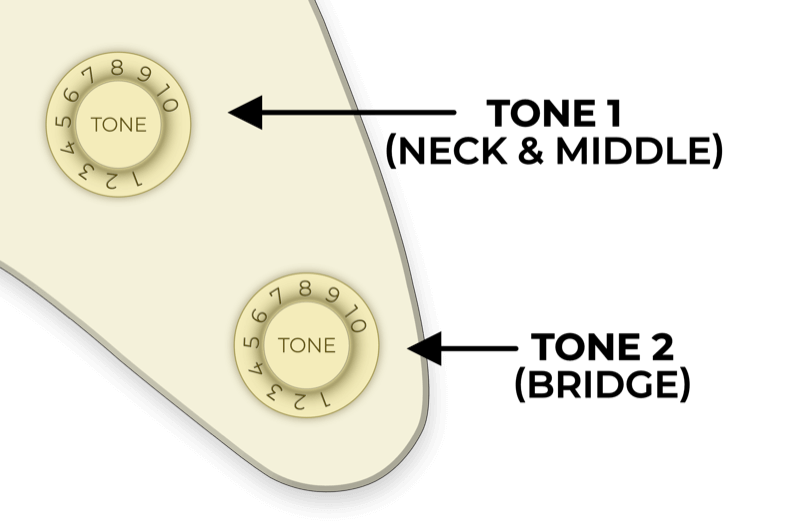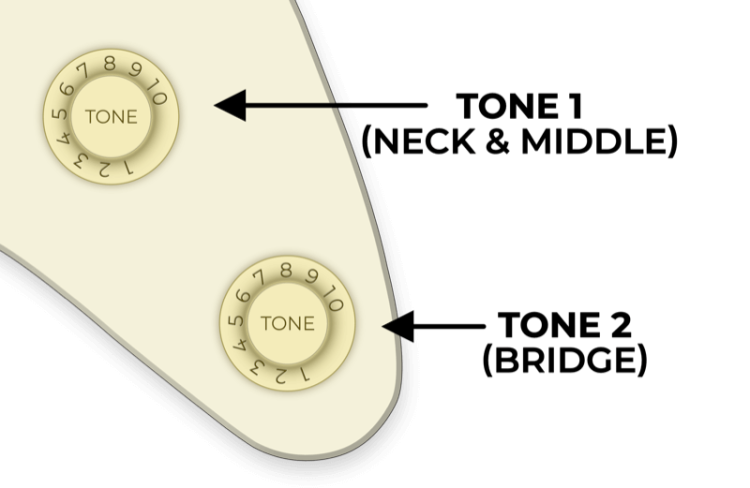 Custom Requests can be made using the "notes" field.
FAQs
How long will my Pickguard take? Since we're building it from scratch, give us about 7-10 days to put it together. We will always try to get it out beforehand.
Can you wire it up without the Pickguard? As it turns out, No. You can purchase an inexpensive pickguard, and you can pull out all the wiring once you receive it to put it in your pickguard. It's just too time-consuming and unsafe to ship without a solid pickguard holding everything together.
Can I return my Pickguard? No. Since these are so custom and made to order, all pickguard sales are final, and not available for exchange or return.
What output should I choose? For simplicity, we're keeping out outputs the stock outputs, but you can always request something different. Let us know in the notes field.
What Pots should I use? Most of the time, 250K Split Shaft pots will work best for guitars with single-coil pickups and plastic knobs. If you have metal knobs at home, go with Solid Shaft Pots.
What if I don't see what I want? Use the "Notes" field on the checkout screen to type in any special requests. Use this field to describe how you want it wired as well if you wish to have anything customized. We'll make it to your specs.
What does a Magic Cap do? Our Magic Cap is a very low capacitance tone cap. It doesn't roll off highs as much as it seems to boost the mids. This works well on the bridge pickup only.
What does a Blender Pot do? Our Blender Pot takes the place of Tone #2, and it allows you to blend between the Neck and Bridge. You can get all three pickups on with a Blender Pot.
Why don't I see Ground Jumper wires between all my parts? Our pickguards have a metal shielding that connects all of the metal parts; thus we don't need to use jumper wires.
Installation
Check out our installation guide below to put your new pickguard in! With 20 minutes a few easy steps, you can get your pickguard in your guitar and start rocking out with some of the best sounding pickups in the world!
Tech Specs
Coming Soon
We don't have Tech Specs at the moment, but we will have them up soon!
Prewired HSS Strat Pickguard FAQ's
General FAQs
Here are quick answers to common questions we get:
---
---
Featured Reviews
Reviews we worked hard for, and are proud of
"I own a 2018 Fender American Elite HSS Strat that I considered selling as I just didn't care for the sound the stock pickups provided. The guitar featured Fender's S1 and "passing lane" switches and in theory it's a very versatile instrument. Except I truly thought it sounded terrible. But the guitar was beautiful and I decided to upgrade it with Lindy's pre-wired HSS pickguard. I wish I would have done it sooner since she mostly just sat in the closet for the past 3 1/2 years. To be sure this is an expensive upgrade; but the quality, service and advice from Lindy's folks and most importantly the sound of his pickups is worth every penny to me. I actually have two other guitars with Fralin pickups so I know how special they are. I ordered the pickguard using the on-line form and within a day or so received an email asking to clarify a couple of things. I play mostly classic rock and blues with this guitar and they suggested I install their Blues Specials in the neck and middle positions and a Pure PAF in the bridge. Once the order got to the shop I received a phone call from Zack, who had a few suggestions based on my component selections and how I would be playing to make sure I would get the most useful product. Zack was a great guy btw. The communication from Fralin was excellent and the pickguard was completed quicker than I expected. It is exactly as I hoped. The work is immaculate. The layout is perfect and most importantly the guitar frickin' rips! It is far more versatile now than it was out of the factory. I ordered mine with a coil split for the PAF and a blender pot. And a few other add ons. I simply could not be happier with my Fralin Strat! Get one and transform your strat."
---
NOTES ON COLOR:
Please note that while we strive to provide the most accurate color representation possible, different computer monitors, manufacturer dye lots, and other circumstances may prevent the color from matching perfectly.
Since we cannot guarantee color matching, we cannot provide a return to you if you are unhappy with the color matching of our Prewired HSS Strat Pickguard.
HARNESSES:
Our parts and wire lengths are designed to work seamlessly with our Prewired HSS Strat Pickguard. Due to various guitar and instrument designs, we cannot guarantee that our parts will fit properly, and due to this, we do not offer Wiring Harnesses.
STAY IN TOUCH
Subscribe To Our Newsletter