Blender Pot
The Fralin Blender Pot gives you the ability to blend your Neck and Bridge Pickups, as well as get all 3 on single-coil guitars. This is a great product for those who love to "tinker" with wiring, like Lindy!
The Blender Pot only works on Strat and Tele installations. It features a 1/4″ bushing, suitable for pickguard and control plate installations only. For Archtop / Les Paul installations, check out our Push-Pull Blender Pot.
Available! Estimated Lead Time: 2-3 Days
Quick Links
Jump to Sound Clips and more Info:
---
Blender Pot INFO:
Want to learn more about our Blender Pot? Here's all the information you'll need:
Blender Pot FEATURES:
One of our favorite and most powerful mods, the Fralin Blender Pot is an easy way to blend your Neck and Bridge pickups to achieve new tones. Achieve Telecaster tones on a Fender Strat by blending the Neck and Bridge together. Blend all 3 pickups together by choosing either position 2 or 4 and playing with the pot. It installs easily by replacing your tone pot 2 (closest to output jack).
The Blender pot includes the following hardware for mounting: Hex Nut and Lock Nut.
Installation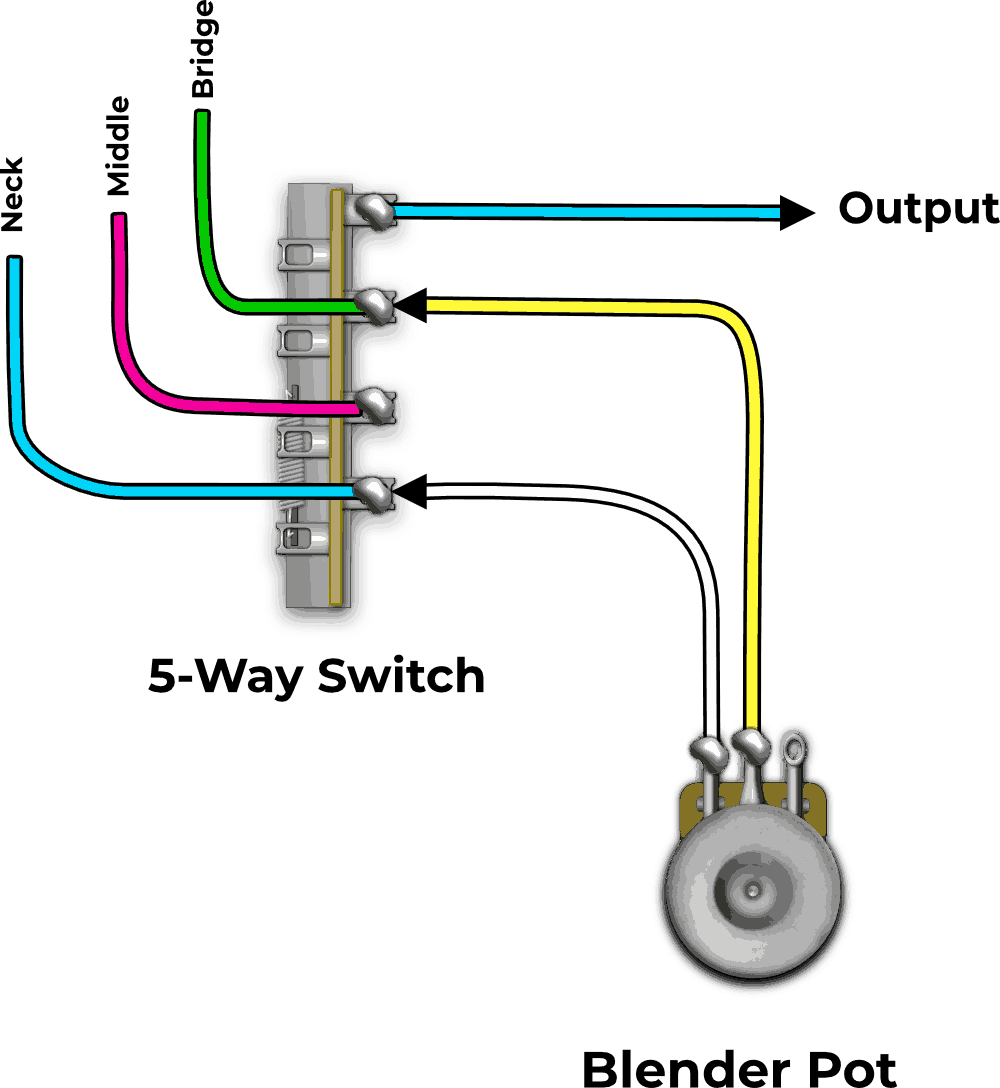 Installation Note: The Blender pot's wires must be installed into the same terminals as the pickups, otherwise, this modification will not work correctly.
With this mod, you can Coil-Tap Humbuckers, Blend 2-Pickup Guitars, and forget 2 Volume Knob wiring.
Follow the instructions here to wire it up in a Standard Fender Stratocaster, utilizing a Master Tone.
Tech Specs
| SPECIFICATION | VALUE |
| --- | --- |
| Value: | 250K* |
| Taper: | Audio Taper |
| Direction: | Counter-clockwise** |
| Bushing Length: | 1/4" |
---
More Information:
---
*Value doesn't matter when installed as a Blender Pot | **Turning Blender Pot Down rolls in opposite pickup
Blender Pot FAQ's
Coming Soon!
At this time, there are no FAQ's...yet.
---
---
Featured Reviews
Reviews we worked hard for, and are proud of
"The ultimate strat wiring mod! I've tried 10-way and 7-way switches, and this is the one for me. Being able to dial in the amount of blend is really practical (as opposed to being all or nothing like other setups)."
"I'll never be without it ever again! It's like having more than one guitar in your hands! I bought a blender for every strat in my collection!"
"Great tool for any guitar. Never cared for the bridge pick-up in a strat, this blender pot was ideal so that I could have the neck pick-up on and not worry about hitting the switch back to the bridge"
STAY IN TOUCH
Subscribe To Our Newsletter