Blues Special Strat
Are you seeking a thicker Strat sound, that still sounds like a Strat? Look no further than our Blues Specials. One of our best-selling Stratocaster sets, Blues Specials provides more output and a thicker sound while retaining that Stratocaster tone we all know and love. Manufactured by hand in Richmond, VA with 100% USA-Made materials, instantly transform your Strat into a versatile powerhouse and discover what you've been missing with our Blues Specials.
---
Quick Links:
Jump to Sound Clips and Product Info:
---
All Strat Tone, Only Thicker.
Want to learn more about our Blues Special Strat? Here's all the information you'll need:
Blues Special Strat FEATURES:
Blues Specials are our second best-selling Stratocaster single coil set, and for a good reason: with a thicker, warmer tone, they are perfect for balancing out a bright guitar and pushing your amp hard, all while retaining "the" Strat tone! If you are looking for a thick, warm sound out of your Strat, you will love the sound of these pickups. With more turns per coil than our Vintage Hots, these slightly overwound pickups sound a bit thicker and hotter than vintage-voiced models.
Plugging in, you'll immediately get inspired by the powerful, slightly compressed, and creamy Strat tone coming out of these pickups. You'll notice the tight and warm midrange coupled with crystal-clear lows and round highs.
Features:
5% more coil than our Vintage Hots: 5% more output and mids, 5% less highs
Modified Fender specifications, with more output and thicker tone
High output, but still has Fender sparkle
Compensated Bridge for even volume across all pickups
RW / RP Middle pickup for Hum Cancelling in positions 2 & 4
USA-made Alnico 5 Magnets and wire for optimal tonal balance and output
Two magnet staggers available for different fingerboard radiuses
Hand-wound with our "Sectioning" technique for unique, dynamic tone
Hand-built, locally-sourced fiberboard Bobbins for unrivaled quality control
Backed by our 10-Year Warranty on manufacturing defects
Risk-free 30-day exchange policy
It starts here: Our manufacturing process allows us to achieve unparalleled quality control and tonal bliss. Blues Specials consist of locally-sourced fiberboard, USA-Made Alnico 5 Magnets, and USA-Made 42-Gauge Single Poly Nylon Wire.
We wind each pickup by hand using our proprietary "Sectioning" technique, one at a time in Richmond, VA. Winding this way is more labor-intensive, but it gives the pickup a sweet, clear tone. Finally, we wax-pot the pickup in a neutral wax to prevent microphonics and preserve the pickup for years to come.
Sound
Tonal Graph for Blues Special Strat:
The tone graph below for our Blues Special Strat features Lows, Midrange, Highs, and general Output.
---
Whether playing clean or dirty, Blues Specials feature a thicker midrange and rounder highs than vintage-voiced Strat models like our Real 54's or Vintage Hots. Although they are an overwound Strat pickup, they are not too aggressive and feature a very open and dynamic tone. Blues Specials sound more like a traditional Strat pickup, unlike our Steel Pole 42's, which lean closer to the sound of a P90.
Expect a thicker high-end and low-end growl, which will push your amp or pedals hard and provide a versatile and creamy breakup that is ideal for many music styles.
Are you looking for a Hum Cancelling Strat pickup that actually sounds like a Strat? Check out the Blues Output of our Split Blade Strat Pickups
Lastly, cut through in the mix when soloing with a thicker, rounder single note and a powerful attack. Chords sound warm with a great string-to-string definition. Blues Specials sound powerful and bold – a great way to take your guitar's tone to the next level. You'll wonder why you didn't make the switch earlier.
Sizing
Tech Specs
See below for the estimated DCR and Polarity Information for our Blues Special Strat.
Blues Specials are made with 100% USA-Made parts.
| SPECIFICATION | VALUE |
| --- | --- |
| Neck Ohm Reading: | 6.3K 1 |
| Middle Ohm Reading: | 6.3K 1 |
| Bridge Ohm Reading: | 7.1K 1 |
| Neck & Bridge Polarity: | Clockwise Coil Direction, South to Strings |
| Reverse Middle Polarity: | Counter-Clockwise Coil Direction, North to Strings |
| Recommended Pot Value: | 250K |
| Magnet: | USA-Made Alnico 5 |
| Wire: | USA-Made 42-Gauge Single Poly Nylon |
| Recommended Cap Value: | 0.02mfd 2 |
---
More Information:
1 Ohm Readings can vary due to a multitude of factors, including ambient temperature, multimeter calibration, different wire batches, and other factors. Due to this, ohm readings are approximate. Learn more about Ohm Readings here.
---
2 We recommend a 0.02mfd Cap Value on most guitar and bass pickups. The exception is a Magic Cap, which Lindy prefers on the Bridge Pickup of Fender® guitars only. Learn More about Caps Here.
---
Blues Special Strat FAQ's
General FAQs
Here are quick answers to common questions we get:
What Ohm Readings does your Blues Special Strat have?

Navigate to our Tech Specs tab for complete Ohm Readings and more useful information.

Will this pickup fit my instrument?

Check our "Sizing" tab for the size of the pickup. No Sizing tab? Check under the product image gallery for dimensions.

Is your Lead Time of 1 Week accurate?

It really depends on the shop capacity at the moment, and the size of your order. Feel free to give us a call for an accurate lead time. We always try to underpromise and overdeliver.

What pickup height do you recommend setting your Blues Special Strats to?

Our recommended Pickup Height is 1/8" (3.175mm) on the Bass Side and 1/16"( 1.5875mm) on the Treble Side. Measure by holding the corresponding side down at its highest fret and measure from the bottom of the string to the top of the pole piece.
---
Pairing
Our Blues Special Strat pairs well with the following models: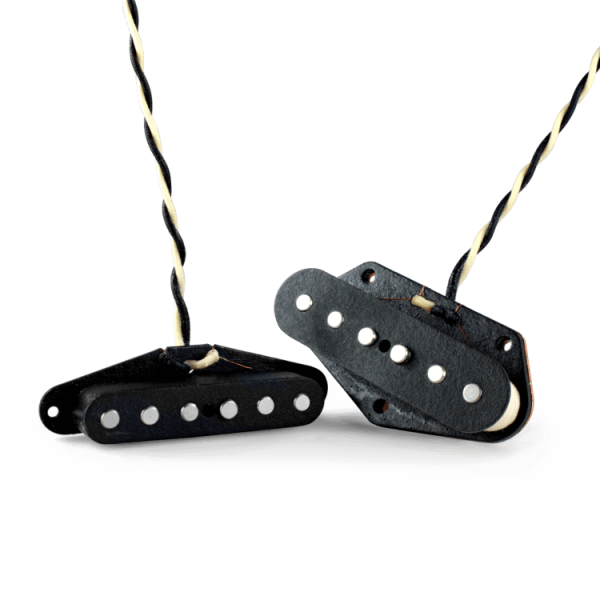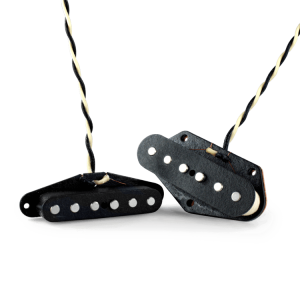 Blues Special Tele - Set
Starting At: $110
Pair a middle with a Blues Special Tele Set for a versatile and punchy Telecaster Tone
View Product
---
Featured Reviews
Reviews we worked hard for, and are proud of
"I've been wanting to put Fralins in one of my strats for a while now and finally had the right setup for them. Put the Blues Deluxe's in the neck and middle and couldn't be happier with them. Added the SP43 in the bridge and it's the perfect combo for what I was wanting. Love 'em. Won't ever change 'em. I will definitely be recommending them for upcoming custom builds for clients."
"2001 American series "Texas special" Strat I bonded with everything about the guitar except the pickups. The original pickups sounded weak and I tried lowering and raising them but could not get much of a blues sound out of them. The LF blues specials really nailed the sound I was looking for. The pickups produce is very complex blending in terms of audible frequencies. It's hard to describe without hearing them but I can better hear the core note and associated overtones and nodes. I am thrilled to have my guitar sounding this good!"
"Leo would be proud....maybe a little jealous! I've had a wonderful set of Vintage Hots since the 90s. They've always been the yardstick I use to measure other pickups. The Blues Specials might just be the new yardstick. The baseplate on the bridge pickup makes it sound almost like a fat Tele. These are what Strat pickups should sound like. It's as if Lindy took old Fender pickups and sprinkled some sort of magic dust on them. As.much as I love the Vintage Hots, the Blues Specials might just be the most beautiful sounding pickups on the planet. Amazing, outstanding, incredible...well done Lindy!"