Blues Special Tele
$100.00 – $200.00
The Fralin Blues Special Telecaster pickups are our best-selling Tele set. These are 5% stronger than the stock model – still bright but a little thicker. The Blues Special Telecaster pickups are perfect for those who love their Telecaster's tone, but needs a little more fat and thickness.
BLUES SPECIAL TELE: PERFECT BALANCE
Blues Special Telecaster Pickups are our best-selling single coil set. They are wound as loud as we can get them, while still retaining the traditional Tele tone. Expect a thicker, beefier sound, while still retaining clarity. Blues Specials are wound with 5% more coil, which is 5% hotter than our Stock Tele pickups. Blues Specials are perfect for anyone trying to balance out a bright Tele.
It starts here: Our manufacturing process allows us to achieve unparalleled quality control. Blues Specials consist of local fiberboard and USA-Made Alnico 5 Magnets. We wind each pickup by hand, one at a time. Each pickup is wound using our proprietary "Sectioning" technique. This gives the pickup a sweet, clear tone. Finally, we wax-pot the pickup to preserve the pickup and prevent microphonics.
BLUES SPECIAL FEATURES:
5% more coil than our Stock Tele Set: 5% more output and mids, 5% less highs
Modified Fender specifications, with more output and thicker tone
High output, but still has Fender sparkle
Compensated Bridge for even volume across all pickups
USA-made Alnico 5 Magnets for optimal tonal balance and output
Two magnet staggers available for different fingerboard radiuses
Hand-wound with our "Sectioning" technique for unique, dynamic tone
Hand-built fiberboard Bobbins for unrivaled quality control
10-Year Warranty on manufacturing defects

BLUES SPECIAL SOUND:
Blues Specials sound thick and rich when playing clean. They offer open and clear highs, with a thicker midrange. This pickup set is very balanced and doesn't sound dark or dull. The overwound coil gives the player less highs and more mids than the Stock Tele Pickups. With distortion, expect a light compression, low-end growl and a medium attack. Single notes sound thick and round, while chords have a full tone with an early breakup. This pickup sounds powerful and bold – a great way to take your guitar's tone to the next level.
Finally, Blues Special Pickups are for those who need more output from their stock pickups. If your current pickups are too bright, you might love these. These tend to be warmer-sounding, but not aggressive. You'll wonder why you didn't make the switch earlier.
FAQ'S:
What's the difference between the Stock Tele and the Blues Special Tele? The Stock Tele is more true to Vintage specs and thus will sound brighter, clearer, and more open. The Blues Special Tele will sound thicker, darker, and more powerful. Blues Special's tame the twang a bit and sounds beefier and thicker.
Which Stagger do I choose? The Blues Special Telecaster set features a Hybrid Stagger neck pickup for a more pronounced D string. Carefully choose the bridge stagger to match your fretboard radius. Choose Stock Bridge Stagger if you have a guitar with a round to medium fingerboard radius: 7.25″ – 10″. Choose Hybrid if you have a flatter or compound-radius (11+").
What does the cover do to the tone? The cover, open-top or solid top, makes the pickup darker. That's why when you request one, we underwind the neck to compensate.
How far away from the strings does the pickup need to be? Push your Low E String down at the highest fret. Measure from the top of the pole piece to the bottom of the string. The ideal starting location should be 1/8? on the bass string, and 1/16? on the treble string, when the High E string is pushed down at highest fret.
Wiring Diagrams? Here!
TECHNICAL INFO:
Materials:
42-Gauge Single Poly Nylon Wire in the Bridge and 43 Single Poly Nylon Wire in the Neck
USA-Made Alnico V Magnets
250K Pots Recommended
Resistance Readings:
Blues Specials will read approximately 7.8K in the Neck and 7.5K in the Bridge. The Neck reads higher because we use 43 Gauge wire, which has more resistance. The outputs are compensated and this set has matched volume.
Polarity:
Our Telecaster Necks are:
Wound Counter Clockwise from Ground to Hot
Magnetized North to Strings
Our Bridges are RW/RP: Clockwise, South to Strings.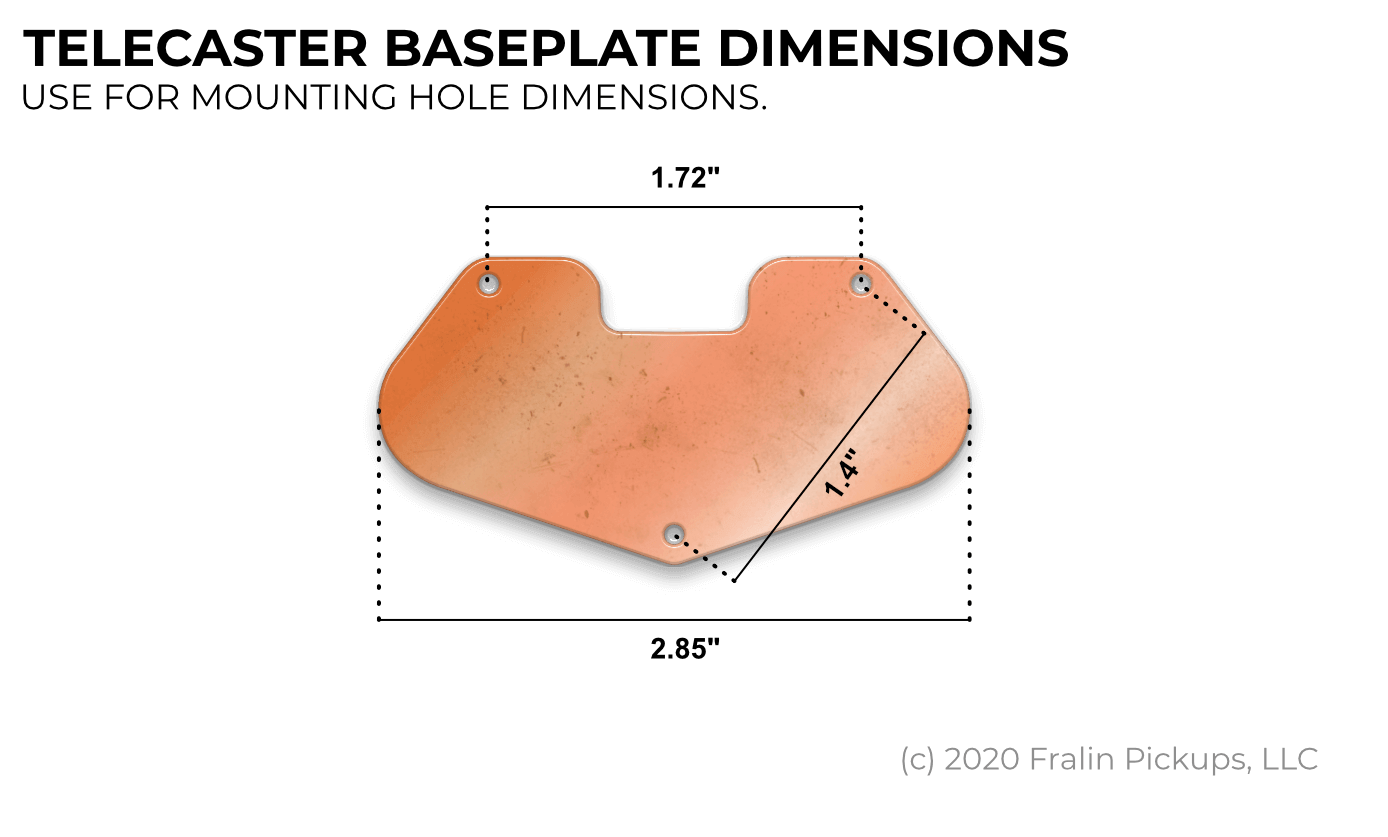 WIRING DIAGRAMS:
We do not offer installation help or guidance, but we do have easy-to-follow, beautiful Wiring Diagrams! Click below:
We're all about building trust with our customers. That's why we don't moderate our reviews. What you see is what we get!