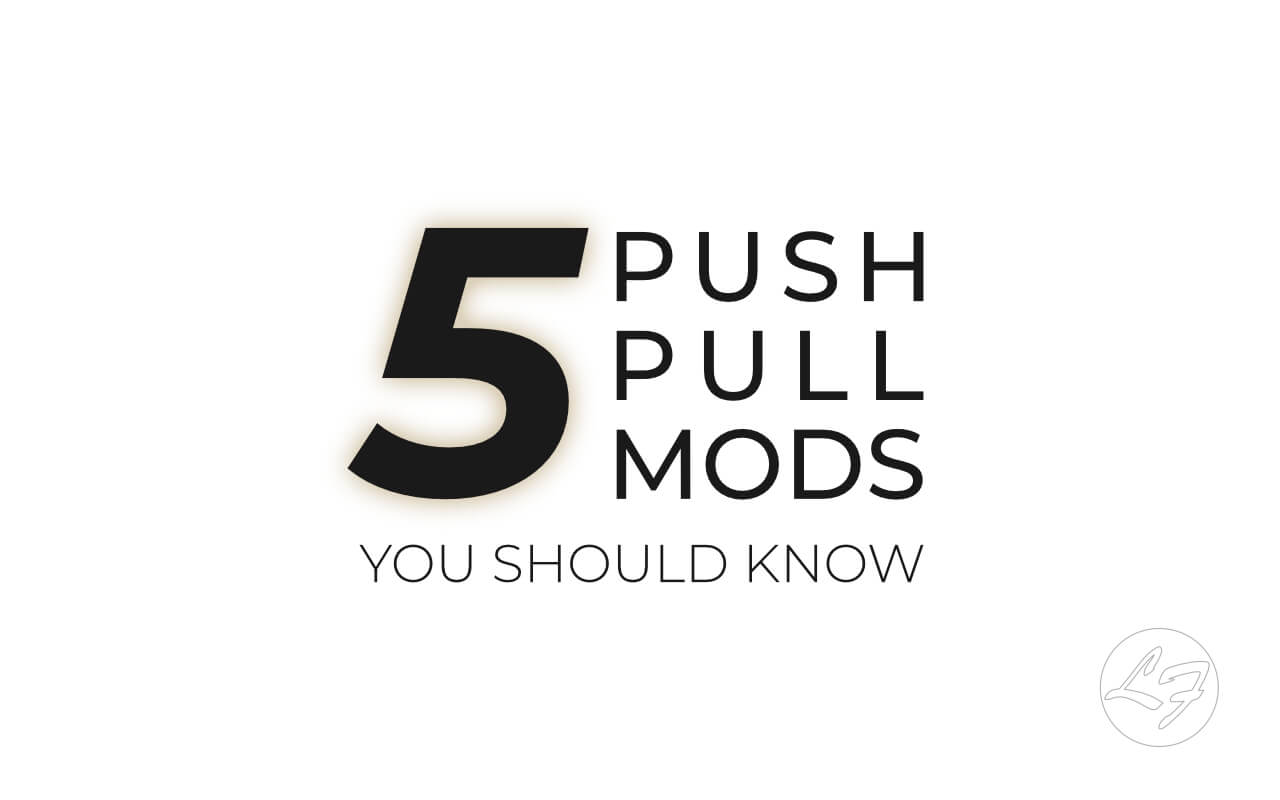 5 Push-Pull Pot Mods You Should Know
---
Push-Pull pot mods are a quick way to add new tones and a fresh new take on your guitar. Push-Pull modifications can open up a new world of tonal personality for your favorite instrument. We've noticed that our customers love getting push-pull pot modifications installed on their Prewired Pickguards and Prewired Control Plates. We thought we include our top 5 Push-Pull Pot Mods that you should know!
Before we get started, if you haven't checked it out already, take a moment and learn how Push-Pull Pots work here. In essence,
A Push-Pull Pot is a normal pot that features an independent switching section attached to it.
---
PUSH-PULL POT MOD #1:
Coil Splitting With A Resistor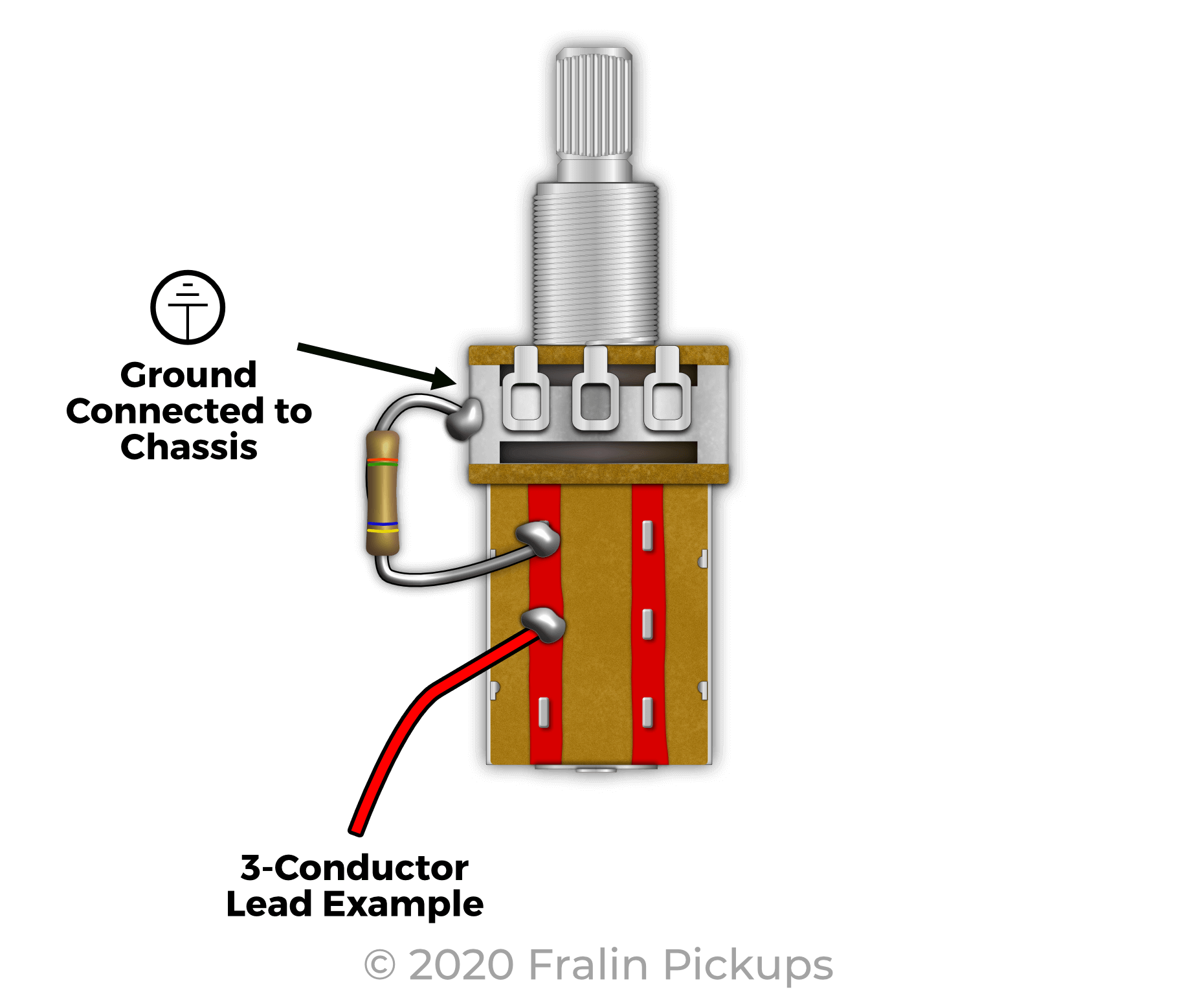 We know, Coil Splitting is in that category of "no-brainer" push-pull pot mods. However, coil splitting doesn't work correctly across all humbucker designs. Certain humbuckers, like low-output humbuckers (like our Pure P.A.F.), do not give you a usable single-coil tone when split. Splitting a low output humbucker usually leaves you with a thin-sounding single coil that clocks in at around 4K. The tone that comes with it is not very usable at all.
However, using a 7K resistor in series to ground provides you with more a 6K Single Coil, much more in line with our Vintage Hots and Blues Specials!
---
MOD # 2:
2 Tone Caps, 1 Push-Pull Pot Mod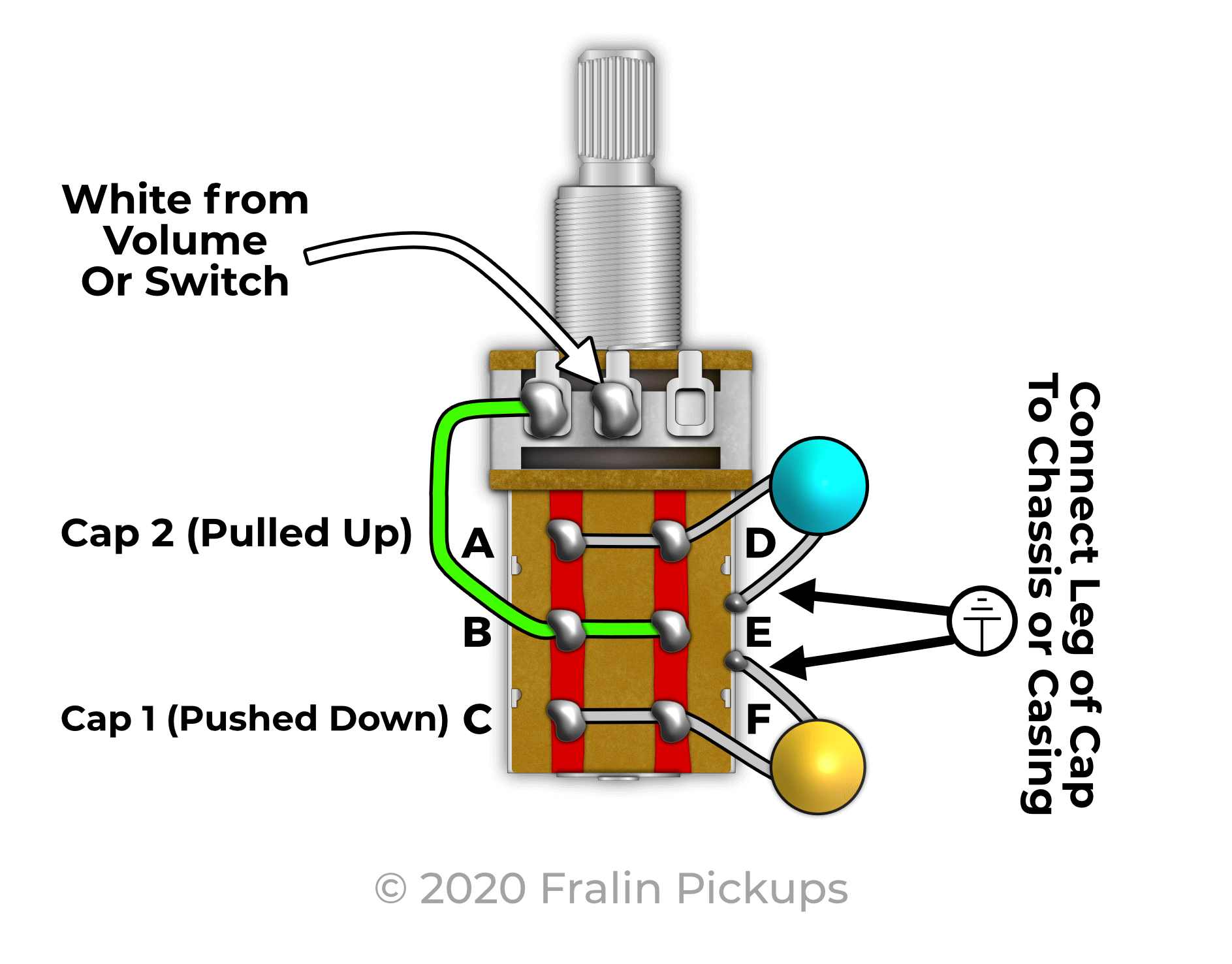 Hungry for more tonal options, but don't have space? No worries! This Push-Pull Pot mod features two-tone caps – one value in the down position, another value in the up position. Many customers use this mod and select the 0.02mfd in the down position for a traditional Strat Tone, and Lindy's Magic Cap in the up position for another tonal world.
---
MOD #3:
PHASE REVERSING WITH A PUSH PULL POT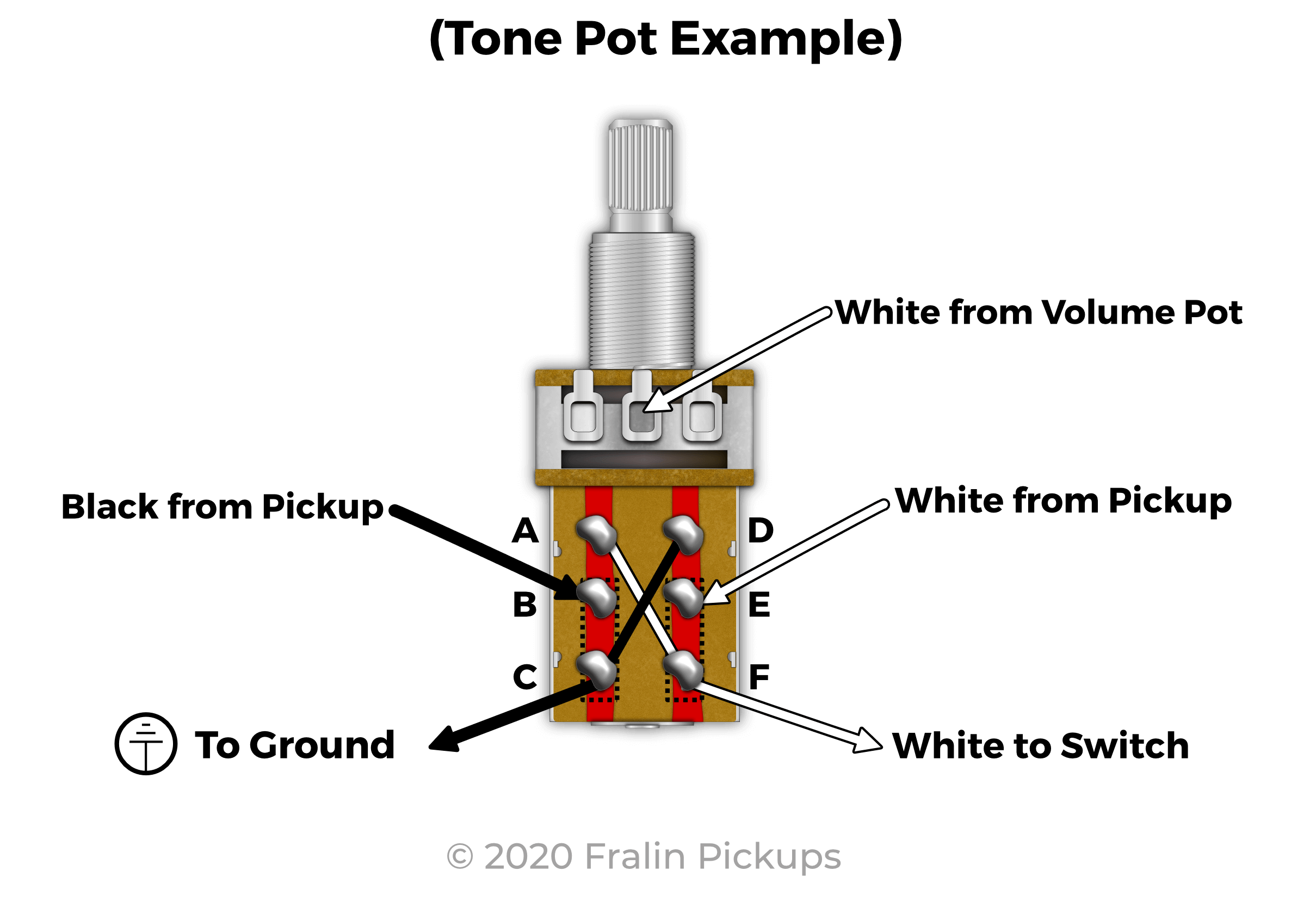 Another cool mod you can perform with a Push-Pull pot: Phase reversal. It allows you to reverse the phase of a pickup to create new, creative sounds. The best part? You can reverse back to normal! Performing this mod requires your pickups to have a separation between your coil and ground. For an article on this, check out our previous post here.
Another quick tip: if you want to use this modification with a Blender Pot, check out this article here – it allows you to blend the out of phase tone with an in-phase tone!
PUSH-PULL MOD #4:
Engage / Disengage Volume Kit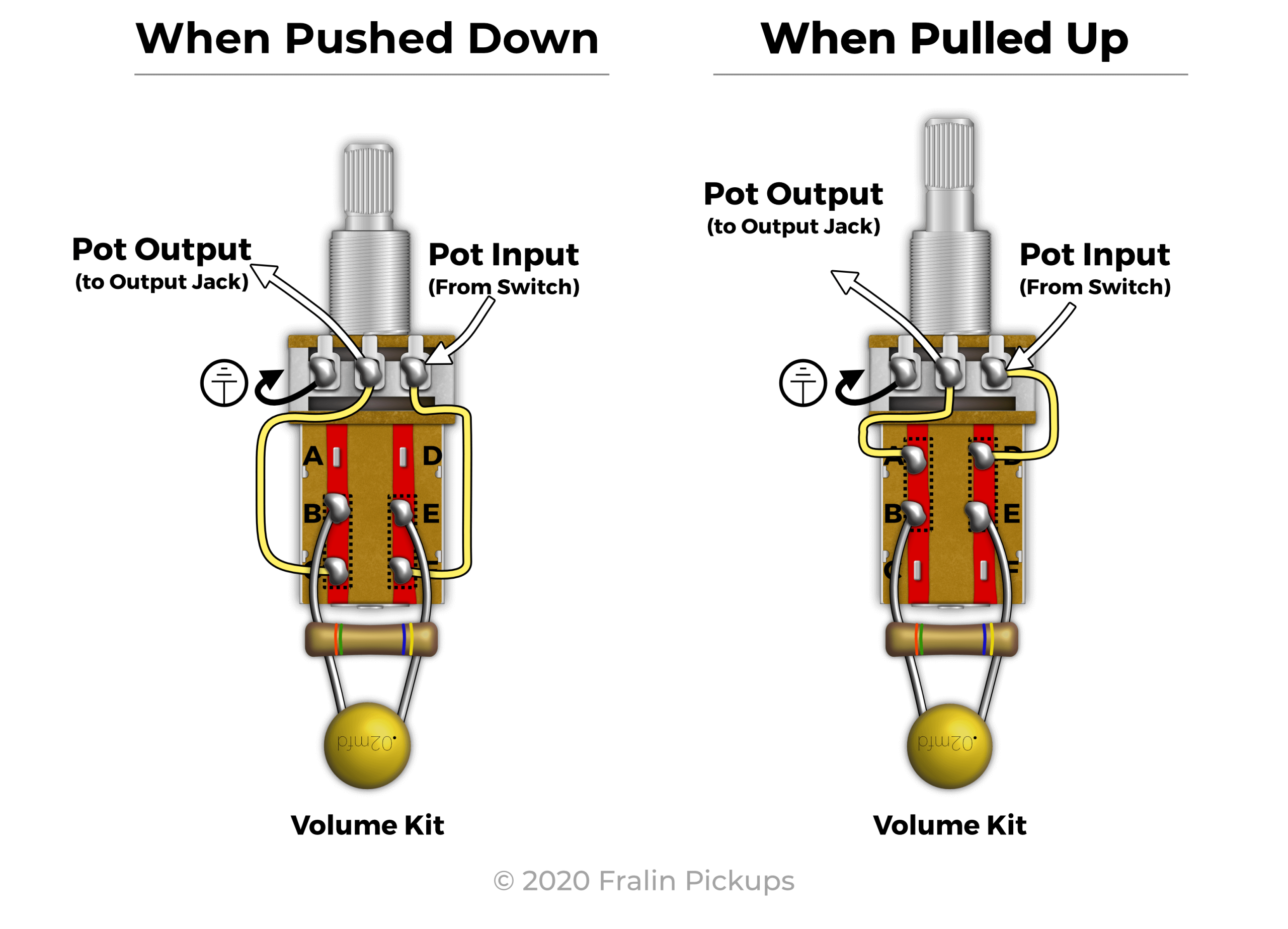 Our Volume Kit is a Treble Bleed kit that allows your pickups to stay bright when you roll down your volume pot. When you roll your volume pot down with regular 250K pots, your high frequencies tend to go down with the volume. Your tone gets darker and jazzier.
Some guitarists like when the tone gets darker; however, many guitarists do not. Some guitarists want to keep their high frequencies where they are. The Volume Kit comes in here – it keeps your high frequencies steady as you roll down the Volume Pot. However, the Volume Kit can increase the brightness of your guitar permanently.
The Engage / Disengage Volume Kit Mod allows you to choose whether or not you want the Volume Kit on! The diagrams above let you choose whether you would like your Volume Kit on or off by default.
---
PUSH-PULL MOD #5:
Bright Switch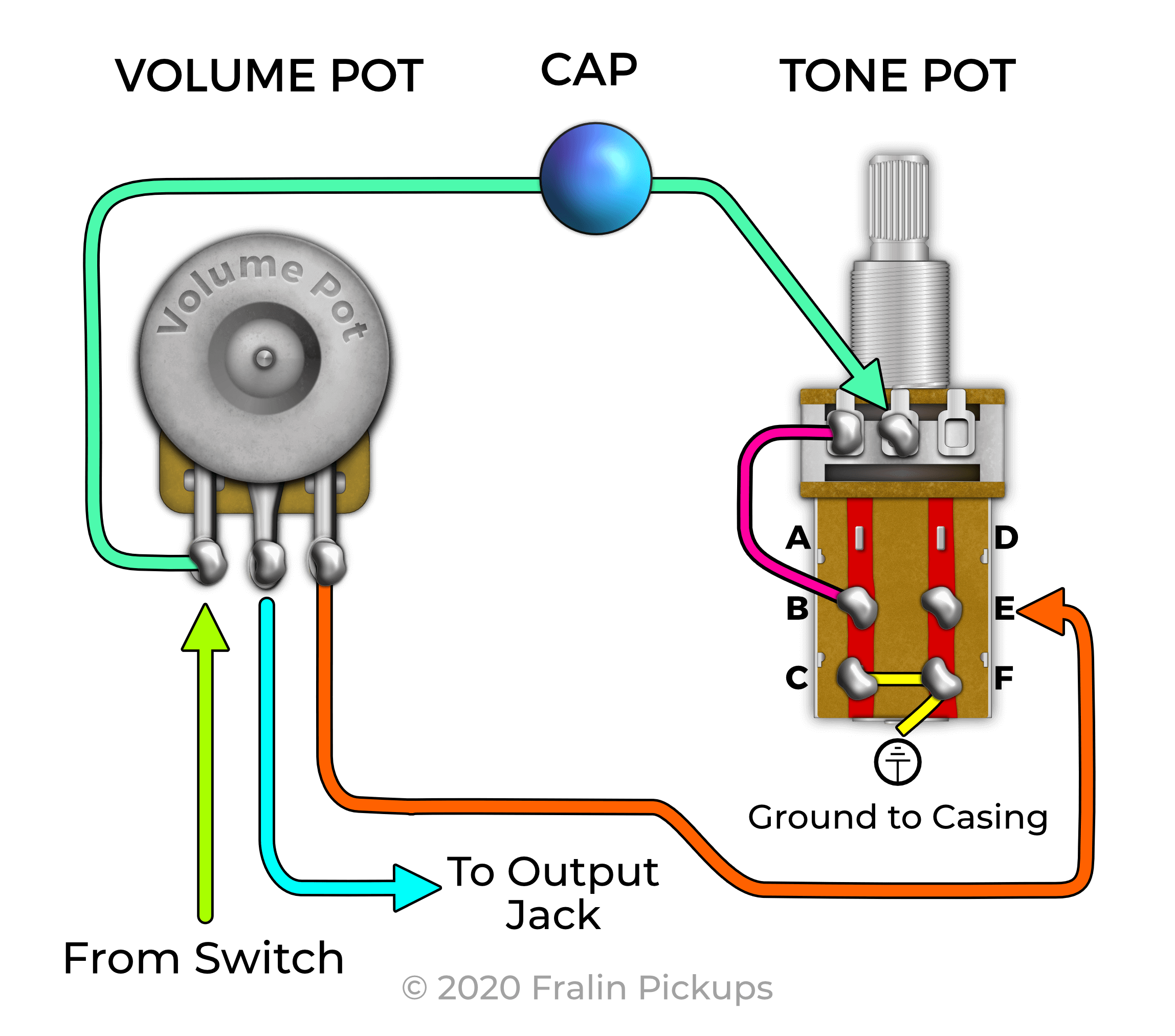 The Bright Switch is a push-pull modification that makes your pickups and guitar sound a little more 'full-throttle' when pulled up. To perform the Bright Switch mod, you need a standard Volume Pot and a Push-Pull Tone Pot.
When the Bright Switch is in the down position, Lug 3 of the volume pot connects to ground. When the Bright Switch is in the up position, the connection to ground gets removed. Due to this, the pickups become brighter and more 'hi-fi' sounding.
Note: When the connection to Ground gets removed from the Volume Pot, your volume pot will not work like a normal volume pot. It will never fully turn your signal down 100%.
---
Well, that should about do it for this article. I just wanted to showcase a few mods that our customers are enjoying installed on their Prewired Strat Pickguards and Telecaster Control Plates. Let us know what other mods you'd like to see in the future, and I'll try to draw them up! 'Till next time.
---
Want more posts like this?
---
---