Blues Special Tele
Love playing your Telecaster again and know it finally has the voice it was always meant to with our Blues Specials. Wound with a 5% overwind from our Stock Teles, Blues Specials feature a punchy, warm tone that tames the harsh top-end from most Telecasters and helps you hear every nuance in your playing. Lastly, customize your appearance with our neck options and make your Telecaster a real eye-catcher with a look that suits you.
---
Quick Links:
Jump to Sound Clips and Product Info:
---
100% Tele, Just a Bit Meaner.
Want to learn more about our Blues Special Tele? Here's all the information you'll need:
Blues Special Tele FEATURES:
Discover what you've been missing with our best-selling Telecaster pickups. Blues Specials feature a 5% overwind that emphasizes the midrange while taming the high-end for a warmer, thicker Telecaster tone that still sounds like a Tele. Built with all USA-Made parts, you can take pride knowing Lindy designed his Blues Specials with the highest quality materials available.
It starts here: Our manufacturing process allows us to achieve unparalleled quality control. Blues Specials consist of local fiberboard and USA-Made Alnico 5 Magnets. We wind each pickup by hand, one at a time, using our proprietary "Sectioning" technique for a sweet, unique tone. You can feel great knowing that we wound your pickups specifically for you. Finally, we wax-pot the pickup to prevent microphonics and preserve the pickup for years to come.
Features:
5% more coil than our Stock Tele set for a warmer, thicker tone
Modified Fender specifications, optimized for output
High output, but still has Fender sparkle
Compensated Bridge for even volume across all pickups
USA-made Alnico 5 Magnets for optimal tonal balance and output
Two different magnet staggers for optimizing pickups for your instrument
Hand-wound with our "Sectioning" technique for unique, dynamic tone
Hand-built fiberboard Bobbins for unrivaled quality control
Backed by our 10-Year Warranty on manufacturing defects
Sound
If you're looking for balance – not too bright, not too dark, this set is for you. While playing clean, Blues Specials sound thick and creamy with open and clear highs and a thicker midrange. The overwound coil tames your highs and bumps your midrange – more than the Stock Tele Pickups, while you can expect more of a traditional Tele Tone than our Steel Pole 42s.
With distortion, you can expect a light compression, low-end growl, and a medium attack. Single notes sound thick and round, while chords have a full tone with an early breakup. Finally, Blues Special Pickups are for you if you're looking for more output from your current pickups, but still want to keep that traditional Tele tone.
You'll wonder why you didn't make the switch earlier.
Are you looking for a Hum Cancelling Tele pickup that actually sounds like a Tele? Check out the Blues Output of our Split Blade Tele Pickups
---
Tonal Graph for Blues Special Tele:
The tone graph below for our Blues Special Tele features Lows, Midrange, Highs, and general Output.
Tech Specs
See below for the estimated DCR and Polarity Information for our Blues Special Tele.
| SPECIFICATION | VALUE |
| --- | --- |
| Neck Ohm Reading: | 7.8K* |
| Bridge Ohm Reading: | 7.3K |
| Neck Polarity: | Counter Clockwise Coil Direction, North To Strings |
| Bridge Polarity: | Clockwise Coil Direction, South To Strings |
| Wire: | USA-Made 42 / 43-Gauge Single Poly Nylon |
| Magnet: | USA-Made Alnico 5 |
| Recommended Pot Value: | 250K |
| Recommended Cap Value**: | 0.02mfd |
---
**We recommend a 0.02mfd Cap Value on most guitar and bass pickups. The exception is a Magic Cap, which Lindy prefers on the Bridge Pickup of Fender® guitars only. Learn More about Caps Here.
*The Neck reads higher due to the use of 43 Gauge Wire, outputs are compensated
Sizing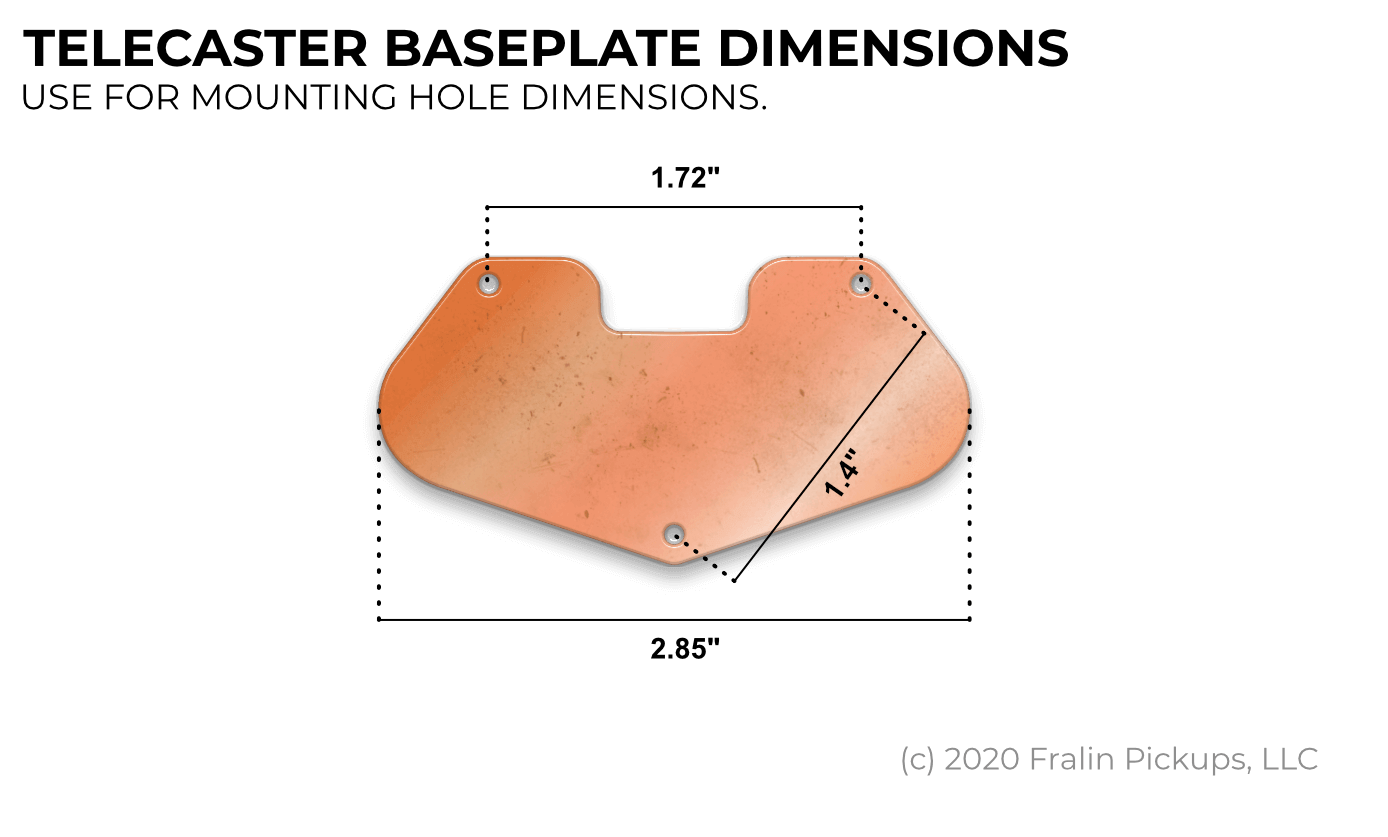 Blues Special Tele Questions And Answers:
Notice:
Have a question about our Blues Special Tele? Ask it here. Your Question will be publically visible. If you want to ask a Private Question, please contact us through our Contact Us Form.
If you have multiple questions, please call us at (804) 358-2699.
I have a Nashville deluxe, what do you recommend putting in the center pick up with the Blues Tele pick-ups?

Can I add a cover to a Blues Special Tele neck and, if so, can I buy a cover from you ? Also, I just wanted to say that I have several guitars with your pickups and they are remarkable. Thanks for what you do

Hi I'm interested in a Blues special telecaster set of pickups. I want the neck pickup with no cover at all. Is the 4 way switching option not possible now since wire cant be soldered to cover. Thanks for your help

Hi, I have an Ultra tele. It has the "series" switch and noisless pickups. I'm thinking of trying the Fralin Blues Specials. Will the S1 switch still work? Are there any other issues with this setup?

Assuming I'm using a traditional bridge with brass saddles and mounting the bridge pickup with the provided screws, is a separate bridge ground wire required to ground the strings? Or does the metal plate beneath the bridge pickup negate the need for that.
GET IT PREWIRED
Go the extra mile and combine our Blues Special Tele with a Telecaster Control Plate!:

---
Featured Reviews
Reviews we worked hard for, and are proud of.
"I just had my 1992 Fender JD Telecaster upgraded with your Blues Telecaster set and a Woodstock pickup in the middle position, for that Nashville Set-up. And I just wanted to write and say Thank You so much you made that 30 year old guitar come back to life.... But I love warm, open clean tone pickups. I'm giving this guitar to my sister Tamara, I called it T's Telecaster. The neck shape is a v shape and I like my Fender 65 C shape, and my sister said that she was interested in playing guitar so I hot rodded it like I was going to keep the guitar then give it to her on her birthday. I'm in Sonic Bliss, Congrats Mr Fralin."
"Installed in a 2019 American Performer Telecaster. Like the 200 plus reviews already. This is a fabulous set of pickups. From an aesthetic point of the the raw nickel looks incredible. Sound wise, just blows the stock Yosemites out of the water. There's detail that wasn't there before. I play a lot of jazz. And I always want that neck pickup to have clarity and thickness. The first lick I played after installing the Blues Special, I made an audible gasp. It's what I've been looking for. Smooth, detailed, dynamic. I can't imagine you would be disappointed putting these in any Fender telecaster currently made."
"I have the Frailin Blues Special Tele pickups in my USA Fender Telecaster and I absolutely love them. They definitely provide the punch I was looking for. They still have that awesome "twang" but with more definition. I have a variety of different pickups in my three teles (wide range humbuckers, hot rails, standard Fender pickups) and my Tele with the Frailin pickups are always my go to guitar. Gotta love them and they're made in my home state of Virginia!"
"I had ordered another (reputable) company's PU's and was not at all happy with them. I had all but stopped playing my Telecaster because of this. On a recommendation from my tech, I called and actually spoke with Lindy about the issue. On HIS recommendation after our conversation, I ended up ordering a set of the Blues Specials for my Tele. The very minute they were in the guitar I could immediately hear the difference. A few days later, I was using them onstage in front of a large, very rowdy crowd, and the guitar was so alive and responsive... the difference was like night and day. I absolutely LOVE these PU's!!! Meaty, but not too dark, clear, but not too shrill... VERY toneful, for lack of a better description. Well, maybe that IS the best description... Thanks Lindy. I have my Tele back!!!"
"my 1st time writting a review, i am so impressed with the tele blues special i decided to say something. now i have 2014 tele with a maple neck. i've used dimarzio quiet pickups, seymore duncan pickups and they are pretty nice and then mojo tone 52 quiet coils. they were ok but lack severly in the neck postion. after saying all that, installing the fralin blues special, what great difference! i played my 1st gig with my 76 deluxe reverb, WOW! and then on my 2nd gig i used my 66 vibrolux, another WOW! a real nice open sound, and in the neck position was alive and well. all 3 positions was spot on. i've been playing a long time, started at the age 14 and now i'm 72 and still have a lot to learn. very grateful for these fine pickups. i'm seriously concidering the blues special for my strat also. thankyou for letting me share my opinion."
STAY IN TOUCH
Subscribe To Our Newsletter