Alnico Noiseless P90 – Humbucker
Achieve thick, warm, dynamic tones with our Alnico Noiseless P90 Humbucker. This pickup is completely hum-canceling and features a familiar Fender top-end sparkle.
---
Quick Links:
Jump to Sound Clips and Product Info:
---
Fender Tone, P90 Looks.
Want to learn more about our Alnico Noiseless P90 - Humbucker? Here's all the information you'll need:
Alnico Noiseless P90 – Humbucker FEATURES:
Alnico Rods for a Fender-type sparkle
Humbucker housing available in Polished Nickel, Raw Nickel, Gold, and Jet Black Nickel Covers
Hum-free design for completely noiseless operation
49.5mm Standard Spacing works on Gibson-style instruments as well as Fender Neck spacings.
Wound by hand using our proprietary sectioning technique for a sweet, clear tone
Wound with USA-Made 42 Gauge SPN Wire
10 Year Warranty against manufacturing defects
Wax Potted to prevent microphonics and corrosion
Sound
Tonal Graph for Alnico Noiseless P90 – Humbucker:
The tone graph below for our Alnico Noiseless P90 – Humbucker features Lows, Midrange, Highs, and general Output.
---
The Alnico Noiseless P90 Humbucker is the perfect pickup for those looking for a cleaner, more articulate tone in a Humbucker Cover. Even though we call it a P90, it's not quite a P90: it has an airiness and sparkle not found with adjustable pole pieces. Also, it's great for those looking to balance a dark guitar. You'll find that this pickup stays clean, while still having a fat, beefy midrange and thickness commonly found with P90 pickups.
The Alnico Noiseless P90 Humbucker will not sound like a traditional P90, but one with a familiar Fender sparkle on the top-end. Clean and articulate when playing without distortion. You'll find that the nuances of your playing will come out as this pickup "breathes" more than it's compressed P90 counterpart. Chords have an excellent string-to-string definition, and single notes are round and warm. With distortion, you'll find a breakup that is late and smooth with a familiar Fender Strat-type tone.
Our Alnico Noiseless P90 Humbucker features a pronounced midrange as well. You'll find that the Alnico Hum-Cancelling P90 Humbucker will still sound fat and warm. The midrange is softer than a P90, but this pickup is fatter and warmer than our Big Single and Twangmaster.
Are you looking for more of a traditional P90 tone? You won't find that here. This model features a more "Fender" quality to it. If you're looking for a traditional P90 tone, check out our P90 and Hum Cancelling P90!
Take a listen to our friend Mike Hermans use our Alnico Noiseless P90 in the neck position of his Tele:
Check out the comparison between a regular Hum Cancelling P90 and the Alnico Rod P90:
Sizing
Lead Color Codes
See below for our Lead color codes. For help with matching to other manufacturers, check out this resource here.
Gibson Braided Lead:

2-Conductor Lead:

Tech Specs
See below for the estimated DCR and Polarity Information for our Alnico Noiseless P90 - Humbucker.
| SPECIFICATION | VALUE |
| --- | --- |
| Neck Ohm Reading: | 8.8K 1 |
| Bridge Ohm Reading: | 10K 1 |
| Neck Polarity: | Reversible with 2-Conductor With Shield Lead |
| Bridge Polarity: | Reversible with 2-Conductor With Shield Lead |
| Magnets: | USA-Made Alnico 5 |
| Wire: | USA-Made 42-Gauge Single Poly Nylon |
| Baseplate & Cover Material: | Nickel Silver |
| Baseplate Leg Depth: | 6mm |
| Recommended Pot Value: | 500K / 300K ** |
| Recommended Cap Value: | 0.02mfd 2 |
---
More Information:
1 Ohm Readings can vary due to a multitude of factors, including ambient temperature, multimeter calibration, different wire batches, and other factors. Due to this, ohm readings are approximate. Learn more about Ohm Readings here.
---
2 We recommend a 0.02mfd Cap Value on most guitar and bass pickups. The exception is a Magic Cap, which Lindy prefers on the Bridge Pickup of Fender® guitars only. Learn More about Caps Here.
---
*Due to the unique design of this pickup, ohm readings are not useful when comparing to other designs | ** Use 300K to tame a bit of the top end.
Alnico Noiseless P90 – Humbucker FAQ's
General FAQs
Here are quick answers to common questions we get:
What Ohm Readings does your Alnico Noiseless P90 – Humbucker have?

Navigate to our Tech Specs tab for complete Ohm Readings and more useful information.

Will this pickup fit my instrument?

Check our "Sizing" tab for the size of the pickup. No Sizing tab? Check under the product image gallery for dimensions.

Is your Lead Time of 3-4 Weeks accurate?

It really depends on the shop capacity at the moment, and the size of your order. Feel free to give us a call for an accurate lead time. We always try to underpromise and overdeliver.

What pickup height do you recommend setting your Alnico Noiseless P90 – Humbuckers to?

Our recommended Pickup Height is 1/8" (3.175mm) on the Bass Side and 1/16"( 1.5875mm) on the Treble Side. Measure by holding the corresponding side down at its highest fret and measure from the bottom of the string to the top of the pole piece.
---
Pairing
Our Alnico Noiseless P90 – Humbucker pairs well with the following models: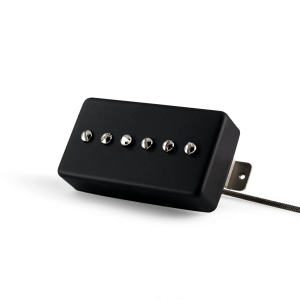 Hum-Cancelling P90 - Humbucker - Bridge
Starting At: $165
Pair an Alnico Noiseless P90 Neck with an Hum Cancelling P90 Bridge and we'll compensate the outputs for you.
View Product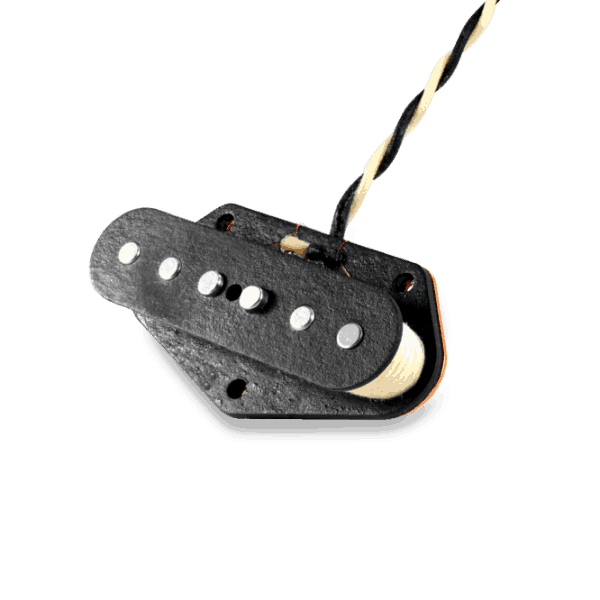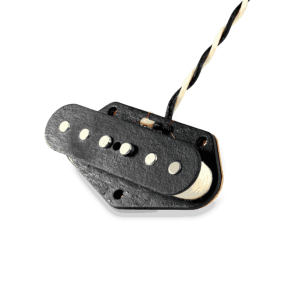 High Output Tele - Bridge
Starting At: $110
This pickup pairs perfectly with a High Output Tele Bridge.
View Product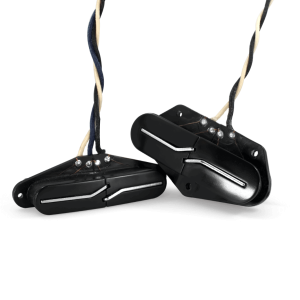 Split Blade Tele - Bridge
Starting At: $129
Pair with a Blues Output Split Blade for a clean, noiseless Telecaster Tone!
View Product
---
Featured Reviews
Reviews we worked hard for, and are proud of
"I am working on a series of guitars that are ultralight, with smaller & thinner than normal bodies that are partly made of paulownia. It has been very challenging getting a meaty tone out of an ultralight guitar. I have spent the last several years auditioning, an endless number of pickups including several of Fralin's offerings. In the end, the one that is working best and sounds wonderful is the noiseless alnico P90 from Fralin. I am able to get good clean tones and excellent edge of break up tones that are always warm and have a rounded attack, never harsh. I highly recommend this pickup."
"I could say thaI I think this is the greatest sounding pickup ever made but like all things musical that would be very subjective as applications vary greatly as well as musical tastes. So instead I will just describe this pickup as my ears hear it. I own both humbucker and single coils guitars as most do but. Prefer and favor single coils. Thats not to say that humbuckers don't have certain qualities that you can't achieve from single coils and there have been many innovative designs that have tried to bridge the gap but usually sound more like one or the other. That is what makes this one so unique and original, and in all honesty I don't even no how possible. It has all the great qualities of a humbucker but still sounds like a single coil. Again how is this possible? The qualities I speak of that I have never heard of in single coils are. massive harmonics much like a SD JB, also notes bloom like a high quality humbucker, low end similar to a humbucker but with sparkling chimey highs, all of this but still sounding like an authentic single coil. I know this doesn't make sense as you saying well it has to sound like one or the other because they are 2 entirely different animals....we'll that was true until this came along. This pickup is not only original it is revolutionary."