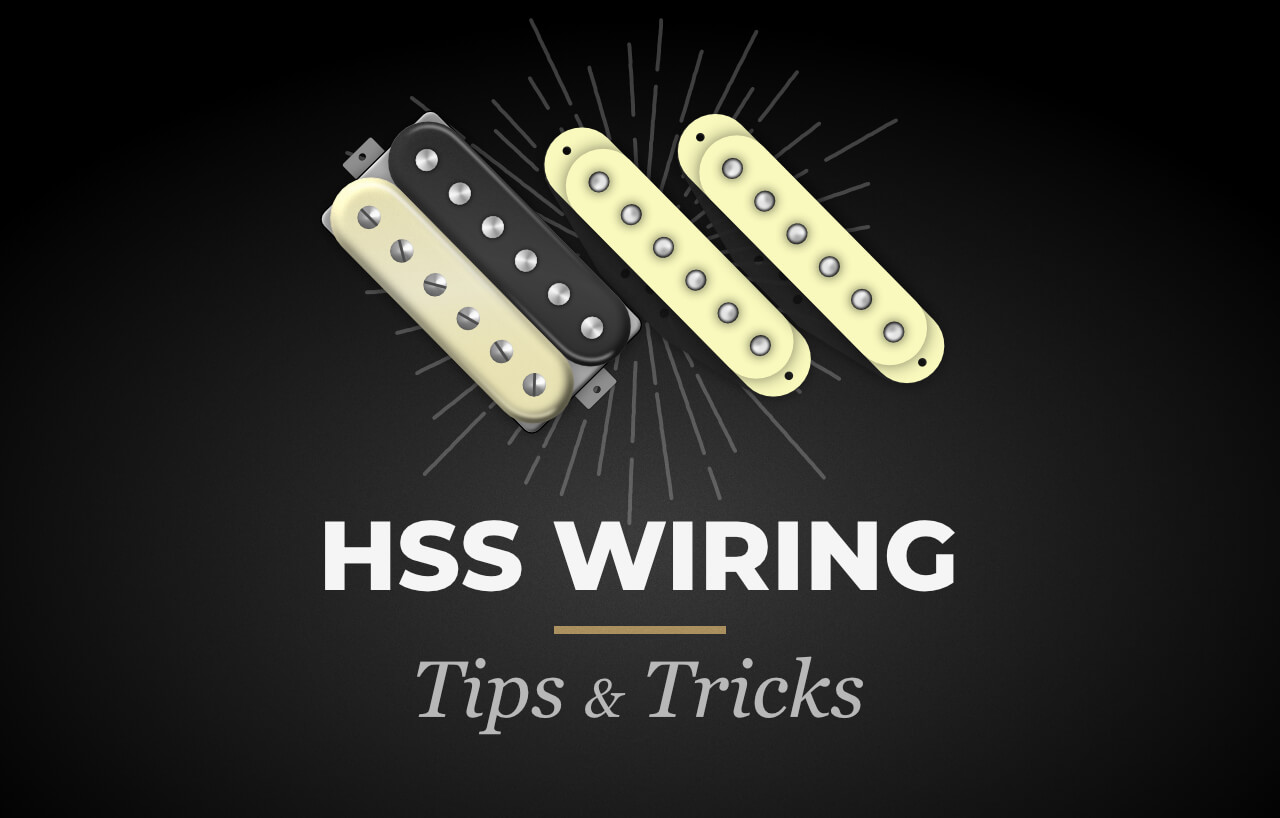 4 Unique HSS Strat Wiring Tips For More Versatility
---
Hey there! We're sorry it's been so long since we've written – we've been incredibly busy at the shop. Today, we're talking about Strats with a Humbucker in the Bridge (HSS)! There are a few tips and tricks for interesting HSS wiring, so read on!
HSS Strats are amongst the most versatile Strats out there, but they can be tricky. They involve a Humbucker in the Bridge and a Single Coil in the Neck and Middle. If you've played around with mixing single coils and humbuckers, you know it can be tough to get the two different designs to play together nicely.
Humbuckers tend to sound best with 500K pots, whereas Single Coils sound best on 250K Pots. Furthermore, the outputs and designs of each model are vastly different and can sound out of balance when switching between pickups.
That said, there are a lot of options when choosing pickups for an HSS Strat. You can opt for higher-output single coils, like our High Output or Steel Pole 43s, which sound great on 500K pots. Or, you can use our Split Blades – which in the Blues Output sounds like a Single Coil on 500K pots. Lastly, you can use 500K resistors to achieve a compensated set (see below).
If you haven't already, check out our article on mixing Single Coils and Humbuckers. Now, let's get into some fun HSS Strat Wiring Tips & Tricks:
HSS Wiring tip # 1: Coil Split with a Push-Pull Pot:
Let's start with the basics. We'll begin by splitting the Humbucker with a Push-Pull pot. If you're new to coil splitting, we have a whole article on how to coil split and how coil-splitting works. There are a few pros to this setup:
Independent control over your Bridge pickup – you get to choose whether you want a full-strength humbucker or a single-coil, with one pull and push of the switch.
Although the diagram below features a Bridge Tone for Tone 2, you can opt for a Blender Pot, to achieve "Telecaster" tones in Single Coil mode by choosing the Neck & Bridge together.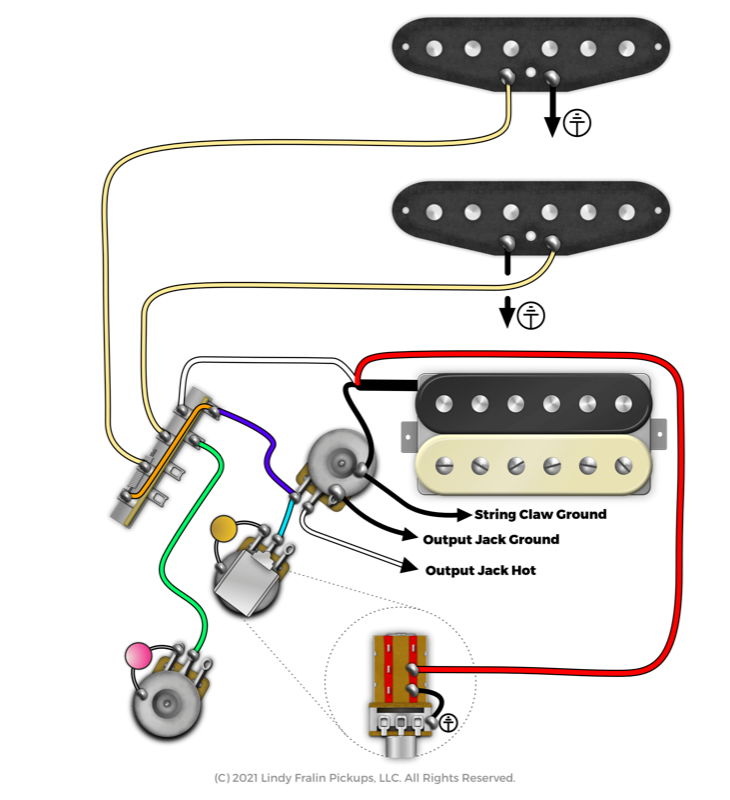 HSS Wiring Tip #2: Coil Split with the 5-Way Blade Switch:
Sometimes, you need to split your Humbucker but can't use a Push-Pull pot or don't like using Push-Pull Pots. You can split your Humbucker automatically using the 5-Way Blade Switch in position #2: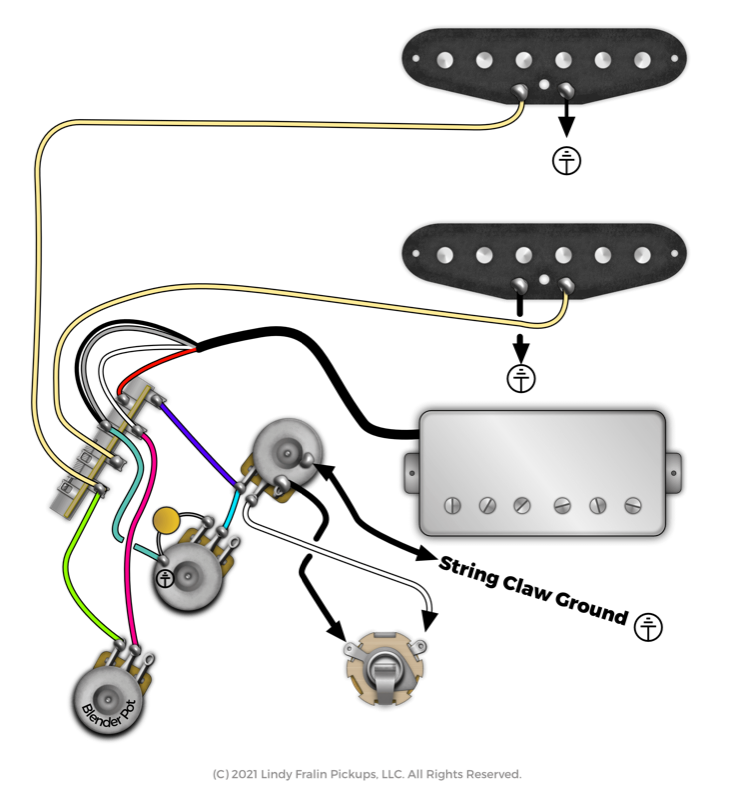 With this setup, Position 1 is your Bridge Humbucker Mode, while Position 2 Automatically splits the Humbucker and connects it to the Middle Pickup. Doing so gives you the famous Strat "quack" tone in position 2 – a staple Strat tone.
Coil Split with a Blender Pot (Gradual Tap):
The Gradual Tap is an exciting way to coil split a humbucker in an HSS Strat. It involves a Blender Pot that gradually connects your Humbucker's slug coil to ground: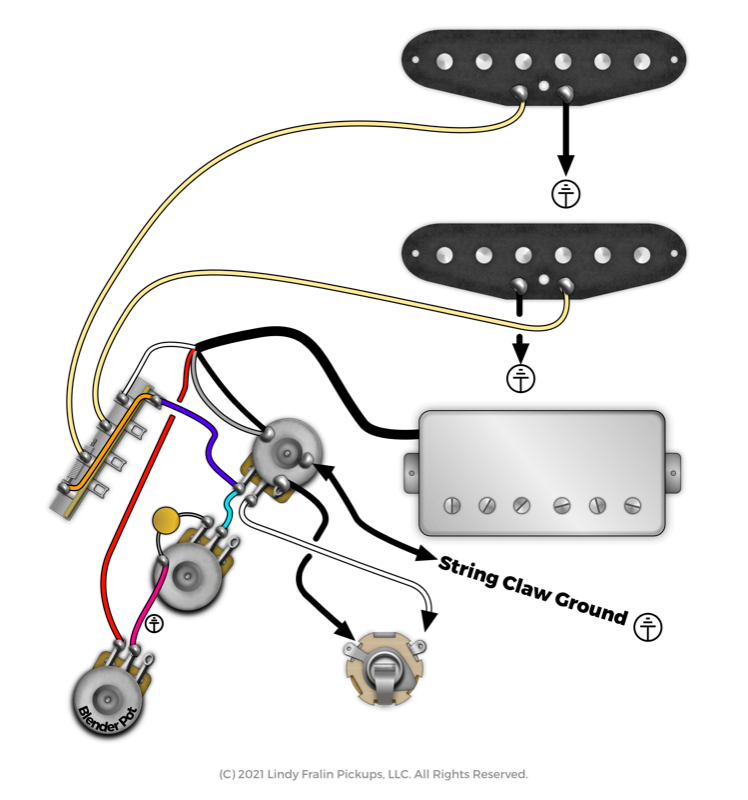 This wiring setup is a fun way to blend between the tones of your Humbucker, allowing you to choose how much of the full-strength Humbucker or split-coil tone you want to use.
It works by gradually connecting the Slug Coil to ground instead of "flipping a switch" with a Push-Pull pot. This mod only works when you are in the Bridge Position.
Using Resistors:
This diagram doesn't involve Coil Splitting; however, it does solve the issue of using two different pot values. As mentioned before, Single Coils tend to sound best on 250K pots, and Humbuckers sound best on 500K.
Read more on pots and how they work here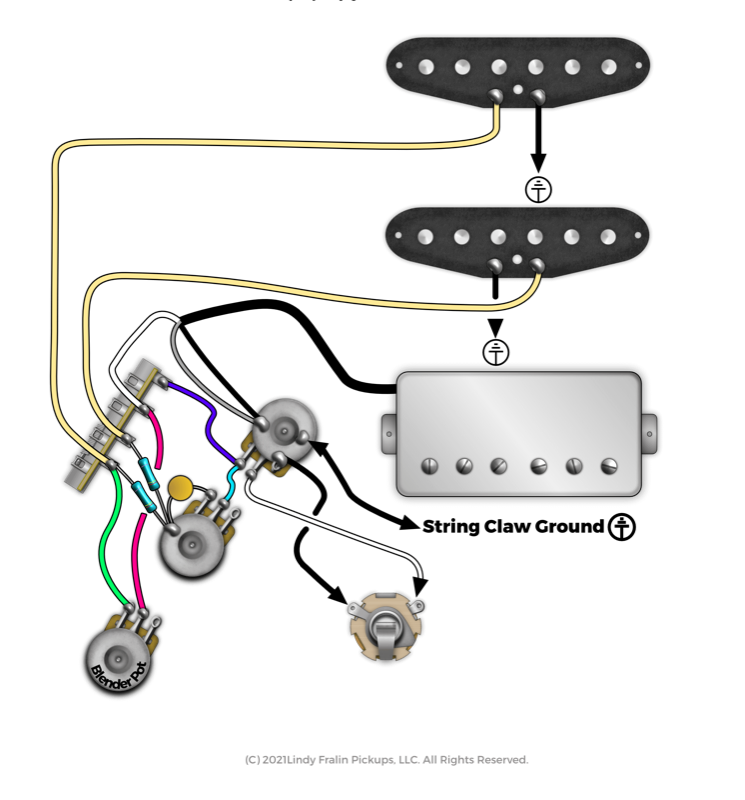 To use this setup, you need the following:
1x 500K Volume Pot
2x 500K Resistors
When you select the Bridge Humbucker, its signal travels through a 500K pot, ideal for the Humbucker. When choosing the Single Coils, their signal goes through a 500K resistor (to ground) and the 500K pot, letting them "see" 250K! This mod isn't perfect as the resistors can affect the taper of the volume pot, but give it a try!
---
---
---