Wide Range Humbucker
The Fralin Wide Range Humbucker is a cleaner and more articulate version of the original, with all the clarity and definition you've come to expect with Fralin Pickups. Made with USA-Made parts and wound by hand, this will give you an amazing, sweet era-authentic tone!
---
Quick Links:
Jump to Sound Clips and Product Info:
---
True '70s Wide-Range Tone
Want to learn more about our Wide Range Humbucker? Here's all the information you'll need:
Wide Range Humbucker FEATURES:
Our Wide Range Humbucker is a modern take on the original classic. Originally built and designed by Seth Lover for Fender, this was the answer to Gibson's darker-sounding humbuckers. Today, Lindy Fralin took his idea a little further, by making this pickup sweet, articulate, and clear and clean. Our Wide Range humbuckers will drop right in to your guitar, as they are the same fit and finish as the factory ones. This pickup will sound reminiscent of our P-92's – Bold, but clear and articulate.
Features:
Loud, bright, articulate clean tones and smooth, slightly crunchy distortion tones.
Same size as the original Wide Range Humbuckers
Threaded Alnico 5 Pole Pieces and for top-end sparkle
Traditional humbucker design and looks
USA-Made Parts, and Wound to spec, one at a time.
Sound
Tonal Graph for Wide Range Humbucker:
The tone graph below for our Wide Range Humbucker features Lows, Midrange, Highs, and general Output.
---
Sound Clips for Wide Range Humbucker:
About this Sound Clip:
All sound samples are played from Neck Position First and Bridge Position Last.
The Fralin Wide Range Humbucker is Clean, articulate, and bright. If you have a darker or dull-sounding guitar, these will breathe new life into it. Lows are big, bouncy and clear like most Fender humbucker designs. The Mids are slightly scooped with an emphasis on the high mids. This pickup is sure to cut through the mix, without sounding brittle, shrill or thin. Playing dirty, this pickup won't break up as early as traditional humbuckers. It will still sound thick in the low mids and smooth on the top-end. As with all our pickups, we take care to make sure we wind it to your specifications. Want it to sound a little fatter and darker? No problem – we'll wind it to spec, free of charge.
Sizing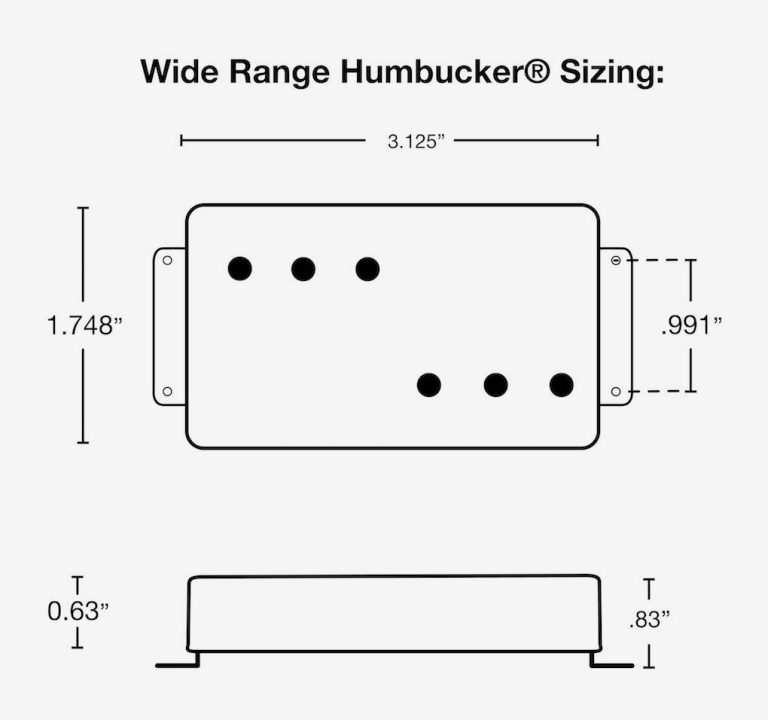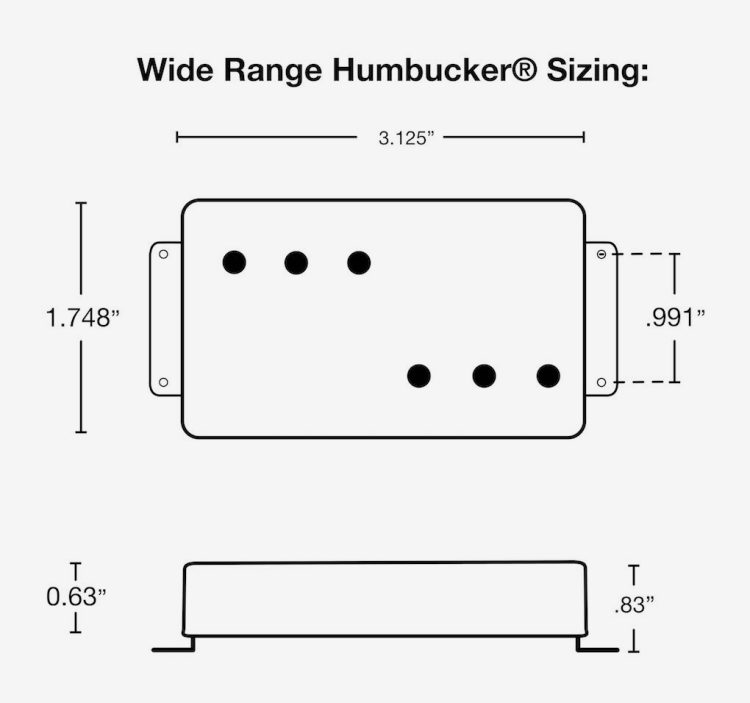 Lead Color Codes
See below for our Lead color codes. For help with matching to other manufacturers, check out this resource here.
Gibson Braided Lead:

2-Conductor Lead:

Tech Specs
See below for the estimated DCR and Polarity Information for our Wide Range Humbucker.
| SPECIFICATION | VALUE |
| --- | --- |
| Neck Ohm Reading: | 9K 1 |
| Bridge Ohm Reading: | 9.7K 1 |
| Neck Polarity: | Reversible With 2-Conductor Lead |
| Bridge Polarity: | Reversible With 2-Conductor Lead |
| Magnet Material: | USA-Made Alnico 5 |
| Wire: | USA-Made 42-Gauge Single Poly Nylon |
| Bobbin Material: | Nylon |
| Baseplate Material: | USA-Made Nickel Silver |
| Cover Material: | USA-Made Nickel Silver |
| String Spacing: | 54mm |
| Recommend Pot Value: | 300K | 500K* |
| Recommended Cap Value: | 0.02mfd 2 |
---
More Information:
1 Ohm Readings can vary due to a multitude of factors, including ambient temperature, multimeter calibration, different wire batches, and other factors. Due to this, ohm readings are approximate. Learn more about Ohm Readings here.
---
2 We recommend a 0.02mfd Cap Value on most guitar and bass pickups. The exception is a Magic Cap, which Lindy prefers on the Bridge Pickup of Fender® guitars only. Learn More about Caps Here.
---
300K pots will give this pickup a slightly darker and warmer tone.
Wide Range Humbucker FAQ's
General FAQs
Here are quick answers to common questions we get:
What Ohm Readings does your Wide Range Humbucker have?

Navigate to our Tech Specs tab for complete Ohm Readings and more useful information.

Will this pickup fit my instrument?

Check our "Sizing" tab for the size of the pickup. No Sizing tab? Check under the product image gallery for dimensions.

Is your Lead Time of 1 Week accurate?

It really depends on the shop capacity at the moment, and the size of your order. Feel free to give us a call for an accurate lead time. We always try to underpromise and overdeliver.

What pickup height do you recommend setting your Wide Range Humbuckers to?

Our recommended Pickup Height is 1/8" (3.175mm) on the Bass Side and 1/16"( 1.5875mm) on the Treble Side. Measure by holding the corresponding side down at its highest fret and measure from the bottom of the string to the top of the pole piece.
Product FAQ's
These are frequently asked questions about our Wide Range Humbucker. If you have a question that you don't see listed here, click "Ask A Question" in the Quick Links section above.
Can you coil split the Wide Range Humbucker?

While we can technically wire this pickup for coil splitting, we do not recommend it. You'll be left with a coil with 3 exposed pole pieces, and 3 covered pole pieces, giving you an unbalanced tone. This pickup sounds best in a full humbucker mode.
---
GET IT PREWIRED
Go the extra mile and combine our Wide Range Humbucker with a Telecaster Control Plate!:

---
Featured Reviews
Reviews we worked hard for, and are proud of
"I replaced the stock Japan wide range humbucker in my custom tele with the Fralin. I am blown away by the improvement. This pickup sounds like I've always wanted a wide range to sound like. Also, I paired it with the split steel pole tele bridge, and they mate perfectly. Thanks again guys."
"Beautiful pickup. Paired with a Split Steel Poled Tele pickup. Sounds amazing. Set the heights on you pickups, it will open them up!"
"There are two Fralin Wide Range Humbuckers on my Deimel Firestar and i love it. They are clear, have a beautiful texture and it is pure joy to play them."
"Wow what a difference! My 72' Tele Deluxe RI was a gift from my wife, but I found myself playing it less and less as it sounded dull and muddy compared to my other guitars that had either nice vintage pickups, or modern boutique pickups. After putting in the Fralin Wide Range pickups, it's like having an entirely different guitar. The bridge pickup is full, with a bright top end that isn't ice-picky. The mid range has a texture I've never heard out of this guitar, and the bottom end has all the growl I want. The neck pickup is warm, smooth, and has amazing clarity. I'm amazed at how much I'm playing the neck pickup now in this guitar. These pickups took an old favorite guitar and gave it new life! If you have one of the reissue guitars with the wide-range pickups, don't think any more about it, buy them and get them in ASAP!"
"Fralin knocks it out of the park. These are the best Wide Range pickups ever made. While Fender dithered for 40 years waiting for a new source of CUNIFE magnets Lindy said 'Hold my beer' and got it done. Lindy took industry standard materials and crafted a clear, clean, articulate, and exquisitely loud wide range humbucker. The sound of these is true to the original. While sound can become a bit subjective, sustainability and cost is not. Lindy used industry standard parts easily sourced from USA manufacturers to build a boutique quality pickup at a lower cost. Do you want to pay less for a wide range humbucker that sounds better than the original? My answer was yes."