Mini Humbucker
The Fralin Mini Humbucker is cleaner and clearer than full sized humbuckers. Our Mini Humbucker sounds more "Fendery" than other Mini's, which are darker and muddier. We have two magnet choices – Alnico 5 is bright and clear, and Alnico 6 is loud and thick.
---
Quick Links:
Jump to Sound Clips and Product Info:
---
Mini Humbuckers, Redesigned.
Want to learn more about our Mini Humbucker? Here's all the information you'll need:
Mini Humbucker FEATURES:
Lindy's passion for the tone of vintage 50's humbuckers led us down the road to design our Mini Humbucker. The Lindy Fralin Mini Humbucker is one amazing-sounding pickup. Lindy modified the design of the original Mini Humbuckers, experimenting with winds and magnets. The result gives you a clean vintage tone that's more articulate than most modern humbuckers. Our Mini Humbucker is a lower output, which is more expressive than higher-output designs.
Features:
Modified Gibson Design – Re-designed by Lindy Fralin
Modified Gibson® specifications with attention to increased output and clarity
Brighter and more 'Fender-y' tone. Smooth, late grind and a crisp attack
USA-made Alnico Magnets for optimal tonal balance and output
Compensated Overwound Bridge for even volume across all pickups
Hand-wound with our "Sectioning" technique for unique, dynamic tone
Hand-built for unrivaled quality control
10-Year Warranty on manufacturing defects
Sound
Tonal Graph for Mini Humbucker:
The tone graph below for our Mini Humbucker features Lows, Midrange, Highs, and general Output.
Stock Output:
Attack: Bright & Sharp
+4% Output:
Attack: Dynamic & Full
+8 Output:
Attack: Soft & Round
---
The video above features a Stock Neck and Bridge with an Alnico 5 Magnet in the Neck and an Alnico 6 Magnet in the Bridge.
Clean, clear, and articulate. Our Mini Humbucker will stay clean as it won't break up as early as modern humbuckers. You'll find that it's loud, while still remaining clear. Built with AlNicCo V or VI magnets, and 42 & 43 Gauge SPN wire, the Mini Humbuckers are a gateway to vintage tone. When playing clean, you'll find that this pickup sings what you put into it: it's dynamic, clear, and warm. Expect a smooth grind with distortion, with a pronounced pick attack. If you want a darker sound, choose to go with the +4% or +8% output options. More coil will thicken the midrange up more, and less will make is sound more like single coils and cleaner.
Our manufacturing process allows us to achieve unparalleled quality control. Our Mini Humbuckers consist of USA-Made bobbins, baseplates, magnets, and wire. We wind each pickup by hand, one at a time. Each pickup is wound using our proprietary "Sectioning" technique. This gives the pickup a sweet, clear tone.
We assemble each pickup one at a time, by hand. This allows us to achieve unbeatable attention to detail. Finally, we wax-pot the pickup to preserve the pickup, and prevent microphonics.
Sizing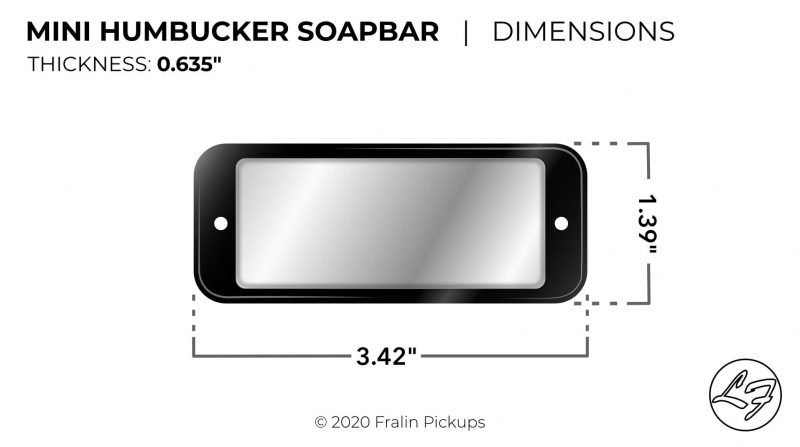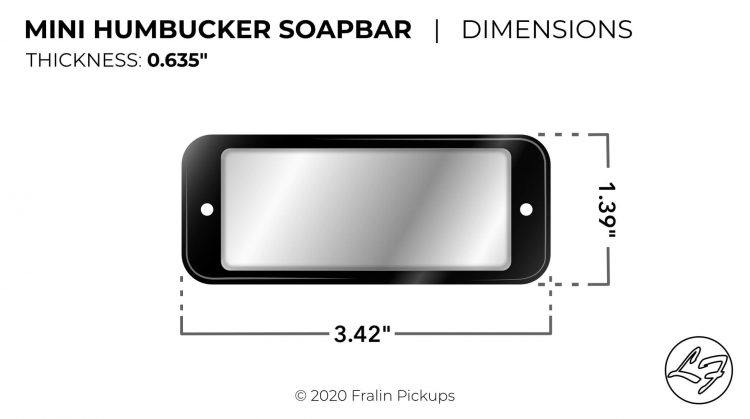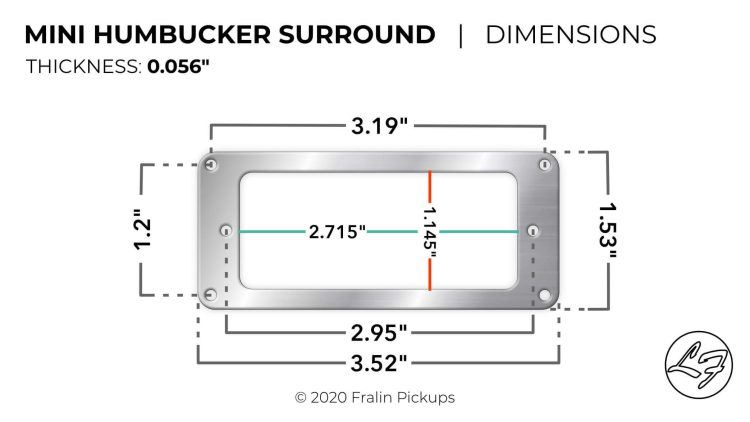 Lead Color Codes
See below for our Lead color codes. For help with matching to other manufacturers, check out this resource here.
Gibson Braided Lead:

2-Conductor Lead:

Tech Specs
See below for the estimated DCR and Polarity Information for our Mini Humbucker.
| SPECIFICATION | VALUE |
| --- | --- |
| Stock Ohm Reading: | 6.5K* 1 |
| +4% Ohm Reading: | 10.5K* 1 |
| +8% Ohm Reading: | 11.2K* 1 |
| Magnet Material: | USA-Made Alnico 5 or USA-Made Alnico 6 |
| Magnet Wire Material: | USA-Made 42-Gauge / 43-Gauge Single Poly Nylon |
| Baseplate Material: | USA-Made Nickel Silver |
| Cover Material: | USA-Made Nickel Silver |
| Polarity: | Reversible with 2-Conductor Lead |
| Recommended Cap Value: | 0.02mfd 2 |
---
More Information:
1 Ohm Readings can vary due to a multitude of factors, including ambient temperature, multimeter calibration, different wire batches, and other factors. Due to this, ohm readings are approximate. Learn more about Ohm Readings here.
---
2 We recommend a 0.02mfd Cap Value on most guitar and bass pickups. The exception is a Magic Cap, which Lindy prefers on the Bridge Pickup of Fender® guitars only. Learn More about Caps Here.
---
* Ohm readings are approximate and can vary.
Mini Humbucker FAQ's
General FAQs
Here are quick answers to common questions we get:
What Ohm Readings does your Mini Humbucker have?

Navigate to our Tech Specs tab for complete Ohm Readings and more useful information.

Will this pickup fit my instrument?

Check our "Sizing" tab for the size of the pickup. No Sizing tab? Check under the product image gallery for dimensions.

Is your Lead Time of 3-4 Weeks accurate?

It really depends on the shop capacity at the moment, and the size of your order. Feel free to give us a call for an accurate lead time. We always try to underpromise and overdeliver.

What pickup height do you recommend setting your Mini Humbuckers to?

Our recommended Pickup Height is 1/8" (3.175mm) on the Bass Side and 1/16"( 1.5875mm) on the Treble Side. Measure by holding the corresponding side down at its highest fret and measure from the bottom of the string to the top of the pole piece.
Product FAQ's
These are frequently asked questions about our Mini Humbucker. If you have a question that you don't see listed here, click "Ask A Question" in the Quick Links section above.
What's the difference between Alnico 5 and Alnico 6?

Alnico 5 features more of a Fender Sparkle, and Alnico 6 sounds more like a Humbucker – softer, warmer, and thicker, but with more output. If you're looking for a Fender tone out of your Mini, opt for Alnico 5. If you're looking for more of a PAF tone, opt for Alnico 6.

What is a "Stock" set of Mini Humbuckers?

There are a lot of options with this pickup. The Stock Set is close to how Gibson made them in the '50s. It's a Stock Neck (6.5K) and a Stock Bridge (6.5K). This set will feature a clean, fender-like Neck and a bright, spanky Bridge. If you're looking for something with more balance, you can opt for a +4% Neck (Alnico 5), or a Stock Neck with Alnico 6. Alnico 6 gives the pickup a louder output with more of a "Gibson" feel – more midrange, less highs – more like a traditional PAF.

Can you wire the Mini Humbucker for Coil Splitting?

We can, but we don't recommend it – the output is very low.
---
---
Featured Reviews
Reviews we worked hard for, and are proud of
"I ordered one of these mini humbuckers (stock winding) for a customer who wanted it installed in the neck position in a Nashville Tele. After installing and tweaking the pickup height and pole pieces to get it to match with the other pickups I was able to get a good match and was pleasantly surprised at how clear-sounding this pickup is. What struck me especially was the roundness of the unwound strings. It's not a pushy, scooped, or muddy sounding neck pickup - just clear, balanced, and articulate. Honestly, it really got my attention and I ordered one for my own tele. Lindy's design is probably more akin to a Johnny Smith pickup than the mini humbucker that would have come on a Les Paul Deluxe. I'd say it works absolutely great for a tele for jazz and country - maybe not what you'd be looking for in a Les Paul."