Mini Humbucker
The Fralin Mini Humbucker is cleaner and clearer than full sized humbuckers. Our Mini Humbucker sounds more "Fendery" than other Mini's, which are darker and muddier. We have two magnet choices – Alnico 5 is bright and clear, and Alnico 6 is loud and thick.
---
Quick Links:
Jump to Sound Clips and Product Info:
---
Mini Humbuckers, Redesigned.
Want to learn more about our Mini Humbucker? Here's all the information you'll need:
Mini Humbucker FEATURES:
Lindy's passion for the tone of vintage 50's humbuckers led us down the road to design our Mini Humbucker. The Lindy Fralin Mini Humbucker is one amazing-sounding pickup. Lindy modified the design of the original Mini Humbuckers, experimenting with winds and magnets. The result gives you a clean vintage tone that's more articulate than most modern humbuckers. Our Mini Humbucker is a lower output, which is more expressive than higher-output designs.
Features:
Modified Gibson Design – Re-designed by Lindy Fralin
Modified Gibson® specifications with attention to increased output and clarity
Brighter and more 'Fender-y' tone. Smooth, late grind and a crisp attack
USA-made Alnico Magnets for optimal tonal balance and output
Compensated Overwound Bridge for even volume across all pickups
Hand-wound with our "Sectioning" technique for unique, dynamic tone
Hand-built for unrivaled quality control
10-Year Warranty on manufacturing defects
Sound
The video above features a Stock Neck and Bridge with an Alnico 5 Magnet in the Neck and an Alnico 6 Magnet in the Bridge.
Clean, clear, and articulate. Our Mini Humbucker will stay clean as it won't break up as early as modern humbuckers. You'll find that it's loud, while still remaining clear. Built with AlNicCo V or VI magnets, and 42 & 43 Gauge SPN wire, the Mini Humbuckers are a gateway to vintage tone. When playing clean, you'll find that this pickup sings what you put into it: it's dynamic, clear, and warm. Expect a smooth grind with distortion, with a pronounced pick attack. If you want a darker sound, choose to go with the +4% or +8% output options. More coil will thicken the midrange up more, and less will make is sound more like single coils and cleaner.
Our manufacturing process allows us to achieve unparalleled quality control. Our Mini Humbuckers consist of USA-Made bobbins, baseplates, magnets, and wire. We wind each pickup by hand, one at a time. Each pickup is wound using our proprietary "Sectioning" technique. This gives the pickup a sweet, clear tone.
We assemble each pickup one at a time, by hand. This allows us to achieve unbeatable attention to detail. Finally, we wax-pot the pickup to preserve the pickup, and prevent microphonics.
---
Tech Specs
Materials:
Wound with 42 & 43 Gauge Single Poly Nylon Wire and Alnico V and VI Bar Magnets. All USA-Made Baseplates and covers.
Ohm Readings:
The Stock Neck will read about 6.5K, and the +8% Bridge will read about 10K.
Sizing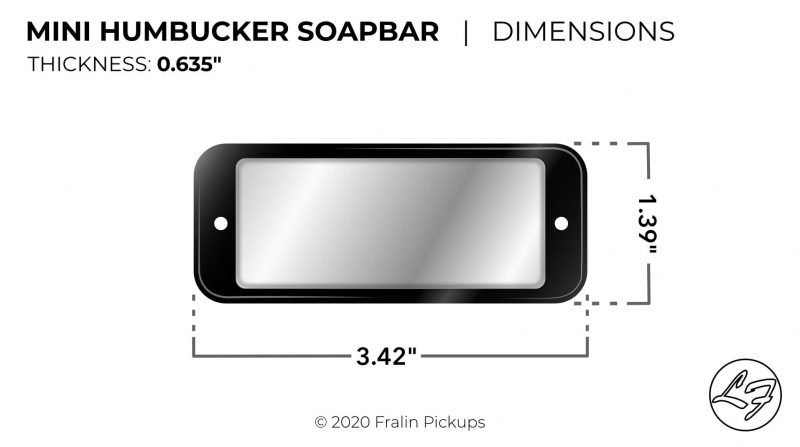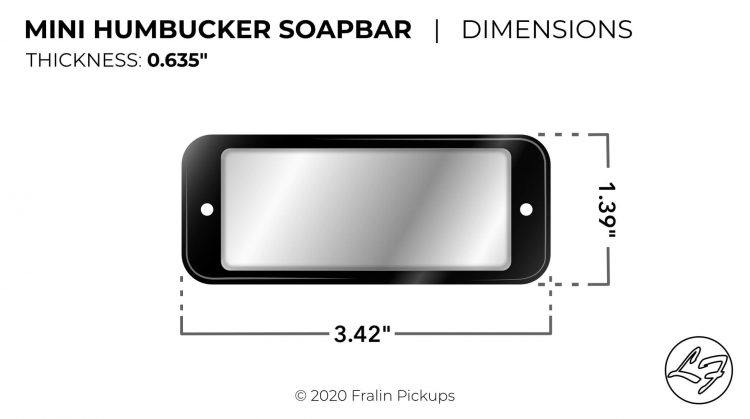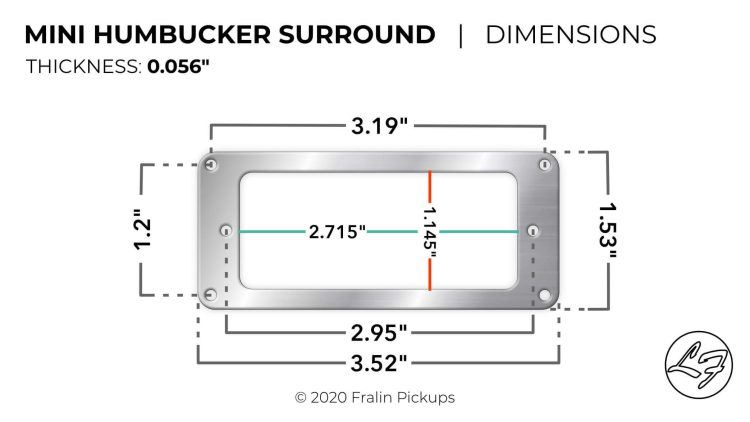 Lead Color Codes
See below for our Lead color codes. For help with matching to other manufacturers, check out this resource here.
Gibson Braided Lead:

2-Conductor Lead:

Mini Humbucker Questions And Answers:
Notice:
Have a question about our Mini Humbucker? Ask it here. Your Question will be publically visible. If you want to ask a Private Question, please contact us through our Contact Us Form.
If you have multiple questions, please call us at (804) 358-2699.
I purchased a Michael Kelly 55 series black ebony striped equipped with your mini humbucker for the neck position and your True PAF for the bridge. In there literature it shows your mini as being splittable. Mine came unable to do so. Were they wrong in their description (Mod 8) of the abilities of your pickups or was it some kind of wiring problem on your end. I would appreciate if you would clarify this for me. I kept the guitar because the pic...

Read more

Can one of these be pickguard mounted for an archtop jazz guitar? My D'Angelico New Yorker came with what I was told was a Fralin pickup, and I love it, and would like to have one put on my Campellone as well.

Hi! Just took delivery of a mini humbucker (A6+4%) for my Bridge position and noticed that per the guidance on this website (raised D pole, treble side leads) and direction of writing on the back, it seems that it's supposed to be installed with the screw poles toward the neck instead of down on the bridge side as I'd expect. Again this is Bridge position so just want to confirm the recommended orientation for installation. Thanks!

I'm building a partscaster strat with 2 mini humbuckers & 3 way toggle. I play at church now and my go to guitar has always been my Gibson Les Paul with 490's. I love it but sometimes the 490's are too much. I'm looking at your mini humbuckers and am wanting something that can still be clean and chimy but still get darker and gritty when pushed. I'm thinking the 4% overwound set with alnico 6 magnets and 300K pots. Music influences ...

Read more

How hot can you wind your mini humbuckers while still using 42 gauge wire? (I need some for my Crestwood and want to make them as fat and punchy as possibly without them becoming wooly)
---
STAY IN TOUCH