Wide Range Humbucker
$185.00 – $370.00
The Fralin Wide Range Humbucker is a cleaner and more articulate version of the original, with all the clarity and definition you've come to expect with Fralin Pickups. Made with USA-Made parts and wound by hand, this will give you an amazing, sweet era-authentic tone!
---
Quick Links:
Jump to Sound Clips and Product Info:
---
True '70s Wide-Range Tone
Want to learn more about our Wide Range Humbucker? Here's all the information you'll need:
Wide Range Humbucker FEATURES:
Loud, bright, articulate clean tones and smooth, slightly crunchy distortion tones.
Same size as the original Wide Range Humbuckers
Threaded Alnico 5 Pole Pieces and for top-end sparkle
Traditional humbucker design and looks
USA-Made Parts, and Wound to spec, one at a time.
Overview
Our Wide Range Humbucker is a modern take on the original classic. Originally built and designed by Seth Lover for Fender, this was the answer to Gibson's darker-sounding humbuckers. Today, Lindy Fralin took his idea a little further, by making this pickup sweet, articulate, and clear and clean. Our Wide Range humbuckers will drop right in to your guitar, as they are the same fit and finish as the factory ones. This pickup will sound reminiscent of our P-92's – Bold, but clear and articulate.
Sound
The Fralin Wide Range Humbucker is Clean, articulate, and bright. If you have a darker or dull-sounding guitar, these will breathe new life into it. Lows are big, bouncy and clear like most Fender humbucker designs. The Mids are slightly scooped with an emphasis on the high mids. This pickup is sure to cut through the mix, without sounding brittle, shrill or thin. Playing dirty, this pickup won't break up as early as traditional humbuckers. It will still sound thick in the low mids and smooth on the top-end. As with all our pickups, we take care to make sure we wind it to your specifications. Want it to sound a little fatter and darker? No problem – we'll wind it to spec, free of charge.
---
FAQs
What type of lead should I choose? Since Fender debuted this pickup, 2-Conductor is so much easier to work with on Fender-style instruments. It also allows you to reverse the phase, if you end up swapping the pickup into another guitar, down the road.
What cover options do you have? At this time, we only offer the Wide Range in Polished and Raw Nickel.
What is the Spacing? 52mm.
Tech Specs
Our Wide Range Humbucker is wound with 42-gauge wire, we can put any number of turns on this to suit your needs. Stock Set: -2% Neck and +3% overwound bridge from the original. This equates to an 8.2K Neck and a 9K Bridge. This gives our pickup a slightly darker and fatter bridge, and a clearer and more articulate neck. Need something custom? No problem. We can wind it to meet your tonal desire. Pole pieces are threaded AlNiCo magnets
Sizing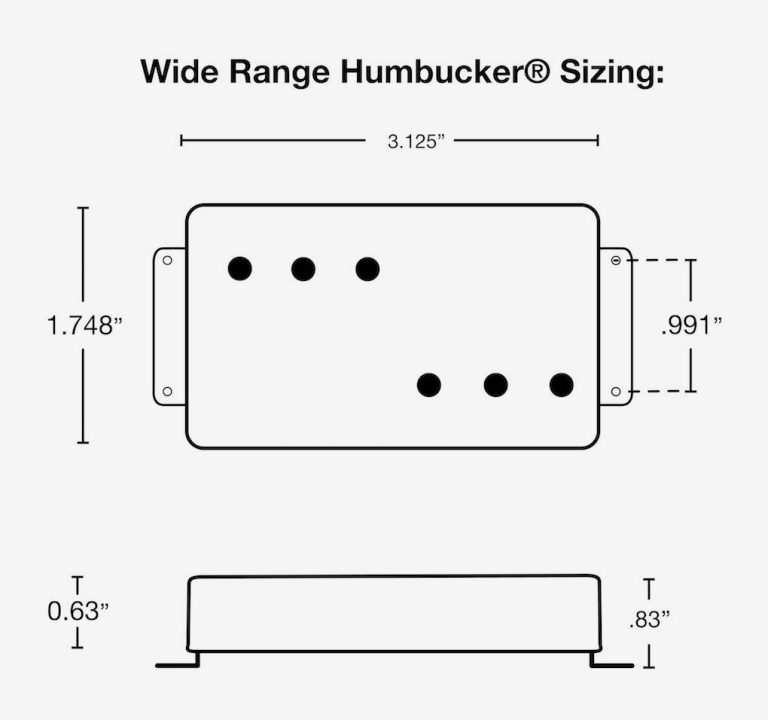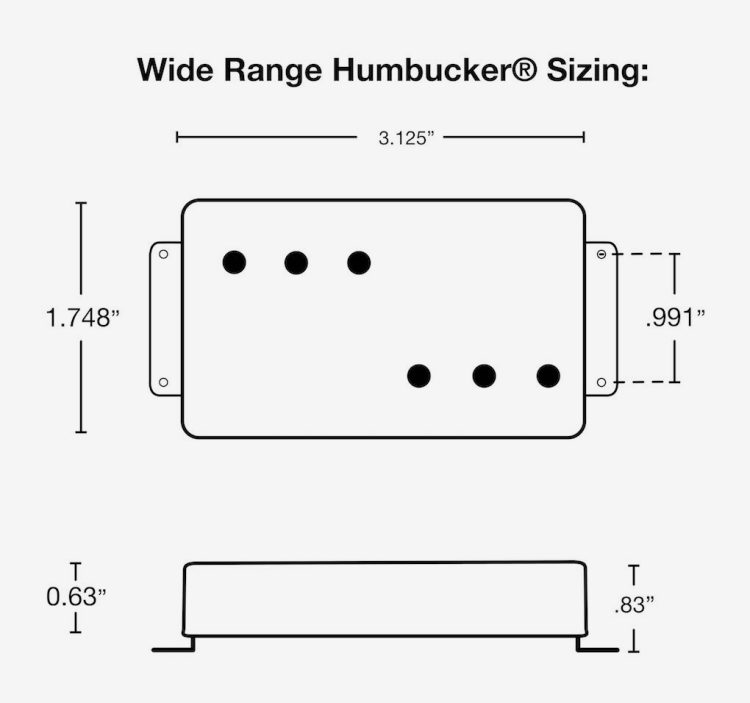 Wide Range Humbucker Questions And Answers:
Have a question about our Wide Range Humbucker? Leave it here! We will answer your question within 24 hours.
GET IT PREWIRED:
Go the extra mile and combine our Wide Range Humbucker with a Telecaster Control Plate!:
---
CUSTOMER REVIEWS
Trying to leave a review for our Wide Range Humbucker? Leave one here.