Big Single Mini
The Fralin Big Single Mini Humbucker is a new kind of Mini Humbucker that has a big, round single-coil sound with no hum. This Mini Humbucker has a Bar Magnet that gives you an authentic Single-Coil tone, with more thickness and roundness. With two variations, you can choose if you want this pickup to give you more of a single coil tone, or more of a humbucker tone.
---
Quick Links:
Jump to Sound Clips and Product Info:
---
Mini Footprint. Huge Single Coil Tone.
Want to learn more about our Big Single Mini? Here's all the information you'll need:
Big Single Mini FEATURES:
The Big Single Mini is one of Lindy Fralin's original designs. Based on his desire to improve the clarity of the humbucker design, Lindy created the Big Single. Lindy was pleased with this tone so much, that he worked it into a Mini Humbucker cover. With the Big Single, you'll get a bouncy, round single-coil sound – with no hum. We pack a single-coil tone with a thick midrange into an eye-catching look.
Single-Coil Tone, in a Mini Humbucker footprint
100% hum-canceling design for noiseless performance
Lindy Fralin® Original Design
Two winding options: Big Single 42 and Big Single 43 for tonal customization
Compensated overwound bridge pickup for even volume across all positions
A dynamic, single-coil tone that is expressive and vibrant
Open and clear top-end sparkle
Soft, dynamic midrange
Wax potted to reduce microphonics and preserve pickup for years
10-Year Warranty on manufacturing defects
SOUND
Tonal Graph for Big Single Mini:
The tone graph below for our Big Single Mini features Lows, Midrange, Highs, and general Output.
Big Single 42:
Attack: Bright & Sharp
Big Single 43:
Attack: Stiff & Percussive
---
The Big Single Mini® is in-between the tone of our P-92 and our  Twangmaster®. It has a beefier, bolder tone than our Twangmaster®, but cleaner than our P-92. Treble strings sound warm and round, and wound strings sound bright, like all single-coil pickups. We can wind these pickups to two different outputs: Big Single 42 and Big Single 43.
The Big Single 42 will sound cleaner and brighter, and work well with 250K Pots. The Big Single 43 will seem thicker and darker and can work well with 500K pots.
Either output you choose, the Big Single Mini Sounds bouncy, rich, and full. Great for either clean playing or distortion, this pickup will break up a little earlier than our Twangmaster, and is great for anyone looking for a slimmer-sounding P-92.
Sizing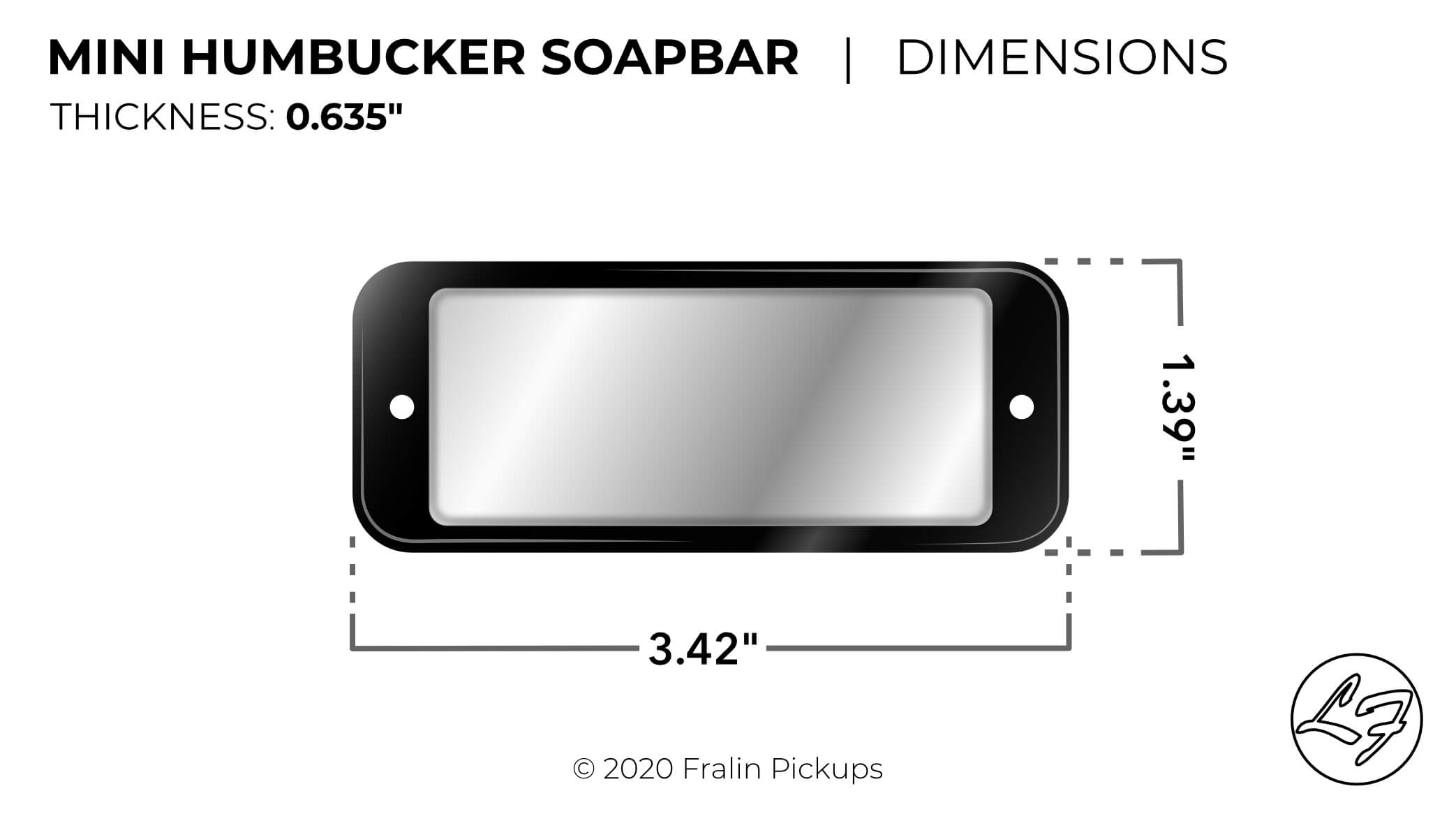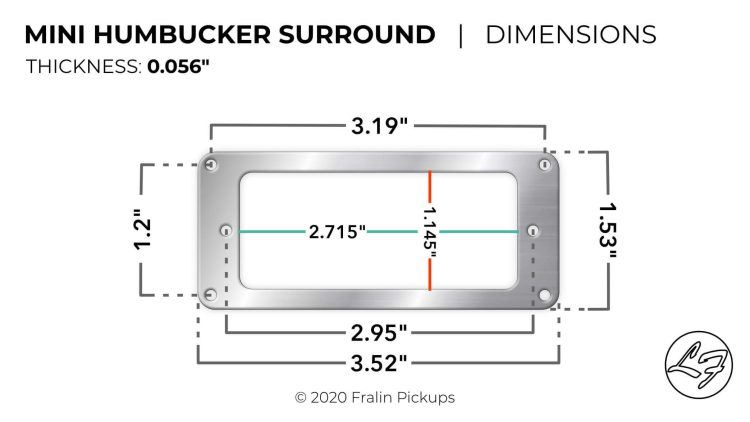 Lead Color Codes
See below for our Lead color codes. For help with matching to other manufacturers, check out this resource here.
Gibson Braided Lead:

2-Conductor Lead:

Tech Specs
See below for the estimated DCR and Polarity Information for our Big Single Mini.
This pickup is hum cancelling and features reversible polarity if purchased with 2-Conductor With Shield Lead.
| SPECIFICATION | VALUE |
| --- | --- |
| Neck Ohm Reading: | 8.7K (42) | 12.2K (43)* 1 |
| Bridge Ohm Reading: | 10K (42) | 15.2K (43)* 1 |
| Neck Polarity: | Hum Cancelling - Use 2-Conductor Lead when Buying a Single |
| Bridge Polarity: | Hum Cancelling - Use 2-Conductor Lead when Buying a Single |
| Magnet: | Flexible Ferrite Magnet |
| Coil: | USA-Made 42 / 43 Gauge Single Poly Nylon |
| Recommended Pot Value: | 250K (42) | 500K(43) |
| Cover Material: | USA-Made Nickel Silver |
| Baseplate Material: | USA-Made Nickel Silver |
| Recommended Cap Value: | 0.02mfd 2 |
---
More Information:
1 Ohm Readings can vary due to a multitude of factors, including ambient temperature, multimeter calibration, different wire batches, and other factors. Due to this, ohm readings are approximate. Learn more about Ohm Readings here.
---
2 We recommend a 0.02mfd Cap Value on most guitar and bass pickups. The exception is a Magic Cap, which Lindy prefers on the Bridge Pickup of Fender® guitars only. Learn More about Caps Here.
---
*Due to unique design of pickup, ohm readings are not necessarily useful
Big Single Mini FAQ's
General FAQs
Here are quick answers to common questions we get:
What Ohm Readings does your Big Single Mini have?

Navigate to our Tech Specs tab for complete Ohm Readings and more useful information.

Will this pickup fit my instrument?

Check our "Sizing" tab for the size of the pickup. No Sizing tab? Check under the product image gallery for dimensions.

Is your Lead Time of 3-4 Weeks accurate?

It really depends on the shop capacity at the moment, and the size of your order. Feel free to give us a call for an accurate lead time. We always try to underpromise and overdeliver.

What pickup height do you recommend setting your Big Single Minis to?

Our recommended Pickup Height is 1/8" (3.175mm) on the Bass Side and 1/16"( 1.5875mm) on the Treble Side. Measure by holding the corresponding side down at its highest fret and measure from the bottom of the string to the top of the pole piece.
---
---
Featured Reviews
Reviews we worked hard for, and are proud of
"I got a set of these for an Epiphone Custom Shop Firebird. As I understand, this is where things like the Bonamassa signatures are done and it generally means they use better wood, etc. but in this case, the pickups were still crap. I initially intended to get a Firebird set for this guitar but after a couple of phone calls with Lindy I decided on the standard neck Big Single Mini (42 gauge, which I LOVE in the neck of my Gibson Firebird), and an overwound Big Single Mini 43, at 8400 turns for the bridge (the Gibson was routed for a standard humbucker). Long story short, my old faithful 61 reissue SG sat on the stand all night on our gig this past weekend. This Firebird was so much fun and sounded so different from what I usually hear, in all the best ways. Lindy said that these would really help the clarity of wound strings and that is no joke! The bridge position on this guitar has the sweet midrange of a P90, similar gain to my humbucker guitars and the tight, punchy, clear low end of a Tele without being thin. Thanks a million Lindy and everyone involved in Big Singles!!! I have a Tele with a bridge humbucker that needs one soon..."
"As always, Lindy Fralin pickups never disappoints! Put the big single in the neck position of a firebird build and once again I am amazed by Lindy and his teams expertise and craftsmanship. Clear and punchy bottom end, the mids are perfect and just the right amount of highs for hard rock and blues through my blackface bassman amphead. Lindy's pickups sound great on anything but they really open up through a tube amp. Would definitely recommend this pick up. Thanks again to Lindy Fralin and his team!"
"Companion to Blues Special Tele I never really liked neck pickups. They never seemed to work for my sound. When I was replacing the bridge pickup in my 95 MIM Tele I knew I wanted something new in the neck. This Big Single speaks to me. I have never gotten so much use out of a neck pickup. With the Blues Special in the bridge and a 4 way switch I can get big fat sound in series. Like really thick and not harsh at all. In parallel it sometimes shocks me just how clear and vocal it sounds. I like to say that this Big Single really spells things out whereas the Blues Special gives all the dirt. I'm extremely happy with the Big Single Mini. It has helped turn my Tele into something really special."
"Killer sound! I prefer something stouter in the neck of a Tele. I've fought to blend the output levels and sounds of a single with a hum for years. This requires no struggle. Perfect compliment. The description is right on the money… It's just a bigger fatter single. Like a strat neck but better. As Lindy says, it does work fine with 250k but for my guitar, 500k was the ticket. Tossed a 470k resistor in-between the bridge pup and ground and voila. Flawless."