Big Single Mini
The Fralin Big Single Mini Humbucker is a new kind of Mini Humbucker that has a big, round single-coil sound with no hum. This Mini Humbucker has a Bar Magnet that gives you an authentic Single-Coil tone, with more thickness and roundness. With two variations, you can choose if you want this pickup to give you more of a single coil tone, or more of a humbucker tone.
---
Quick Links:
Jump to Sound Clips and Product Info:
---
Mini Footprint. Huge Single Coil Tone.
Want to learn more about our Big Single Mini? Here's all the information you'll need:
Big Single Mini FEATURES:
The Big Single Mini is one of Lindy Fralin's original designs. Based on his desire to improve the clarity of the humbucker design, Lindy created the Big Single. Lindy was pleased with this tone so much, that he worked it into a Mini Humbucker cover. With the Big Single, you'll get a bouncy, round single-coil sound – with no hum. We pack a single-coil tone with a thick midrange into an eye-catching look.
Single-Coil Tone, in a Mini Humbucker footprint
100% hum-canceling design for noiseless performance
Lindy Fralin® Original Design
Two winding options: Big Single 42 and Big Single 43 for tonal customization
Compensated overwound bridge pickup for even volume across all positions
A dynamic, single-coil tone that is expressive and vibrant
Open and clear top-end sparkle
Soft, dynamic midrange
Wax potted to reduce microphonics and preserve pickup for years
10-Year Warranty on manufacturing defects
SOUND
The Big Single Mini® is in-between the tone of our P-92 and our  Twangmaster®. It has a beefier, bolder tone than our Twangmaster®, but cleaner than our P-92. Treble strings sound warm and round, and wound strings sound bright, like all single-coil pickups. We can wind these pickups to two different outputs: Big Single 42 and Big Single 43.
The Big Single 42 will sound cleaner and brighter, and work well with 250K Pots. The Big Single 43 will seem thicker and darker and can work well with 500K pots.
Either output you choose, the Big Single Mini Sounds bouncy, rich, and full. Great for either clean playing or distortion, this pickup will break up a little earlier than our Twangmaster, and is great for anyone looking for a slimmer-sounding P-92.
---
FAQs
Which Output do I choose? The 42 Gauge set will sound more like a traditional Fender. Cleaner, clearer, yet still with a thick midrange. The 43 Gauge set will lean a bit towards a Humbucker by being thicker and darker with more output.
What lead do I choose? Your choice of lead depends on your guitar and a few other things. Gibson Lead: Go with this if installing a set into a Gibson-style instrument, where each pickup has its own volume pot. 2-Conductor: Go with this lead if buying a Single, or installing into a Fender-style instrument.
What's the String Spacing? We can accommodate up to 2-1/4″.
What's the tonal difference between the Mini Humbucker and the Big Single? The Twangmaster is cleaner and brighter. The Big Single will be thicker with more output.
What Pot do I use? 250K for the 42 Gauge version, and 500K for the 43 Gauge version.
Wiring Diagrams? Here!
Tech Specs
See below for the estimated DCR and Polarity Information for our Big Single Mini.
This pickup is hum cancelling and features reversible polarity if purchased with 2-Conductor With Shield Lead.
| SPECIFICATION | VALUE |
| --- | --- |
| Neck Ohm Reading: | 8.7K (42) | 12.2K (43)* |
| Bridge Ohm Reading: | 10K (42) | 15.2K (43)* |
| Neck Polarity: | Hum Cancelling - Use 2-Conductor Lead when Buying a Single |
| Bridge Polarity: | Hum Cancelling - Use 2-Conductor Lead when Buying a Single |
| Magnet: | Flexible Ferrite Magnet |
| Coil: | USA-Made 42 / 43 Gauge Single Poly Nylon |
| Recommended Pot Value: | 250K (42) | 500K(43) |
| Cover Material: | USA-Made Nickel Silver |
| Baseplate Material: | USA-Made Nickel Silver |
*Due to unique design of pickup, ohm readings are not necessarily useful
Sizing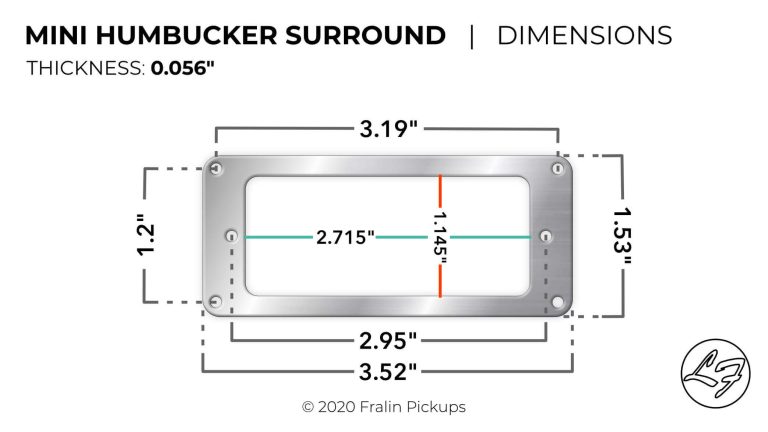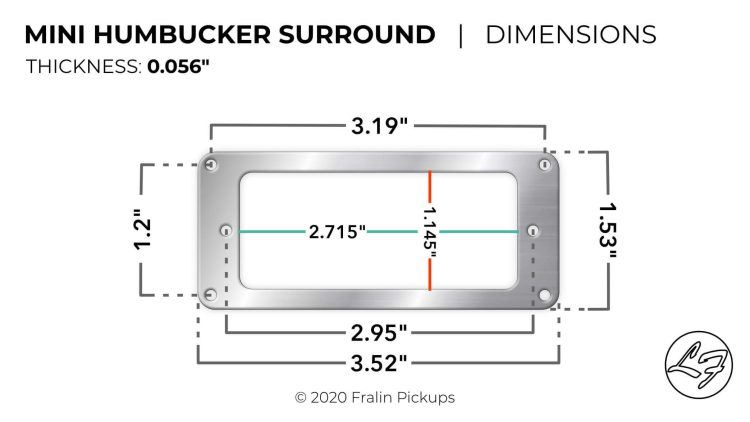 Lead Color Codes
See below for our Lead color codes. For help with matching to other manufacturers, check out this resource here.
Gibson Braided Lead:

2-Conductor Lead:

Big Single Mini Questions And Answers:
Have a question about our Big Single Mini? Leave it here! We will answer your question within 24 hours.
---