Firebird
Our Firebird Replacement Pickups are an authentic reproduction of the '60's Firebird®. Bright and clear. We have upgraded the materials for a warm, rich and dynamic smooth tone.
---
Quick Links:
Jump to Sound Clips and Product Info:
---
Firebird INFO:
Want to learn more about our Firebird? Here's all the information you'll need:
Firebird FEATURES:
Fralin Firebird pickups will breathe new life into your guitar: original or re-issue. Featuring a bouncy, rich, tone, you're guaranteed great versatility. USA-Made Materials and hand-made quality makes our pickups an improvement over the original design.
Snappy and Bright bridge pickup
Warm, rich, and full-sounding neck pickup
AlNiCo Bar Magnets for a smooth, full-range tone
Built with USA-Made parts in Richmond, VA.
Sound
Our Stock Set utilizes a Stock-wound Neck and a +8% Bridge. This allows for complete and even volume across all positions. The +8% Bridge sounds snappy, bright, and is pretty quick to get dirty. In the Neck position, the Fralin Firebird sounds great clean or dirty. The lows are bouncy and rich, where the highs are round and clear. Our Firebird pickups are the perfect solution to get away from a shrill-sounding guitar. Ours sound full, with extended range and excellent articulation, clarity, and dynamics.
---
FAQs
Which Output do I choose? We can wind the Neck from either Stock or +4% output, and the bridge from Stock, +4%, and +8% output. The most popular set is a Stock Neck and +8% Bridge. Adding more winds to the pickup increases the output, midrange, and decreases the highs. Underwinding the pickup will clean it up and make it sound more articulate.
What lead do I choose? This depends on your guitar and a few other things. Gibson Lead: Go with this if installing a set into a Gibson-style instrument, where each pickup has its respective volume pot. 2-Conductor: Go with this lead if buying a Single, or installing into a Fender-style instrument.
What's the String Spacing? 50mm.
What's the tonal difference between this pickup and the Mini Big Single? The Mini Big Single is cleaner in the low strings and slightly beefier on the treble strings. The Firebird definitely has some of the "Humbucker" thing going on – slightly darker wound strings and brighter treble strings.
What Pot do I use? 500K will give you the brightest tone.
Wiring Diagrams? Here!
Tech Specs
Wound with 42 & 43 Gauge Single Poly Nylon Wire and Alnico V and VI Bar Magnets. All USA-Made Baseplates and covers.
The Stock Neck will read about 6.5K, and the +8% Bridge will read about 10K.
Sizing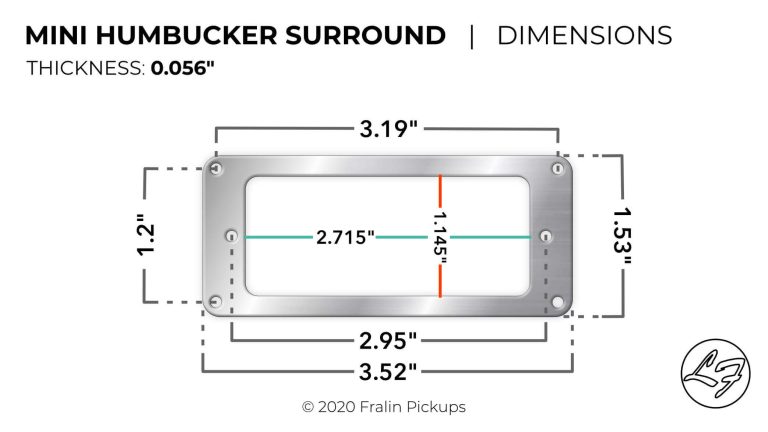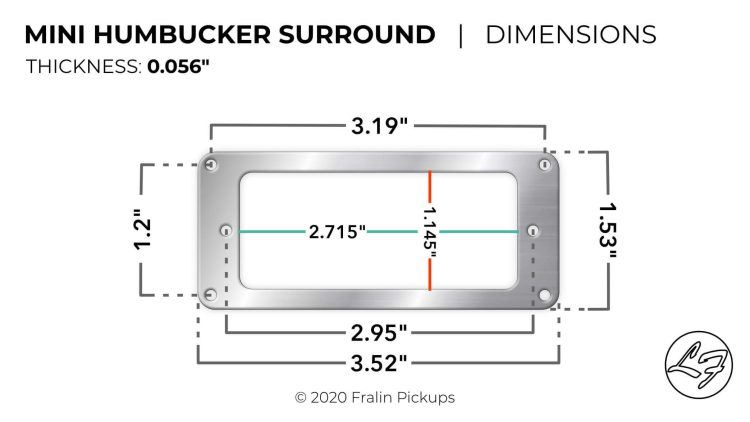 Lead Color Codes
See below for our Lead color codes. For help with matching to other manufacturers, check out this resource here.
Gibson Braided Lead:

2-Conductor Lead:

Firebird Questions And Answers:
Have a question about our Firebird? Leave it here! We will answer your question within 24 hours.
---