P-92
Stand out in the mix and cut through with the Lindy Fralin-designed P-92. A full-size humbucker with unique looks, the P-92 is a cleaner, more articulate P-90, with no hum. If you're looking for the perfect blend of a traditional single-coil and a P90, look no further than this pickup here. Made by hand in Virginia with all USA-Made Parts, we guarantee the P-92 will inspire you for years to come.
Quick Links
Jump to Sound Clips and more Info:
---
Stand Out. Cut Through.
Want to learn more about our P-92? Here's all the information you'll need:
P-92 FEATURES:
Are you seeking a more "polite" P90 tone with no hum? The P-92 is the pickup for you. Incredibly versatile, this pickup features bright wound strings with round treble strings. It's perfect for Rock, Blues, Country, and Jazz.
Lindy's unique Split-Single design allows you to achieve a genuine single-coil tone with zero hum, all packed in an awesome-looking humbucker. The USA-Made Alnico 5 bar magnet gives you a tight attack and bite, with a clear low-end and stiff treble.
The P-92 pickup sounds cleaner than our Hum-Canceling P90 but more aggressive than our Big Single 42.
Lindy Fralin Original Design
Clean, articulate P90 tone in a Humbucker size
Strong and bold – lots of midrange and snarl
USA-made Alnico 5 Magnets for aggressive tone and output
Compensated Bridge for even volume across all pickups
Fully Hum-Cancelling and silent in all positions
Adjustable Steel Pole pieces for fine-tuning string balance
Hand-wound with our "Sectioning" technique for unique, dynamic tone
Hand-built for unrivaled quality control
Backed by our 10-Year Warranty on manufacturing defects
Risk-free 30-day exchange policy
Sound
Tonal Graph for P-92:
The tone graph below for our P-92 features Lows, Midrange, Highs, and general Output.
---
As we're sure you're aware, a known challenge with P90 pickups is the hum. Rest assured: we've solved that problem and found a unique, versatile sonic footprint where the P-92 fits perfectly.
The P-92 features a cleaner and more articulate overall tone. It's more "polite" than our Hum Cancelling P90s, and much clearer-sounding than our Pure P.A.F. That said, the P-92 offers you a thick, warm midrange accompanied by a stiffer and rounder treble – perfect for many music styles.
The P-92 is quick to break up, but you'll find that it's still clearer, like traditional Vintage P90s. Built with alnico V magnets, we use 42-gauge or 43 gauge wire depending on the strength you need.
When playing clean, you'll find that this pickup has a thicker, bold tone with a stiff high end. With distortion, you'll find that the grind is dirtier than our Big Single, but not as much as a typical Humbucker.
Players who want a sparkly-top end should look at our Twangmasters, as our P-92's sound more like a Gibson.
It all starts here: our manufacturing process allows us to achieve unparalleled quality control. Our P-92's consist of USA-Made bobbins, baseplates, magnets, and wire.
We wind each pickup by hand, one at a time using our proprietary "Sectioning" technique. This gives the pickup a sweet, bright tone. We assemble each pickup one at a time, by hand. This allows us to achieve unbeatable attention to detail. Finally, we wax-pot the pickup to prevent microphonics and to preserve the pickup for years to come.
Sizing
Lead Color Codes
See below for our Lead color codes. For help with matching to other manufacturers, check out this resource here.
Gibson Braided Lead:

2-Conductor Lead:

Tech Specs
See below for the estimated DCR and Polarity Information for our P-92.
| SPECIFICATION | VALUE |
| --- | --- |
| Neck Ohm Reading (Stock): | 6.8K* 1 |
| Bridge Ohm Reading (Stock): | 7.8K* 1 |
| Polarity: | Reversible with 2-Conductor Lead |
| Magnet: | USA-Made Alnico 5 bar magnet |
| Wire: | USA-Made 42 / 43-Gauge Single Poly Nylon |
| Baseplate Material: | USA-Made Nickel Silver |
| Cover Material: | USA-Made Nickel Silver |
| Pole Pieces: | USA-Made Steel Screws |
| Available String Spacing: | 49.2mm |
| Humbucker Leg Depth: | 6mm |
| Recommended Pot Value: | 500K |
| Recommended Cap Value: | 0.02mfd 2 |
---
More Information:
1 Ohm Readings can vary due to a multitude of factors, including ambient temperature, multimeter calibration, different wire batches, and other factors. Due to this, ohm readings are approximate. Learn more about Ohm Readings here.
---
2 We recommend a 0.02mfd Cap Value on most guitar and bass pickups. The exception is a Magic Cap, which Lindy prefers on the Bridge Pickup of Fender® guitars only. Learn More about Caps Here.
---
* Due to the unique design of this pickup, ohm readings are not useful when comparing to other models. This pickup is medium output, and leans to a cleaner, clearer tone.
P-92 FAQ's
General FAQs
Here are quick answers to common questions we get:
What Ohm Readings does your P-92 have?

Navigate to our Tech Specs tab for complete Ohm Readings and more useful information.

Will this pickup fit my instrument?

Check our "Sizing" tab for the size of the pickup. No Sizing tab? Check under the product image gallery for dimensions.

Is your Lead Time of 3-4 Weeks accurate?

It really depends on the shop capacity at the moment, and the size of your order. Feel free to give us a call for an accurate lead time. We always try to underpromise and overdeliver.

What pickup height do you recommend setting your P-92s to?

Our recommended Pickup Height is 1/8" (3.175mm) on the Bass Side and 1/16"( 1.5875mm) on the Treble Side. Measure by holding the corresponding side down at its highest fret and measure from the bottom of the string to the top of the pole piece.
---
Pairing
Our P-92 pairs well with the following models: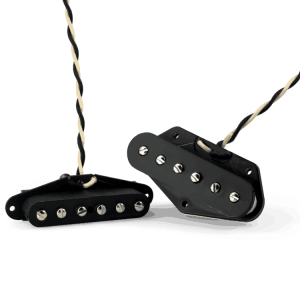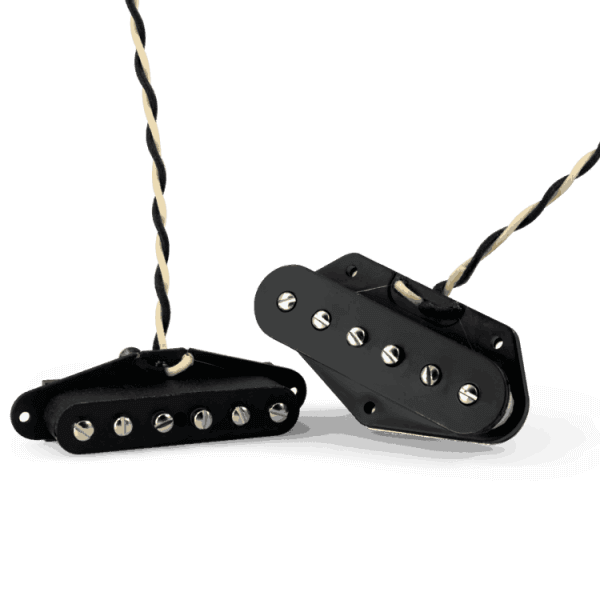 Steel Pole 43 Tele - Bridge
Starting At: $115
Pair the P-92 with a Steel Pole 43 Tele Bridge for a killer Humbucker-Tele combination
View Product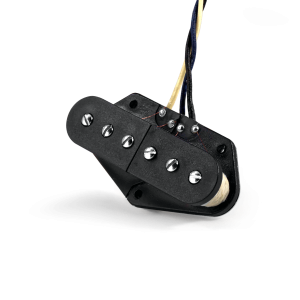 Split Steel Poled Tele - Bridge
Starting At: $129
The Split Steel Poled Tele Bridge is the perfect hum-cancelling companion the the P-92
View Product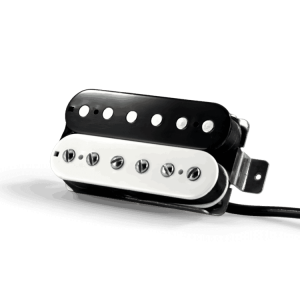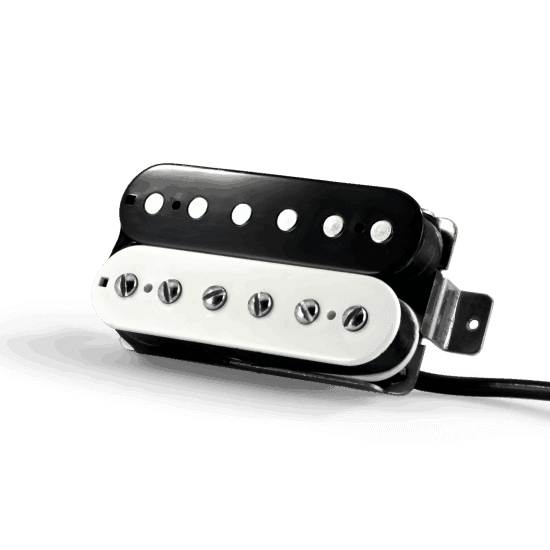 Sunbucker Blues® - Bridge
Starting At: $160
If you're looking for a clean PAF tone in the Bridge, the Sunbucker Blues will work well with the P-92 in the Neck
View Product
---
Featured Reviews
Reviews we worked hard for, and are proud of
"I finally got around to swapping these P92s into a brand new ES 335 Gibson. I had ordered them last winter but have been trying to decide whether I wanted to stay with the 'T' type buckers the guitar came with. The 'T's were just too thick and chewy for my tastes so they had to go. At first when I opened the P92s I was really mad because both pickups were marked for neck and checked out at 6.6 and 6.7 ohms DCR. The adsvertisement states that the Bridge pickup is a little hotter at 7.8 DCR. Well, I went ahead and installed them anyway with the 6.6 taking the Neck position and the 6.7 in Bridge. Tested them out through a little Valvetrain 205 which is a variant of a Tweed 5F1 with tone control and no negative feedback. Added some verb and a Memphis Sun pedal and now all I can say is, Lindy, if you had tits I'd kiss ya! This 335 now sounds exactly like I want it to sound! These pickups add the perfect amount of snarl when guitar volume knobs are at 10 and clean up sweet when volumes are rolled back. The bridge is one of the very few pickups I like in that position and it was supposed to be a neck pup! I've noticed that some of your pickups are advertised as having Strat-like chime in the top end. These P92s are more comparible to a Telecaster growl. Add the resonance of a semi-hollow and this is hardcore Blues machinery. I'm 6'3" so the body of a 335 fits me like a glove and now I have the sound I've been after. Thankyou for a first rate product!"
"Unbelievable. Dropped these in my BFR axis super sport, no changes to the electronics (except for installing a 3 way blade). These are by far and away the most musical pickups I have ever played. Dynamic, responsive, you can feel the higher quality compared to the stock humbuckers just holding them. I'll only play fralins from here out. Nothing else compares."
"I was given a bridge P92 for Christmas to replace a paf style humbucker I just never got on with. It was too rawk, and the low strings weren't percussive enough. The P92 is super. It fixes all of that. It's silent per design, and the low strings plunk appropriately. It sounds like the Heartbreakers and the Kinks and the Replacements when I turn the gain up. But it can sound delicate if I roll it back a bit. Like Field Mice delicate. Thanks!"
"After extensive research, reading forums, watching YouTube videos, etc., I purchased a set of the Fralin P92's from Vision Guitar in San Jose to replace the stock humbuckers in my Epiphone ES-335. I loved the feel of the guitar but the stock pickups were muddy and dull. These P92's are absolutely incredible. There's so much clarity, definition, bite and "spank." They're punchy and articulate with remarkable response to pick attack, and can snarl, shimmer and sparkle beautifully by working the volume and tone controls on the guitar. Highly recommended."
STAY IN TOUCH
Subscribe To Our Newsletter