PREWIRED PICKGUARDS – The Fralin Way.
At Fralin Pickups, we're always trying to make you sound better. With our Fralin Pre-wired Pickguard, you can rest assured that you will have the best sounding pickups available, with the finest quality parts on the market. You can customize your pickguard exactly how you want it, and we'll make it to your specifications. With this pre-wired pickguard, you can have famous Fralin tone, instantly. All you need to do is solder a few wires, screw it in, string it up, and you're off rocking! Here's how to get it going:
---
STEP 1: CHOOSE YOUR PICKGUARD
We use the finest quality pickguards available, only from Allparts®. These are standard 11-hole Stratocaster pickguards. We have them available in the following styles and colors (note)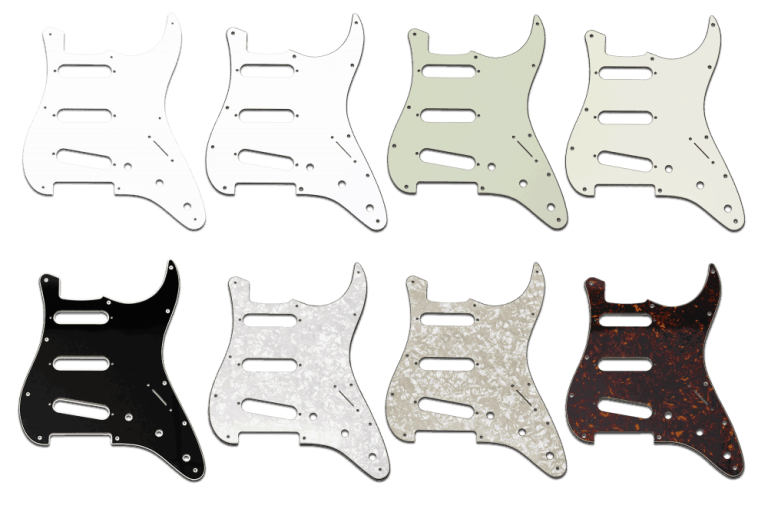 We wanted to use the highest-quality, USA-Made pickguards available. We have Single Ply White (8-hole vintage style), 3-Ply White, Mint Green, Parchment, Black, White Pearloid, Parchment Pearloid, and Tortoise.
---
STEP 2: CHOOSE YOUR PICKUPS
With our pickguards, you can choose any combination of pickups you would like. Want a Vintage Output in your Neck and Middle and a High Output in your Bridge? Sure thing. Simply choose what you would like, and we'll make it to your specifications.
Note: 
Determining the pickup outputs and pot values are really important for a great sounding guitar. Vintage Output and High Output Split Blades usually sound best with 250K pots. Blues Output and Super High Output Split Blades usually sound best with 500K pots. We don't necessarily recommend mixing Blues and Vintage together – they will sound noticeably different.
---
STEP 3: Choose your Pickup COLOR
Our Split Blades come in two colors: White and Black. Our White is slightly off white, with a hint of cream.
---
STEP 4: CHOOSE YOUR POTS
You can customize your wiring, and we'll wire your pickguard to your specifications. Most of the time, you're going to use 250K Split Shaft Pots, as these work well with our plastic knobs. If you're using your own metal knobs with a set-screw, choose Solid Shaft pots. Confused? Check out our in-depth article on pots and how to choose here.
Note: Vintage and High Output Split Blades like 250K Pots, and Blues and Super High Output models like 500K Pots. It's best to use these as a set: for instance, a Vintage Output in the Neck and Middle, and a High Output in the Bridge.
Here are some popular combinations:
Master Volume – Master Tone – Blender
Master Volume – Neck & Middle Tone – Bridge Tone
Master Volume – Master Tone 1 (.02 Cap) – Master Tone 2 (Magic Cap)
---
STEP 5: CHOOSE YOUR ADD-ONS
We have White, Parchment (Aged White), Mint Green, and Black Knobs available, and White and Black available for the Split Blade colors. Note: we only have plastic knobs available. If you choose Solid Shaft Pots (for metal knobs) please understand that metal knobs are customer provided, and we will ship your order without plastic knobs.
KNOBS:
Matching Backplates:

---
STEP 6: INSTALL
Check out our installation guide below to put your new pickguard in! With 20 minutes a few easy steps, you can get your pickguard in your guitar and start rocking out with some of the best sounding pickups in the world! Also, download our installation guide here.
---
F.A.Q'S:
How long will my Pickguard take? Since we're building it from scratch, give us about one to two weeks to put it together. We will always try to get it out beforehand.
Can you wire it up without the Pickguard? As it turns out, No. Simply purchase an inexpensive pickguard, and you can pull out all the wiring once you receive it to put it in your own pickguard. It's just too time-consuming and unsafe to ship without a solid pickguard holding everything together.
Can I return my Pickguard? No. Since these are so custom and made to order, all pickguard sales are final, and not available for exchange or return.
What Pots should I use? Most of the time, 250K Split Shaft pots will work best for guitars with single-coil pickups and plastic knobs. If you have metal knobs at home, go with Solid Shaft Pots.
What if I don't see exactly what I want? Use the "Notes" field on the checkout screen to type in any special requests. Use this field to describe how you want it wired as well if you want anything customized. We'll make it to your specs.
What does a Magic Cap do? Our Magic Cap is a very low capacitance tone cap. It doesn't roll off highs as much as it seems to boost the mids. This really works well on the bridge pickup only.
What does a Blender Pot do? Our Blender Pot takes the place of Tone #2, and it allows you to blend between the Neck and Bridge. You can get all 3 pickups on with a Blender pot.
Why don't I see Ground Jumper wires between all my parts? Our pickguards have a metal shielding that connects all of the metal parts together, thus we don't need to use jumper wires.