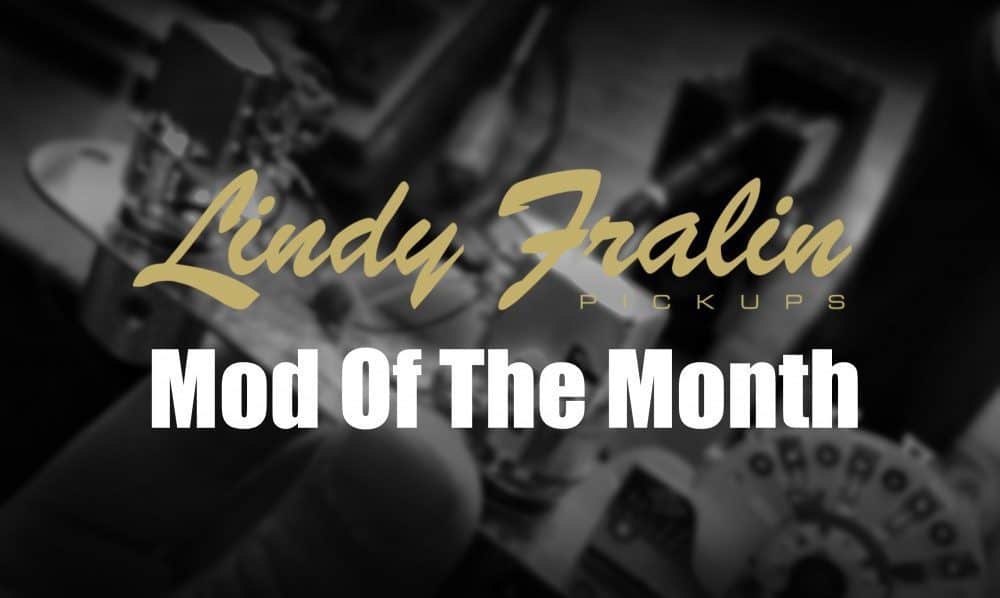 July Mod Of The Month: Blender And Gradual Tap Madness!
---
Last month we talked about our "Gradual Tap" mod. If you haven't seen this, go back and check that one out – we'll be using 2 of them in this month's mod, coupled with another blender pot to get really cool tones out of your Les-Paul® style guitar. With this mod, you'll need:
A guitar with 2 humbuckers equipped with 3-Conductor (4 Conductor will do) leads.
(3) Blender pots
A 2-Volume / 2-Tone layout
Basic soldering skills
What does it do?
Upon completing this modification, what you're left with is a Master Volume, 2 Gradual Taps (1 for the Neck, 1 for the Bridge), and a Blender Pot that will blend between either the two Humbuckers, two Single Coil tones, or a Humbucker and a Single Coil together. You really have an endless sweep of tones at your fingertips with this mod!
Note: This mod will sacrifice your tone knobs. Lindy doesn't use a tone knob with Humbuckers, so, instead, he opted for this mod that will allow you to achieve a plethora of tones from just a few turns of your knobs.
Let's take a look at the wiring: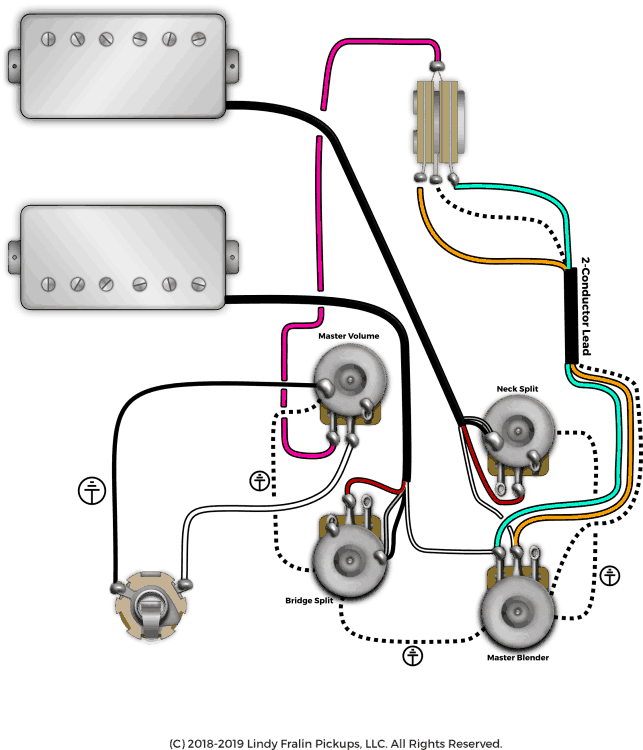 How Does It Work?
Your pickup's White leads will go to the blender pot (Bridge Tone in most set-ups, but you can use whatever set up you'd like if you want to re-order the pot layout). Black & Shield can go to ground. Red Goes to the middle lugs of the Gradual Tap Blender pots. Lug 1 of the Blender Pots go to Ground. (Please Note that these wire colors are for our humbuckers only. Check with your original manufacturer if you have a different brand of pickups)
You then take a master output of all pickups and go to the switch. The signal will enter the blender pot and gradual taps first, then go to the switch, finally reaching the master volume and output.
Tonal Options:
Either Humbucker can be gradually tapped into a single-coil using the Gradual Tap knobs. If you're on the Rhythm (Neck) pickup, you can get more single-coil tones simply by turning the Gradual Tap. You can do the same for the Bridge Humbucker.
Furthermore, you can blend between both pickups. So, if you have a Single Coil tone on your neck, you can blend in your Bridge Humbucker tone to get a completely different type of tone, and vice-versa. The options are truly endless, and you can get some wild combinations, that are all completely usable! We hope you love it!
---
---
---