FAQ's
You've got questions, we've got answers.
General Questions:
General Frequently Asked Questions
Our shop hours:
Monday – Thursday: 10-6 PM EST
Friday: 10-5 PM EST
Saturday: Closed
Sunday: Closed
If you're looking to become a re-seller or achieve lower pricing, you can fill out our Reseller Application. We'll determine if you qualify.
Account Questions:
Frequently asked questions regarding your Account
You can create an account on the checkout screen by checking the box below and proceeding to checkout with your order. An account will be created for you after you set a password. The email address you used will be your login ID.
Create an Account Checkbox


Create a Password Field


No. All accounts are created at the time of purchase.
Billing Questions:
Frequently Asked Questions regarding billing information
We take the following payment methods:
All major Debit or Credit cards
PayPal
We do not store any Credit / Debit card information. The only information we store is your:
Billing & Shipping address and name
Email Address for communication
Phone Number for communication
Shipping Questions:
Frequently Asked Questions regarding shipping
All mail and packages may be sent to:
Fralin Pickups
2015 W. Laburnum Ave, Fl. 2nd
Richmond, VA 23227
Please note that you must Contact Us before sending in a Rewind or Repair.
For Domestic Deliveries:
All parts and accessories usually ship US Priority Mail – $10.
Pickups, Prewired Pickguards, and Control Plates ship UPS Ground – $16.
Alaska, Hawaii & Canada:
UPS 2-Day (Alaska, Hawaii) – $35
UPS Worldwide International – $35
For The Rest Of The World:
All other orders ship UPS Worldwide International – $50
We reserve the right to choose the appropriate method of shipment at the time of shipment.
Orders Questions:
Questions regarding orders and order status
It depends! Some pickups take longer to make and have a higher volume of sales. Select all the options you want on the product screen, and the estimated lead time will display before the price. For orders already in production, our lead times are pretty accurate. Please be patient, as we hand-build orders to spec on a first-come, first-served basis.
As a company, we really try to avoid changes to your order. Please take your time ordering and contact us with any questions before placing your order. We work fast once we get your order and changes really mess things up in the shop. That said, changes to orders can be made within 24 hours of placing the order. If a critical change must be made, some or more of the following circumstances may apply:
You may be charged a restocking fee if your original order is close to shipping
You may be charged twice for covers if you change the cover choice and the original covers are installed (does not apply to plastic covers)
Your order will likely get bumped to the end of the production queue and your lead time would start over
If you don't see what you want on the product page as an option (i.e., left-handed), please request on the 'ORDER NOTES' section on the checkout screen, or Contact Us to make sure we can accommodate your request.
Unlike other pickup manufacturers, we absolutely do custom work. However, our scope is limited to what we already manufacture. Contact us and let us know what you're thinking, and we'll let you know what's possible!
Technical Questions:
Frequently asked questions regarding technical information
Product Questions:
Frequently Asked Questions regarding products
Yes, all pickup purchases come with all the necessary hardware to mount your pickups to your set up. We do not include foam for Jazz Bass or P-Bass pickups.
No – all Big T purchases are done through Analog Man.
Starting November 2023, we've started adding our new and improved sound clips, and comparing Sound Clips is easier than ever before!
Not all products have our new Sound Clips, which display as a Playlist. If a product does have a new Sound Clip, it will have a button that says "Compare Sound." Click up to three products and click "Compare" on the action menu.
If you don't see a "Compare Sound" button, head to the product page and click on the "Sound" tab. Most products have single Sound Clips.
Here's an example: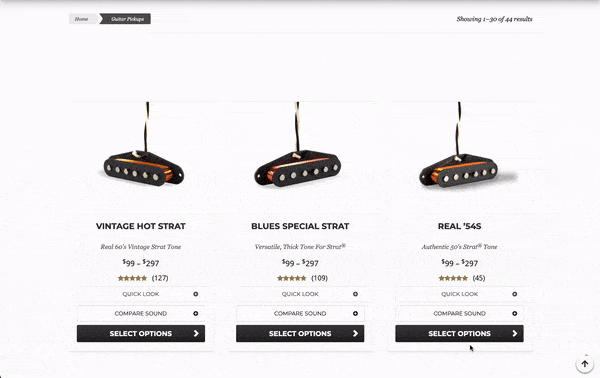 For Product Questions, please use our search form here to navigate to the product, and use the "Q&A" tab to ask your question.
Our -5% Underwind is our '70s Jazz Bass output. Simply select "5% Underwind" for your output.