Mini-Humbucker Surrounds
Make your guitar look even better with some Fralin Mini Humbucker Surrounds. These surround the Mini Humbucker to give it your guitar some dapper looks.
---
Quick Links:
Jump to Sound Clips and Product Info:
---
Mini-Humbucker Surrounds INFO:
Want to learn more about our Mini-Humbucker Surrounds? Here's all the information you'll need:
Mini-Humbucker Surrounds FEATURES:
Make your guitar look great.
Our Surrounds are simple: They mount to the surface of your guitar to help mount our Mini Humbuckers, Mini Big Single, and our Firebird. Our Surrounds measure 3-1/2″ Long by 1-1/2″ Wide by 1/32″ Thick.
We have Polished Nickel, Raw (Brushed) Nickel, and Gold available.
Sizing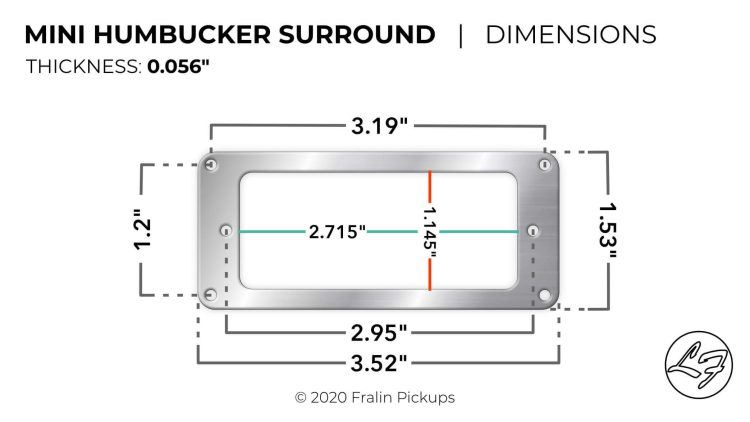 Mini-Humbucker Surrounds Questions And Answers:
Notice:
Have a question about our Mini-Humbucker Surrounds? Ask it here. Your Question will be publically visible. If you want to ask a Private Question, please contact us through our Contact Us Form.
If you have multiple questions, please call us at (804) 358-2699.
There are no questions yet. Be the first to ask a question about this product.
---
STAY IN TOUCH