Jazzmaster
Take the tone of your Jazzmaster to the next level with a set of Fralin Jazzmaster Pickups. We have two winding options:  choose between clean and clear to thick and beefy. All USA-Made, assembled & wound by hand.
---
Quick Links:
Jump to Sound Clips and Product Info:
---
Upgrade Your Offset.
Want to learn more about our Jazzmaster? Here's all the information you'll need:
Jazzmaster FEATURES:
You know the tone of the famous Jazzmaster. Its unique pickup design gives the guitar a completely unique sound. Unlike a Tele or a Strat, the Jazzmaster is famous for having a large, flat coil, and shorter magnets. These unique attributes change the tonal characteristics of this pickup. To give our pickups a balance of clarity and output, we hand-build and wind them using our "sectioning" technique.
Features:
Original Fender specifications, with modern output
Clean and clear, lots of Fender sparkle and twang
USA-made Alnico 5 Magnets for optimal tonal balance and output
Compensated Bridge for even volume across all pickups
Two magnet staggers available for different fingerboard radiuses
Hand-wound with our "Sectioning" technique for unique, dynamic tone
Hand-built fiberboard Bobbins for unrivaled quality control
10-Year Warranty on manufacturing defects
Sound
You can expect a larger-than-life, thick tone that is well-balanced across the spectrum. Expect enhanced clarity, definition, and pick-attack. Lows are loud and clear. Highs have a round top-end, without the sharpness found in other guitars. Single notes will have a nice, solid sonic footprint without sounding thin. We use 42-gauge Heavy Formvar wire and AlNiCo V magnets to give this pickup a beefy, thick tone that you will love. Depending on which output you choose, the tone will change. If you want the cleanest tone, opt for Stock output. If you want something a little darker and thicker, go for the +5% Output.
It all starts here: Our manufacturing process allows us to achieve unparalleled quality control. These Jazzmaster Pickups consist of local fiberboard and USA-Made Alnico 5 Magnets. We wind each pickup by hand, one at a time. Each pickup is wound using our proprietary "Sectioning" technique. This gives the pickup a sweet, clear tone. Finally, we wax-pot the pickup to preserve the pickup and prevent microphonics.
We also make this model in a Hum-Cancelling Jazzmaster Set, and a Steel Pole Set, for P90 tone in a Jazzmaster.
---
Tech Specs
See below for the estimated DCR and Polarity Information for our Jazzmaster.
| SPECIFICATION | VALUE |
| --- | --- |
| Neck Ohm Reading: | 7.4K |
| Bridge Ohm Reading: | 8.4K |
| Neck Polarity: | Clockwise Coil Direction, South To Strings |
| Bridge Polarity: | Counter-Clockwise Coil Direction, North To Strings |
| Magnets: | USA-Made Alnico 5 |
| Wire: | USA-Made 42-Gauge Formvar / USA-Made 42-Gauge SPN |
| Recommended Pot Value: | 250K, 500K, 1Meg* |
| String Spacing: | 52mm |
* Traditionally, 1Meg pots are installed on Jazzmasters. That said, one can use any pot value with this pickup, depending on the brightness you want.
Sizing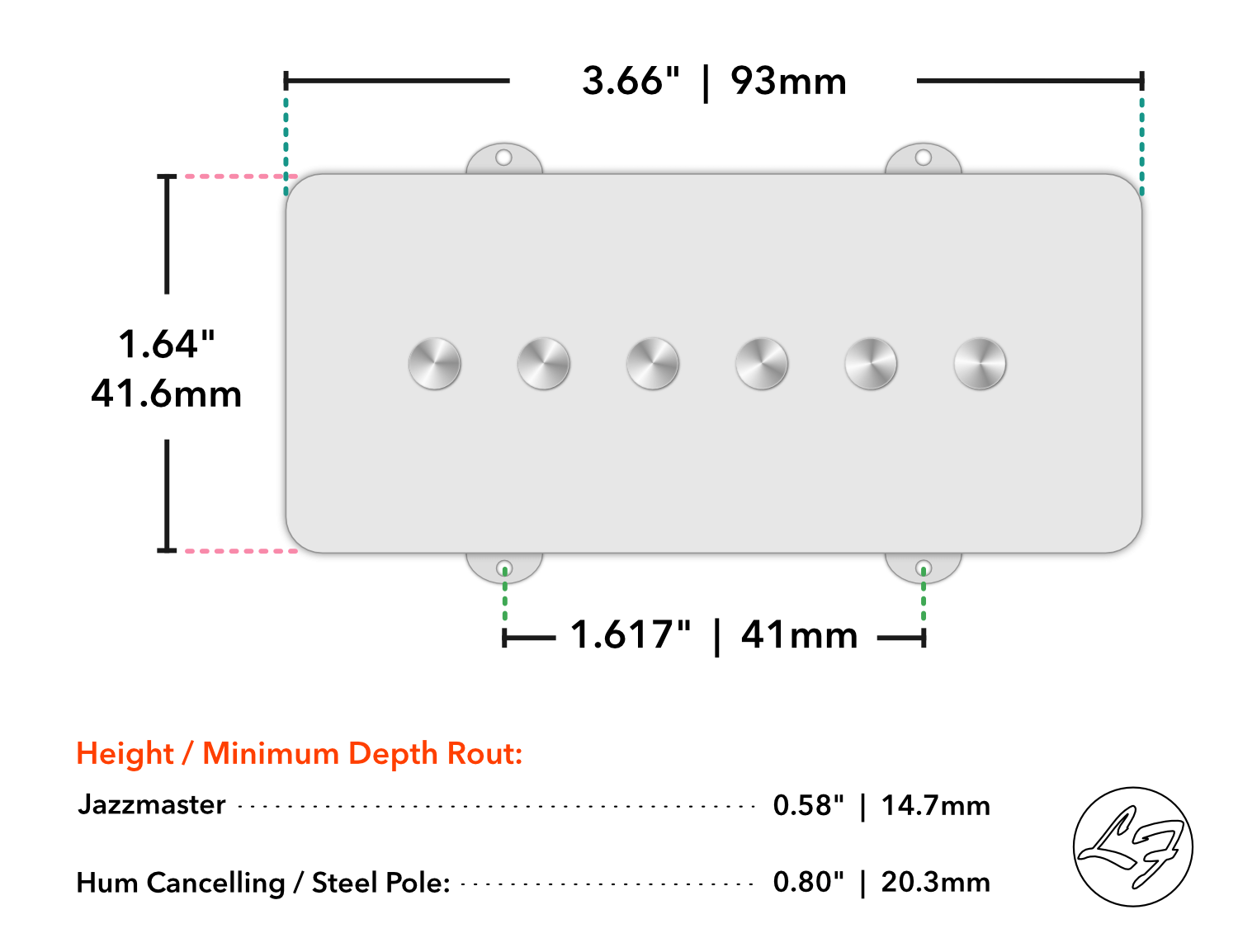 Jazzmaster Questions And Answers:
Notice:
Have a question about our Jazzmaster? Ask it here. Your Question will be publically visible. If you want to ask a Private Question, please contact us through our Contact Us Form.
If you have multiple questions, please call us at (804) 358-2699.
Which Output should I choose?

Q

Which Output should I choose?

A

For a thinner, clearer sound with pronounced top-end and a clear bottom end, opt for the -5% underwind. For a thicker, beefier tone with darker highs and stronger lows, opt for the +5% overwind. This will increase the output of the pickup by 5%, decrease the highs by 5%, and boost the mids by 5%.
Note:
Asking a question here will be public to all users of this site
Hey!
Did you already ask a question on our
Contact Us Form
? Don't ask it again here. Please be patient while we get back to you.
---
STAY IN TOUCH