Prewired Split Blade Pickguard
Our Prewired Split Blade Pickguard is the perfect product for anyone who wants the noiseless Strat tone, instantly. We use the finest materials available: from CTS® Pots, USA-Made Pickguards, and CRL® Switches. With easy installation, you can be sporting a new look and the best tone you can find – all with our Prewired Split Blade Pickguard.
---
Quick Links:
Jump to Sound Clips and Product Info:
PW-PG-SB-SSS

Categories: Pre-Wired Pickguards, Prewired, SSS Pickguards
Tags: Black SSS Prewired Pickguard, Lindy Fralin Pickups, Mint Green SSS Prewired Pickguard, Parchment SSS Prewired Pickguard, Pearloid SSS Prewired Pickguard, Prewired Pickguard, Prewired Strat Harness, Prewired Strat Pickguard, Prewired Stratocaster Pickguard, SSS Prewired Pickguard, SSS White Prewired Pickguard, Vintage SSS Prewired Pickguard
What's Included?
Fully prewired and assembled and includes a set of Knobs, a Matching Switch Tip, and Mounting Hardware.
---
Our Pickups, Your Personality, No Hum.
Want to learn more about our Prewired Split Blade Pickguard? Here's all the information you'll need:
Prewired Split Blade Pickguard FEATURES:
At Fralin Pickups, we're always trying to make you sound better. With our Prewired Split Blade Pickguard, you can rest assured that you will have the best sounding pickups available, with the highest quality parts on the market.
Customize your pickguard exactly how you want it, and we'll make it to your specifications. Don't sweat about installation – it's super easy to install. All you need to do is solder a few wires, screw it in, string it up, and you're off rocking!
Look & Sound:
We use the finest-quality USA-made pickguards available. These are standard 11-hole Stratocaster pickguards. This model will fit most Mexican-Made and USA-Made Standard Stratocasters®. We have them available in the following styles and colors: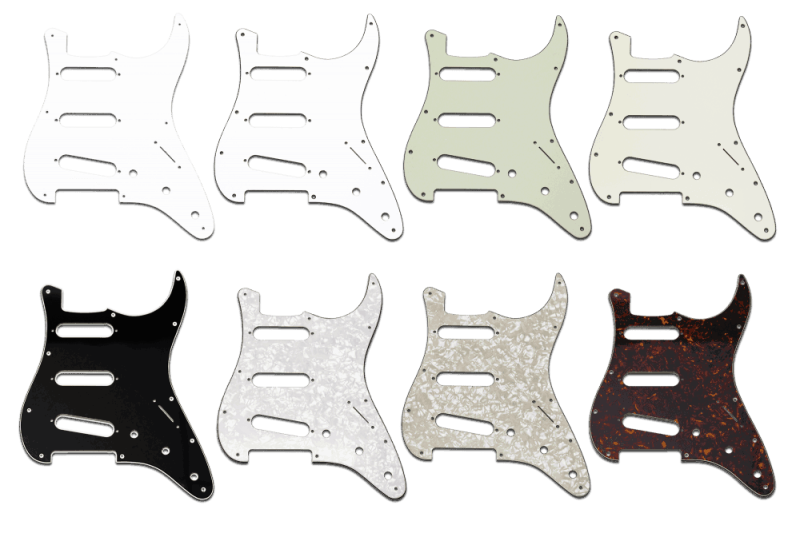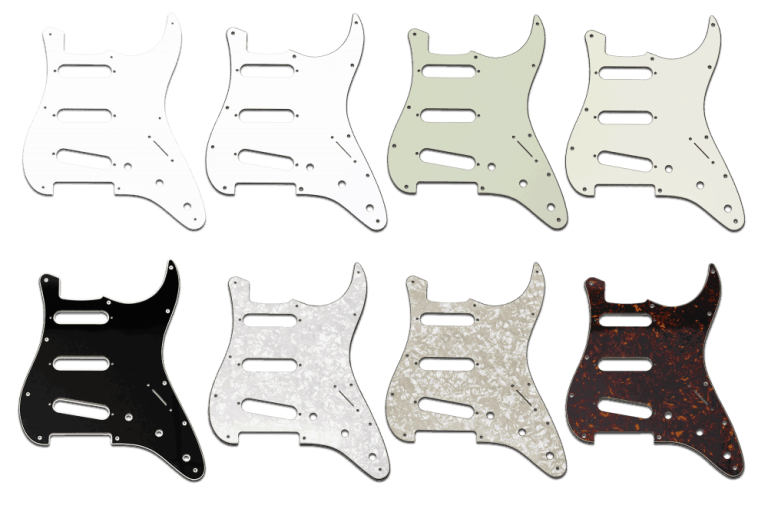 CHOOSE YOUR PICKUPS
With the Prewired Split Blade pickguard, you can choose any combination of pickups you would like, depending on what sound you are going after. Our most popular sets are calibrated sets – all three of the same output. However, if you wanted a higher-output bridge, you can do that too.
Vintage Output and High Output sounds best on 250K pots. Blues Output and Super High Output work best with 500K pots. We don't necessarily recommend mixing Blues and Vintage – they will seem sound noticeably different. See below for a handy chart:


---
CHOOSE YOUR WIRING
You can customize your wiring as well!  Here are some popular combinations:
Master Tone with a Blender Pot
Neck & Middle Tone, with separate Bridge Tone
Master Tone 1 (.02 Cap) and Master Tone 2 (Magic Cap)
---
CHOOSE YOUR ADD-ONS
We have White, Parchment (Aged White), Mint Green, and Black Knobs available. Furthermore, we have Matching Backplates to complete your look of your Prewired Split Blade Pickguard
KNOBS:


Matching Backplates:

Wiring
Customize your pickguard's wiring by selecting between two powerful wiring options. Select between Fralin Pickups Wiring and Standard Stratocaster® Wiring.
Fralin Pickups Wiring features an intuitive layout: a Master Volume, Master Tone, and a Blender Pot. The Blender Pot delivers incredible versatility by allowing you to combine the Neck and Bridge, for Telecaster-type tones, and more. Fralin Pickups wiring is Lindy's favorite way to wire a Stratocaster.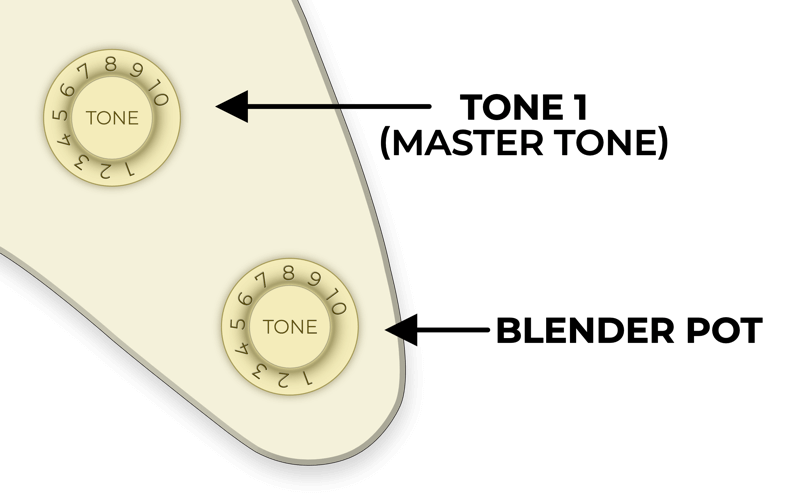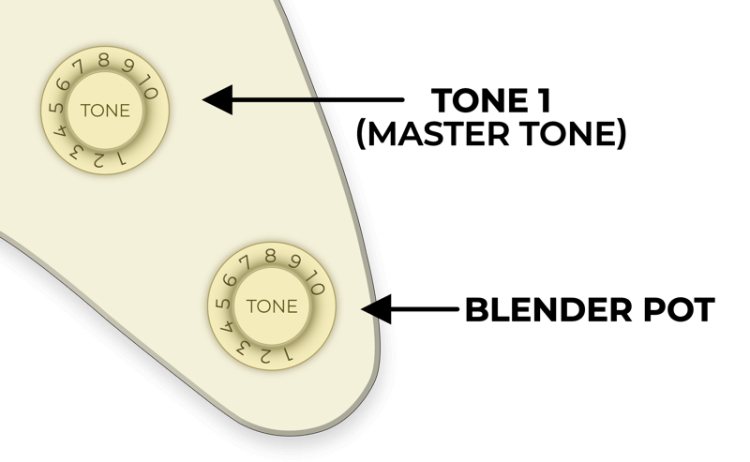 Standard Stratocaster Wiring delivers a classic take on the Strat – a Master Volume, Neck & Middle Tone, and a separate Bridge Tone. This wiring allows you to select multiple cap values for a bit more tone versatility.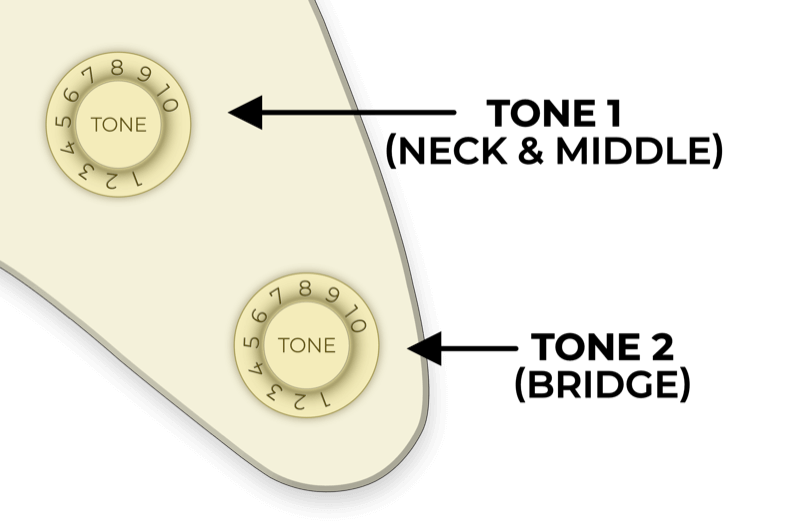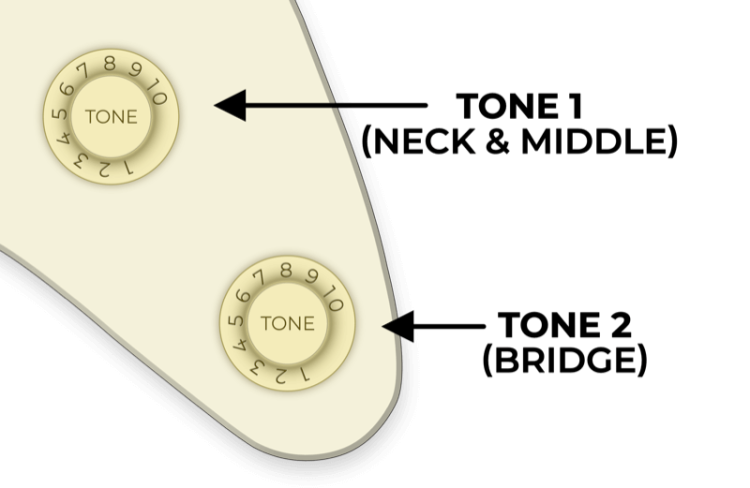 Custom Requests can be made using the "notes" field.
FAQs
How long will my Pickguard take? Since we're building it from scratch, give us about one to two weeks to put it together. We will always try to get it out beforehand.
Can you wire it up without the Pickguard? As it turns out, No. Simply purchase an inexpensive pickguard, and you can pull out all the wiring once you receive it to put it in your own pickguard. It's just too time-consuming and unsafe to ship without a solid pickguard holding everything together.
Can I return my Pickguard? No. Since these are so custom and made to order, all pickguard sales are final, and not available for exchange or return.
What Pots should I use? Most of the time, 250K Split Shaft pots will work best for guitars with single-coil pickups and plastic knobs. With Vintage Output & High Output Split Blades, you may like 300K pots for additional brightness. If you have metal knobs at home, go with Solid Shaft Pots.
What if I don't see exactly what I want? Use the "Notes" field on the checkout screen to type in any special requests. Use this field to describe how you want it wired as well if you want anything customized. We'll make it to your specs.
What does a Magic Cap do? Our Magic Cap is a very low capacitance tone cap. It doesn't roll off highs as much as it seems to boost the mids. This really works well on the bridge pickup only.
What does a Blender Pot do? Our Blender Pot takes the place of Tone #2, and it allows you to blend between the Neck and Bridge. You can get all 3 pickups on with a Blender pot.
Why don't I see Ground Jumper wires between all my parts? Our pickguards have a metal shielding that connects all of the metal parts together, thus we don't need to use jumper wires.
Installation
Check out our installation guide below to put your new pickguard in! With 20 minutes a few easy steps, you can get your pickguard in your guitar and start rocking out with some of the best sounding pickups in the world! Also, download our installation guide here.
Prewired Split Blade Pickguard Questions And Answers:
Notice:
Have a question about our Prewired Split Blade Pickguard? Ask it here. Your Question will be publically visible. If you want to ask a Private Question, please contact us through our Contact Us Form.
If you have multiple questions, please call us at (804) 358-2699.
Good morning from the East. I've chosen all "blues" in the loaded pick guard. Thoughts or further recommendations before I purchase? Also, it going to be installed in a Fender MIM deluxe player strat. Any issues?

Q

Good morning from the East. I've chosen all "blues" in the loaded pick guard. Thoughts or further......

Read more

A

Hey John, nope - no issues at all! Blues Output will provide you clean, clear tone with modern output - your pickguard will be really versatile.

What is the difference between 500k and 250k pickup options?

Q

What is the difference between 500k and 250k pickup options?

A

Hey Eric, the best way to order Split Blades is to order them in a Matched Set (Blues Neck, Middle & Bridge). However, you can also mix and match outputs for more versatility. Out of the four outputs we offer, two sound best on 250K pots, and the other two sound best on 500K pots:

250K = Vintage | High Output

500K = Blues | Super High Output

You can certainly choose Vintage for the Neck and Middle and a High Output Bri...

Read more

Would you install a blender into a prewired pickguard?

Q

Would you install a blender into a prewired pickguard?

A

Hey Dean, yes  - please check our "Fralin Wiring" option to receive a Master Tone and Blender Pot.

Can you build the entire wiring harness complete with Pickups without the pickguard?

Q

Can you build the entire wiring harness complete with Pickups without the pickguard?

A

Hey David, we choose not to as it's safer to ship a complete pickguard than just a harness. If you want to transfer the harness to another pickguard, select any pickguard other than the "Pearloid" models (tortoiseshell, etc), as those have an upcharge.

Do all or any of the loaded pickguards come in a lefty version?

Q

Do all or any of the loaded pickguards come in a lefty version?

A

Hey Matti, all of our pickguards come in a left-handed version, just note some options are not available when left-handed is selected.
Note:
Asking a question here will be public to all users of this site
Hey!
Did you already ask a question on our
Contact Us Form
? Don't ask it again here. Please be patient while we get back to you.
---
Featured Reviews
Reviews we worked hard for, and are proud of.
"Exceeded Expectations! At last I've found the sound I've been chasing for decades and then some!!! The quality of personal service and the product build is outstanding. My Strat has a new life! Clean sounds are just beautiful. The push pull mods I chose are spot on; out of phase bridge with neck and bridge blend adds the secret sauce for finger style jazz and snappy funk. The blades are quiet and play great with effects with my high gain setup as well. For me, the best of all worlds. Thank you Lindy and staff!"
"Wow! Love the quality, clarity & depth that these pickups give me I installed my loaded pickguard on my new chambered roasted swamp ash Warmoth Strat. Neck: Blues Split Blade (500K) Middle Pickup: Vintage Split Blade (250K) Bridge Pickup: Super High Output Split Blade (500K). I love the clarity that these pickups provide especially compared to the pickups in my other Strats: Fender stock and Seymour Duncan pickups. It's clear to me now why Lindy gets the high marks that I keep reading about."
"I bought a loaded pickguard with split blade high output pickups for my 1979 Strat because I felt like the tone had grown stale. I took my guitar into the Frailin office one afternon since I work in Richmond and Lindy was there and took some time to let me hear different pickups he had on some of his guitars and helped me select the best pickups for my needs. He even walked me through the ordering process on the websiste to make sure everything was filled in correctly and ensured that I understood all the different options. He helped me decide which POTS to get, the value of the tone capcitor, and the configuration of the tone knobs. I got the blender pot and I love it! Geting a mix of neck and bridge pickups is something that was not possible in my stock configuration. My 40 year old guitar is like a whole new giuitar now and sounds amazing!"
---
NOTES ON COLOR:
Please note that while we strive to provide the most accurate color representation possible, different computer monitors, manufacturer dye lots, and other circumstances may prevent the color from matching perfectly.
Since we cannot guarantee color matching, we cannot provide a return to you if you are unhappy with the color matching of our Prewired Split Blade Pickguard.
HARNESSES:
Our parts and wire lengths are designed to work seamlessly with our Prewired Split Blade Pickguard. Due to various guitar and instrument designs, we cannot guarantee that our parts will fit properly, and due to this, we do not offer Wiring Harnesses.
STAY IN TOUCH