'51 P-Bass
Loud, clear and sweet. This is a great single-coil tone replacement for 50's-era basses and reissues. With Alnico V USA-Made Magnets and wire, the Fralin '51 P-Bass is great for those looking to add more definition, clarity, and extended low-end to their '50's bass.
---
Quick Links:
Jump to Sound Clips and Product Info:
---
True '50s P-Bass Tone
Want to learn more about our '51 P-Bass? Here's all the information you'll need:
'51 P-Bass FEATURES:
Since its creation, the P-Bass has been a bass icon. Known for its classic, deep, and fat low-end, the 51 P-Bass is the bass that started the classic P-Bass tone. Our 51 P-Bass pickup is a warm, rich, and thick-sounding 51 P-Bass replacement. Expect deep lows, warm mids, and "Fender-y" highs.
Did you know? We have a Split '51 P-Bass Model, for noiseless operation. Check it out here.
Original Fender specifications, with modern output
Superb articulation for a clean and clear tone
Designed to be even across all frequencies
USA-made Alnico 5 Magnets for optimal tonal balance and output
Hand-wound with our "Sectioning" technique for unique, dynamic tone
Hand-built fiberboard Bobbins for unrivaled quality control
10-Year Warranty on manufacturing defects
Sound
Tonal Graph for '51 P-Bass:
The tone graph below for our '51 P-Bass features Lows, Midrange, Highs, and general Output.
---
Our 51 P-Bass replacement sounds clean, clear, and deep. Expect enhanced definition, clarity, and articulation. The Fralin 51 P-Bass replacement has bright highs and warm mids. The low-end will sound deep, rich, and fat – without sounding muddy. We've taken care to make sure that we enhance the most important aspects of your bass: the bass. We guarantee that you'll love your P-Bass even more -you'll wonder why you didn't make the switch earlier.
Our Tone starts here: our manufacturing process. It allows us to achieve unparalleled quality control. Our pickups consist of USA-Made magnets and wire. Our bobbins are hand-built using local fiberboard and incredible attention to detail. We wind each pickup by hand, one at a time. Each pickup is wound using our proprietary "Sectioning" technique. This gives the pickup a sweet, clear tone.
We assemble each pickup one at a time, by hand. This allows us to achieve unbeatable attention to detail. Finally, we wax-pot the pickup to preserve the pickup and prevent microphonics.
Sizing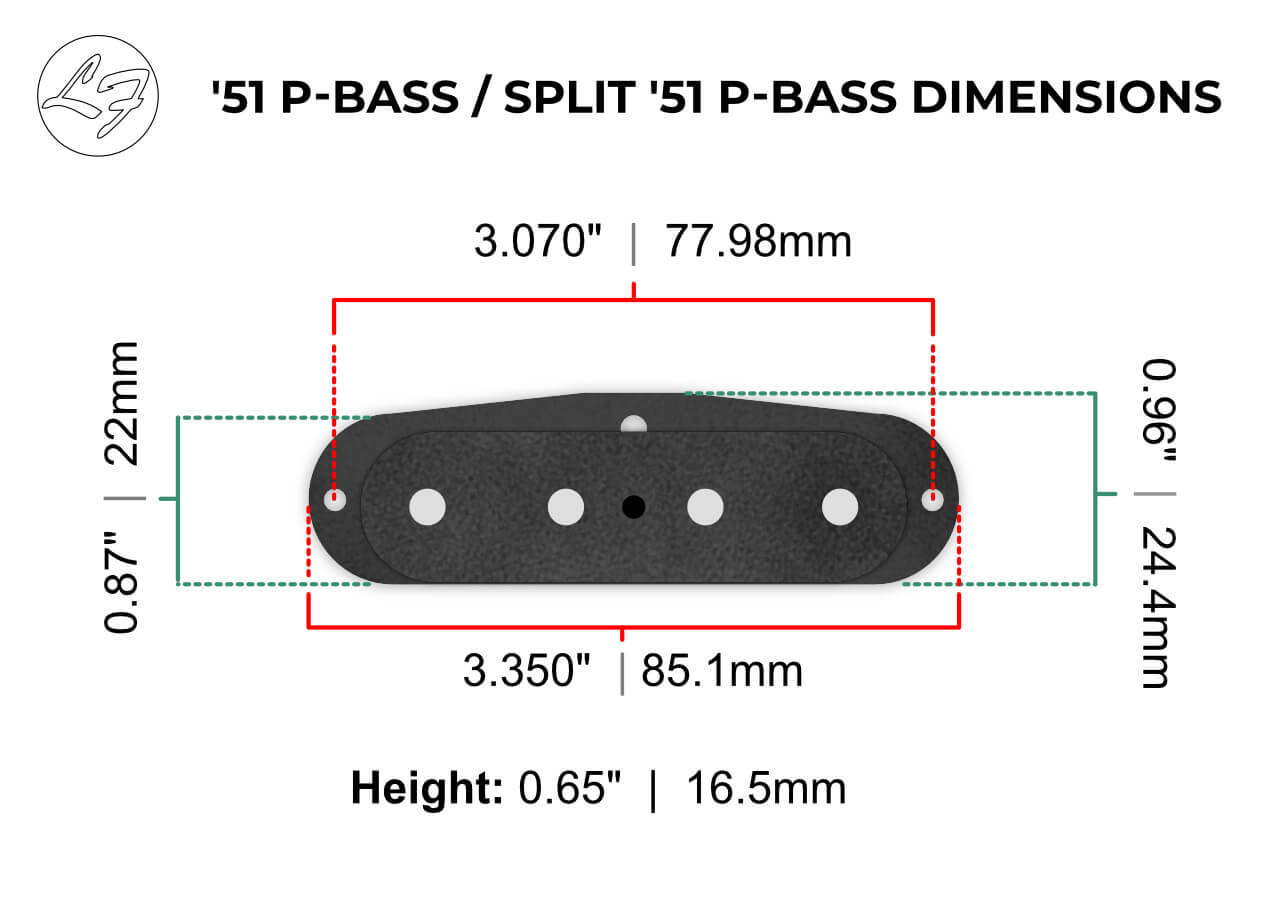 Tech Specs
See below for the estimated DCR and Polarity Information for our '51 P-Bass.
| SPECIFICATION | VALUE |
| --- | --- |
| Stock Ohm Reading: | 7.2K 1 |
| String Spacing: | 17.5mm (Magnet to Magnet) |
| Magnet Wire: | USA-Made 42-Gauge Single Poly Nylon |
| Magnet Material: | USA-Made Alnico 5 |
| Bobbin Material: | USA-Made Fiberboard |
| Magnet Polarity: | North To Strings |
| Coil Direction: | Clockwise (from Ground to Hot) |
| Recommended Pot Value: | 250K |
| Recommended Cap Value: | 0.02mfd 2 |
---
More Information:
1 Ohm Readings can vary due to a multitude of factors, including ambient temperature, multimeter calibration, different wire batches, and other factors. Due to this, ohm readings are approximate. Learn more about Ohm Readings here.
---
2 We recommend a 0.02mfd Cap Value on most guitar and bass pickups. The exception is a Magic Cap, which Lindy prefers on the Bridge Pickup of Fender® guitars only. Learn More about Caps Here.
---
'51 P-Bass FAQ's
General FAQs
Here are quick answers to common questions we get:
What Ohm Readings does your '51 P-Bass have?

Navigate to our Tech Specs tab for complete Ohm Readings and more useful information.

Will this pickup fit my instrument?

Check our "Sizing" tab for the size of the pickup. No Sizing tab? Check under the product image gallery for dimensions.

Is your Lead Time of 1 Week accurate?

It really depends on the shop capacity at the moment, and the size of your order. Feel free to give us a call for an accurate lead time. We always try to underpromise and overdeliver.

What pickup height do you recommend setting your '51 P-Basss to?

Our recommended Pickup Height is 1/8" (3.175mm) on the Bass Side and 1/16"( 1.5875mm) on the Treble Side. Measure by holding the corresponding side down at its highest fret and measure from the bottom of the string to the top of the pole piece.
---
---
Featured Reviews
Reviews we worked hard for, and are proud of
"Superb replacement! I purchased a Fralin 51 P-bass pickup that had normal stagger, and was 5% overwound. It turned a Squire Classic Vibe 51 P-bass into a tone monster! Clarity and warmth is just outstanding, and my bandmates and the sound techs all agree. I've always gotten the very best pickups from Lindy Fralin. Period."
"'51 PBass 5% Overwound - Wow I thought I was a pretty fair player until I installed this pickup... man, this thing keeps me honest, sounds killer and has just the right amount of growl - which is easily controlled by the tone pot. Amazed. Seriously. I turned a carefully selected everyday player Squier "Vintage Vibe" bass into a big stage-ready axe. Can't say enough good things about this, Lindy., THANK YOU! Going to blow out some festival stages this summer...and my local circle of players. cheers!"
"Amazing tone variety... ...I now have on my bass project! (Fender Jazz) Kept the original bridge PUP and replaced the neck one with your '51 P-Bass one...Totally blown away by how this thing can sound now! Thank you! Dave Boileau, Iqaluit, Nunavut, Canada"