Split '51 P-Bass
Our Lindy Fralin Split '51 P-Bass is a great single-coil tone replacement for 50's and reissues. Loud and clear, with no hum. Using USA-Made parts and made by hand, our pickups sound leaps and bounds better than the stock pickups. This is the Hum-Cancelling version of our '51 P-Bass.
---
Quick Links:
Jump to Sound Clips and Product Info:
---
All '50s P- Bass, Zero Hum.
Want to learn more about our Split '51 P-Bass? Here's all the information you'll need:
Split '51 P-Bass FEATURES:
Our combination of authentic 50's P-Bass tone and a Left-Right Coil Design give you killer tone, with no hum! With no modification necessary, the Fralin Split '51 will drop right into your era-authentic bass or re-issue with ease. This pickup will fatten up your bass up a bit, too. The Fralin Split '51 is our hum-canceling version of our Fralin '51 P-Bass Pickup.
Lindy Fralin Original Design – Completely Hum-Cancelling
Original Fender specifications, with modern output
Superb articulation for a clean and clear tone
Designed to be even across all frequencies
USA-made Alnico 5 Magnets for optimal tonal balance and output
Hand-wound with our "Sectioning" technique for unique, dynamic sound
Hand-built fiberboard Bobbins for unrivaled quality control
10-Year Warranty on manufacturing defects
Sound
Warm, rich, full, with no hum. The top end is warm and round; the low end is full, deep, and dynamic. Our Fralin Split '51 is the perfect pickup for those who want an era-authentic 50's P-Bass tone with no hum. The extended low end is deep, rich, and full. Alnico 5 Magnets give this pickup optimal tonal balance and output. By adding a second coil, we were able to achieve a completely silent operation, with a hint of fatness added to it.
It starts here: our manufacturing process allows us to achieve unparalleled quality control. Our Split '51 P-Bass Pickups consist of USA-Made magnets and wire. Our bobbins are hand-built using local fiberboard and have incredible attention to detail. We wind each pickup by hand, one at a time. Each pickup is wound using our proprietary "Sectioning" technique. This gives the pickup a sweet, clear tone. We assemble each pickup one at a time, by hand. This allows us to achieve unbeatable attention to detail. Finally, we wax-pot the pickup to preserve the pickup and prevent microphonics.
---
Tech Specs
We use Vintage Specifications. Alnico 5 Magnets.  42-Gauge SPN Wire. Hand-made Bobbins.
The Split '51 P-Bass reads 7K.
Sizing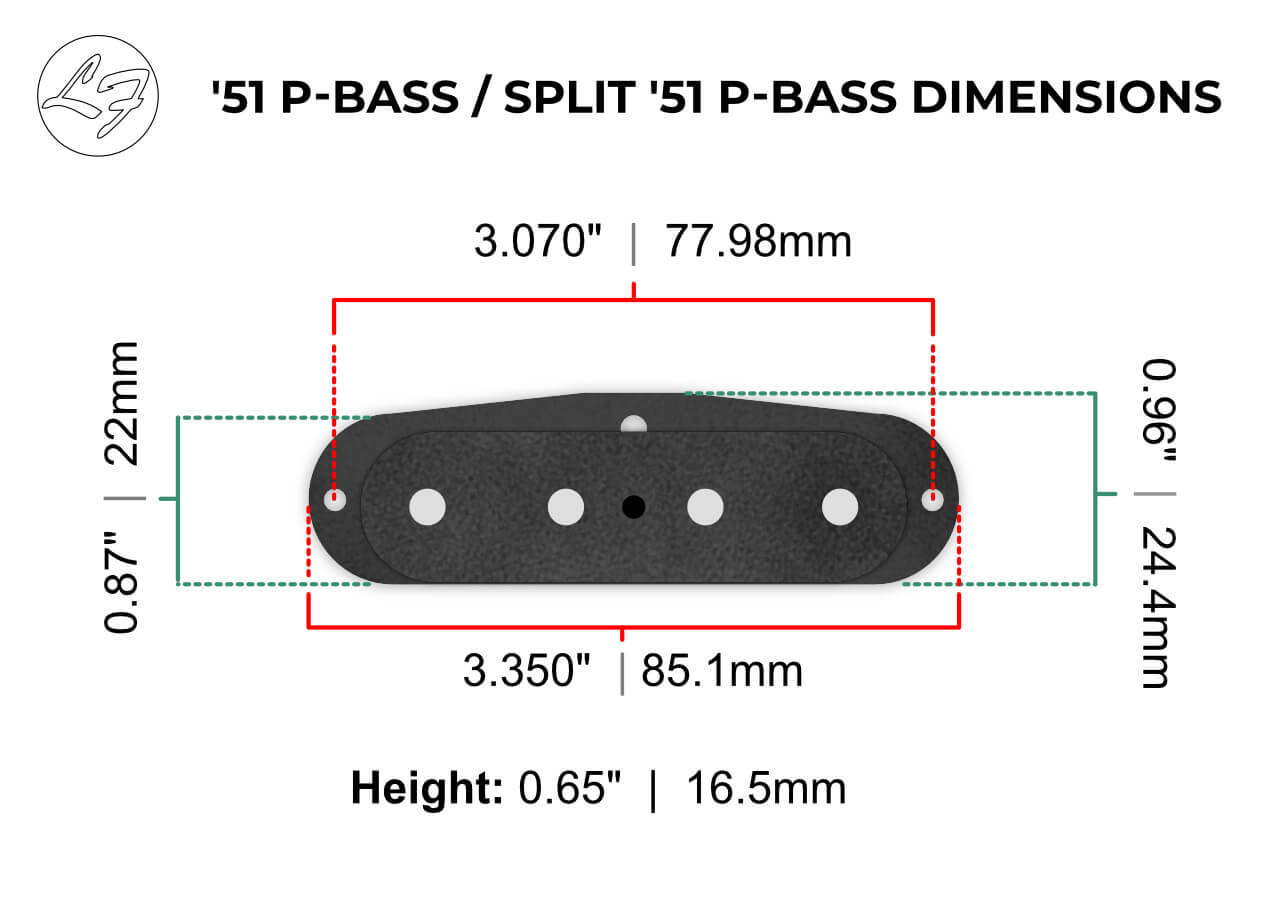 Split '51 P-Bass Questions And Answers:
Notice:
Have a question about our Split '51 P-Bass? Ask it here. Your Question will be publically visible. If you want to ask a Private Question, please contact us through our Contact Us Form.
If you have multiple questions, please call us at (804) 358-2699.
I have a '98 jazz Bass and I'm wondering can I put a 51 split p base pickup on my front pickup pocket of my jazz base I also have a sadowski preamp

I just purchased a Fender Custom Shop '55 Precision Heavy Relic and would like to replace the noisy stock pickup. I also noticed that the stock pickup doesn't have even output across the strings. I'm thinking the '51 Split-Coil P is the way to go. Will the pickup fit in my bass? Also, I like the fat vintage tone and don't want a modern tone. Is the stock wind or underwind the way to go? Thanks!

I just ordered a Split 51 5% overwind, stock stagger for a Squier CV 50s P Bass. Do you have ideas, suggestions for wiring, electronics mods that might give more sound variability (e.g., cap mods, resistors, coil tap with a push/pull, etc.)? Sorry for the noob question, but I'm hoping my first project bass is gonna be a winner. Thanks! Go Bills!

What pot values have you used with this pickup? I'm aiming at 300K CTS Audio Taper but is some cases like your split rails you recommend 500K.

Hi. I have a Split 51 p-bass pickup factory fitted in a maruszczyk 55-4p butterscotch bass. The pickup has stock output & stagger, right hand orientation. Could I ask what the distant from Poles to strings should be please? Awesome pickup by the way! Thanks Mark
---
STAY IN TOUCH