Installation
You've got Installation Questions, we've got answers.
Installation FAQ's
Frequently asked questions regarding installation
On P90s, Jazzmasters, and Humbuckers, the lead comes out of the Treble Side of the guitar. In other words, the lead will be closest to the G, B, and E strings.
Most Alnico pickups have a raised magnet – this magnet goes under the D string, not the G string.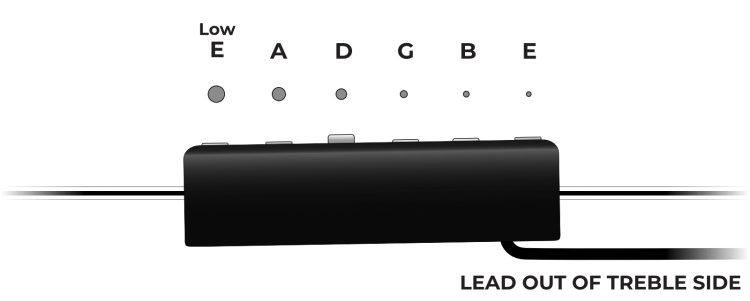 For Neck Position Humbuckers, the lead comes out of the Bass Side.
A 3-wire pickup configuration is a courtesy to the customer as it allows you to reverse the coil direction or phase of the pickup quickly. Our standard wiring is:
White = Hot (to switch)
Black = ground
In a 3-wire setup, you have:
White = Hot (reversible)
Black = ground (reversible)
Blue = Chassis Ground (permanent ground)
If you followed the above wiring and notice that your pickup is out of phase with another pickup, reverse White & Black to put your pickup back in phase.


To properly set string height, follow these steps:
Measure by holding the Low E string down at the highest fret
Measure from the top of the Low E pole piece to the bottom of the string – the ideal distance is 1/8″, or 3.2mm.
Perform the above steps on the High E string. The ideal distance on the treble side is 1/16″, or 1.6mm.

---
Interested in learning more? Read our String Height Article Here.
We ship two sets of screws with a Telecaster neck pickup –
Wood Screws (for mounting directly into the wood of the body)
Machine Screws (For mounting to the pickguard).
Machine Screw:

If mounting to a pickguard, Do Not Overtighten. Doing so can strip the fiberboard.
Wood Screw:

---
Product Category Tips
Installation Tips by Product Category
---
Installation Questions
Have a question regarding installation? Drop it below.
"*" indicates required fields