Hum-Cancelling P90 – Humbucker
$150.00 – $300.00
Another Lindy Fralin original design! Our Hum Cancelling P90 in a Humbucker Cover has a thick midrange and all of the clarity of the Original P90s. Designed with Lindy's 2-coil design, the Hum Cancelling P90 in a Humbucker Cover has zero hum.
HUM CANCELLING P90: P90 TONE, NO NOISE
We all love the sound of a P90 Pickup, but they can be noisy. Now, enjoy quiet performance with Lindy Fralin's Hum Cancelling P90 in a Humbucker size.  Our Hum Cancelling P90 in a Humbucker Cover gives you a traditional P90 tone, without the hum. Join countless guitarists and discover why this pickup was our best-selling pickup of 2017 and 2018.
HUM CANCELLING P90 FEATURES:
Lindy Fralin Original Design: True P90 Tone, no hum
Multiple Outputs available for fine-tuning your Pickup's voice
Nickel Silver Baseplates and Covers for little to no effect on tone
Strong and bold – lots of midrange and snarl
USA-made Neodymium Magnets for aggressive tone and output
Compensated Bridge for even volume across all pickups
Adjustable Steel Pole pieces for fine-tuning string balance
Hand-wound with our "Sectioning" technique for unique, dynamic tone
Hand-built for unrivaled quality control
10-Year Warranty on manufacturing defects
Due to supplier issues, we are discontinuing Jet Black Nickel covers until further notice. We'll keep you updated when black comes back!
HUM CANCELLING P90 SOUND:
Our Hum Cancelling P90s for Humbucker-equipped guitars are like our regular Fralin P90's, only thicker, darker, and with no hum. You can expect a thick, darker, round bottom-end, and a rounder, less aggressive top-end, with a clear, snarly midrange in-between. Our Hum-Canceling P90 still has that undeniable thick Single-Coil tone that you love, only with no hum at all.
Single notes have a punchy, compressed sonic footprint and have great sustain. Chords break up nicely with slight compression and excellent note separation. The Output is almost identical to our Stock P90's, and they sound incredibly similar – just a little thicker in the midrange. These pickups offer undeniable clarity and definition while remaining strong, fat, thick, and punchy. Need a jazzier tone? We can use Alnico 6 Magnets. Want a cleaner and more Fender sparkle? Check out our Alnico Rod Version.
Our manufacturing process allows us to achieve unparalleled quality control. Hum-Cancelling P90s consists of a precision injection mold and USA-Made Steel Screws. We use aggressive USA-Made Neodymium magnets to make this model scream. Each bobbin is carefully inspected and cleaned before winding.
We wind each pickup by hand, one at a time. Each pickup is wound using our proprietary "Sectioning" technique. This gives the pickup a sweet, clear tone. Finally, we wax-pot the pickup to preserve the pickup and prevent microphonics.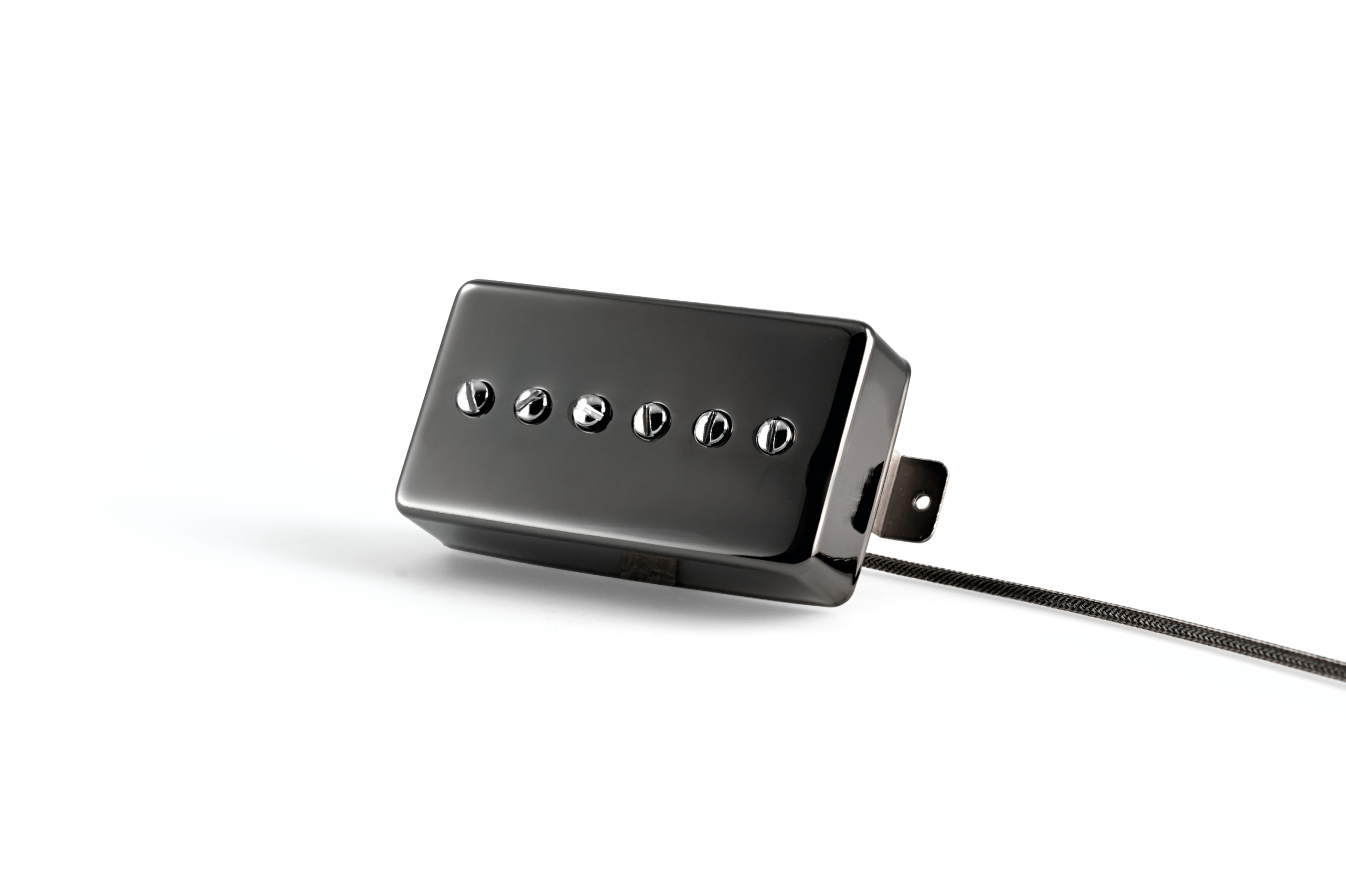 FAQ's:
What's the tonal difference between this and your Stock P90? The Hum-Cancelling P90 is slightly louder, darker, and thicker. It's quicker to break up, and has no hum!
What output do I choose? Our most popular set is the Stock Neck & Bridge. Going with a +5% output from Stock will thicken and darken the tone. Going with a -5% will clean up and reduce the midrange, making it sound more articulate and clear.
What lead do I choose? This depends on your guitar and a few other things. Gibson Lead: Go with this if installing a set into a Gibson-style instrument, where each pickup has its respective volume pot. 2-Conductor: Go with this lead if buying a Single, or installing into a Fender-style instrument.
Will this fit in a Humbucker Position? Yes. It's Gibson humbucker sized.
What's the String Spacing? 49.5mm.
How far away from the strings does the pickup need to be? Push your Low E String down at the highest fret. Measure from the top of the pole piece to the bottom of the string. The ideal starting location should be 1/8″ on the bass string, and 1/16″ on the treble string when the High E string is pushed down at the highest fret.
Wiring Diagrams? Here!
TECHNICAL INFO:
Wound with 43 Gauge Single Poly Nylon and uses Bonded Neodymium Magnets. 500K Pots are recommended with this pickup.
Resistance Readings:
-5% Neck: 15K
Stock Neck: 15.5K
+5% Neck / -5% Bridge: 15.9K
Stock Bridge: 16.7K
+5% Bridge: 17.7K
We're all about building trust with our customers. That's why we don't moderate our reviews. What you see is what we get!