Prewired Strat Pickguard
Don't settle for some one-size-fits-all generic pickguard. Design your own with the finest-quality materials in the industry. Our Strat Prewired Pickguards are the perfect product for anyone who wants the Fralin Tone, instantly. We use the finest materials available: from CTS® Pots, USA-Made Pickguards, and CRL® Switches.
Quick Links
Jump to Sound Clips and more Info:
PW-PG-SSS

Categories: Pre-Wired Pickguards, Prewired, SSS Pickguards
Tags: Black SSS Prewired Pickguard, Custom Pickguards for Strat, Fralin Pickups Prewired Pickguard, Lindy Fralin Pickups, Lindy Fralin Prewired Pickguard, Mint Green Prewired Pickguard, Pearloid Prewired Pickguard, Prewired Pickguard, Prewired Strat Harness, Prewired Strat Pickguard, Prewired Stratocaster Pickguard, SSS Prewired Pickguard, Tortoiseshell SSS Prewired Pickguard, Vintage SSS Prewired Pickguard, White SSS Pickguard
What's Included?
Fully prewired and assembled and includes a set of Knobs, a Matching Switch Tip, and Mounting Hardware.
---
Our Pickups, Your Personality.
Want to learn more about our Prewired Strat Pickguard? Here's all the information you'll need:
Prewired Strat Pickguard FEATURES:
At Fralin Pickups, we're always trying to make you sound better. The Fralin Prewired Pickguard offers the best tone and highest quality available. We use our world-famous pickups with the best ingredients we can get. We hand-wire our prewired pickguard with painstaking attention to detail.
Furthermore, you can customize your pickguard exactly how you want it! With this Prewired Pickguard, you can have the famous Fralin tone and ease of mind. All you need to do is solder a few wires, screw it in, string it up, and you're off rocking!
Features:
The ultimate "Build Your Own" Stratocaster Pickguard
USA-Made pickups & electronics for superior quality
Hand-wired with USA-Made vintage cloth lead for a traditional look
Fully customizable – from appearance to function
Features a variety of Push-Pull mods for a personalized tone
Hand-assembled signed and dated by our pickguard craftsman
10-year warranty on materials and craftsmanship
Sound & Look
Choose Your Pickguard
We use the finest quality pickguards available. These are standard USA-Made 11-hole Stratocaster pickguards. The following options are available:
We wanted to use the highest-quality, USA-Made pickguards available. We have Single Ply White (8-hole vintage style), 3-Ply White, Mint Green, Parchment, Black, White Pearloid, Parchment Pearloid, and Tortoise.
Please note: that while we try and make every effort to make sure everything matches, different manufacturers and dye lots can cause subtle differences in hue and tone.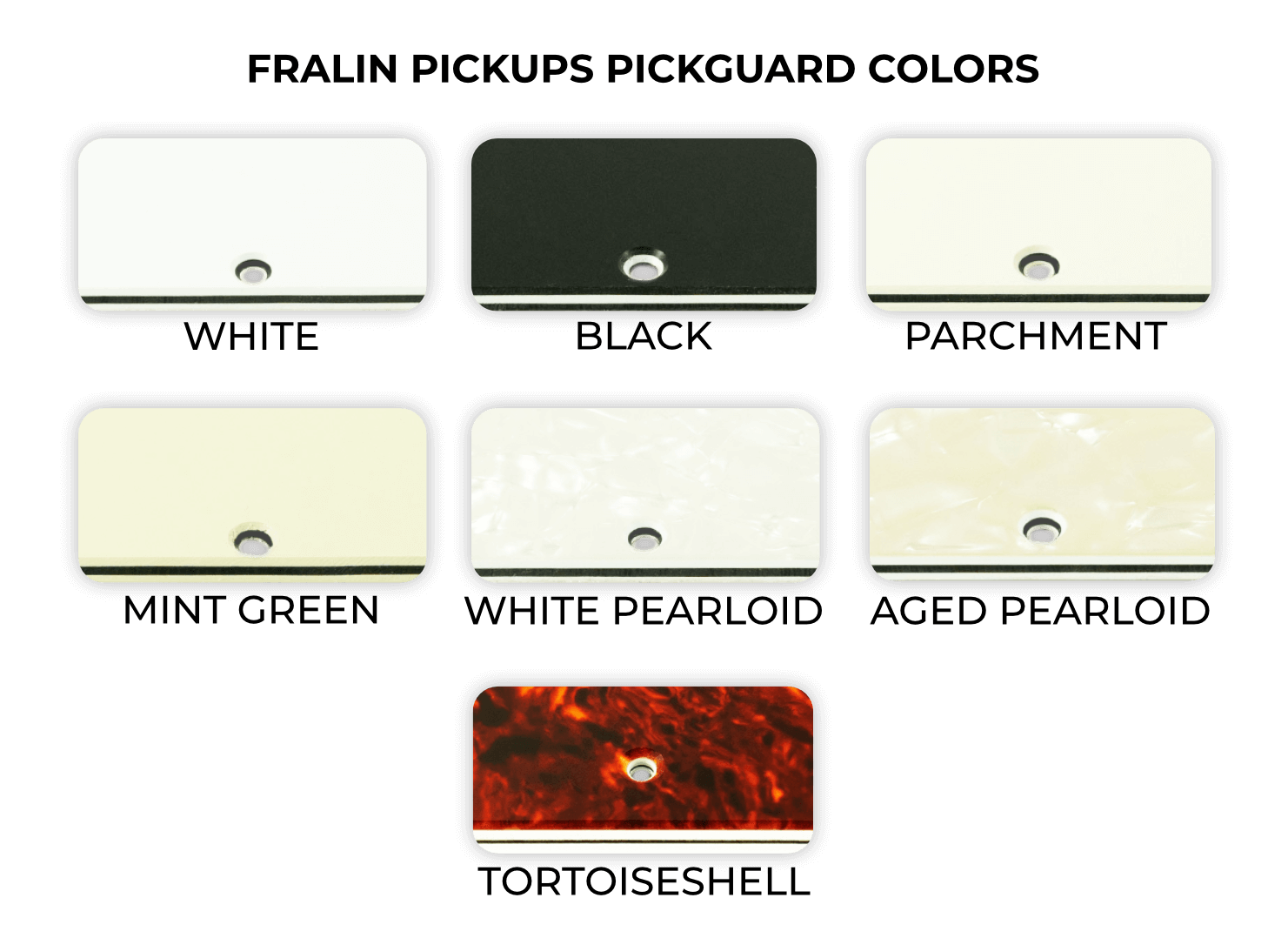 Choose your pickups
With our pickguards, you can choose any combination of pickups you would like. Load in a calibrated set of pickups like our best-selling Vintage Hots or Blues Specials, or mix and match!
---
Choose your Cover Color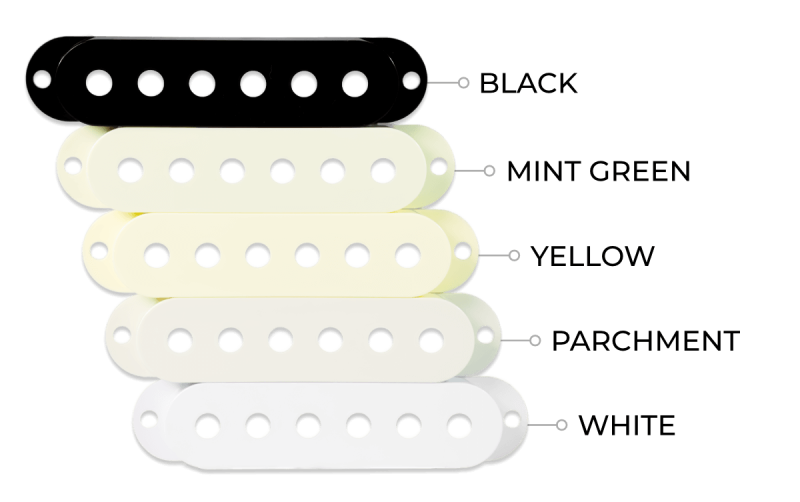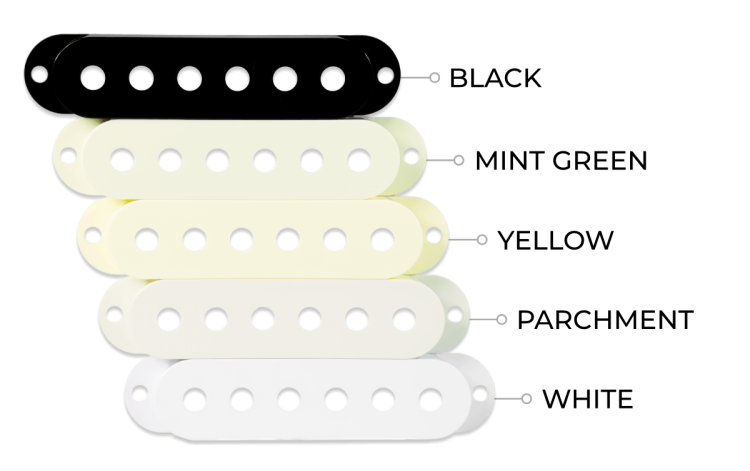 Customize your look further with our Strat Pickup Covers. We have White, Black, Mint Green, Parchment, and Yellow covers available.
Wiring
Customize your pickguard's wiring by selecting between two powerful wiring options. Select between Fralin Pickups Wiring and Standard Stratocaster® Wiring.
Fralin Pickups Wiring features an intuitive layout: a Master Volume, Master Tone, and a Blender Pot. The Blender Pot delivers incredible versatility by allowing you to combine the Neck and Bridge, for Telecaster-type tones, and more. Fralin Pickups wiring is Lindy's favorite way to wire a Stratocaster.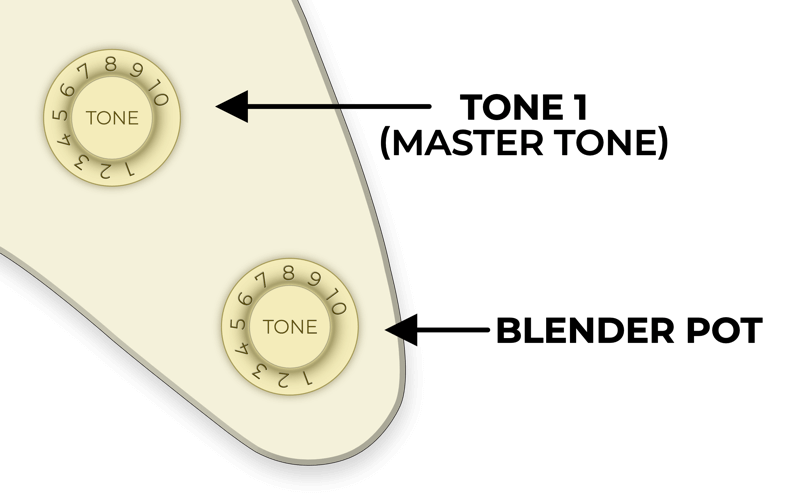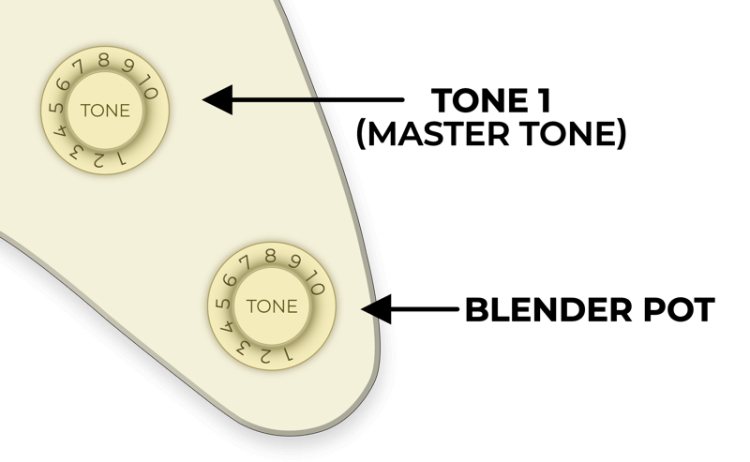 Standard Stratocaster Wiring delivers a classic take on the Strat – a Master Volume, Neck & Middle Tone, and a separate Bridge Tone. This wiring allows you to select multiple cap values for a bit more tone versatility.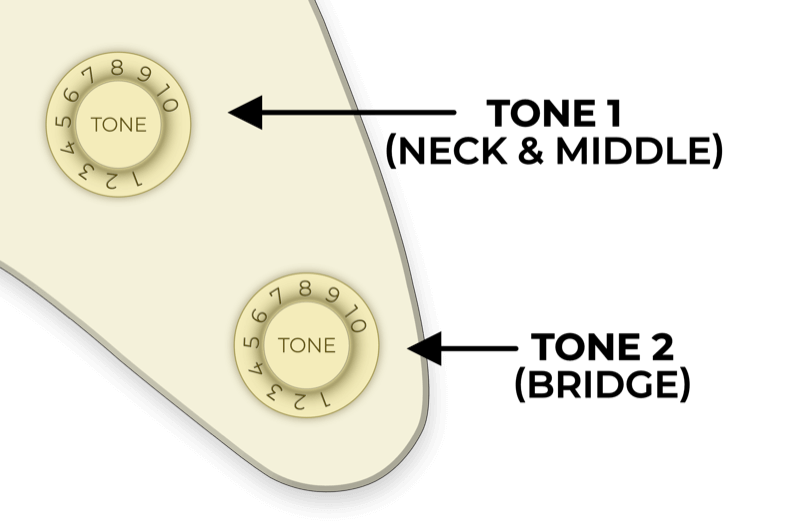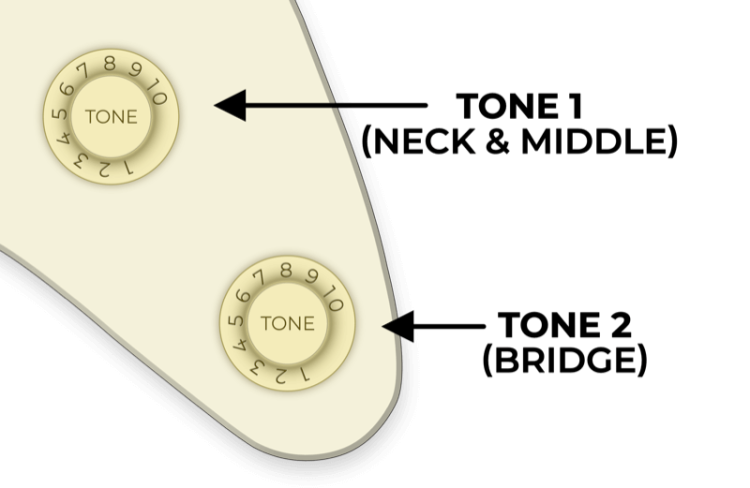 Custom Requests can be made using the "notes" field.
Addons
We have a ton of add-ons available for your pickguard. Want a baseplate installed on your bridge? How about our Volume Kit? Need new pickguard screws? Just let us know!
Matching Backplates:

Complete your look with a matching backplate for your Strat. We have matching backplates for all of our pickguard colors.
Installation
Check out our installation guide below to put your new pickguard in! With 20 minutes a few easy steps, you can get your pickguard in your guitar and start rocking out with some of the best sounding pickups in the world! Follow the Installation Guide below, or watch the video:
Tech Specs
Coming Soon
We don't have Tech Specs at the moment, but we will have them up soon!
Prewired Strat Pickguard FAQ's
General FAQs
Here are quick answers to common questions we get:
---
---
Featured Reviews
Reviews we worked hard for, and are proud of
"Absolutely perfect Strat sound! I put this on a MIM Buddy Guy Strat (which feels amazing) and now it's my favorite guitar. The Vintage Hots are clear and glassy for sure, but they're not thin sounding. They're warm and woody, exactly how I had hoped. I couldn't be happier and I will be ordering more in the future."
"Some of the best pick-ups and overall sound that I have heard on a guitar. I got the blues specials for all three pick-ups, and put them into a older Mexican Stratocaster body with modified neck and all brand new hardware. Super satisfied with the quality and construction of the pick guard, the packaging, and the experience thus far. I would definitely recommend Lindy Fralin to anyone looking to enhance the sound of their guitar to a professional level."
"Construction wise the 3 "real 54" prewired pick guard is meticulously well executed, lots to be learned about technique. The pickups themselves are extremely well balanced all along the frequency spectrum no doubt heavily contributing to it chimey/bell like vintage sound. Takes any type of delay (from Wampler metaverse or Pro Tools) with no eq distortion that I could detect. Also fares well with different types of distortion (Kemper Profiler/ Dr. Z) Anyone running direct to record would certainly love these but they certainly don't mind being played back through a speaker either. Lot's of writing ideas live in these pickups!!"
"Great pickups, better customer service! These pickups sound absolutely amazing. The pickguard was wired better than I could have asked, but let's face it, we know that already. I had a minor issue with the pickguard, they quickly replaced it for me and were incredibly easy to deal with. Unrelated, their T-shirt's are incredibly comfortable!"
"Just dropped a pre-wired into my old Strat Plus, which never really sounded the way I wanted with the the Lace Sensors. I knew as soon I opened the box that this was the real deal - the craftsmanship is obvious and everything just feels well constructed. I've never soldered before in my life, but watched the instructional video a few (dozen) times and got to work. I went with Vintage Hots in the neck and bridge and a Real '54 in the middle. It's brilliant. Every position is unique, useable and singular -- the guitar feels more versatile, more responsive, more playable. Could not be happier."
"Great tone and simple plug and play Even though I could do all of the soldering and assembly myself, I am very happy to pay someone else to do it for me. My time is precious and it saved me a bunch. The quality of the work was fantastic. Also introduced me to a blend pot on a strat which I never would've thought to do myself. By the way, the steel pole 42 in the bridge is a revelation of awesomeness. Bravo!"
"Easiest Upgrade ever! This is my 3rd purchase of Fralin Pickups. Tele/ Blues Specials...Epi 339/ Pure PAFs and now your Prewired Strat Pickguard with Vintage Hots and Blender Pot. The whole operation took less than a 1/2 hour and took my MIM Strat to another level.Clean Bell-like tones with plenty of articulation at every setting. And with the Blender Pot the Tone Settings are infinite. I've been spoiled....but I'm loving every minute of it."
"I have several boutique Strats and Strat-style guitars, most of them with rail/hum-cancelling pickups that I've used for years. I've loved them and the tone, but needed something different. I've read about Fralin's for years and thought I'd give them a try. I ordered the pre-wired pickguard with the Vintage Hot in the neck, Real '54 in the middle, and Blues Special in the bridge. Also, the Volume Kit and the Magic cap for the bridge position. I was surprised when I got a call from Tyler asking questions to make sure he wired it just the way I wanted it and offering suggestions...nice! When I got this everything was wired beautifully. 30 minutes to get it in. Another 10 to set it up and get the height just right and...my LORD! The TONE!!! My guitar came alive! Nuances and richness I hadn't heard in years. And...no spike...chime, but not harsh. Surprisingly, for single coils, they are pretty quiet, as well...I won't say there isn't some hum...but nothing like other single coils I've played in the past. These pickups are amazing. PERIOD. I'm configuring the layout for my next set for another one of my guitars as I write this."
---
NOTES ON COLOR:
Please note that while we strive to provide the most accurate color representation possible, different computer monitors, manufacturer dye lots, and other circumstances may prevent the color from matching perfectly.
Since we cannot guarantee color matching, we cannot provide a return to you if you are unhappy with the color matching of our Prewired Strat Pickguard.
HARNESSES:
Our parts and wire lengths are designed to work seamlessly with our Prewired Strat Pickguard. Due to various guitar and instrument designs, we cannot guarantee that our parts will fit properly, and due to this, we do not offer Wiring Harnesses.
STAY IN TOUCH
Subscribe To Our Newsletter