Prewired 4-Split Blade Pickguard
Our Pre-Wired Strat Pickguards are the perfect product for anyone who wants the Fralin Tone, instantly. We use the finest materials available: from CTS® Pots, AllParts® Pickguards, and CRL® Switches. With a few short steps with a soldering iron, you can be rocking out with a new look, and the best tone you can find, instantly. With this pickguard, you have more options than ever, with no hum!
---
Quick Links:
Jump to Sound Clips and Product Info:
What's Included?
Fully prewired and assembled and includes a set of Knobs, a Matching Switch Tip, and Mounting Hardware.
---
Prewired 4-Split Blade Pickguard INFO:
Want to learn more about our Prewired 4-Split Blade Pickguard? Here's all the information you'll need:
Prewired 4-Split Blade Pickguard FEATURES:
Lindy Fralin Original Design
Unique 4-Split Blade design for Humbucker and SSS tones
An interesting and unique look
Clean and clear, lots of Fender sparkle and twang
USA-made Magnets for optimal tonal balance and output
Compensated Bridge for even volume across all pickups
Three Blade heights available for different fingerboard radiuses
Hand-wound with our "Sectioning" technique for unique, dynamic tone
Hand-built for unrivaled quality control
10-Year Warranty on manufacturing defects
Overview
This might be the ultimate prewired pickguard for Strat. Our Prewired 4 Split Blade Pickguard is truly unique. This pickguard gives you hum-free performance, with H-S-S and S-S-S sounds. The unique dual Split Blade bridge gives a humbucker tone when both Split Blades are on. When Split, you'll get hum-free single-coil tones. This allows you to have a ton of amazing noiseless options at your fingertips. You can customize your pickguard exactly how you want it, and we'll make it to your specifications.
Sound & Look
CHOOSE YOUR PICKGUARD:
We wanted to use the finest quality pickguards available. We had Allparts custom-make these pickguards specifically for us. These are custom-designed 11-hole Stratocaster pickguards, designed to use two Split Blades in the bridge. We have them available in the following plys and colors:
White – 3 Ply
Parchment (off white) – 3 Ply
Mint Green – 3 Ply
Black – 3-Ply
CHOOSE YOUR PICKUPS:
With our 4-Split Blade Pickguard, you can choose any combination of pickups you would like. There are a few popular combinations available. First, our compensated sets sound the even across all pickups. For instance, choosing the Vintage Set will give you an even, authentic Fender tone. Furthermore, you can mix pickup outputs to achieve the effect you want. A popular combination is using Vintage in the Neck and Middle, and High Output in the Bridge.
Determining the outputs and pot values are important for a great-sounding guitar. Vintage Output & High Output Split Blades sound best with 250K pots. Blues Output & Super High Output Split Blades sound best with 500K pots.
See below for a useful chart: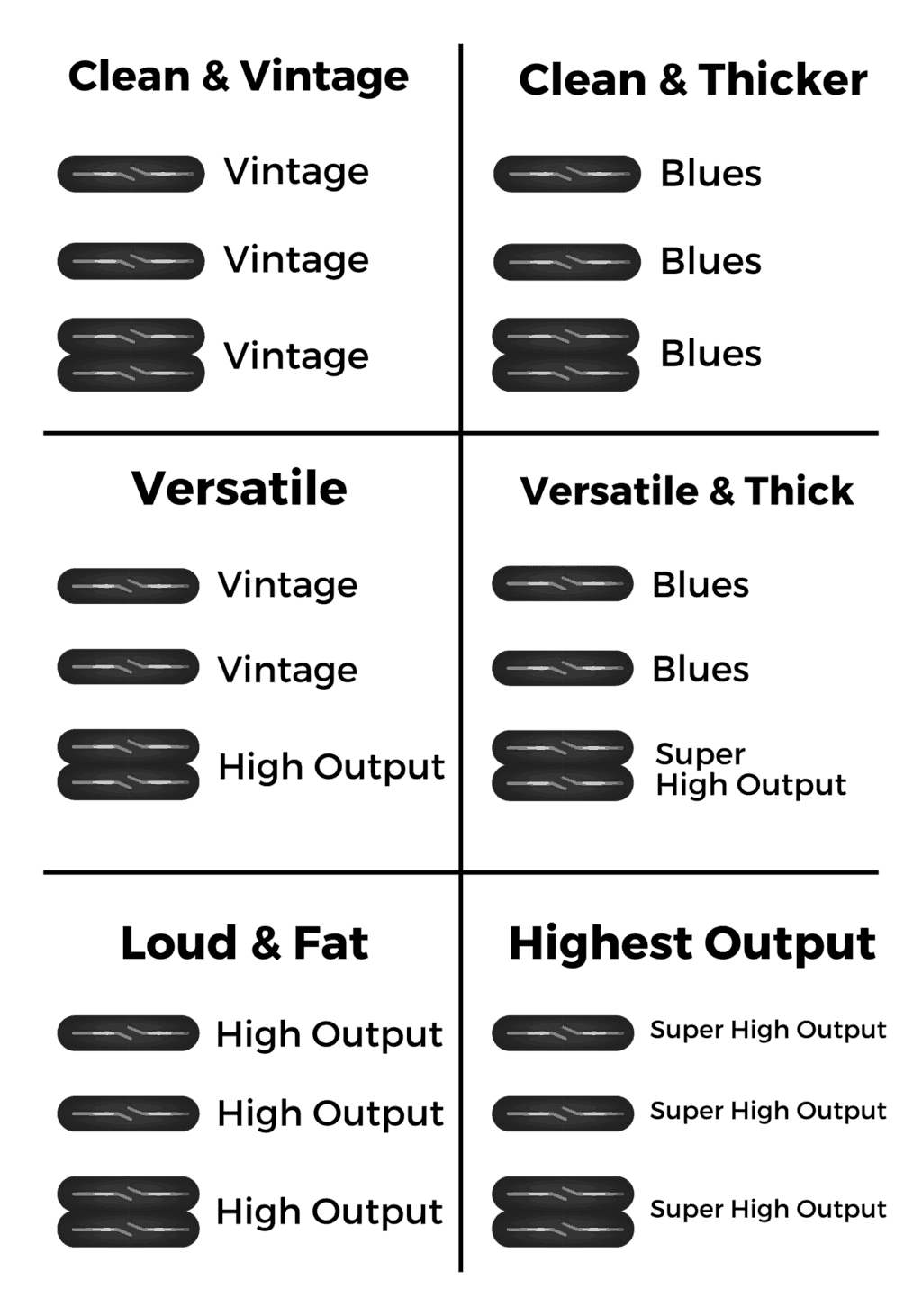 CHOOSE YOUR KNOB AND COVER COLOR:
We have White, Parchment (Aged White), Mint Green, and Black Knobs available, and White and Black available for the Split Blade colors. Note: we only have plastic knobs available. If you choose Solid Shaft Pots (for metal knobs) please understand that metal knobs are customer-provided, and we will ship your order without plastic knobs.


Wiring
We wire our Prewired Pickguard with versatility in mind. Expect complete control over your tone, with tons of options at your fingertips.
Our default wiring: the Volume Knob will be a Master Volume and will control the volume of the entire guitar. The Tone Knob is a Master Tone. It will control the tone of your entire guitar. The Tone Pot is also a Push-Pull: it splits the Bridge pickup. Pulling up on the tone pot will put the Bridge in Single Coil mode.
The Tone Pot 2 is a Blender Pot. The Blender Pot gives you the optimal amount of tonal versatility. You can achieve Telecaster tones, enhanced "quack", and more. The Blender Pot rolls in the volume of the Neck and Bridge – allowing you to get more pickup combinations.
Want to customize any of the above? Request it in the "Notes" field.
Installation
Check out our installation guide below to put your new pickguard in! With 20 minutes a few easy steps, you can get your pickguard in your guitar and start rocking out with some of the best sounding pickups in the world!
Prewired 4-Split Blade Pickguard Questions And Answers:
Notice:
Have a question about our Prewired 4-Split Blade Pickguard? Ask it here. Your Question will be publically visible. If you want to ask a Private Question, please contact us through our Contact Us Form.
If you have multiple questions, please call us at (804) 358-2699.
There are no questions yet. Be the first to ask a question about this product.
---
---
NOTES ON COLOR:
Please note that while we strive to provide the most accurate color representation possible, different computer monitors, manufacturer dye lots, and other circumstances may prevent the color from matching perfectly.
Since we cannot guarantee color matching, we cannot provide a return to you if you are unhappy with the color matching of our Prewired 4-Split Blade Pickguard.
HARNESSES:
Our parts and wire lengths are designed to work seamlessly with our Prewired 4-Split Blade Pickguard. Due to various guitar and instrument designs, we cannot guarantee that our parts will fit properly, and due to this, we do not offer Wiring Harnesses.
STAY IN TOUCH