Prewired Telecaster Control Plate
Customize and upgrade your Telecaster, instantly with the Lindy Fralin Telecaster Control Plate. With over 150 combinations available, you can select your options, and we'll wire it up just how you like it. Installation involves soldering a few wires into place. As always, we only use the finest-quality USA-Made parts we can find.
Quick Links
Jump to Sound Clips and more Info:
---
Our Wiring Skills, Your Personality.
Want to learn more about our Prewired Telecaster Control Plate? Here's all the information you'll need:
Prewired Telecaster Control Plate FEATURES:
Our Pre-Wired Telecaster Control Plate is designed by you and built by us. Chrome and Aged Nickel Prewired Control Plates come loaded with the highest quality materials available – from CRL® Switches to CTS® Pots. Of course, all our parts are made in the USA and are assembled and wired by hand in Richmond, VA.
Look & Feel
We offer Chrome Telecaster Control Plates and Aged Nickel Telecaster Control Plates. Aged Nickel Telecaster Control Plates all have a unique patina to them to make them look slightly reliced and older. Due to the aging process, each Aged Nickel Telecaster Control Plate is unique, and no two are alike.
Orientation:
We can wire up your Tele Control Plate a couple of different ways: Normal Orientation and Flipped Orientation.
Normal Orientation: With a Normal Orientation Telecaster Control Plate, your switch is closest to the headstock.
Flipped Orientation: With a Flipped Orientation, the Control Plate orients with the Switch closest to the Output Jack, and the Volume Pot closest to the headstock. This is great for those who love to utilize volume swells.

Wiring
We can wire up your switch a couple of different ways – here are your options:
3-Way CRL: This will give you normal Telecaster functionality – Bridge Only / Bridge – Neck / Neck Only.
5-Way CRL: This is perfect for Nashville Telecasters, with three pickups.
---
Pot value:
Choose 250K Pots if you have single-coil Telecaster pickups or pickups that are brighter. 250K pots will make darker sounding pickups too dark and muddy.
Choose 500K Pots if you have Humbuckers, P-90's, or other dark-sounding pickups. 500K pots will make single-coil Telecaster pickups sound too shrill.
---
Tone Cap Value:
Read up on our Tone Caps here.
.02 mfd sounds excellent on most Fender guitars and will give you a medium roll-off in tone.
.05 mfd will offer a much deeper and darker roll-off than .02.
Magic Cap: This is a low capacitance cap (.0015 mfd) and only works on the Bridge Pickup only. The effect is extremely subtle – not like a regular cap. It tends to make treble strings sound slightly fatter.
FAQs
Can you wire it up without the Chrome Plate? As it turns out, No. If this matters to you, you can pull out all the wiring once you receive it to put it in your Control Plate. It's just too time-consuming and unsafe to ship without a solid control plate holding everything together.
Can I return my Control Plate? No. Since these are so custom and made to order, all Telecaster Control Plate sales are final, and not available for exchange or return.
What if I don't see what I want? Please use the "Notes" field on the checkout screen to type in any special requests. Use this field to describe how you want it wired as well if you wish to have anything customized. We'll make it to your specs.
Sizing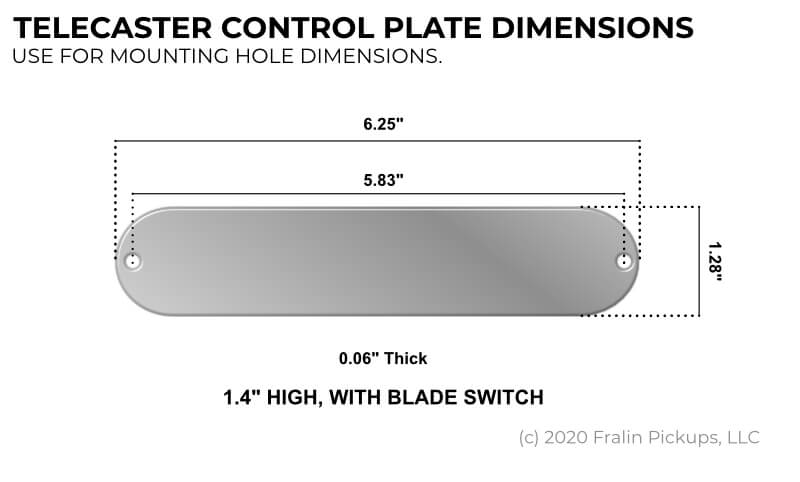 Tech Specs
Coming Soon
We don't have Tech Specs at the moment, but we will have them up soon!
Prewired Telecaster Control Plate FAQ's
Coming Soon!
At this time, there are no FAQ's...yet.
---
---
NOTES ON FINISH:
Aged Control Plates are aged by hand and feature slight defects and a raw look. We cannot guarantee that the plate you receive will look like our photos - they are all unique.
We cannot guarantee finish matching of the plate and knobs perfectly. Because of this, we cannot provide a return to you if you are unhappy with the finish matching of our Prewired Telecaster Control Plate.
HARNESSES:
Our parts and wire lengths are designed to work seamlessly with our Prewired Telecaster Control Plate. Due to various guitar and instrument designs, we cannot guarantee that our parts will fit properly, and due to this, we do not offer Wiring Harnesses.
STAY IN TOUCH
Subscribe To Our Newsletter