Lindy Fralin Tele Neck
These necks are all rock maple, 9 1/2 inch radius, medium frets, Fender© licensed headstock with a thin satin nitrocellulose finish.
Available! Estimated Lead Time: 2-3 Days
---
Quick Links:
Jump to Sound Clips and Product Info:
---
Lindy Fralin Tele Neck INFO:
Want to learn more about our Lindy Fralin Tele Neck? Here's all the information you'll need:
Lindy Fralin Tele Neck FEATURES:
We've all heard the "magic" is in the wood and I have come to believe this. Get a light, resonant body and you will have the feel and sound of the earliest vintage guitars.
"To my ears a bigger neck improves the tone of most guitars. The wound strings get brighter and the plain strings get more solid. After buying several "baseball bat" necks and then shaping them between gigs a little at a time I have come up with a neck shape that is big but comfortable." ~ Lindy Fralin
For those who want to further shape these necks or take the finish off the back, I recommend setting the guitar up and playing it for a while then removing a small amount of wood then playing it some more. I used the Stewart-McDonald scraper, then 400, 600, grit sandpaper followed by spray sanding sealer or satin nitrocellulose and let it dry overnight.
SIZING: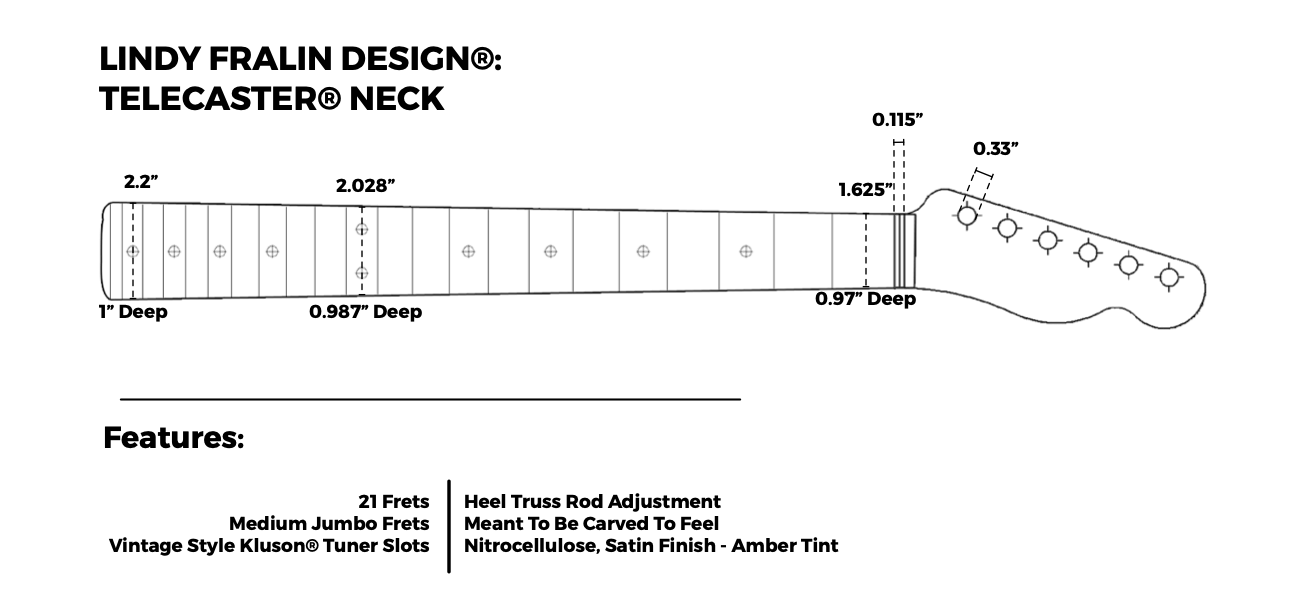 Hardware Kit (Optional)
Our Complete Hardware Kit is hand-picked by Lindy and comes with a Slotted Bone Nut, a Nickel Neck Plate, a Nickel Vintage String Tree, and Nickel Gotoh® 6-in-line Vintage Tuning Keys.
Important:
The Slotted Bone Nut will need to be professionally installed and optimized for your guitar and string gauge.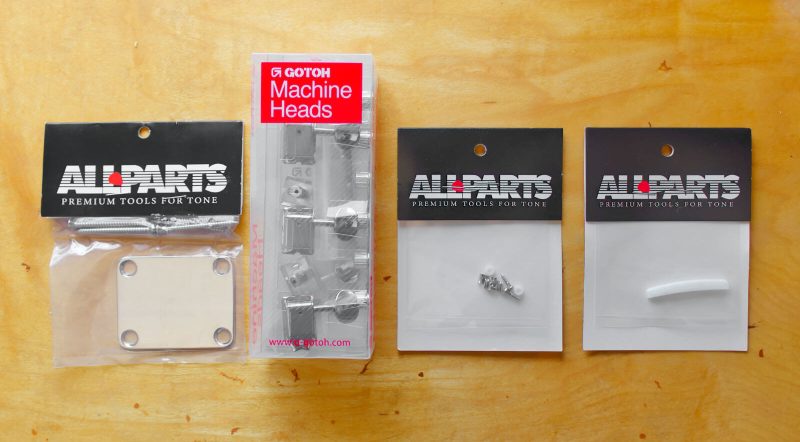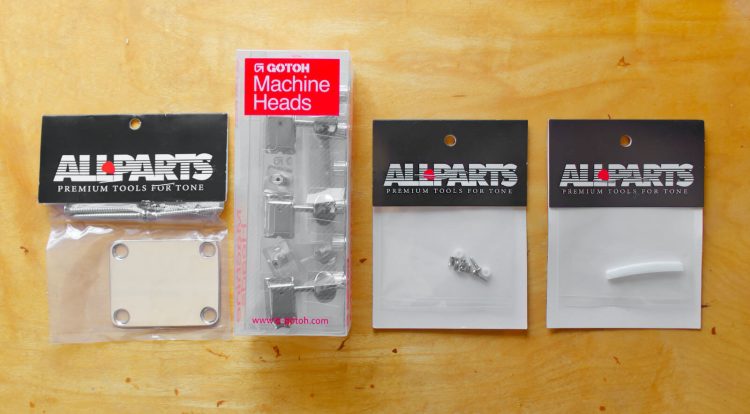 Tech Specs
| SPECIFICATION | VALUE |
| --- | --- |
| Fretboard Material: | Maple |
| Fretboard: | Maple |
| Fingerboard Radius: | 9.5" |
| Finish: | Thin Satin Nitrocellulose |
| Fretwire: | Jim Dunlop 6260 |
| Truss Rod: | Yes, Heel |
| Thickness (at 1st fret): | 0.975" |
| Thickness (at 12th fret): | 1" |
| Approximate Weight: | 1.2lbs / 550g |
---
Lindy Fralin Tele Neck FAQ's
Coming Soon!
At this time, there are no FAQ's...yet.
---
---
Featured Reviews
Reviews we worked hard for, and are proud of
"I purchased a Fralin Tele Neck back in 2010. The guitar I put it on 12 years ago is STILL my all time favorite guitar. The neck feels, splays, and sounds amazing!! Just wait until they start to age a bit, they get even better!"
"i bought this neck at haar guitars in the netherlands , they where the only shop who sold these necks here in holland , and man , i'm so happy i did , my fender american special tele has become my nr 1 guitar with this neck on it . I love thick/chunky necks , and this one play's like a dream , i tried some tele's who had the baseballbat 52 U shaped fender neck on them , but that's just a bit to chunky for my taste , so after reading that lindy had in fact shaped on off these 52 U shaped necks to his liking , i had to try it . If my strat didn't already have a nice soft v neck on it ,i would surely put the strat version off this lindy frailin neck on it ."
"These necks are incredibly comfortable. Don't let the thickness scare you. I've used it on a pretty heavy telecaster body (not exactly what Lindy has recommended), but still has achieved an incredibly full beautiful tele tone. You will probably never need a truss rod adjustment due to the necks stability. I love what lindy has done here!!!"