Lindy Fralin Tele Neck
These necks are all rock maple, 9 1/2 inch radius, medium frets, Fender© licensed headstock with a thin satin nitrocellulose finish.
Available! Estimated Lead Time: 2-3 Days
---
Quick Links:
Jump to Sound Clips and Product Info:
---
Lindy Fralin Tele Neck INFO:
Want to learn more about our Lindy Fralin Tele Neck? Here's all the information you'll need:
Lindy Fralin Tele Neck FEATURES:
We've all heard the "magic" is in the wood and I have come to believe this. Get a light, resonant body and you will have the feel and sound of the earliest vintage guitars.
"To my ears a bigger neck improves the tone of most guitars. The wound strings get brighter and the plain strings get more solid. After buying several "baseball bat" necks and then shaping them between gigs a little at a time I have come up with a neck shape that is big but comfortable." ~ Lindy Fralin
For those who want to further shape these necks or take the finish off the back, I recommend setting the guitar up and playing it for a while then removing a small amount of wood then playing it some more. I used the Stewart-McDonald scraper, then 400, 600, grit sandpaper followed by spray sanding sealer or satin nitrocellulose and let it dry overnight.
SIZING: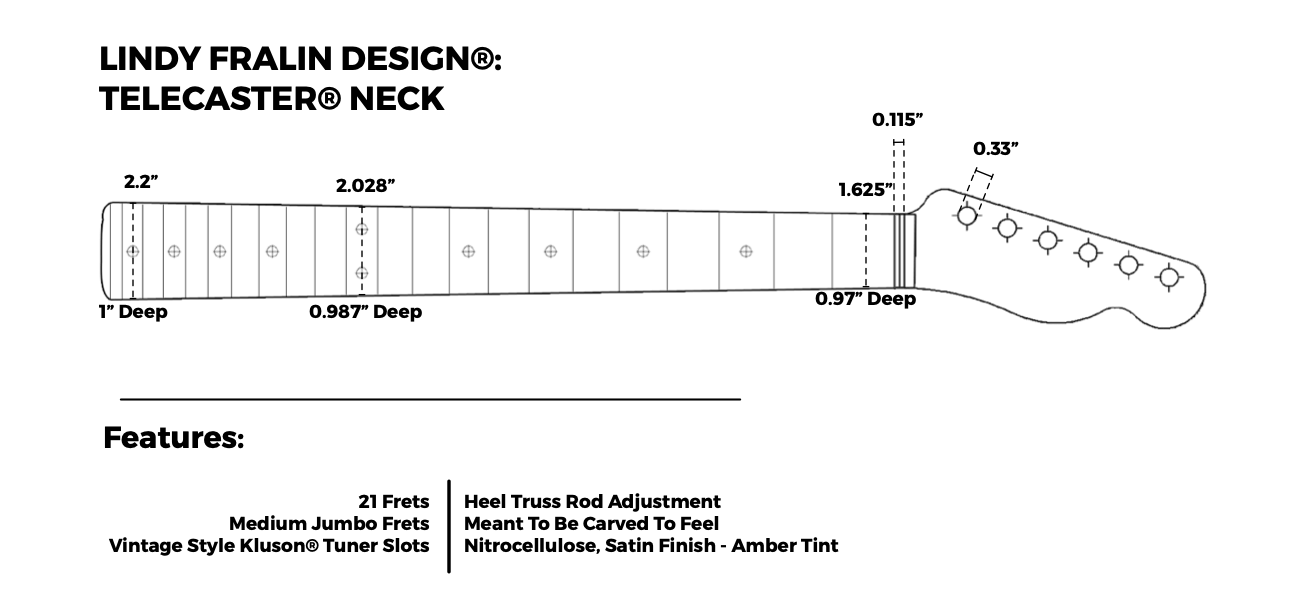 Tech Specs
| SPECIFICATION | VALUE |
| --- | --- |
| Fretboard Material: | Maple |
| Fretboard: | Maple |
| Fingerboard Radius: | 9.5" |
| Finish: | Thin Satin Nitrocellulose |
| Fretwire: | Jim Dunlop 6260 |
| Truss Rod: | Yes, Heel |
| Thickness (at 1st fret): | 0.975" |
| Thickness (at 12th fret): | 1" |
| Approximate Weight: | 1.2lbs / 550g |
---
Lindy Fralin Tele Neck Questions And Answers:
Notice:
Have a question about our Lindy Fralin Tele Neck? Ask it here. Your Question will be publically visible. If you want to ask a Private Question, please contact us through our Contact Us Form.
If you have multiple questions, please call us at (804) 358-2699.
Are the tuner holes vintage or 10mm?

Q

Are the tuner holes vintage or 10mm?

A

Hey Scott, the inner diameter is 8.5mm.

Hi, Does the Tele neck come with a pre slotted nut installed? Do you have this service of installing the nut? If no, then could you recommend what good pre-slotted bone or graph-tech nut I should buy for this neck.

Q

Hi, Does the Tele neck come with a pre slotted nut installed? Do you have this service of install......

Read more

A

Hey Ajit, no, our Necks do not come with a nut installed, nor do we offer this service. Any Allparts or Stewmac Bone nut would work just fine, but you might need to take it to a luthier to get the nut fitted.

Will the tele neck fit a hammer t 51 (tele)?

Q

Will the tele neck fit a hammer t 51 (tele)?

A

Hey Ray, we're not 100% sure! Definitely check to see if you have at least 2.2" wide and 1" depth on your neck pocket.

Have the frets been dressed?

Q

Have the frets been dressed?

A

Hey Gerald, yes - the frets have been dressed on all of our necks.

What kind of fretwire is included?

Q

What kind of fretwire is included?

A

Hey Jim: The Fretwire is Dunlop 6260. It's 0.08" Wide and 0.110" Tall. - Tyler
---
STAY IN TOUCH