Lindy Fralin Tele Neck
These necks are all rock maple, 9 1/2 inch radius, medium frets, Fender© licensed headstock with a thin satin nitrocellulose finish.
In Stock! 3-4 Business Days before shipment
---
Quick Links:
Jump to Sound Clips and Product Info:
---
Lindy Fralin Tele Neck INFO:
Want to learn more about our Lindy Fralin Tele Neck? Here's all the information you'll need:
Lindy Fralin Tele Neck FEATURES:
We've all heard the "magic" is in the wood and I have come to believe this. Get a light, resonant body and you will have the feel and sound of the earliest vintage guitars.
"To my ears a bigger neck improves the tone of most guitars. The wound strings get brighter and the plain strings get more solid. After buying several "baseball bat" necks and then shaping them between gigs a little at a time I have come up with a neck shape that is big but comfortable." ~ Lindy Fralin
For those who want to further shape these necks or take the finish off the back, I recommend setting the guitar up and playing it for a while then removing a small amount of wood then playing it some more. I used the Stewart-McDonald scraper, then 400, 600, grit sandpaper followed by spray sanding sealer or satin nitrocellulose and let it dry overnight.
SIZING: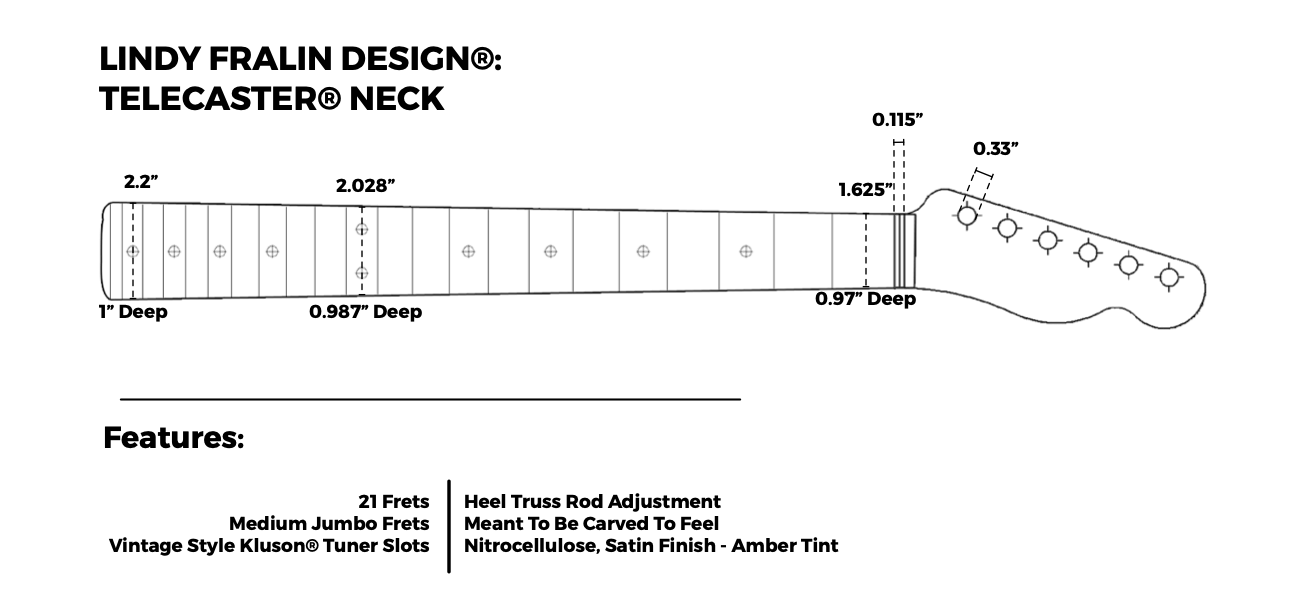 Lindy Fralin Tele Neck Questions And Answers:
Have a question about our Lindy Fralin Tele Neck? Leave it here! We will answer your question within 24 hours.
---