Lindy Fralin Strat Neck
These necks are all rock maple, 9 1/2 inch radius, medium frets, Fender© licensed headstock with a thin satin nitrocellulose finish.
Available! Estimated Lead Time: 2-3 Days
---
Quick Links:
Jump to Sound Clips and Product Info:
---
Lindy Fralin Strat Neck INFO:
Want to learn more about our Lindy Fralin Strat Neck? Here's all the information you'll need:
Lindy Fralin Strat Neck FEATURES:
We've all heard the "magic" is in the wood and I have come to believe this. Get a light, resonant body and you will have the feel and sound of the earliest vintage guitars.
"To my ears a bigger neck improves the tone of most guitars. The wound strings get brighter and the plain strings get more solid. After buying several "baseball bat" necks and then shaping them between gigs a little at a time I have come up with a neck shape that is big but comfortable." ~ Lindy Fralin
For those who want to further shape these necks or take the finish off the back, I recommend setting the guitar up and playing it for a while then removing a small amount of wood then playing it some more. I used the Stewart-McDonald scraper, then 400, 600, grit sandpaper followed by spray sanding sealer or satin nitrocellulose and let it dry overnight.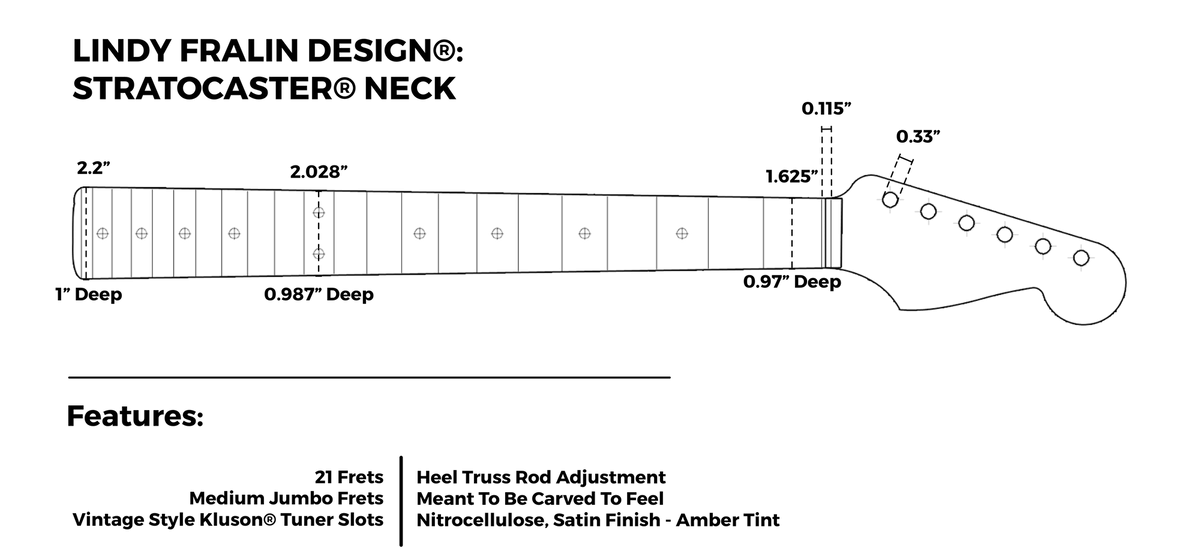 Hardware Kit (Optional)
Our Complete Hardware Kit is hand-picked by Lindy and comes with a Slotted Bone Nut, a Nickel Neck Plate, a Nickel Vintage String Tree, and Nickel Gotoh® 6-in-line Vintage Tuning Keys.
Important:
The Slotted Bone Nut will need to be professionally installed and optimized for your guitar and string gauge.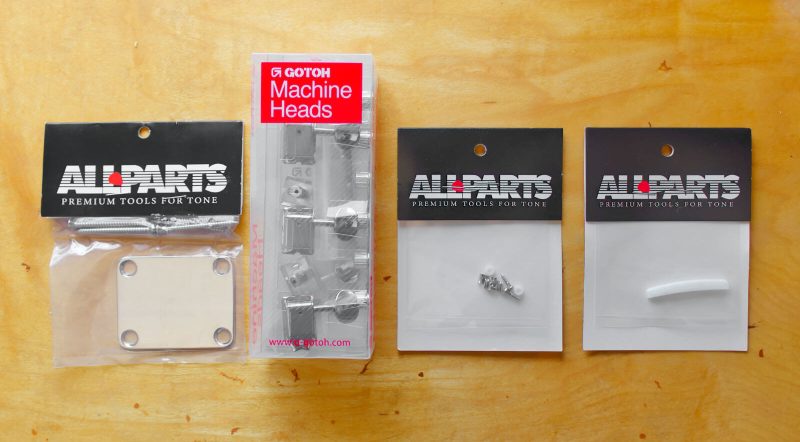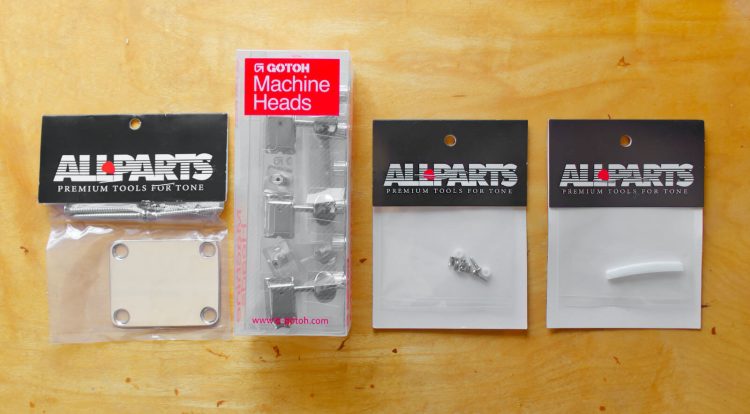 Tech Specs
| SPECIFICATION | VALUE |
| --- | --- |
| Fretboard Material: | Maple |
| Neck Material: | Maple |
| Fingerboard Radius: | 9.5" |
| Finish: | Thin Satin Nitrocellulose |
| Fretwire: | Jim Dunlop 6260 |
| Truss Rod: | Yes, Heel |
| Thickness (at 1st fret): | 0.975" |
| Thickness (at 12th fret): | 1" |
| Approximate Weight: | 1.2 lbs / 550g |
---
Lindy Fralin Strat Neck FAQ's
Coming Soon!
At this time, there are no FAQ's...yet.
---
---
Featured Reviews
Reviews we worked hard for, and are proud of
"I purchased the Fralin Stratocaster neck last week and it has exceeded my expectations. I had played one recently and recognized that the specs are just about perfect for what I was after, so I ordered one for myself. A nice full feeling neck, with carved/shaped shoulders, so it doesn't have the baseball bat feel. The carve, radius, and frets are just spot-on. I've played other necks that have a good carve, but are not thick enough. Then there are other necks that are simply just too thick and round. This Fralin neck is, to me, the perfect intermediary."
"My first Strat was a 62' from a pawn shop in 1975. Totally beat but that tone became ingrained in my head. Sold it for a Gibson because it was too thin (I was learning to play). Ten years ago I was considering paying big bucks for a 1965 Strat and decided to build instead. Best thing I ever did.....I would never buy a Fender style factory instrument again. Lindy is doing what Leo showed us....only better. Listen to him closely if you want that tone. Real 54's to Vintage Hots nail the 50's and then 60's Strat tones. Add the big neck with a flatter radius and bigger frets. Next trick is a light swamp ash body. Last but not least is the tailpiece/Tremelo. Callaham makes a cold pressed steel hardtail or Tremelo. These are critical nodal points and pot castings suck the tone where cold pressed steel lets it ring. Fat necks, light bodies, Fralin pickups and Callaham hardware can create guitars equal or better than these legend tones people crave and pay big bucks. I've built 5 and have two in construction now. Hardtail Strat should be coming in around 6 lbs with Vintage Hots. All of my Masterbuilds are under 7 lbs. I don't sell them I play them. Lindy is right !"
"i have built and sold over 10 fralin big neck strats and teles. this neck gives the players the ability to shape it to other fender shapes i.e. hard and soft v,60's oval, 50's big neck and what I call a big comtfy c shape to play which leaves the shoulders on the neck to ease that stress from your thumb to index fingers[I'm sure some big handed players can relate] coupled with set of just the best by test hand wound pups in the biz and you have yourself a winning combo for any guitarist. Any of you thinking about a big neck don't wait get it and once you play rest assured you won't be picking up your skinny girl necks anymore. big necks rule. 5 stars"