Prewired Jazz Bass Control Plate
The Lindy Fralin Prewired Jazz Bass Control Plate provides the best materials and quality possible, at an affordable price. Featuring USA-Made materials and precision wiring, our Prewired Jazz Bass Control Plate is rock solid and incredibly easy to install!
Quick Links
Jump to Sound Clips and more Info:
---
Prewired Jazz Bass Control Plate INFO:
Want to learn more about our Prewired Jazz Bass Control Plate? Here's all the information you'll need:
Prewired Jazz Bass Control Plate FEATURES:
Based on our best-selling Prewired Telecaster Control Plates and Prewired Pickguards, we decided to give the bass players some prewired love! Introducing the brand-new Prewired Jazz Bass Control Plate by Fralin Pickups: USA-Made quality, CTS® Pots, the rock-solid Switchcraft Output Jack, all beautifully wired and ready to install in a few minutes.
USA-Made control plate, with a Chrome finish
CTS® Solid Shaft 250K or 500K pots for unbeatable durability
Standard Jazz Bass wiring, with independent Neck and Bridge volumes and a Master Tone control
Wide assortment of Tone Caps available to fine-tune your tone
Incredibly simple installation involves soldering only 4 wires
POT VALUE
Choose 250K Pots if you want the standard operation. This is what comes standard on most Jazz Basses. If you have dark-sounding pickups, or, you want to achieve a "crispier" tone, go with 500K pots.
INSTALLATION
Installation is incredibly simple. All you need to do is solder the pickup's hot wires to the respective Volume Pot inputs, and solder the pickup's ground wires to the casing of the volume pot. See below: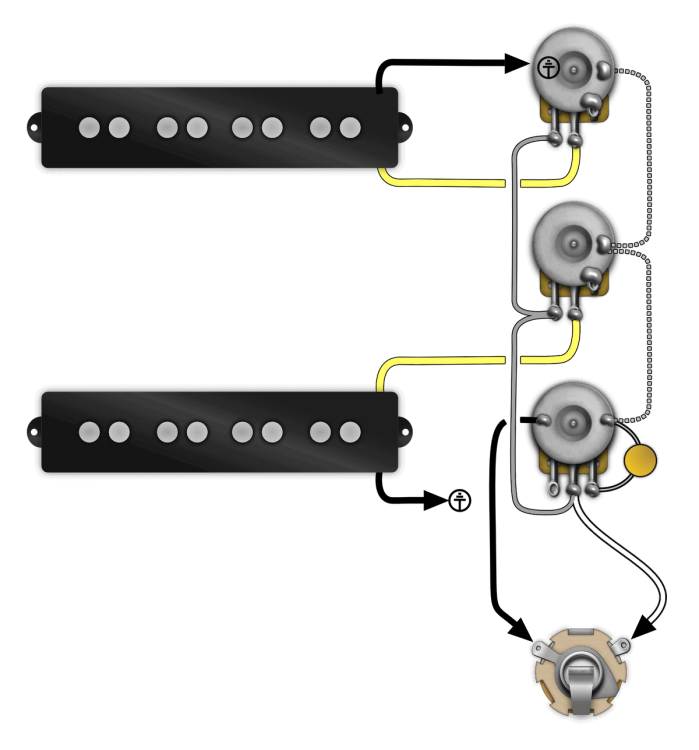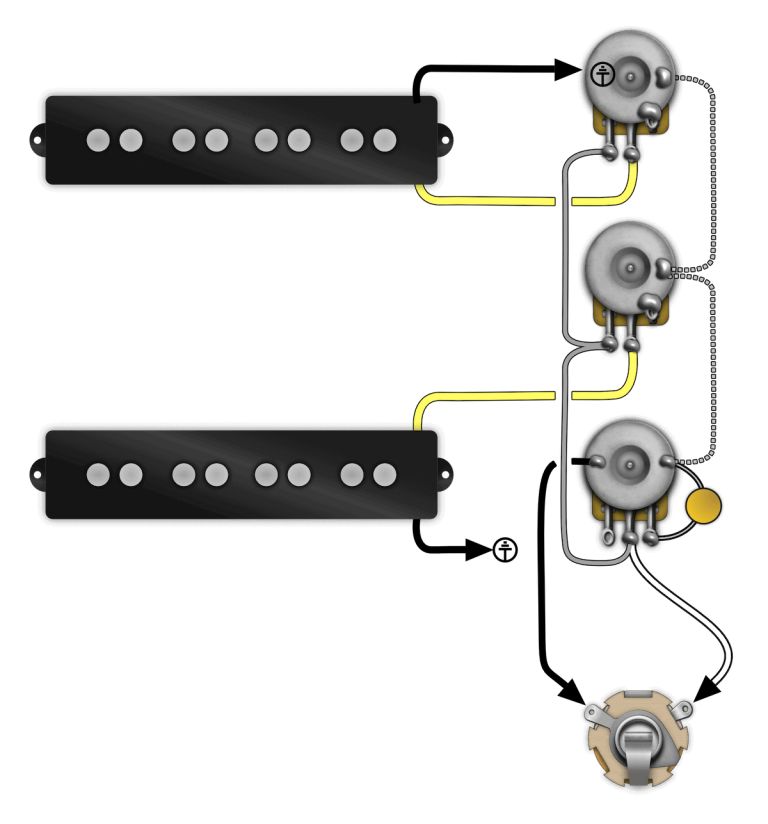 SIZING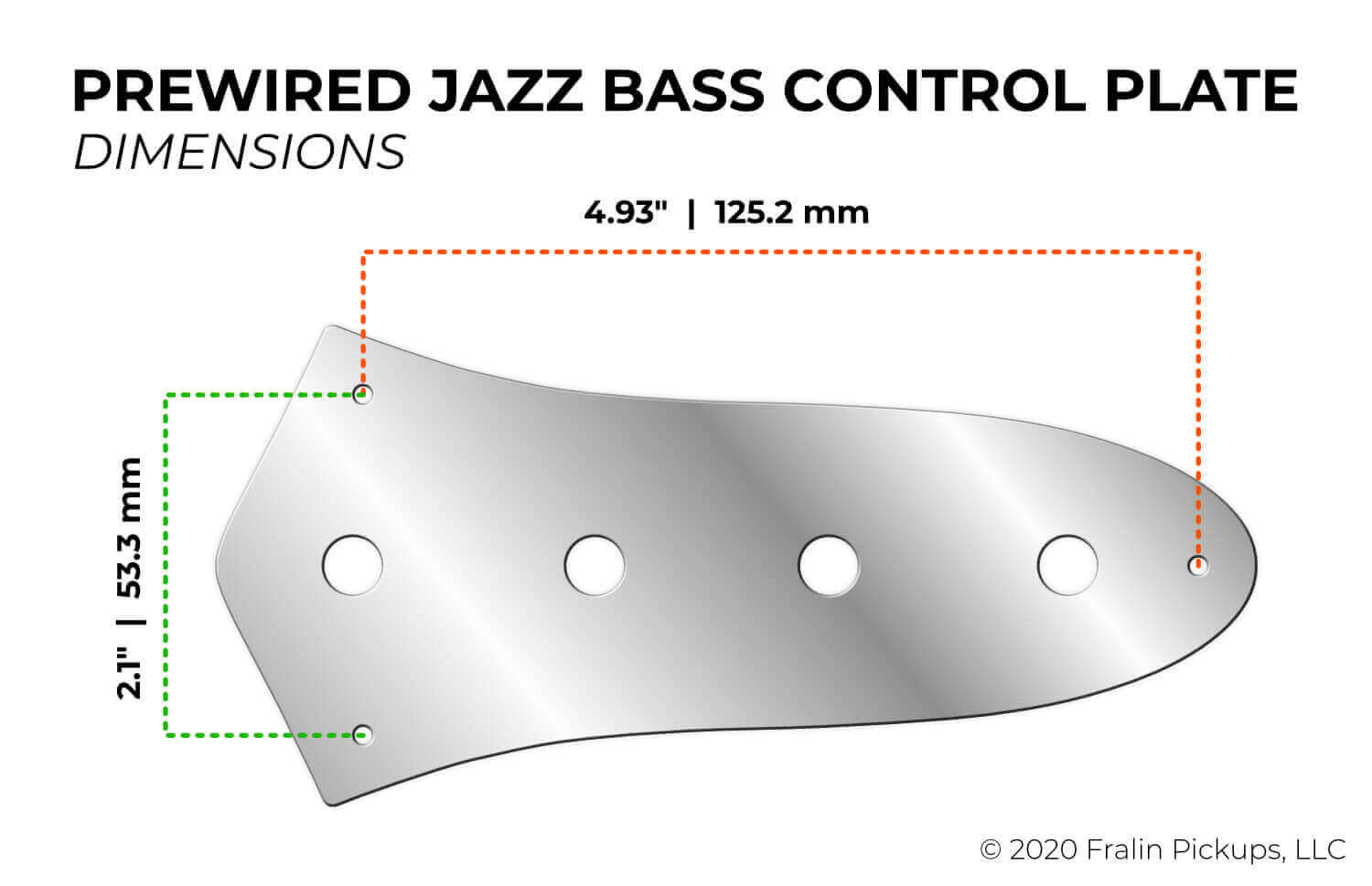 FAQs
How long will my Control Plate take? Please give us 7-10 business days to build and assemble your Control Plate. All orders are made to order and wired by hand.
Can you wire it up without the Chrome Plate? As it turns out, No. If this matters to you, you can pull out all the wiring once you receive it to put it in your Control Plate. It's just too time-consuming and unsafe to ship without a solid control plate holding everything together.
Can I return my Control Plate? No. Since these are so custom and made to order, all Jazz Bass Control Plate sales are final, and not available for exchange or return.
What if I don't see what I want? Please use the "Notes" field on the checkout screen to type in any special requests. Use this field to describe how you want it wired as well if you wish to have anything customized. Please note that we can't accommodate all requests.
Tech Specs
Coming Soon
We don't have Tech Specs at the moment, but we will have them up soon!
Prewired Jazz Bass Control Plate FAQ's
Coming Soon!
At this time, there are no FAQ's...yet.
---
STAY IN TOUCH
Subscribe To Our Newsletter