Vintage Hot Strat
Make your Stratocaster sound like a Strat should with Lindy Fralin's Vintage Hots. As our best-selling Stratocaster set, Vintage Hots offer the purest vintage Strat tone. Vintage Hots have a warm, balanced midrange with lots of sparkle and clarity on the top, guaranteeing you'll stand out in the mix. If you're looking for the purest Stratocaster tone, look no further than these pickups right here!
Quick Links
Jump to Sound Clips and more Info:
---
Fralin Vintage Hots: Real Vintage Strat Tone.
Want to learn more about our Vintage Hot Strat? Here's all the information you'll need:
Vintage Hot Strat FEATURES:
Vintage Hot Pickups: our best-selling single coil set. If you're looking for a sparkling, bright, and open sound, you will love these pickups' tone. Vintage Hots give you a balanced 50's Tone: a smooth balance between bright and fat. They fit in the middle sonically of our Real 54's and Blues Specials.
These pickups are era-authentic: wound with USA-made 42-gauge Formvar-enameled wire and built with USA-made AlNiCo V magnets. These pickups sound smooth, balanced, and beautiful.
Features:
Modified Vintage Fender specifications, with modern output
Bright, clean tone with balance across lows and highs
USA-made Alnico 5 Magnets for optimal tonal balance and output
RW/RP Middle for Hum-Cancelling in Positions 2 & 4
Two magnet staggers available for different fingerboard radiuses
Hand-wound with our "Sectioning" technique for unique, dynamic tone
Hand-built fiberboard Bobbins for unrivaled quality control
10-Year Warranty on manufacturing defects
6K Neck & Middle, 6.6K Bridge
SOUND
Tonal Graph for Vintage Hot Strat:
The tone graph below for our Vintage Hot Strat features Lows, Midrange, Highs, and general Output.
---
Sound Clips for Vintage Hot Strat:
About this Sound Clip:
All sound samples are played from Neck Position First and Bridge Position Last.
Vintage Hots sparkle and sound very open and clear without sounding "tinny" or glassy. These pickups sound big and full, with an even balance of Bass, Middle, and Treble, clean or dirty. The tone cuts through with distortion – while remaining very dynamic and thick.
Expect a precise low-end and an acute attack. Single notes cut through with ease, while chords have an excellent string-to-string definition.
Are you looking for a Hum Cancelling Strat pickup that actually sounds like a Strat? Check out the Vintage Output of our Split Blade Strat Pickups
Our manufacturing process allows us to achieve unparalleled quality control. Our Vintage Hots consist of locally-stamped fiberboard and USA-Made Alnico 5 Magnets. We wind each pickup by hand, one at a time. We wind each pickup using our proprietary "Sectioning" technique. Our Sectioning Technique gives the pickup a sweet, bright tone. Finally, we wax-pot the pickup to preserve the pickup and prevent microphonics.
Sizing
Tech Specs
See below for the estimated DCR and Polarity Information for our Vintage Hot Strat.
| SPECIFICATION | VALUE |
| --- | --- |
| Neck Ohm Reading: | 6K 1 |
| Middle Ohm Reading: | 6K 1 |
| Bridge Ohm Reading: | 6.6K 1 |
| Neck & Bridge Polarity: | Clockwise Coil Direction, South to Strings |
| Reverse Middle Polarity: | Counter-Clockwise Coil Direction, North to Strings |
| Recommended Pot Value: | 250K |
| Magnet: | USA-Made Alnico 5 |
| Recommended Cap Value: | 0.02mfd 2 |
---
More Information:
1 Ohm Readings can vary due to a multitude of factors, including ambient temperature, multimeter calibration, different wire batches, and other factors. Due to this, ohm readings are approximate. Learn more about Ohm Readings here.
---
2 We recommend a 0.02mfd Cap Value on most guitar and bass pickups. The exception is a Magic Cap, which Lindy prefers on the Bridge Pickup of Fender® guitars only. Learn More about Caps Here.
---
Vintage Hot Strat FAQ's
General FAQs
Here are quick answers to common questions we get:
What Ohm Readings does your Vintage Hot Strat have?

Navigate to our Tech Specs tab for complete Ohm Readings and more useful information.

Will this pickup fit my instrument?

Check our "Sizing" tab for the size of the pickup. No Sizing tab? Check under the product image gallery for dimensions.

Is your Lead Time of 2-3 Weeks accurate?

It really depends on the shop capacity at the moment, and the size of your order. Feel free to give us a call for an accurate lead time. We always try to underpromise and overdeliver.

What pickup height do you recommend setting your Vintage Hot Strats to?

Our recommended Pickup Height is 1/8" (3.175mm) on the Bass Side and 1/16"( 1.5875mm) on the Treble Side. Measure by holding the corresponding side down at its highest fret and measure from the bottom of the string to the top of the pole piece.
Product FAQ's
These are frequently asked questions about our Vintage Hot Strat. If you have a question that you don't see listed here, click "Ask A Question" in the Quick Links section above.
What's the tonal difference between this pickup and the Real '54s?

The Real '54s utilize Alnico 3 Magnets, which provide a softer, spongier attack and a bit more glassiness when compared to the Vintage Hots. The Vintage Hots feature a more modern attack and a bit more bottom-end.
---
Pairing
Our Vintage Hot Strat pairs well with the following models: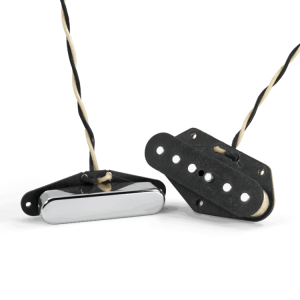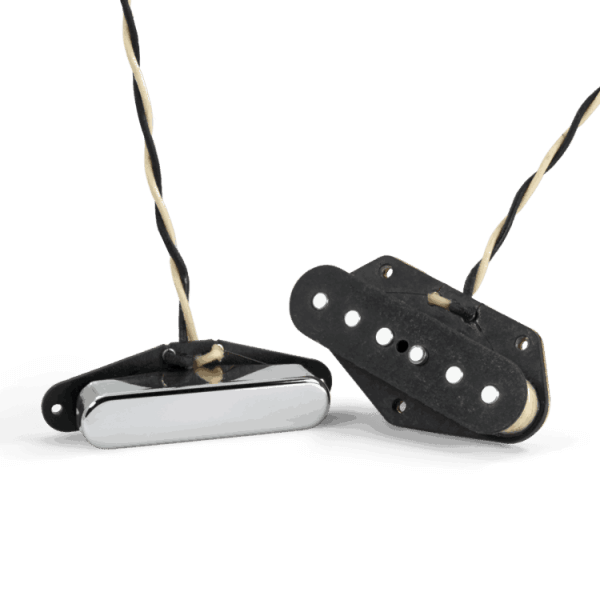 Vintage Hot Tele - Set
Starting At: $110
Pair a Middle with a Vintage Hot Tele Set for the ultimate in Nashville Tele Twang.
View Product
---
Featured Reviews
Reviews we worked hard for, and are proud of
"Most probably the best pickups that I've experienced playing. I put them in an inexpensive guitar, so I paid the same for both the guitar and pickups. The bell-like tone is very articulate... they just sparkle, shimmer, and shine with a lot of depth. I love hammering on an open string, it sounds / feels like my finger is going right down through the fretboard. You'll love playing these pickups too."
"Love my Fralin Vintage Hot Pickups that installed on my old Strat. They have brought back a classic 60's Strat sound that I love! I added the baseplate and a volume kit which also help out. The other Great addition that really blew me away was adding the Blender Pot to my set up. Wow! It literally opens up the Strat to more Tonal range. I can dial in just the right amount of Neck pickup with the Bridge when I want to. I absolutely love this Fralin set up and your customer service is excellent! Thank you so much!"
"Hey there! I recently purchased a Vintage Hot Strat set and Soapbar P90 set (5% overwound bridge). First, your pickups are inspiring. I'm pretty blown away by the pure clarity and actual tone coming out of my instruments. The versatility is striking, and most of all... I'm writing again. I can't thank you enough."
"If you are reading this, then you already know! DO IT NOW! You will not be sorry, my only regret is that l didn't buy these sooner - truly unbelievable how good and balanced they are, everything that other pickups you are hoping to get, but don't quite hit the mark, well guess what? These do!!!! I ordered a pre wired guard, added a baseplate to the bridge, and the tone blender which takes it to even ANOTHER level.. l am in awe, and l am very happy. Life long fan and buyer from here on out for sure.. THANK YOU"
STAY IN TOUCH
Subscribe To Our Newsletter