Split Steel Poled Tele
Noiseless P90 Tone in a Tele Bridge Position? Yep – we got that! Enter the Fralin Split Steel Pole Tele Bridge: a Noiseless P90 for Telecaster. This pickup features a fat, thick midrange and aggressive highs. It's a perfect drop-in replacement for any Fender Telecaster Bridge pickup and for those looking for that versatile, unique P90 tone for their Tele. Get inspired and discover what you've been missing.
Quick Links
Jump to Sound Clips and more Info:
---
P90 Tone, Zero Hum.
Want to learn more about our Split Steel Poled Tele? Here's all the information you'll need:
Split Steel Poled Tele FEATURES:
The Split Steel Pole Tele Bridge provides an authentic P90 tone without the noise. If you're not happy with your bright, noisy bridge pickup, we invite you to check this pickup out. Featuring adjustable USA-Made Pole pieces and a thick, dynamic midrange, you will be amazed at the clarity, versatility, and articulation coming from your Tele's bridge position.
Based on his Split Blade design, Lindy created this pickup to get more aggression out of the bridge position while still canceling out hum. Installation is a breeze, as this pickup will drop right into your Telecaster with no modifications necessary
Features:
Noiseless, Fat And Full Tele Bridge Tone
Huge P-90 Midrange and Thickness
Direct Replacement For Tele Bridge
Two outputs for fine-tuning your unique tone
Unique left-right coil design for 100% noiseless operation
Adjustable Steel Pole Pieces for fine-tuning string balance
USA-Made Precision Injection Mold, and USA-Made Ceramic Magnets and Wire
Backed by our 10-Year Warranty on manufacturing defects
Risk-free 30-day exchange policy
Sound
Tonal Graph for Split Steel Poled Tele:
The tone graph below for our Split Steel Poled Tele features Lows, Midrange, Highs, and general Output.
---
Are you seeking something unique for your Tele's Bridge position? Are you looking for a "secret weapon" in your guitar's arsenal? Look no further than our Split Steel Pole Bridge. With a unique design comes a familiar (yet unique) tone. This pickup features a thick, bold midrange, a percussive treble, and a familiar P90 growl.
Wound strings are crystal-clear yet loud, and Treble strings have the Tele Twang, but with a rounder quality. With an accentuated midrange and warmer highs, this Bridge pickup is perfect for those trying to tame a twangy Tele bridge.
Whether you play with distortion or not, you'll undoubtedly cut through in the mix with our Split Steel Pole Tele Bridge.
OPTIONS:
Choose Stock Output: If you want the thickest, beefiest tone. The midrange will be loud and full. Highs will be slightly darker.
Choose -5% Output: If you want a little clearer tone and more articulation. Highs will be more present, mids slightly scooped.
Take a listen to our friend Mike Hermans use our Split Steel Pole Tele in the Bridge position of his Tele:
Sizing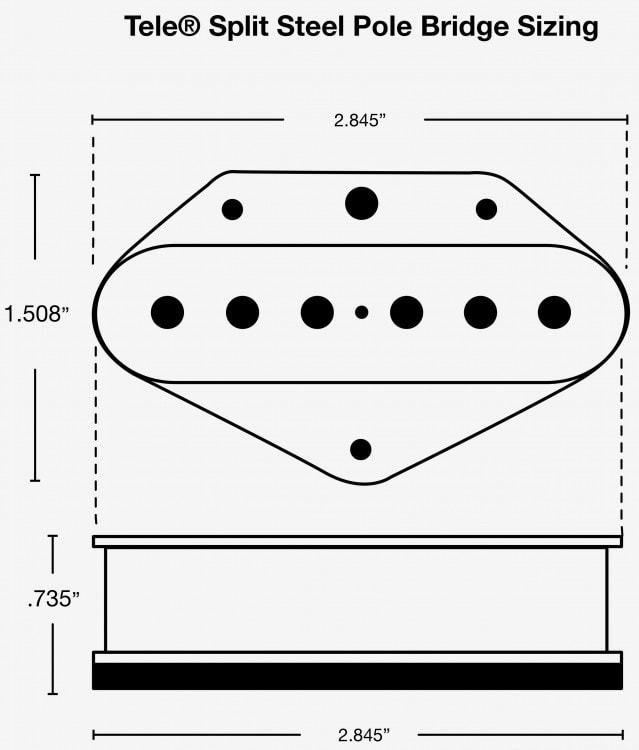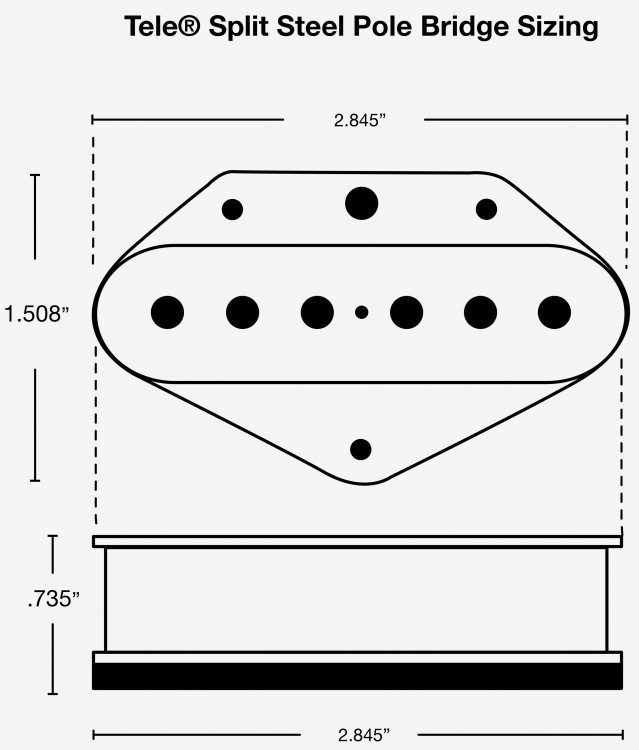 Tech Specs
See below for the estimated DCR and Polarity Information for our Split Steel Poled Tele.
| SPECIFICATION | VALUE |
| --- | --- |
| Ohm Reading: | 9.8K (Stock) |
| Polarity: | This pickup's polarity is reversible with 3-Wire configuration |
| Magnets: | USA-Made Ceramic |
| Wire: | USA-Made 43-Gauge Single Poly Nylon |
| Bobbins: | USA-Made Precision Injection Mold |
| Baseplate: | USA-Made Nickel Silver |
| Recommended Pot Value: | 250K* |
| Recommended Cap Value: | 0.02mfd 2 |
---
More Information:
---
2 We recommend a 0.02mfd Cap Value on most guitar and bass pickups. The exception is a Magic Cap, which Lindy prefers on the Bridge Pickup of Fender® guitars only. Learn More about Caps Here.
---
* 500K Pots will provide a clearer, brighter tone
Split Steel Poled Tele FAQ's
General FAQs
Here are quick answers to common questions we get:
What Ohm Readings does your Split Steel Poled Tele have?

Navigate to our Tech Specs tab for complete Ohm Readings and more useful information.

Will this pickup fit my instrument?

Check our "Sizing" tab for the size of the pickup. No Sizing tab? Check under the product image gallery for dimensions.

Is your Lead Time of 2-3 Weeks accurate?

It really depends on the shop capacity at the moment, and the size of your order. Feel free to give us a call for an accurate lead time. We always try to underpromise and overdeliver.

What pickup height do you recommend setting your Split Steel Poled Teles to?

Our recommended Pickup Height is 1/8" (3.175mm) on the Bass Side and 1/16"( 1.5875mm) on the Treble Side. Measure by holding the corresponding side down at its highest fret and measure from the bottom of the string to the top of the pole piece.
---
Pairing
Our Split Steel Poled Tele pairs well with the following models: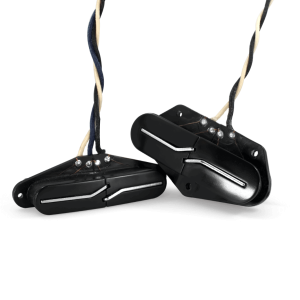 Split Blade Tele - Neck
Starting At: $129
Choose Vintage Output for a traditional Telecaster Tone with no hum.
View Product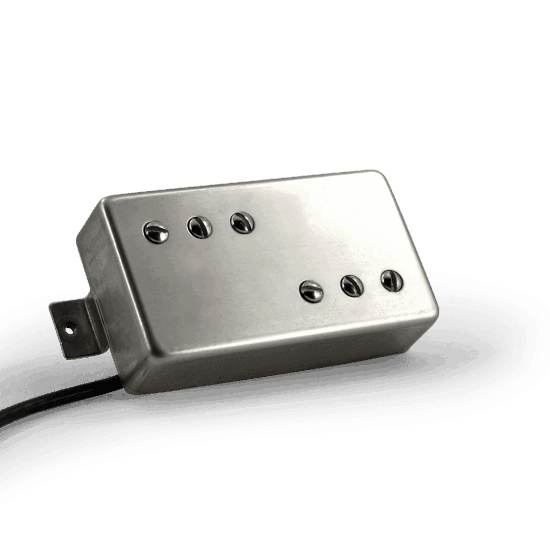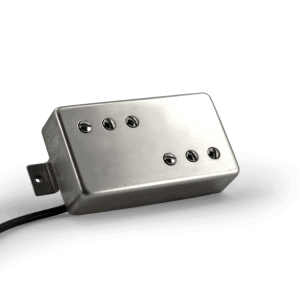 P-92 - Neck
Starting At: $165
For clean, noiseless P90 tones out of a humbucker-equipped Tele
View Product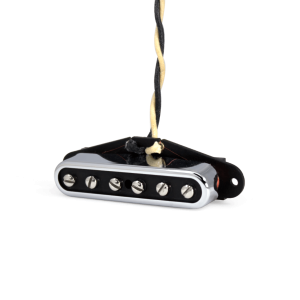 Steel Pole 42 Tele - Neck
Starting At: $115
For cleaner P90 tones for your Traditional Tele
View Product
GET IT PREWIRED
Go the extra mile and combine our Split Steel Poled Tele with a Telecaster Control Plate!:

---
Featured Reviews
Reviews we worked hard for, and are proud of
"This pickup is amazing. It's exactly what I was hoping for. Smack dab in the middle between tele and P90. And it's dead quiet. Also, it mates perfectly with the Fralin wide range humbucker. So glad I took a chance on these."
"I called about a neck pickup companion; vintage split was recommended. I installed a 4 way switch couldn't be happier! I've owned tele/tele style guitars. The neck pickups sometimes can be.....uninspiring. Not these! That neck pickup wax a perfect match for the steel spill pole."
"It sounds fantastic. I put it in the bridge position of an electrified dobro I play. Bridge Tele pickups have the widest pole spacing of any standard sized pickups. Even f-spacing is a little narrow for dobro. It's very spanky. It can do classic country twang or shreddy leads. It's got nice attack and a high end that is present without being harsh."
"This is my go to Tele bridge pickup. I pair it with Lindy's Pure PAF in the neck. I have this combo in three Teles , different neck , fingerboard, and body woods. I use 500k pots to add a little of the Tele high end back into the bridge pickup. For me this is the ultimate Tele combo, from clean tones to full hard rocking crunch, it's all there................and no hum. I wanted a Tele bridge pickup which would pair well with my favorite PAF and this is it. I can plug straight into my Tweed Champ and it works great or plug into my pedal board which runs into a 18 watt Marshall / Orange Rocker 15 wet/dry setup and it really works. The harmonics and touch sensitivity is special, which is what I love most about Lindy's pickups."
STAY IN TOUCH
Subscribe To Our Newsletter